Listen to "Be Mine" Dirtbag Diaries Podcast Episode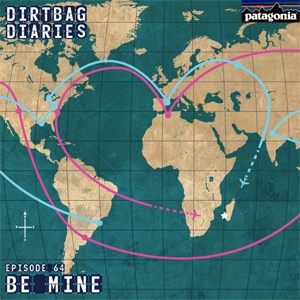 Love – it's life's great surprise. You can try to pin its origins in brain chemistry and hormones. On the right timing. But those don't explain why tough guys make slow rock mixes or why a timid person suddenly introduces themselves to the person of their dreams. Why it works for one couple and not another is beyond me, so I've stopped trying to guess. Your mate could be across the ocean or right next door. But if you find him or her, it feels as though every moment lead to the perfect culmination, even the awkward middle bits. And even if you need the help of a voodoo doctor. Today, we present two stories about finding love.

Listen to "Be Mine"
(mp3 – right-click to download)
Visit dirtbagdiaries.com for links to download the music from "Be Mine" or to hear past episodes of the podcast. You can subscribe to the show via iTunes and RSS, or connect with the Dirtbag Diaries community on Facebook and Twitter.
Graphic by Walker Cahall