Listen to "Benighted" Dirtbag Diaries Podcast Episode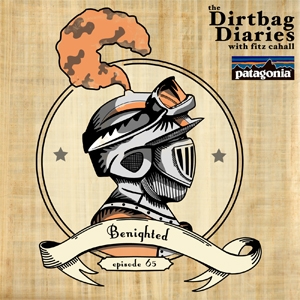 Great stories often have these five words, "and then it got dark." But how can carefully executed alpine starts and planned summits turn into watching stars dot the sky? Well, getting benighted can happen for a few reasons. One: unforeseen circumstances. Two: complete denial of reality. Or three: getting too comfortable in the dark. Kelly Cordes, Ryan Peterson, and Jay Puckhaber share their tales of being out, long after the sun has set.

Listen to "Benighted"
(mp3 – right-click to download)
Editor's note: On March 15, 2013, The Dirtbag Diaries logged their two millionth download. It's an amazing milestone. If you've enjoyed this podcast as much as we have, if it has "spurred your courage to try something new, to quit a bunk job, or say yes to a deep seeded belief while others told you to play it safe," then please pledge your support for the show.
Together we can help Fitz and Becca evolve the show and reach the next two million downloads. Thanks for listening.
Graphic by Walker Cahall