Listen to "Embrace This" Dirtbag Diaries Podcast Episode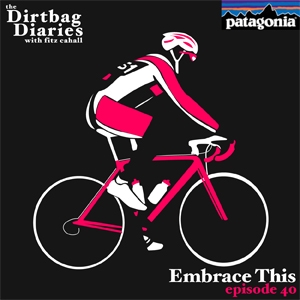 Crank through your week with a new podcast from the Dirtbag Diaries. Show host Fitz Cahall sets the stage:
I love bikes. I like riding them through the woods. I like working on them. I even like riding bikes on roads, but I've never been a road biker. To me road biking has always seemed a bit like raw oysters.  I take one look at it and I think, "I don't want to try it." Despite their slimy demeanor, I really like oysters. Once I got over their looks, they taste pretty damn good. Maybe road biking would be like that for me. This summer I decided to not only try road biking, I decided to embrace it in all its spandex glory. My climbing could suffer. The mountain bike could collect cobwebs in the garage. Along the way, I discovered the joy of riding through my city.

Listen to "Embrace This"
(mp3 – right-click to download – contains some expletives)
Visit dirtbagdiaries.com to hear or download the music from today's podcast. Fitz and crew are also holding another Night of the Living Dirtbag Contest. Submit a scary, outdoor-themed story to the Dirtbag Diaries for a chance to win a prize. Submissions are due by October 10th; contest details are on their site.
[With thanks to Allie. Graphic by Walker Cahall.]