Listen to "Origins" Dirtbag Diaries Podcast Episode
Editor's note: Hard to believe it's been five years since The Dirtbag Diaries was born onto the Internet. There have been so many good stories, so many inspiring people. Now, we can't imagine an Internet (or this blog) without them. Thank you Fitz and Becca for all your hard work. And thank you to the fans of the show for your passionate support. Here's Fitz and here's to five more years: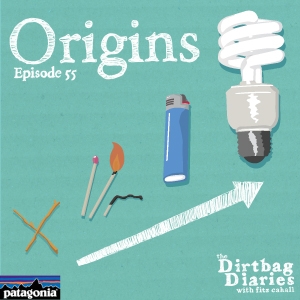 The Dirtbag Diaries turns five. This also happens to be our 100th episode. To celebrate the occasion, we reached out to our collaborators, our contributors and our friends and asked for ideas. I pitched them a bunch of ideas. They shook their heads. Their response was resounding. "We want to hear your story, the story of the Diaries," they said. Our intern, Austin Siadak, stepped forward to do the interview and relay the story. The tables were turned. By nature, we like our creation stories simple. An idea appears in the void.  A light bulb goes off. The apple hits Sir Isaac Newton on the head. In reality, creation stories are messier, more complicated and more interesting than abbreviated elevator pitches. They are a sum of parts. So here goes.

Listen to "Origins"
(mp3 – right-click to download)
Visit dirtbagdiaries.com for links to download the music from "Origins" or to hear past episodes of the podcast. You can subscribe to the show via iTunes and RSS, or connect with the Dirtbag Diaries community on Facebook and Twitter.
Graphic by Walker Cahall