Listen to "Everybody Loves LeeRoy" Dirtbag Diaries Podcast Episode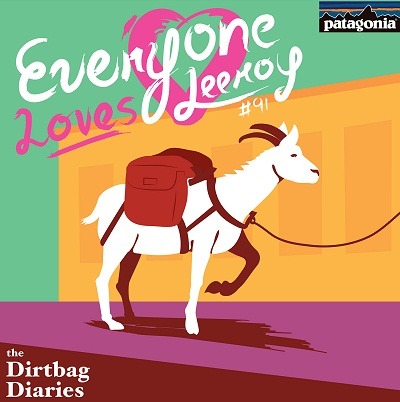 God told Steve Wescott to walk from the Space Needle to Times Square, NYC, with a goat named LeeRoy, to raise $200,000 for an orphanage in Nairobi, Kenya. Or at least that's the elevator pitch. In truth, when Steve started out of Seattle in 2011, it had much less to do with God, and much more to do with running away from himself and the mistakes he had made as a Christian rock star and sex-and-love-aholic. You probably don't want to listen to this one with your kids.

Listen to "Everybody Loves LeeRoy" at The Dirtbag Diaries.
Visit dirtbagdiaries.com for links to past episodes, music credits and to pledge your support. You can subscribe to the podcast via iTunes, SoundCloud, Stitcher and DoggCatcher, or connect with the Dirtbag Diaries community on Facebook and Twitter. The Dirtbag Diaries is a Duct Tape Then Beer production. Graphic by Walker Cahall.