Listen to "Rebirth of Belief" Dirtbag Diaries Podcast Episode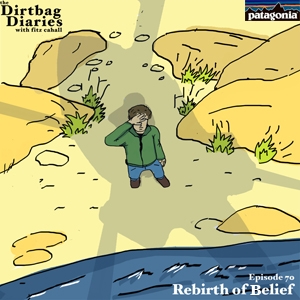 "We had the discussion around the campfire one night of trying to define 'what is wilderness'," John Stoneman remembers. "We determined that if you get hurt or you have a problem and there's really no way out, you're in the wilderness." Despite the fact that 29,000 people raft down the Colorado River every year, the Grand Canyon is still unquestionably that — wilderness. But what happens if you do need to get out? When the one place you need to be is a thousand miles away and you are off the grid? In 2010, John put in at Lees Ferry and embarked upon the trip of a lifetime — but not in the way he imagined. Today, we bring you a story about a race against time and the lengths that perfect strangers will go to help others in need. Buckle up.
Listen to "Rebirth of Belief" by The Dirtbag Diaries on Soundcloud
Visit dirtbagdiaries.com for links to past episodes, featured music and to pledge your support. You can subscribe to the podcast via iTunes, RSS, SoundCloud and Stitcher, or connect with the Dirtbag Diaries community on Facebook and Twitter. The Dirtbag Diaries is a Duct Tape Then Beer production.
Graphic by Walker Cahall