Listen to "Tales of Terror" Dirtbag Diaries Podcast Episode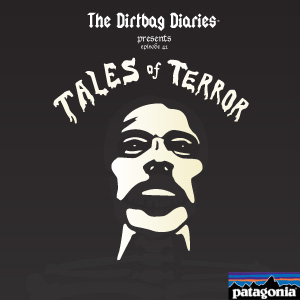 In lieu of candy, we're happy to share an equally sweet treat for your Halloween weekend. Fitz Cahall is back with his annual Halloween episode of The Dirtbag Diaries.
It's that time of year. Leaves line the sidewalks. Darkness tugs at the soul. A cold wind blows. Today, we present Tales of Terror, two stories from the most terrifying moments of our contributor's lives. This year's contest winners reminded me why I love working on the Diaries. Sometimes the stories are serious. Sometimes they're funny. They come from all over the world. Our first story was recorded in the field somewhere in Afghanistan. The second comes from my old stomping ground — Tahoe. Despite the differences, both stories are the result of passion, imagination and creativity. Today's contributors reached these terrifying moments because they have chosen to live both the width and length of their lives.  Thanks to everyone who participated. We had great submissions this year. Becca and I really appreciate it. Happy Halloween!

Listen to "Tales of Terror"
(mp3 – right-click to download)
Visit dirtbagdiaries.com to hear or download the music from today's podcast.
Double-shot: We missed posting the last Dirtbag Diaries Short. Here's a quick recap and a link to the podcast: "Can your packing style influence how you experience a new place? After traveling by bike for four months through Africa, Dean understands that what we bring dictates what we take home from our distant travels." Listen to "Packing"