Listen to "The Year of Big Ideas 2013" Dirtbag Diaries Podcast Episode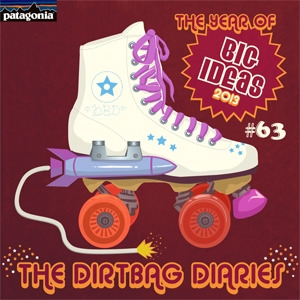 You might remember a story about climbers in the Magic Kingdom. It sounded like a dream job- climbing, secret lairs and cutting to the front of the roller coaster line. Our inbox flooded with emails about how to apply. But the program was canceled in 2005. Until last year. In an audition room filled with sponsored climbers and underground crushers, Susanica Tam felt her resume paled in comparison. Could climbing a mini-Matterhorn change Susanica's outlook on climbing?
Today, we present our annual Year of Big Ideas. We went out into our community and listened to what you want to do in 2013. Here's to saying yes to new opportunities, stretching ourselves, and embracing a little spontaneity.

Listen to "The Magic of Serendipity"
(mp3 – right-click to download)

Visit dirtbagdiaries.com for links to download the music from "The Year of Big Ideas 2013" or to hear past episodes of the podcast. You can subscribe to the show via iTunes and RSS, or connect with the Dirtbag Diaries community on Facebook and Twitter.
Graphic by Walker Cahall