Listen to "Three Eighths to Eternity" Dirtbag Diaries Podcast Episode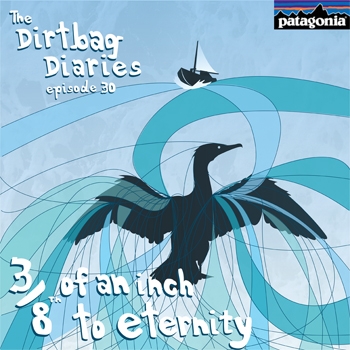 The Dirtbag Diaries descend from the mountains today and shove off into the vastness of the Pacific Ocean with former Surfer's Journal associate editor Christian Beamish. As always, show host Fitz Cahall is here to set the stage:
"The planks of
my boat
are three eighths of an inch thick. Three eighths – this is the distance between myself and the depths," writes surfer and adventurer Christian Beamish. Two years ago, Beamish crafted an 18-foot-long sailboat in his San Clemente garage. His obsession with sailboat-assisted surfing began with small week-long voyages and evolved into a preposterous idea – sail the entire length of Baja looking for waves. It would be a solo mission. The proposed trip left his friends questioning his mental state and his mother in tears. It would require big, open-water crossings in rough seas, and in the end it would leave Beamish changed. How far would you go to find the physical and mental limits of human endurance? How raw does your soul have to get before you find peace?

Listen to "Three Eighths to Eternity"
(mp3 – right-click to download)
Visit dirtbagdiaries.com for links and more information on the music in today's podcast. You can subscribe to the show via iTunes and RSS, or connect with Fitz on Facebook and Twitter.