Listen to "Unseen but Felt" Dirtbag Diaries Podcast Episode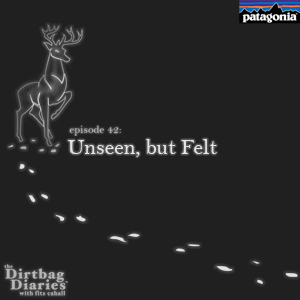 Host Fitz Cahall throws caution to the wind in today's beautifully narrated episode of The Dirtbag Diaries.
This last fall, Becca and I embarked on a trip of a lifetime. We began on foot in Sequoia National Park and hiked north through Yosemite. Along the way, we would climb as many routes as our rations, our bodies and the weather would allow. It was a slightly inefficient approach to a climbing trip that begged an explanation. To those who asked, I offered a slew of reasons. My heroes, John Muir and David Brower, had taken the same route. I wanted to prove we are capable of world-class adventure in our backyard ranges. Those closest to me knew better. I was trying to save myself. At its core, The Diaries has always been about the joy of wild places and our community's profound optimism, but at times contributors have stepped forward to provide stories about personal struggle, sorrow and depression. The Diaries has embraced both the light and the dark, because ultimately The Diaries are a reflection of me. Today, I present my own story. It may be hard to believe, but it happened.

Listen to "Unseen But Felt"
(mp3 – right-click to download)
Visit dirtbagdiaries.com to hear the music from "Unseen But Felt" or download past episodes. You can subscribe to the show via iTunes and RSS, or connect with like-minded listeners on Facebook and Twitter.