Fear and Self-Loathing in Punta Allen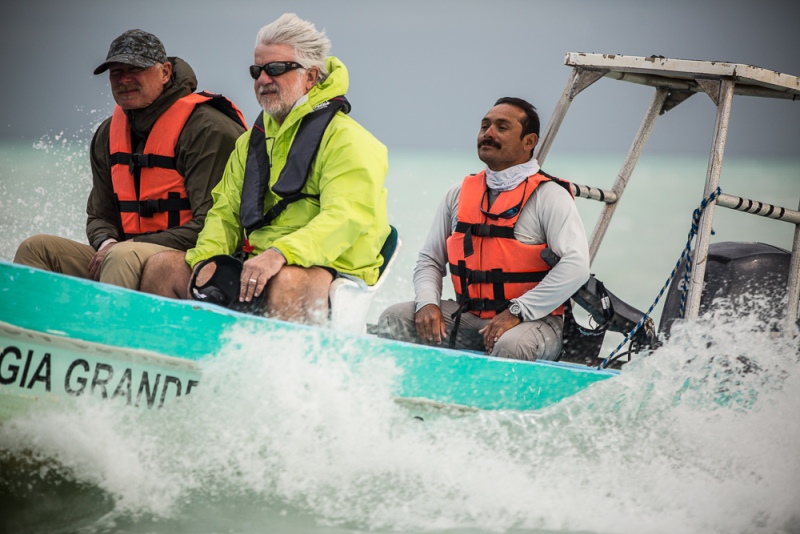 "Push the button."
"No, you push the button."
"What the hell, push it Ellen!"
She did.
I knew I was going to be profiled as a narcotraficante even though the contraband I was trying to sneak past the customs officer was anything but drugs. In fact, it was several thousand dollars worth of fishing goodies to be given away at the Palometa Club, a fly fishing destination in Punta Allen, Mexico.
The lodge, named for the permit fish, was playing host to a fundraising tournament to benefit Bonefish and Tarpon Trust, as well as the community school. Somehow—it is now lost to memory—I agreed to act as a mule to carry the merchandise for my friend and client, David. Since the weight of the Patagonia fishing shirts, polarized sun glasses, rods and fly boxes more than exceeded the allowed weight limit, I conscripted my friend and neighbor, Ellen, to haul some of the stuff for me. She naively agreed.
Custom officials do not want to search every bag that comes into the country, so a system of random checks is used. Each traveler who has sworn, verbally and in writing, that he or she is not carrying anything like cigarettes, dope, $10,000 in cash, or merchandise that can be resold in Mexico, has one last official to deal with. It's about duties, man! You gotta pay taxes on imports.
I knew that with my luck I would get busted right away, so since Ellen and I had our luggage all on one cart—and it was considerable as you might imagine—I wanted her to push the button. She did, and it was green. We were in! The customs agent probably figured we were married because of all the bickering over who would push the button, but she did her sworn duty and asked, "Are you married?"
"No, we aren't married," Ellen quickly replied. Oh sh*t! The agent looked at me and said, "Empuje el button!" I did and, of course, it was red.
First, there is bad luck. Sometimes, however, it precedes a period of good luck. This was one of those times. After confirming that we had no cigarettes in the mountain of bags in front of him, which contained our personal fly fishing gear as well as the contraband, the inspection agent let us slide in with relatively easy questioning and no digging deeper than necessary into the depths of our bags.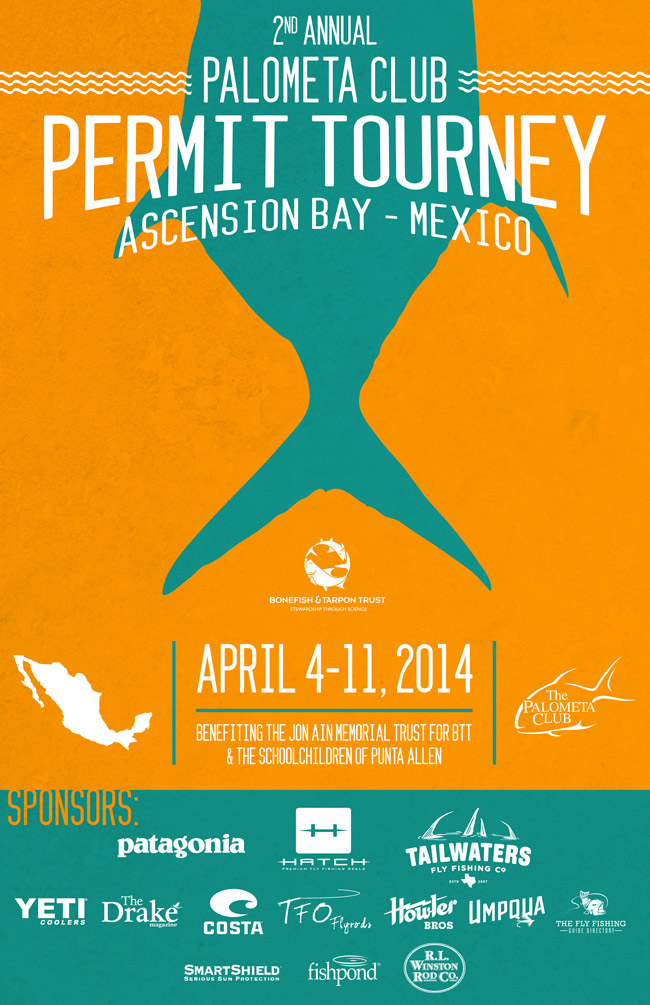 Now I could concentrate on the task at hand. Patagonia had agreed to cosponsor the second annual Palometa Club Permit Tourney and, along with Mark Harbaugh, I was on my way to compete in it. (See the Palometa Club blog for details on the first event held last year.) After eight seasons in operation, the lodge has boated over 1,000 of, arguably, the most challenging saltwater fish that can be taken on a fly.
Punta Allen, as a place, has called to me like a Siren for much of my adult life. Two years ago, I returned there for the fourth time, fished with the guides of the Palometa Club, and finally caught a permit on a fly. Fly fishing for any saltwater game fish is a challenge, but the permit has risen to the top of the chart for some of us. It is a quest that mostly leads nowhere.
Theoretically, catching a permit on a fly is like any other type of fly fishing. You have to select the fly that most closely resembles something a fish wants to eat. It has to be presented close to the eye/mouth of said fish. The fish has to eat the offering. The angler has to set the hook (derisively called a trout set if that is what you are fishing for). The fish is then played (or fought) and brought to hand or net. After a suitable amount of time is spent photographing the prize, before release or placement on a stringer, the angler then has a few minutes to gloat, smoke a cigarette, relieve himself or engage in a myriad of other post-angling OCD rituals.
Catching a permit on the fly, however, takes a bit more … obsession. Besides the fact that each of the above-mentioned steps must be followed, there is an additional challenge. The angler might not even see a permit after searching all day, even with two or three other sets of eyes trying to find one for you. No pressure. If and when you do get a chance to cast to a permit, there has been such a build-up of anticipation and anxiety that the probability of actually getting the fly close to the fish is pretty minimal.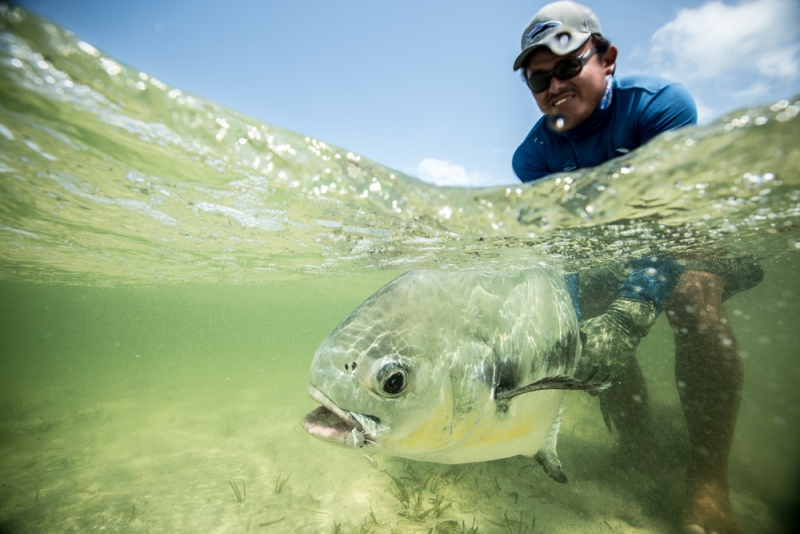 The elusive permit. Photo: Matt Jones
There were six teams and one lone angler entered in the fray. They were a mix of physicians, lawyers, developers, IT wizards and the like. In a word, Achievers. Some of them had already had considerable experience fly fishing in salt water. Some of them had even caught permit. Most could cast a fly without embarrassing themselves when conditions were good. We were to fish for six days and the winning team would be determined by an esoteric formula conjured up by the tournament director. I didn't give two hoots about the contest. I just wanted a chance at catching a fish.
From day one we knew a weather system was going to come into play—north wind, 25 to 40 knots on the day of arrival. Of course, no weather change comes in unheralded. Winds blew from the start. I always figure the first day of any weeklong trip is a throw away. Rusty casting, twisted lines, backing that hadn't seen the light of day in years, knots that needed examination by the guides, the list goes on. That is why you have the first day, but this one was a classic. Where did that double haul get off to? Dang! That wind had no mercy. Were the guides thinking that I was as bad as I looked? So much angst, but it had to be exorcised. Then everything would be just peachy. The first day produced no fish by any team.
Days two and three were almost carbon copies of the shakedown day. Permit were hooked up by a couple of other anglers, but no fish were landed. The jitters hung on. Fish were broken off from setting the hook too hard or they were never completely hooked in the first place. Strip strike set or trout set, fish lost while been played too hard, loops of line tangled around reels and fighting butts. You name it, we all did some of it.
Fortunately, however, Mark and I each got more than the ubiquitous rejection slip. Now, to be truthful, we each lost fish by one or more of the above mentioned maladies, but on the second day luck paid our boat a visit. I landed a very nice fish with enough heft to restore some of my damaged self-esteem. Mark did his part and also put a fish in the boat (only long enough for the requisite fish kissing photo of course.) We had no idea that it would be another two days before anyone else would land a permit.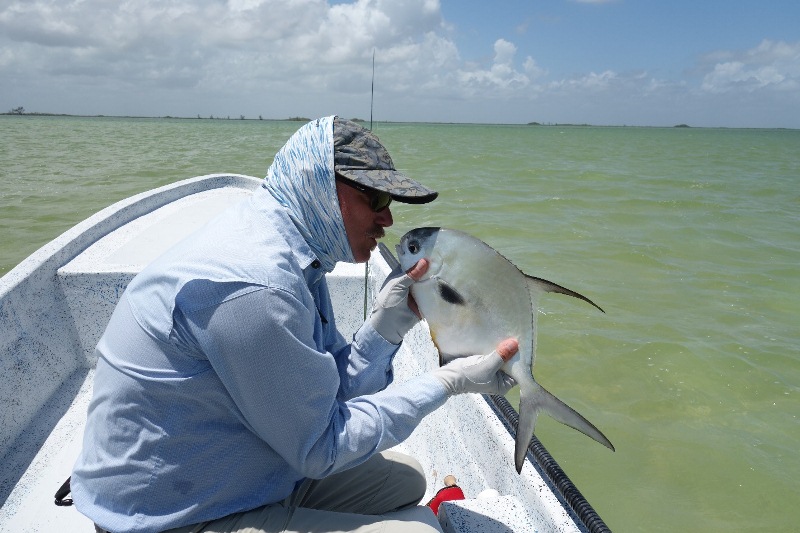 Mark kisses his permit goodbye. Photo: Mike Thompson
The fourth day was when we expected to have the norther, and it didn't disappoint. What began as the calmest day I had ever seen there, ended in an epic, hours-long boat ride back to port. I like to call this the day of fear and self-loathing in Punta Allen. We should have seen it coming. The classic "red sky at morning, sailor take warning" was there for all to see, if they were up that early. Brad and I were up. He was finishing his run (what an overachiever), and I was drinking my first cup of coffee. We both said "red sky…" at the same time. The sailors were warned.
We did have a few hours of nice weather before all hell broke loose. Mark cast to, hooked and lost a really large permit. Rain- and lightning-filled clouds finally engulfed us and we beat it to a rendezvous with the other pangas, huddled in the lee of a small mangrove island. For centuries, Mayans have been fishing and living in this part of Ascension Bay, so weather is no surprise. A more protected return route existed, and we took it. There were no injuries save some rattled nerves and backbones. We got back after curfew, but the bar was still open, thankfully.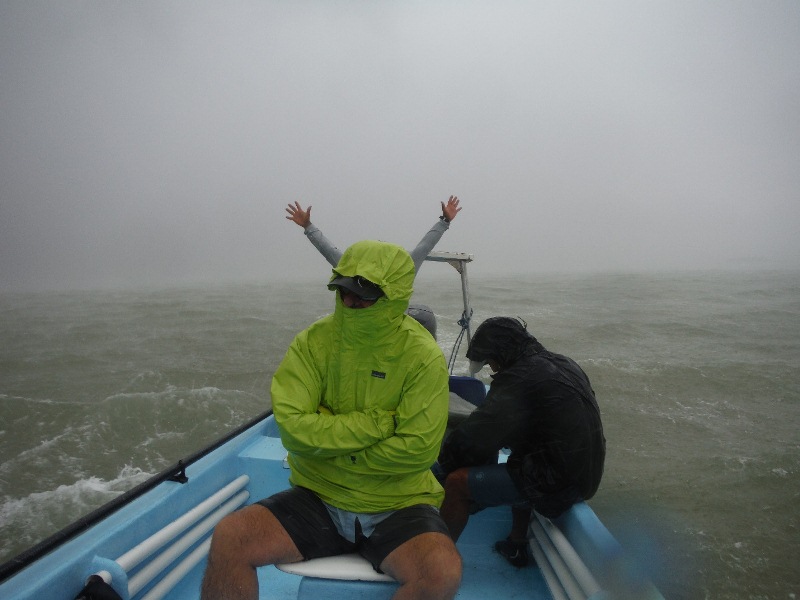 The captain, with arms in the air, does his best lightning rod impersonation. Photo: Mark Harbaugh
The final two days of the competition brought temperatures in the upper 60s, pretty cool for the tropics in April. On the first day, the fish fled the flats and very few were seen, much less cast to or caught. With one day to go, Mark and I were leading the tournament. The last day was gorgeous, perfect conditions, although still on the cool side. We knew fish were going to be caught.
Okay, so I'm not here to win a freaking tournament, but we were ahead. I had to shake it from my mind and become Zen-like, stay focused on casting while maintaining a true heart. But the nasty standings kept creeping into my mind. Oh, to recall that mantra I was given by the Maharishi so long ago. Damn! I couldn't remember it for the life of me.
The guides had their radios on; Brad had caught a large fish. We were going to lose. So what? But it did matter. I was feeling greed, remorse and loathing at my lack of skill in closing the deal. Just let my thoughts be pure. Focus on the process not the prize. That didn't work either.
I had another nice fish follow the fly, eat it and swim toward me but I didn't get the hook set. That was it, we were done. Mark and I looked at each other and, after some other missed chances, we both agreed that permit fishing was just too crazy, frustrating and disappointing. Maybe we should just grab our tenkara rods and go back to catching small trout on beautiful rivers in Idaho. Yeah, that would be the ticket.
Holy crap! Our two fish, caught way back on the second day, scored just enough points to win us the tournament. We put our small-trout thoughts back where they belonged. We were salty anglers once again with high hopes for the future. No need to sell our heavy-duty fly rods and high-capacity reels. We were going to come back a year from now to defend our title.
Time to practice my double haul and remember that mantra.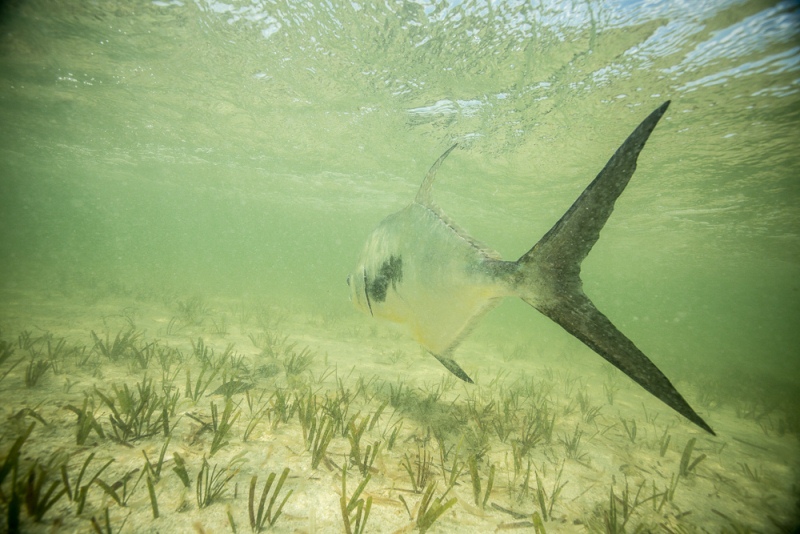 The way to send them off. Photo: Matt Jones
This story would not be complete without a call out to the incredibly talented guide teams at the Palometa Club. We thank you for your patience and your ability to look the other way when our mistakes called for it.
Carlos y Aaron (Avatar)
Alonso y Fabian
Koriano y Toni
Jorge y Jonathan
Charlie (la garto) y Julio (Niño)
Gerardo y Julio
Fili y Christian.
Last but not least, a big thanks to Kaye and Dick Cameron, our hosts.
And for sure, David Leake, the director of the travel department at Tailwaters Fly Fishing Company in Texas also deserves mention for helping to pull this event together. In addition to representing many of the world's greatest angling destinations, Tailwaters Travel handles the sales and marketing and USA offices for the Palometa Club. Contact David if you'd like to book a trip to Ascension Bay.