Fighting Forty (Part 4): Training Smarter, Not Harder
Part 4 in Kelly Cordes' series about perils and pleasures of aging gracefully while slaying stereotypes (the first three installments are here:1, 2, and 3). After a series of significant injuries – the most recent a severely torn shoulder – Kelly was forced to bow out of an upcoming trip to Patagonia with fellow climbing ambassador Tommy Caldwell. In this segment, he takes stock of training strategies past and future. -Ed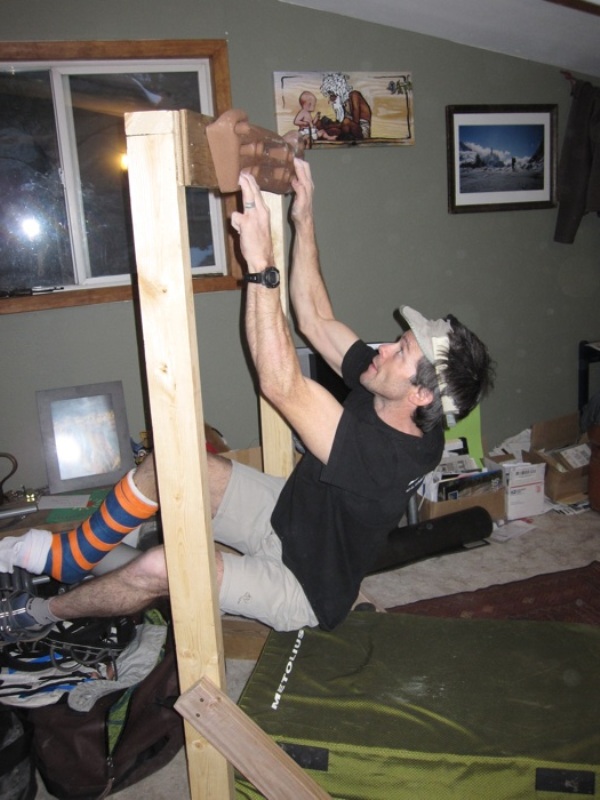 On my daily walk I got to thinking.
Wait, stop. What? Daily walk?!
Yes, I also get a chuckle imagining the look of abject disgust my 25 year-old self would give me now. Run, bike, climb, push, sure. GoGoGo. Walking is what old people do to get their mail. But injuries and rehab force me to reflect, and as I strapped on my protective arm sling – it officially came off Tuesday, but I'm being careful – I smiled and recalled a tale. It has to do with pace, I suppose, as there's this old bull and a young bull standing atop a hillside, looking down upon a herd of pretty cows, and the young bull goes, "Hey, Dad!"  . . . er, sorry. This isn't the place for it.
I also recalled a time many years ago, when I went for a simple walk at Lumpy Ridge. No climbing shoes and chalk bag, just a walk. On my way out I passed two friends on their way back from climbing, and they didn't say much, just stared at me with these puzzled looks. I thought nothing of it, said "hi" and kept walking. Later at the bar, one of them asked, incredulously, what I was doing. "Just going for a walk, that's all. It's nice."
"But dude," he said. "You don't have a girlfriend."
[Kelly working on his "Hangboard for Ants" last winter, after severely fracturing his lower leg. Photo: Cordes collection]
Maybe that's the thing with this aging "bullshit" – ah, now I'm putting it in quotes – things shift. Become less black-and-white.
Still, I can't wait to climb again. The big goals remain, the things that I dream about, that have given me my finest memories, but can I do it after this string of injuries?
Of course I can. The old adage holds true: train smarter, not harder.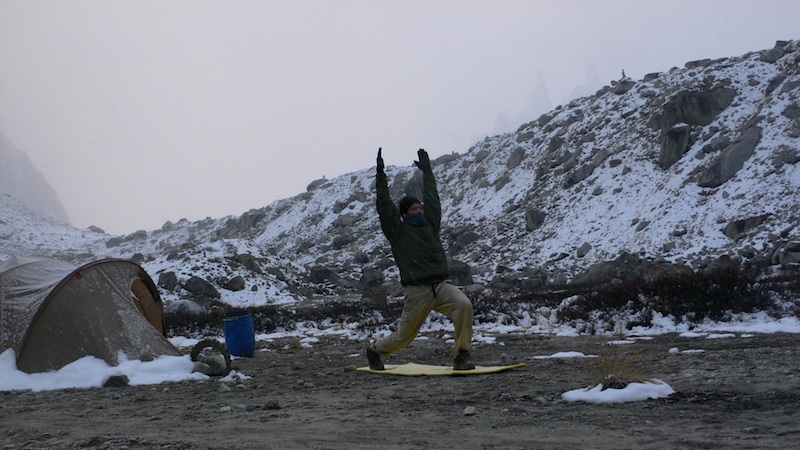 I've been here before, but I'm a slow learner and sometimes get too excited and fall off the rehab wagon. After my spinal reconstruction and fusion in 2005 – I remember one surgeon telling me I was "done" and had to accept doing walks and scrambles from then out (I found a better doc) – I devoted myself to rehab exercises and yoga (all those years of making fun of it, and there I was…). I worried that the time required for that "soft stuff" would cost me in "real" training time. Yet I became more flexible and mobile than before my fusion, and returned to climbing at a higher level. Funny how that works. And the three months that I couldn't walk after breaking my leg last winter gave me an opportunity to increase my finger strength – three months later, limping to the crag, I did my hardest rock climb to date. Hmmm. Smarter? I don't know.
I will admit that, at a certain point, finding opportunity in injury gets discouraging. But you have to keep fighting.
One side benefit from all this wear and tear is experience. There seems to be something to "old guy" endurance and efficiency, built-up over the years, that comes in and takes the place of those extra training sessions. Not to say I won't train hard anymore or won't push myself, but the balance of maintaining my body and picking my battles is increasingly vital. Maybe it's less berserker, more sniper (meditating in a cave will come after my next round of injuries…).
Maybe I should have come to this realization sooner. But it's pointless to wallow in the past, and, even as I suffer the effects of years of pushing too hard I still view with suspicion the armchair directives sometimes barked at the young-and-driven about how they should just take it easy (though yes, I know, all that time on the couch saved your knees). I never would have listened anyway.
 
After 17 years of serious climbing and 42 years of observation, I remain convinced that determination and drive will take you far further than physical gifts. There is no greater wasted resource on the planet than talent.
And so it's time again for me to redirect that determination. I'll be on the floor, doing my gentle rehab shoulder exercises. And my continued leg rehab and back maintenance work. All that soft stuff. It still bugs me a little how it takes away time from hard training and climbing, but so it goes – I plan to do more than walk to the mailbox when I am old.
[Kelly in "pre-hab," doing maintenance work at base camp. Charakusa Valley, Pakistan. Photo: Cordes collection]