Finding Their Way
Sandra Steinbrecher
/
Nov 30, 2021
/
6 Min Read
/
Activism
Two award-winning photos a decade apart.
When the Patagonia news came, we were still hopeful we could manage Tom's illness. I'd entered a photo in a contest the company held in the fall of 2007, calling for photos of people engaged in outdoor activities and wearing their Patagonia gear. My submission: a black-and-white shot of a young man (my older son, Aaron, then 16), cycling down an industrial stretch of bike trail on Chicago's North Elston Avenue. And it won! The prize: a series of guided hikes in Vietnam and Cambodia, along with the flights to get us there.
It was a perfect prize for us, too—my husband, Tom, an architect and former conscientious objector to the Vietnam War and I, a photographer. Only our life together had taken an alarming turn just months before when, after countless tests, Tom had received a diagnosis of systemic scleroderma, an incurable autoimmune disorder. Not knowing how long he had, we were determined to go anyway. Tom spoke to several doctors and packed a combination of Western medicines and Eastern remedies. I packed my treasured Nikon F2 and F3 cameras along with 40 rolls of Tri-X 400 black-and-white film.
Almost upon arrival in Vietnam, Tom fell sicker each day. Once a graceful, athletic man, he was now unable to eat and eventually grew thinner, weaker and dehydrated. During the days, he rested while I went out, photographing whatever I could. I ducked into open doorways in Hanoi's markets, wandered at dawn on the waters of Hạ Long Bay and passed joyful families along the teeming streets of Huế. At night, unable to sleep, I watched over Tom and listened to him breathe. Had we made a mistake coming on this trip? He was in pain, and we were so far away from home.
By the time we reached Hội An, Tom could barely move. A local doctor did his best to treat him. It was chilling to realize that this insidious disease was steadily progressing and we couldn't stop it. Tom received IV fluids while two Vietnamese nurses from the clinic in town sat with him around the clock. Cambodia was out of the question with Tom as sick as he was. The photos stop there, at a resort with gorgeous views of the South China Sea.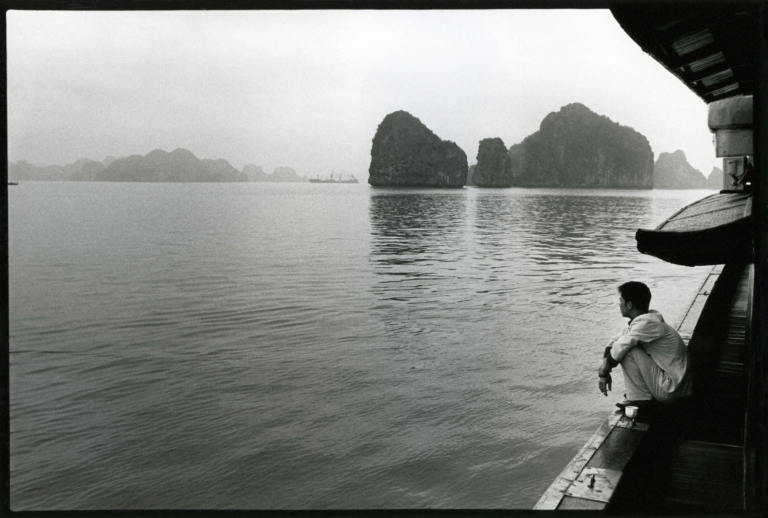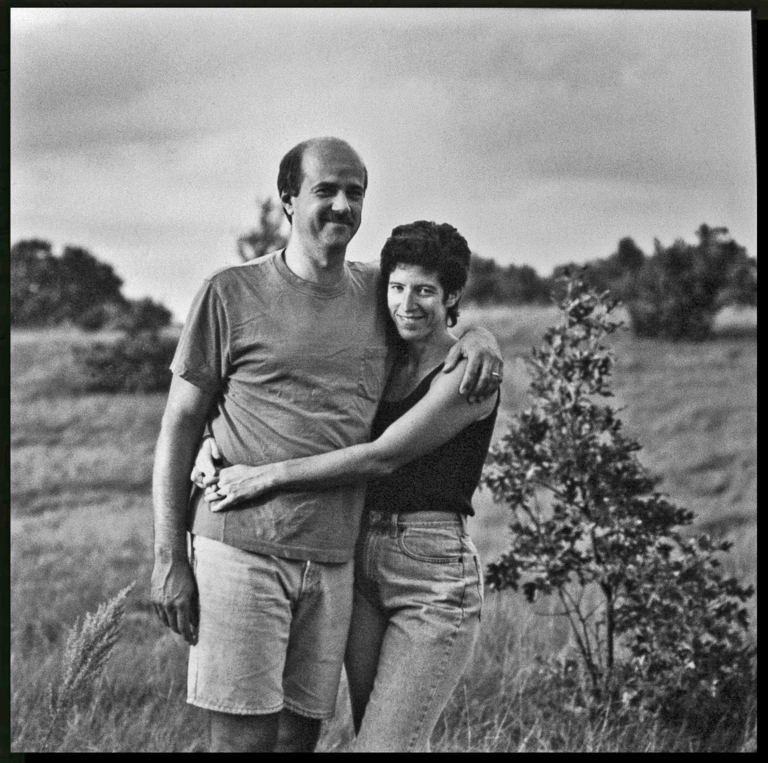 Back in Chicago, Tom made a partial recovery and once again we felt hopeful. I began to develop and print the negatives from the trip. After everything, I'd forgotten what I'd shot. Alone in the darkroom, I pulled the developed film, dripping, from the washer and was relieved to see the familiar negative images inside the sprocket holes. I found comfort in this and in all of the darkroom rituals—carefully cutting the film into strips, making proof sheets and eventually selecting images and making prints for a show. The trip to Vietnam and the images I shot there had ignited something in me: a desire to capture life's ordinary, defining and powerful moments of beauty that would bring meaning to my work.
Nine years later, on March 24, 2018, I put my cameras in a backpack and went down to Union Park in Chicago. Another tragic mass shooting had taken place that Valentine's Day at Marjory Stoneman Douglas High School in Parkland, Florida. The student survivors demanded that we adults take action to stop the violence being perpetrated against them, and this rally was one of over 800 anti-gun demonstrations across the country that day. Camera in hand, I moved through the crowd of teens, parents, grandparents, teachers and doctors. I could feel the intense emotions. People seemed to open themselves up; they wanted to be seen.

Later that year, just before Thanksgiving, an email landed in my inbox with the subject line: Congratulations! A photograph I'd taken that chilly morning of three young people marching for a safer world had been selected for an exhibition at the Smithsonian Institution's National Portrait Gallery in Washington, DC. It would hang steps away from Kehinde Wiley's portrait of former President Obama. I couldn't have been more grateful.
After I got the news about the National Portrait Gallery exhibition, I wanted to find the kids in the photograph and share the honor. For months I hit dead ends. A week before the exhibition opened, I drove to Prosser Career Academy on a tip that the young man in my photo was a student there. I ran into the school's office waving an 8-by-10-inch print. I soon learned that all three of the young people in the photograph were seniors there.
As each of them was called to the principal's office, they were sure they were in trouble. They relaxed when I told them why I'd come. They didn't remember me or the fraction of a second when I clicked the shutter. But they appreciated the news when I pointed to a poster of Amy Sherald's painting of first lady Michelle Obama, which was coincidentally hanging in the principal's office, and explained that their portrait was in the same museum.
Our meeting turned emotional as Arlyn described that she'd gone to Union Park that day to honor her cousin, only 19 years old, who'd been shot and killed a few months before. Jasmine attended in solidarity with her peers, and Alhaji felt that it was a chance to try to make things better for everyone.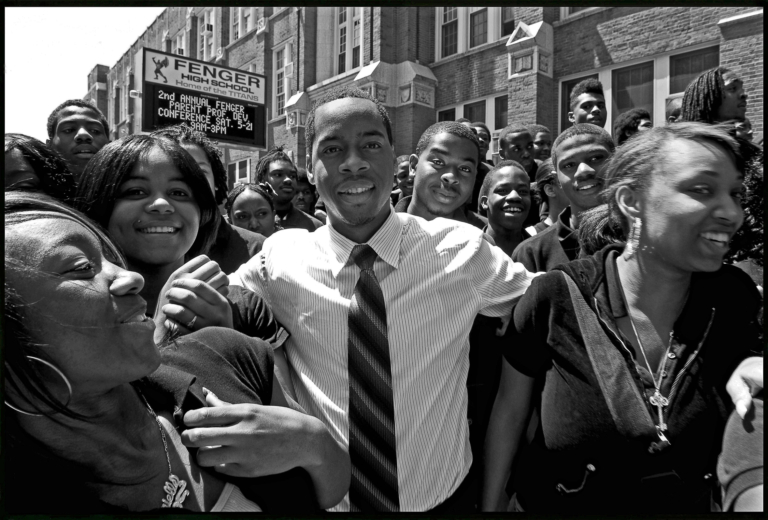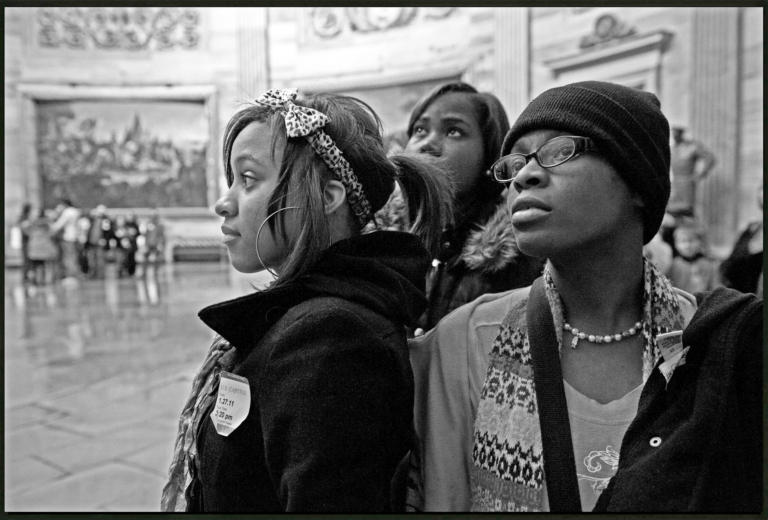 I promised myself I would do my best to get them to the Smithsonian to see themselves in the National Portrait Gallery. We rallied the support of hundreds of friends and strangers and were cheered on by the curators who arranged a special tour. Our senator's office volunteered to organize the Capitol visit. I planned to document the trip and the rest of their senior year activities. As our March 2020 departure date approached, COVID-19 and the global shutdown derailed all those plans.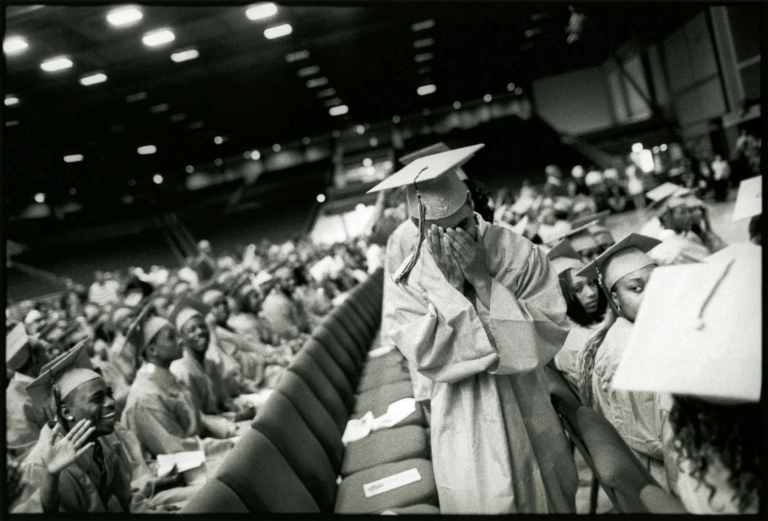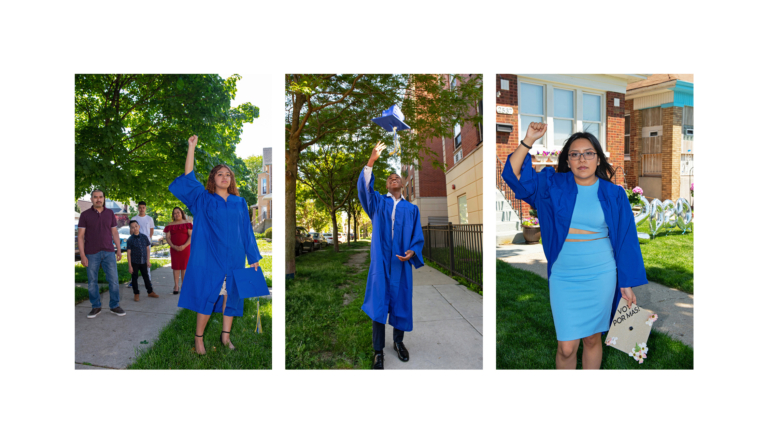 But an unexpected friendship began to develop with texts and monthly Zoom calls. We chatted about our lives as they finished their senior year in lockdown. In June 2020, I went to each of their homes and photographed them in their graduation caps and gowns with their families. By November, all three had turned 18, and I shot photos after they voted in their first presidential election.
Eleven Thanksgivings had passed between the two images being chosen by Patagonia and by the Smithsonian, and they now strike me as bookends to a decade. A decade filled with the lovely and ordinary challenges of raising kids, the fear and uncertainty of Tom's illness, the grind of hospitalizations and the blow of his death, the pain of Aaron and Otto losing their dad, and all the rituals and events that eventually came and went without him—birthdays, graduations, trips to our beloved Sleeping Bear Dunes in Michigan, college visits, careers, an engagement.
The trip to Vietnam perhaps represents our journey together—with all the sweet, sad and exhilarating moments—and of course it had to end. There is never enough time. While working, caring for Tom and caring for my boys, I pushed my deeper feelings away. It hasn't been easy to return to those emotions to face the many layers of what I've lost, and to find my way without the warmth of Tom's unwavering love for us. But as I do, the photos help. They illuminate those small powerful moments of beauty and the social justice: human issues that connect my work to my life.
And as I reflected on the young people in both of these pictures, I realized they both portrayed teens finding their way in the world. Aaron pedals with the vigor and optimism of youth. In the 2018 rally photo, young people are taking a stand against the violence that is killing a staggering number of their peers. They're demanding the freedom Aaron had on his bike.