Footprint Chronicles Gets Freshened Up for Fall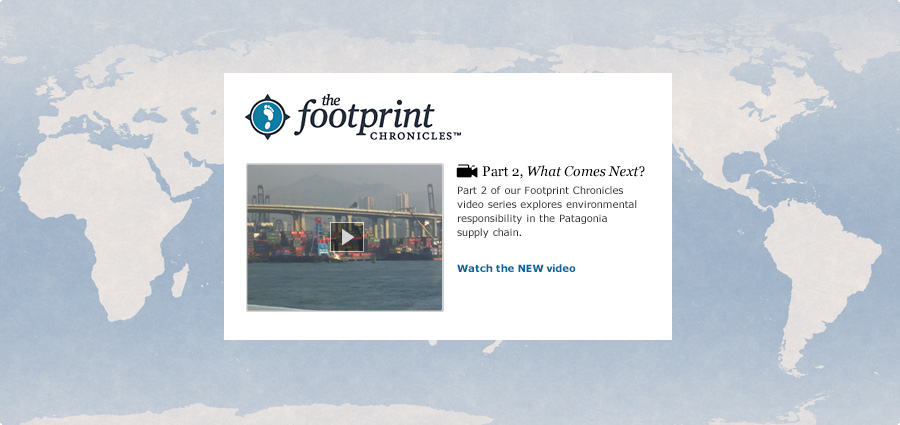 We've just updated the Footprint Chronicles, our interactive mini-site we use to share information about how andwhere our products are manufactured, what the environmental costs areand how we think the process can be improved.
There are a number of new features in today's Footprint update but the highlight is the release of the second in a three-part video series dedicated to investigating the issues of social and environmental responsibility and product quality. Our first documentary explored social responsibility and offshore manufacturing. Our new installment, What Comes Next?, explores environmental responsibility in the Patagonia supply chain.
Our latest installment also includes three newly chronicled items – arecycled fleece jacket, synthetic high-loft insulation, and awaterproof/breathable jacket.Together, these new additions to the Chronicles take us deeper into ourFootprint investigations by illustrating how trying to do the rightthing creates its own set of environmental challenges.
Make the jump for a full list of features in our new Footprint Chronicles.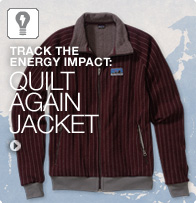 New features in the Footprint Chronicles:
Watch our latest video What Comes Next?
Investigate the Footprints of three new products: Quilt Again Jacket, Nano Puff® Pullover, and Rain Shadow Jacket
Trace the production path from source materials to store shelves. Easier navigation and improved interactivity provides a more complete story.
Measure manufacturing impacts more thoroughly, with updated information on water consumption as well as energy use, waste, carbon emissions and distance traveled for chronicled products.
See Product Footprint data for more than 150 products on Patagonia.com. Look for the "Product Footprint" tab next to the "Product Information" tab on the product pages of Patagonia.com.