From Seed to Shot: Thoughts from a Sustainable Coffee Afficionado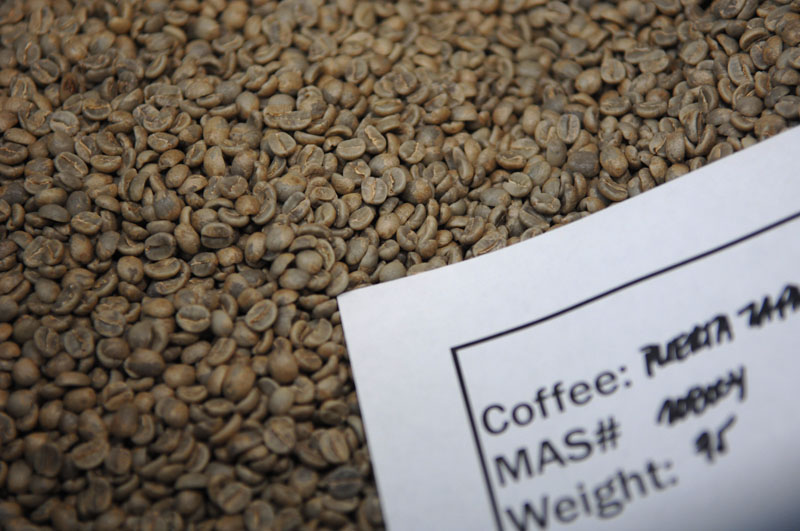 I never used to like coffee; it was too bitter. I could only drink it diluted (with milk) and sweetened (with sugar). But two years ago a couple of colleagues at Patagonia turned me into an aficionado. Betsy introduced me to the simple pleasures of the beverage. "Coffee should never be consumed with sugar," she told me, insisting that it had a wonderful taste, alone.  Steve introduced me to the vast array of "specialty coffees"— premium coffees—which, like fine wines, naturally have hints of chocolate, fruit, nuts, and other botanical flavors.  One of his favorites was a blend from Intelligentsia, roasted in Los Angeles.  My interest in coffee was quickly percolating.  Before long, I enrolled in a home barista class at Intelligentsia and made space next to my rice cooker for an espresso machine.  I loved the challenge of pulling the perfect shot. I was an espresso devotee.  The more I practiced making it, the closer I got to perfecting the extraction of it, which, I learned is a kind of art.  Good espresso has a delicate sweetness and flavor worth savoring unadulterated.
Editor's note: Patagonia's online advertising maestro, and Clif Bar cycling team member, Mark Shimahara shares some background on a beverage many of us rely on to kick-start dawn patrols and alpine starts. Our thanks go out to Intelligentsia for offering a discount code to Cleanest Line readers. Read on to get the code and get brewing yourself. 

My interest in coffee and photography lead to shooting opportunities with Intelligentsia's California locations. The assignments gave me an insider's perspective of what it takes—from seed to shot—to serve up a cup of coffee worth writing home about.
[Unroasted "green beans" arrive from origin and are roasted to match an exacting flavor profile. Some batches of beans are roasted longer than others. Generally speaking the darker they are roasted, the bitterer and less acidic the espresso. Photo: Mark Shimahara]
Baristas, like wine makers, share the inner-workings of their offerings to their customers (e.g. background of the bean, how it was prepared, how sweet or bitter a particular coffee is). Likewise, they recommend flavors that they think their customers will enjoy based on their expressed preferences. Whereas most coffee bars prepare their drinks using an automated machine, each cup of coffee at Intelligentsia is manually prepared.  Coffee beans are ground to order; that is, when you place an order, beans will be ground just for your drink.
[Check out how espresso is extracted from this Dpt4D Original Series Video. Espresso, Intelligentsia from Department of the 4th Dimension on Vimeo.]
Until last month my knowledge of coffee was limited to the post-harvest stage of coffee production.  I knew what happened to coffee beans once they arrived in the US.  But I knew little of the pre-roasting stages of coffee development.  Where did beans come from, exactly?  How were they harvested?  What was life like for a bean before it came to the US?  As a photographer at Intelligentsia's annual Extraordinary Coffee Workshop (ECW) in El Salvador last month, I had the opportunity to capture much of this with the camera.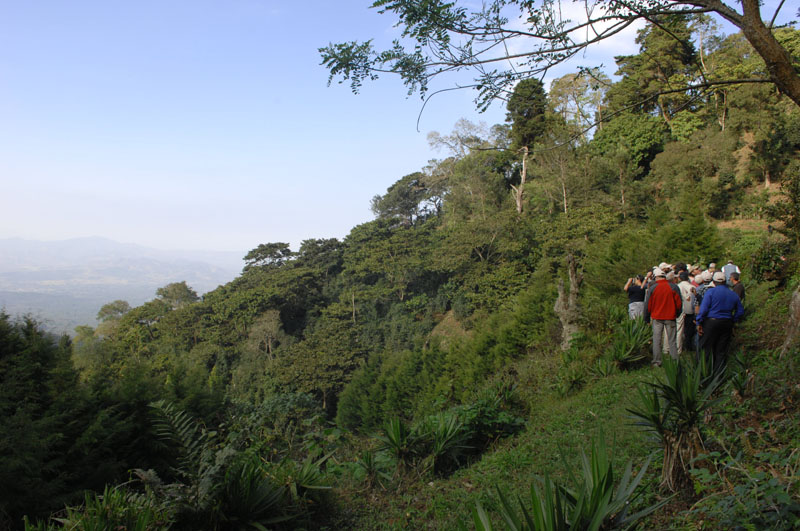 [Growers from around the world gather at the ECW to visit plantations and share ideas about growing the best coffee. Photo: Mark Shimahara]
The purpose of this annual workshop is for specialty coffee growers to gather and exchange ideas about growing coffee.  Compared to non-specialty coffee, specialty coffee only accounts for a small share of the coffee market.  Those growing such beans are usually owners of small farms in developing countries that use traditional and regional growing techniques.
Intelligentsia works directly with farmers instead of importers in a model they call "Direct Trade Coffee."  This ensures strict quality and environmental standards, fosters long-term relationships with farmers, and offers more competitive compensation to farmers (at least 25% greater than Fair Trade pricing).
Intelligentsia created an extensive network of relationships with farmers all over the planet. To help these farmers grow even higher quality coffee, the company invited growers from Asia, the Americas, and Africa to the ECW to share ideas and best practices.  Intelligentsia also shares with its grower-partners their customers' preferences in coffee with the goal of helping them maximize success.
When coffee is ready to be sold on the market, it's evaluated for its quality and flavor. If it scores well, it is labeled as a specialty coffee, which can demand a far greater price and resultantly, more profit for the farm it came from. To foster farms' yield of specialty coffee, the ECW included visits to farms (growing), mills (processing), and discussions of coffee consumption.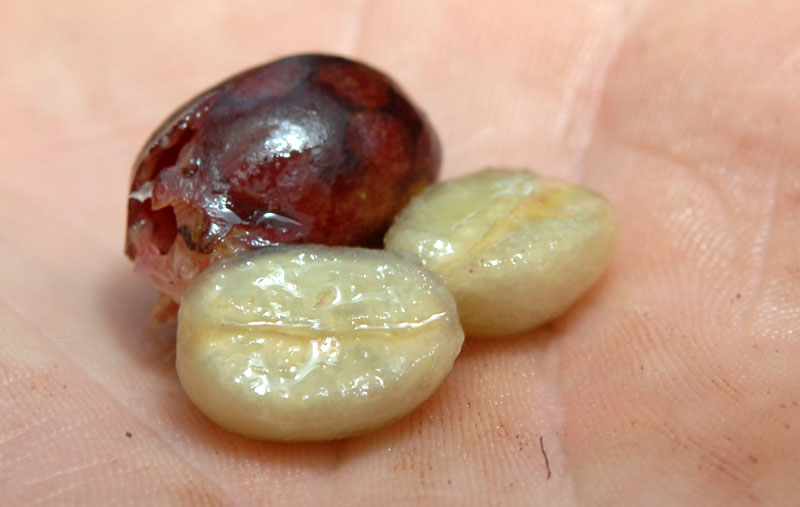 [The coffee cherry and its seeds (the coffee bean). Photo: Mark Shimahara]
Coffee comes from the seed of a cherry. Surrounded by mucilage and skin, the seed accounts for over 75% of the fruit.  Coffee is grown in tropical climates where it's hot and the soil is fertile.  Specialty coffee is grown at altitude where the air is less humid, the sun is stronger, and the air has less oxygen. The altitude (and accompanying lower temperatures) forces the beans to mature slower and become more flavorful.  At 5,000 ft above sea level, we stopped at our first farm, Finca Malacara, which resides along the Santa Ana Volcano which last erupted in 2005.  The ash from the volcano provides coffee with fertile soil.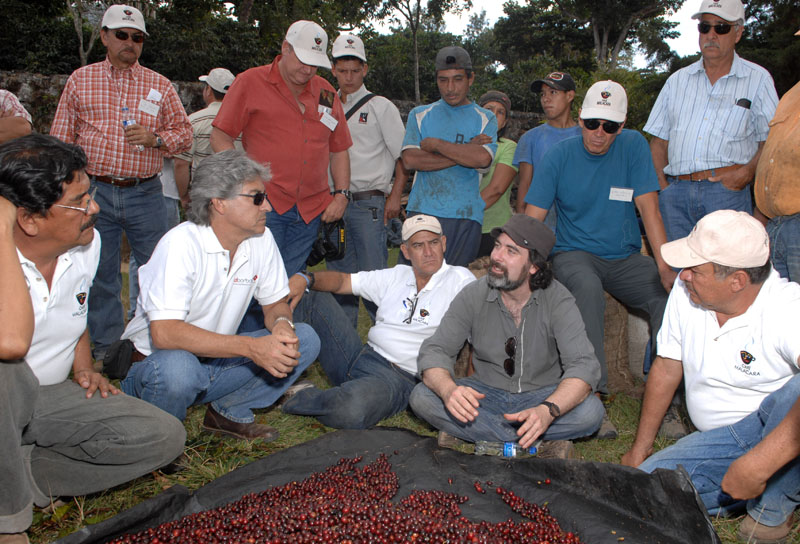 [Discussing the harvest to workshop participants, Intelligentsia's coffee buyer Geoff Watts (with gray cap) sits next to Guillermo Álvarez (to his right) at his farm, Finca Malacara. Photo: Mark Shimahara]
The second farm we visited was the 2004 winner of El Salvador's Cup of Excellence, a national competition for the finest coffee.  A former resident of California, farmer Jose Molina named his different lots on Bosque Lya after cities in California to uphold the tradition started by his father-in-law.  Like the cities, each lot represents a unique microclimate along the mountain yielding different profiles. Our visit was during their final harvests of the year, the first of which was in December.  Pickers picked ripe dark red cherries for specialty coffee consideration.
Once picked, the berries are brought to the mill for processing.  There are two ways to process: wet or dry. For the dry method, cherries are dried with their skins first.  Then their skins are removed by a huller.  Coffee using the dry process has a slightly fruity taste.  This process is popular in Brazil and in African countries.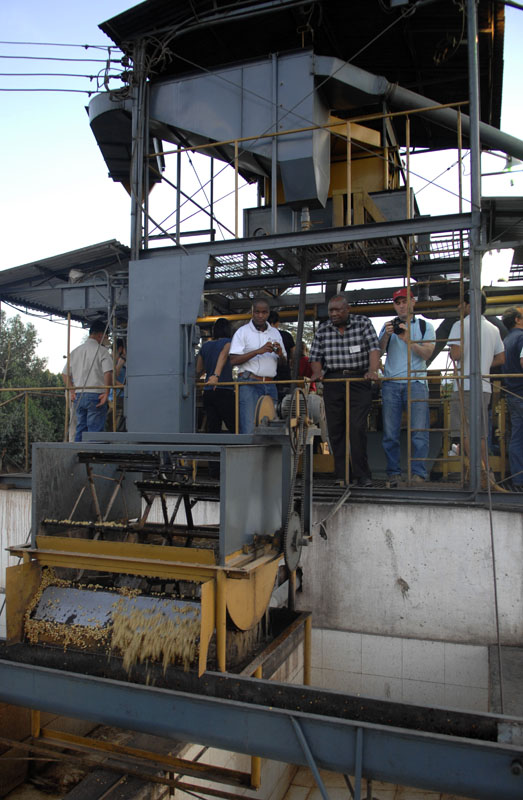 [At the wet mill participants observe pulping, where the skin is separated from the seed. Photo: Mark Shimahara]
In El Salvador, the wet method is popular.  The skin is removed from the cherries and then the seeds are soaked in a tank for a day to ferment, and then rinsed. The coffee is then dried on a patio, inspected and packed.  Once packed, samples of the coffee are sent to potential customers (importers and buyers) for consideration.  Customers "cup" the coffee to evaluate it for taste, flavor, and aroma.
Cupping (and I'm not referring to the Chinese medicine version here), which involves observing, sniffing and tasting the samples, is how buyers evaluate which coffees they want.  The ECW featured a cupping competition in which contestants guessed the country a particular sample was sourced and identified coffee defects such as mold or overfermentation.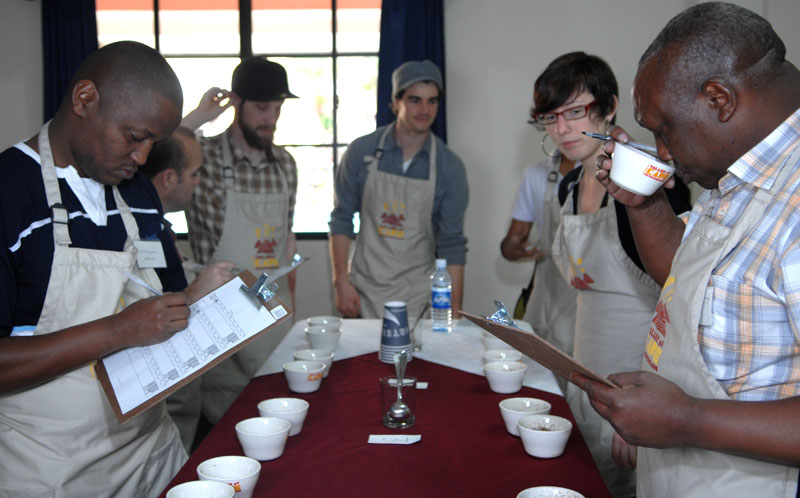 [ECW participants evaluate ground beans during cupping. Photo: Mark Shimahara]
Cupping involves several stages. First, each coffee is weighed out in whole bean form into two 12 grams samples and then ground separately. The cups are then examined for consistency. They are shaken and sniffed. If each of the cups seems the same, it is considered consistent; it passes the first test.  But if, say, there is mold in one cup (even if it looks good in the other cup), it is rejected.
Next, hot water is then poured over the grounds.  After half a minute, grounds form a crust on the surface of the coffee.  The crust is then broken with a spoon and the aroma of the coffee is again evaluated.  The crust is then removed and tasting begins—one spoonful at a time—by slurping.  Slurping aerates the coffee and releases its flavors for the palate.  Each sample is evaluated on a 100-point scale.
Farmers who attended EWC also learned the process of how Intelligentsia prepares coffee for customers. Four methods were presented: espresso, syphon (which uses a vacuum pressure to brew coffee) and two filtered coffee methods.
From seed to shot, it's this uncompromising commitment quality in each step that impressed me so much.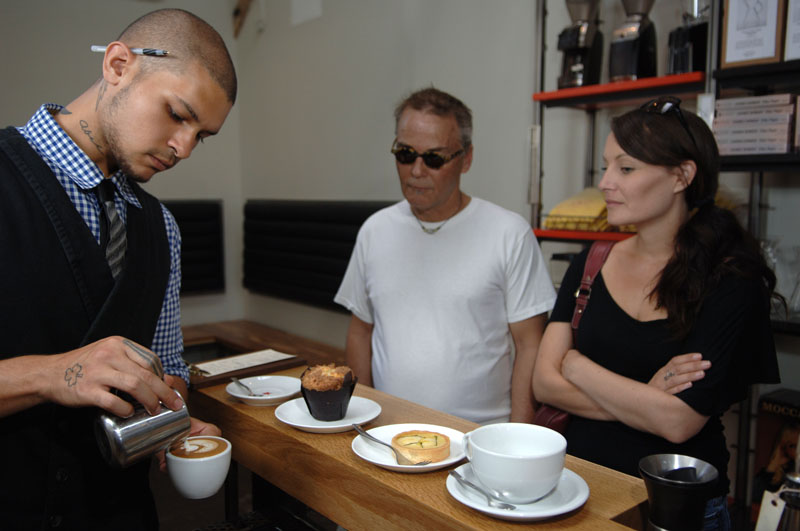 [When enjoying a cup of coffee at a specialty coffee shop like Intelligentsia, consider that many people have contributed to that heavenly drink to make it the best it can be. Photo: Mark Shimahara]
Curious to try?  Intelligentsia is encouraging Cleanest Liners to taste.  Use promo code PATAGONIA2010 for 15% off any coffee or tea products at IntelligentsiaCoffee.com. Discount only applies to in-stock coffee or tea products. Limited to 1 use per customer. Valid May 21 – June 4, 2010. Must order online, cannot be retroactively applied to orders.
And here are some Epicurious videos that may help with selection and brewing options:
———————————————————————————
On a related note, Patagonia ambassador Majka Burhardt is following up her first book, Vertical Ethiopia, with a new effort entitled Coffee: Authentic Ethiopia. The book will explore coffee as a mechanism for understanding Ethiopia, and Ethiopia as a mechanism for understanding coffee. Majka traveled deep into the heart of the Ethiopia to compile the first ever resource devoted to the culture of coffee in the land of coffee's heritage. The book is scheduled for a September 2010 release. Visit Origin Point Press for more information, ordering, and project details.
[Video: Coffee Authentic Ethiopia Promotion from Ninety Plus on Vimeo.]