From the Front Lines: 50,000 Join the Biggest Climate Rally in U.S. History
Alison Kelman
/
Feb 20, 2013
/
4 Min Read
/
Activism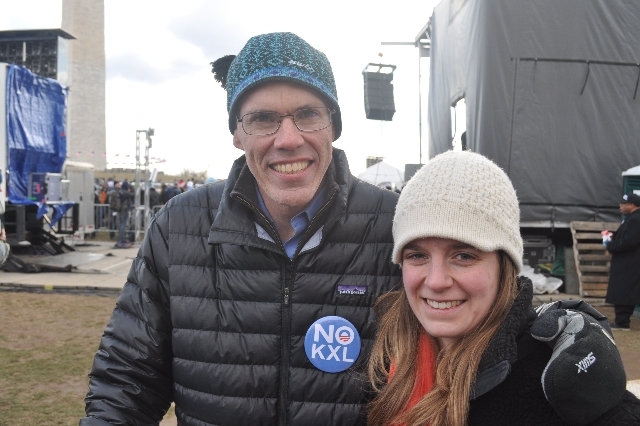 His message was simple. When you are in a hole, stop digging.
On Sunday morning I joined prominent environmentalist and 350.org President Bill McKibben, Sierra Club Executive Director Michael Brune, and over 50,000 protestors on the National Mall to participate in the largest climate change rally in U.S. history. The Forward on Climate Rally was supported by 168 organizations and environmental groups from across the country. Buses, trains, and bicycles delivered protestors from every corner of the nation. The temperature hovered just above freezing as we waved signs, chanted slogans, and huddled against strangers for warmth. Between flurries, rays of sun peaked out from behind the looming Washington Monument.
"All I wanted to see was a movement of people against climate change, and now I have seen it," proclaimed McKibben to the crowd.
The first attendants congregated at the makeshift stage set up at the corner of 15th and Constitution, but by noon the crowd had expanded as far as the base of the monument. Earth flags, green-lettered banners, and handheld windmills traveled above the crowds of young Occupiers, families pushing strollers, and seasoned environmental protestors. "Hey! Obama! We don't want no climate drama!" they chanted as they stomped their feet in the freezing mud. As the wind blew I envied the men (or women) in their warm polar bear costumes, sporting SAVE THE ARCTIC t-shirts, raising their furry fists into the sky as Hip Hop Caucus CEO Reverend Lennox Yearwood pumped up the crowd.
"Fifty years ago, right here, Dr. King marched on August 28th, 1963," opened Yearwood. "They marched for jobs and freedom, and they marched for equality. This rally, fifty years later, is as important or more important as that rally then. Because while they were fighting for equality, we are fighting for existence."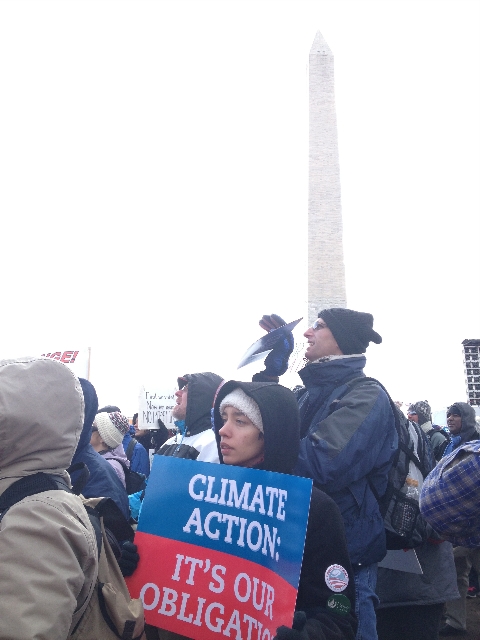 Protestors from across the country gathered at the base of the Washington Monument to bring awareness to global warming.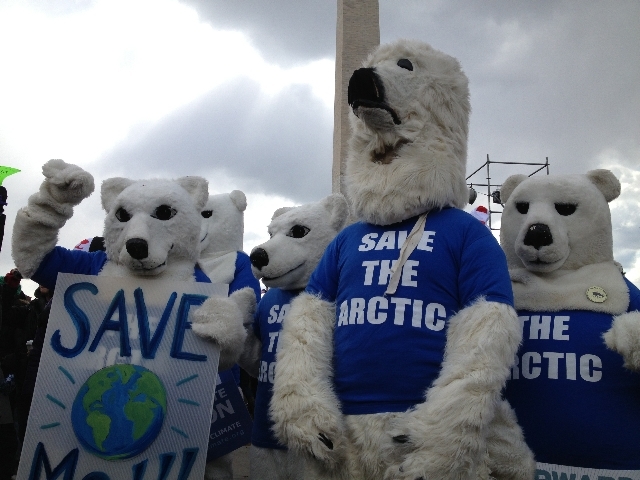 "Save the Arctic" polar bears from the Alaska Wilderness League.
While awareness and education on climate change was the main act, the first step was clear: Stop the Keystone XL pipeline.
"This is the last minute in the last quarter in the biggest most important game humanity has ever played," stated Van Jones, former Green Jobs Advisor to the Obama White House.
"President Obama – all the good that you have done, all the good you can imagine doing, will be wiped out by floods, by fire, by super storms, if you fail to act now to deal with this crisis that is a gun pointed at the head of the future," said Jones. "The decision is in your hands Mr. President."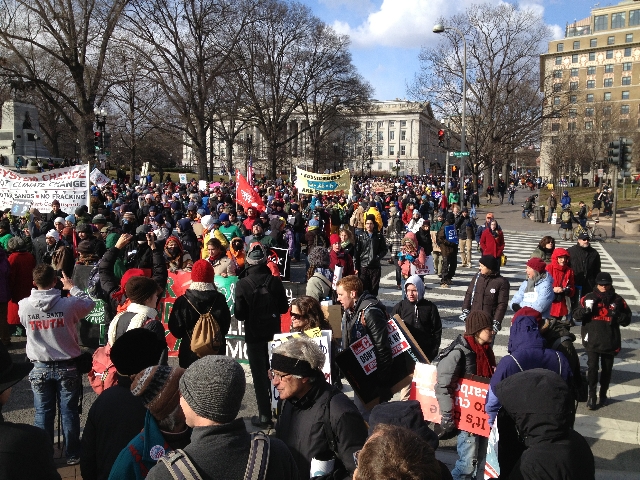 Over 50,000 people walk down 15th Street back down the mall, the final stop on the march.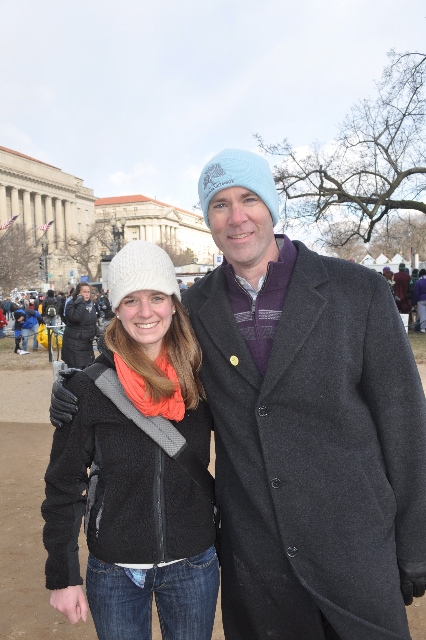 Author Alison Kelman and Sierra Club Executive Director Michael Brune.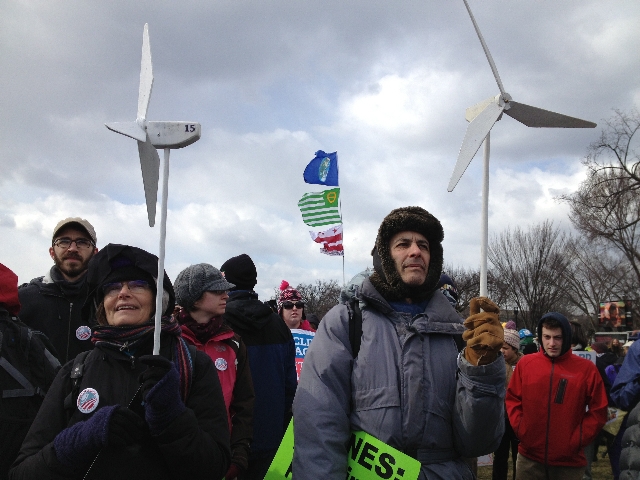 Supporters of green energy hold up mini windmills.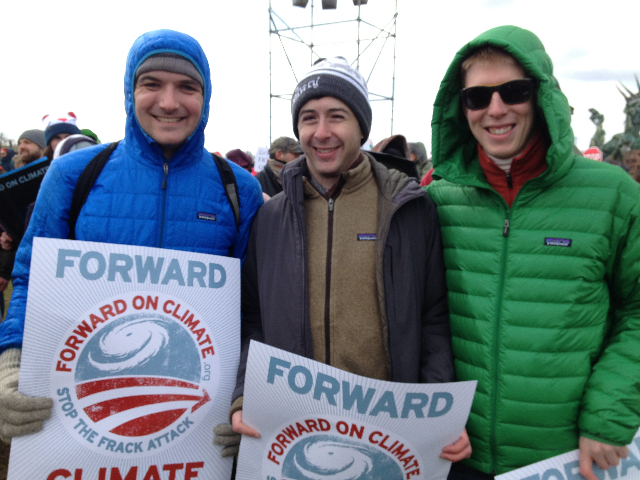 There was no shortage of Nano Puffs, Better Sweaters or Down Sweaters at the rally. Patagoniacs for the climate!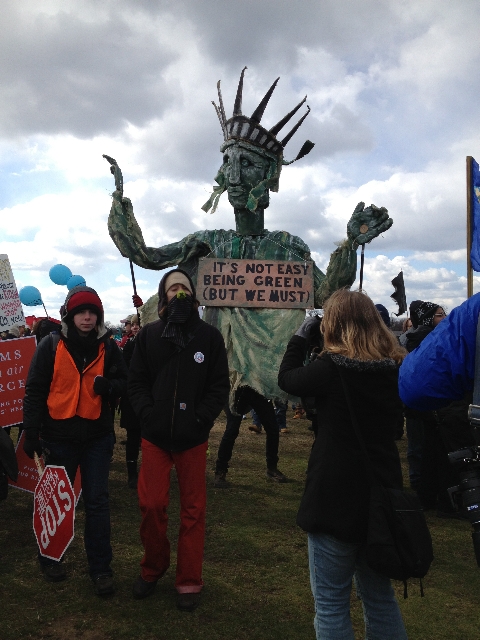 "It's not easy being green, but we must!"