Good Times at Fly Fishing Retailer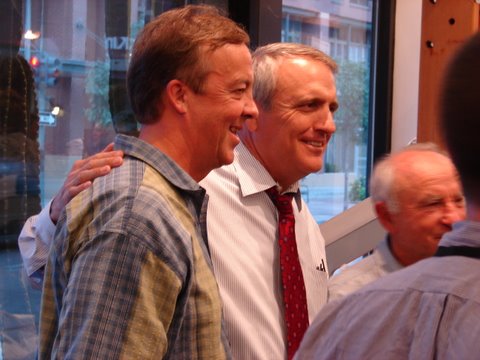 Trade shows are a part of life for many folks around Patagonia. They're a great way for us to meet up with all the wonderful Patagonia Dealers who sell our gear in your hometown, and see what's happening with the rest of the industry. Many of you probably attend a trade show or two for your respective professions.
The most recent stop on the Patagonia trade show tour was Fly Fishing Retailer in Denver, Colorado. As part of the show, we held a special reception at our Denver store. Moldy Chum probably summed up the evening best:
A star studded crowd turned out for the annual Patagonia Fly Fishing Retailer reception at the Denver Patagonia store. The crowd was treated to great food, adult beverages, a World Trout Update, a 1% for the Planet pitch from Yvon Chouinard and film clips from Conway Bowman, AEG, Felt Soul Media, Rollcast Productions and Mikey Weir. Even Bill Ritter, the Governor of Colorado, made an appearance.

It was a fantastic evening.
[Patagonia CEO Casey Sheahan, Colorado Governor Bill Ritter, and Patagonia Owner/Founder Yvon Chouinard. Photo courtesy of Fly Fish Magazine.]
One of the most impressive announcements of the night came from Patagonia fish marketing manager, Bill Klyn. Bill reported that the World Trout Initiative has raised approximately $250,000 over the last two years to support grassroots groups fighting to preserve endangered trout. The money is raised through the sale of T-shirts that feature the artwork of James Prosek. Thank you to all who have purchased one or more of these beautiful shirts.
And finally, we'd like to point you towards the trailer for "Red Gold" the video Felt Soul Media showed at the reception about the debate surrounding the Pebble Open Pit Gold & Copper Mine in Alaska. To view the trailer, visit wayupstream.com. To learn more about this issue, please visit renewableresourcescoalition.org, savebristolbay.org or read the environmental essay "Pits in the Crown Jewels" at Patagonia.com.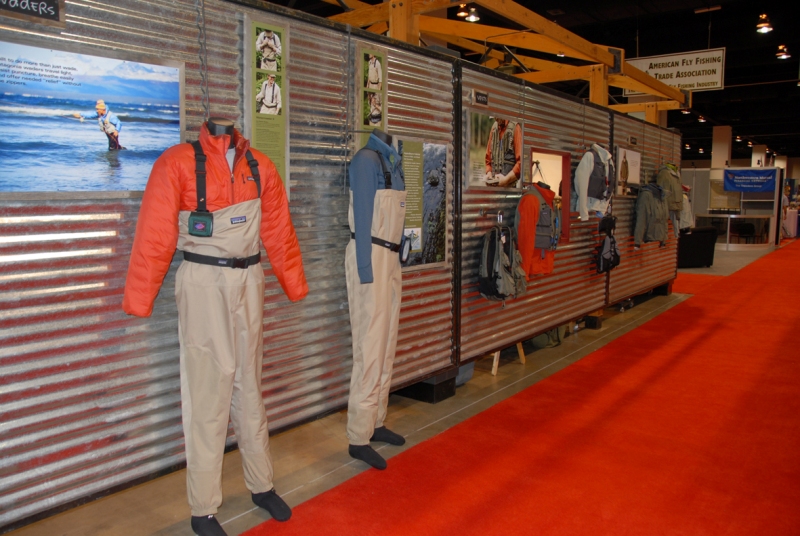 [Photos: Bill Klyn talks about World Trout; Conway Bowman introduces his film; Tom Chandler of Trout Underground (and The Cleanest Line's very first commenter) smiles with Brian Bennett of Patagonia; the outside of the Patagonia booth at FFR. Photos by Fly Fish Magazine and El Pescador. Special thanks to Fly Fish Magazine, Moldy Chum, Way Upstream and Felt Soul Media.]