Greening Armenia – Environmental Internship in the Caucasus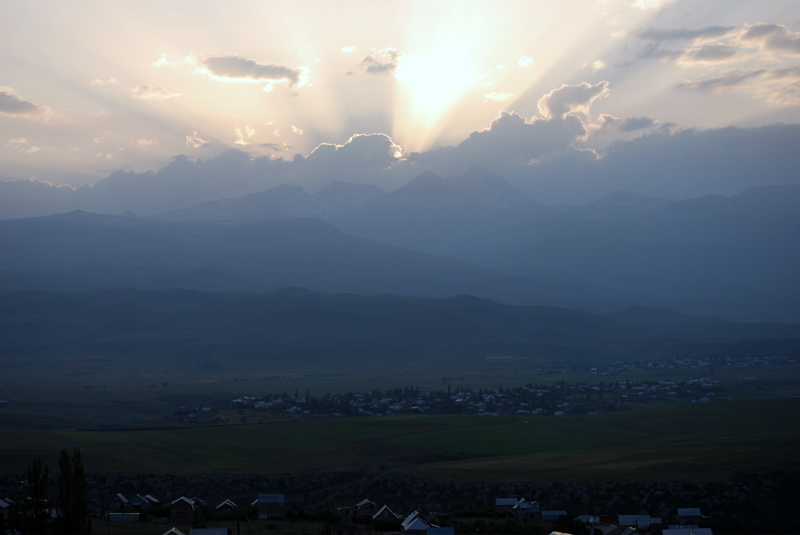 Today's post is from Walter Allen, a project business manager at Patagonia (and a new father). Last summer, Walter volunteered for two months with the nonprofit environmental organization, Armenia Tree Project, in Yerevan, the capital of Armenia. What follows is an account of his internship, sponsored by the Patagonia Environmental Internship Program, which gives employees up to two months salary and benefits to work on behalf of environmental causes worldwide.
Armenia is a small former Soviet republic located in the South Caucasus region, north of Iran and east of Turkey. Its transition from socialism to capitalism has not been easy on the country. This, as well as regional conflicts and a devastating earthquake, have contributed to a rocky start for this new democracy. One of the environmental effects of this transition period has been deforestation. In rural landscapes, many hillsides were denuded. In the cities, one often sees the metal frames of park benches whose wooden seats were torn out by cold citizens and burned for heat.

With headquarters in Watertown, Massachusetts, Armenia Tree Project (ATP) works in Armenia on three principal projects: community tree planting/rural reforestation, community development/poverty reduction, and environmental education and advocacy. From mid-June to mid-August 2008, I had the pleasure of volunteering with the group in Yerevan, through Patagonia's environmental internship program.
Mount Aragats as seen from the slopes of Mount Ara, which is about 8,000 feet. Armenia is quite mountainous. Arable land is at a premium.
All photos: Walter Allen.
My internship employed some of the skills I use at Patagonia and some I'd yet to develop. During this time, I reviewed English-language press releases written by ATP's public outreach coordinator, worked with its finance manager on budgets and reporting, and helped to develop a nursery allocation tool to provide ATP with better information to plan their tree nursery. This included mapping the nursery using GPS and incorporating that mapping data into an Excel database so they could make the necessary calculations.

ATP's nursery is in the village of Margahovit in northern Armenia, approximately 2 hours by car from Yerevan. While Yerevan is dry and hot (over 40C/100F most summer days), Margahovit is situated at almost 6,000 feet and therefore much cooler. Its tree-covered hillsides are reminiscent of Switzerland or Colorado. At its nursery, ATP grows ash, chestnut, maple, oak, pear, pine and wild apple seedlings it uses in various forestry projects throughout the country.

Mine was a valuable experience from several perspectives: personally, I appreciated the opportunity to experience Armenian culture in a way in which few visitors do. Armenia is not a likely holiday location for many Westerners, so the opportunity to experience it with local people for an extended period of time was rare indeed. I also came away with a heightened appreciation for some of the creature comforts to which we Americans are accustomed.

The length of time afforded by my internship made the difference between just visiting the country and experiencing it. I met some Armenians whose prior exposure to the United States was limited to what they saw on television. Since I live in Santa Barbara, I had several discussions about the 1980's soap opera of the same name. Due to Patagonia's internship program, dozens of Armenians of all ages now have a richer sense of at least one American.

The kindness and generosity I received both at the ATP office and in trips to Margahovit are something I will never forget. I was pleased to put my experience and skills toward helping ATP, and hope my efforts will help them to make a difference for the people of Armenia.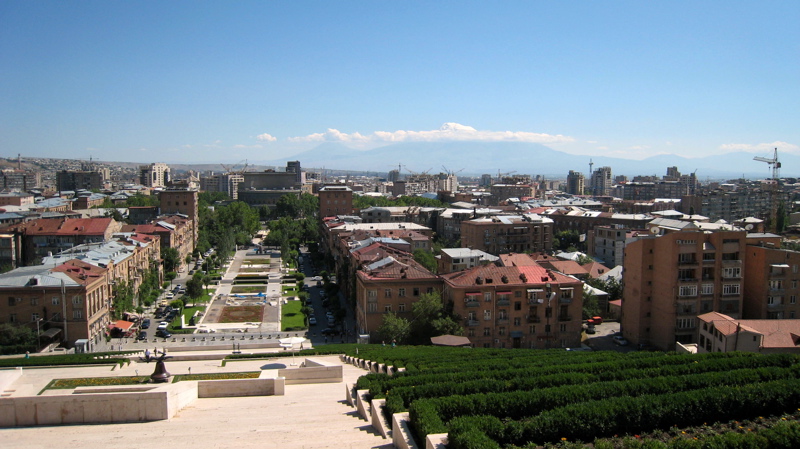 A view of central Yerevan, with Mount Ararat (Turkey's highest point) in the distance. Over one million people, 40% of Armenia's population, live here. The city expanded greatly during the 20th century under Soviet rule.
Margohovit is a split village, one part ethnic Armenian, the other inhabited by Molokans – ethnic Russian Christians who split from the Russian Orthodox Church in the 17th century.
The group maintains strong beliefs in pacifism and communal enterprise, living similarly to American Amish. During the 19th century, tzarist officials instituted policies designed to force Molokans from Russia to the periphery of the Russian empire, which Armenia was part of at the time. There are approximately 5,000 Molokans in Armenia.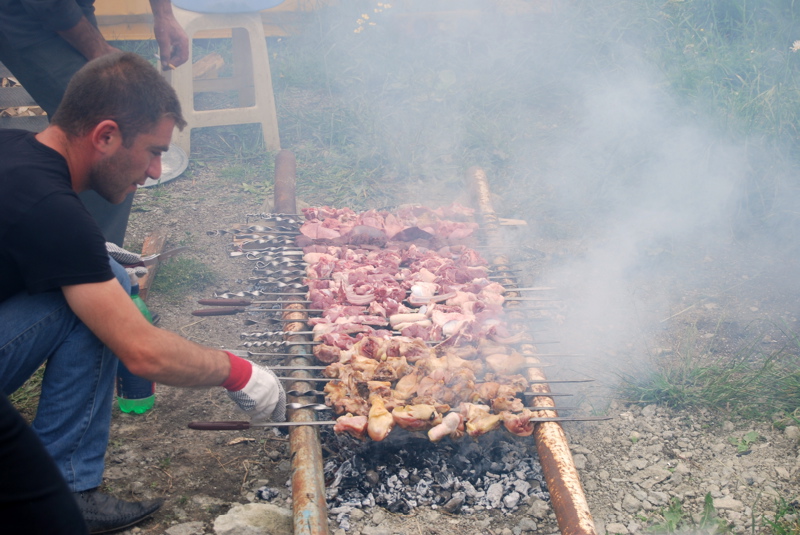 Armenian barbecue – khorovats in Armenian – lamb, chicken, or pork, was served on visits to ATP's nursery.
There is no one prescribed way to set up the BBQ, but everyone has an opinion, which may be animated by intermittent vodka shots. Homegrown Armenian food is largely organic by default and delicious. In the summer, people eat fresh fruits and vegetables. In the winter, people eat more homemade canned and pickled foods.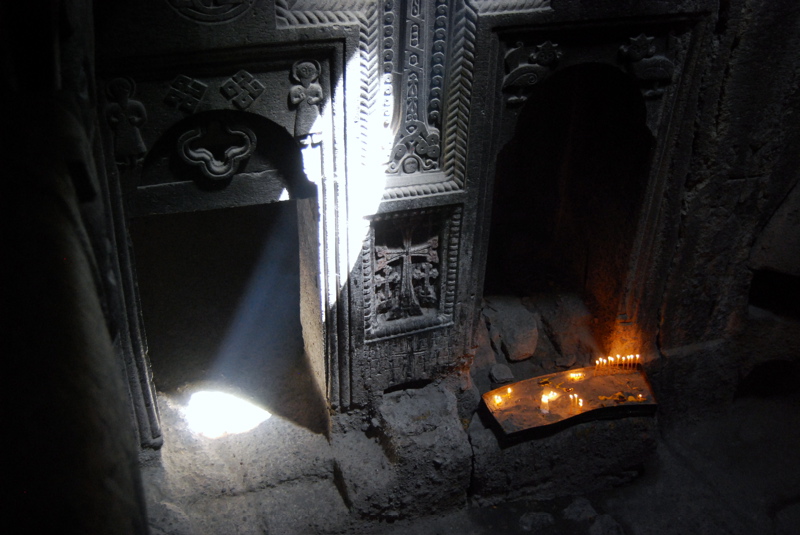 Internships are not all work. Geghard Monastery, a UNESCO World Heritage Site near Yerevan, was founded by Gregory the Illuminator in the 4th century at a sacred spring inside a cave. Gregory brought Christianity to Armenia in 301 AD. It is the world's oldest Christian nation.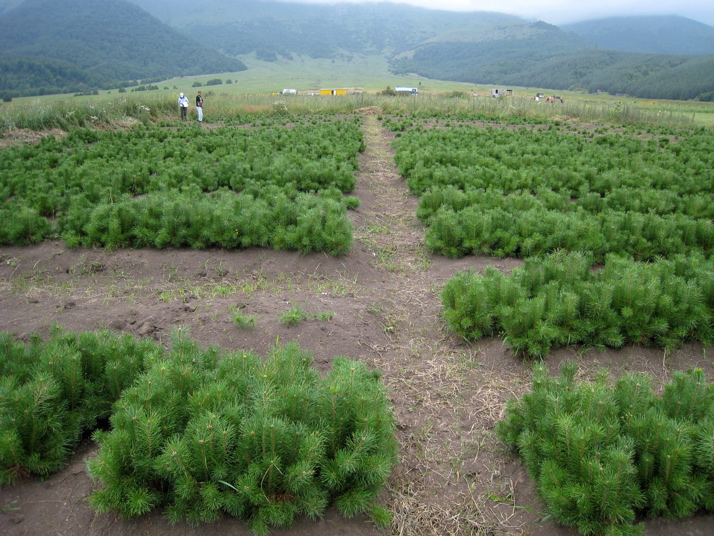 We took an inventory of the 10-acre Margahovit nursery to determine how the number and kinds of trees being grown. These pines will be used in reforestation sites all over Armenia.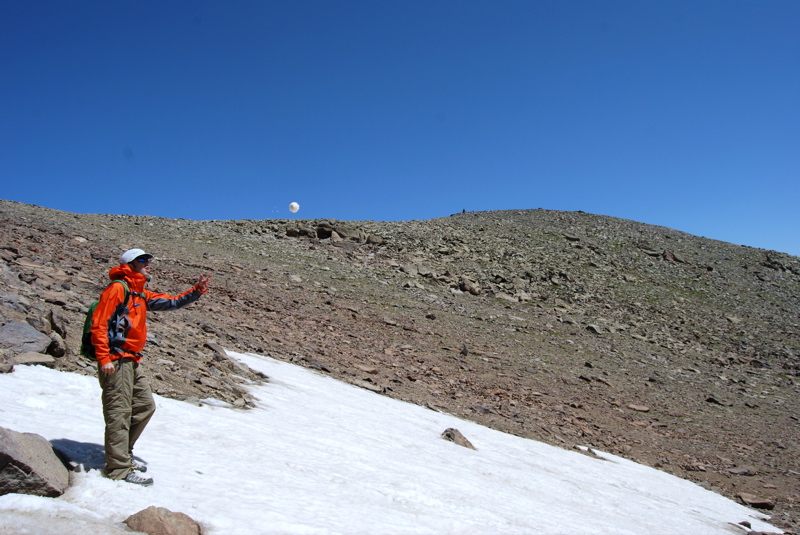 On my last day in Armenia, I took a day trip to Mount Aragats, which at 13,435 ft (4,095 m) is Armenia's highest point. I'd also wanted to climb Mt. Ararat in Turkey, which entailed a detour through Georgia because the border between Armenia and Turkey is closed. But the mountain, too, was closed after a group of Kurds had taken some German climbers hostage.
When the Russians invaded Georgia in early August, I decided it was not meant to be and climbed Aragats instead.