Greenland Vertical Sailing 2014 – Part 3, Back to civilization and summary of climbs
Nico Favresse
/
Oct 7, 2014
/
10 Min Read
/
Climbing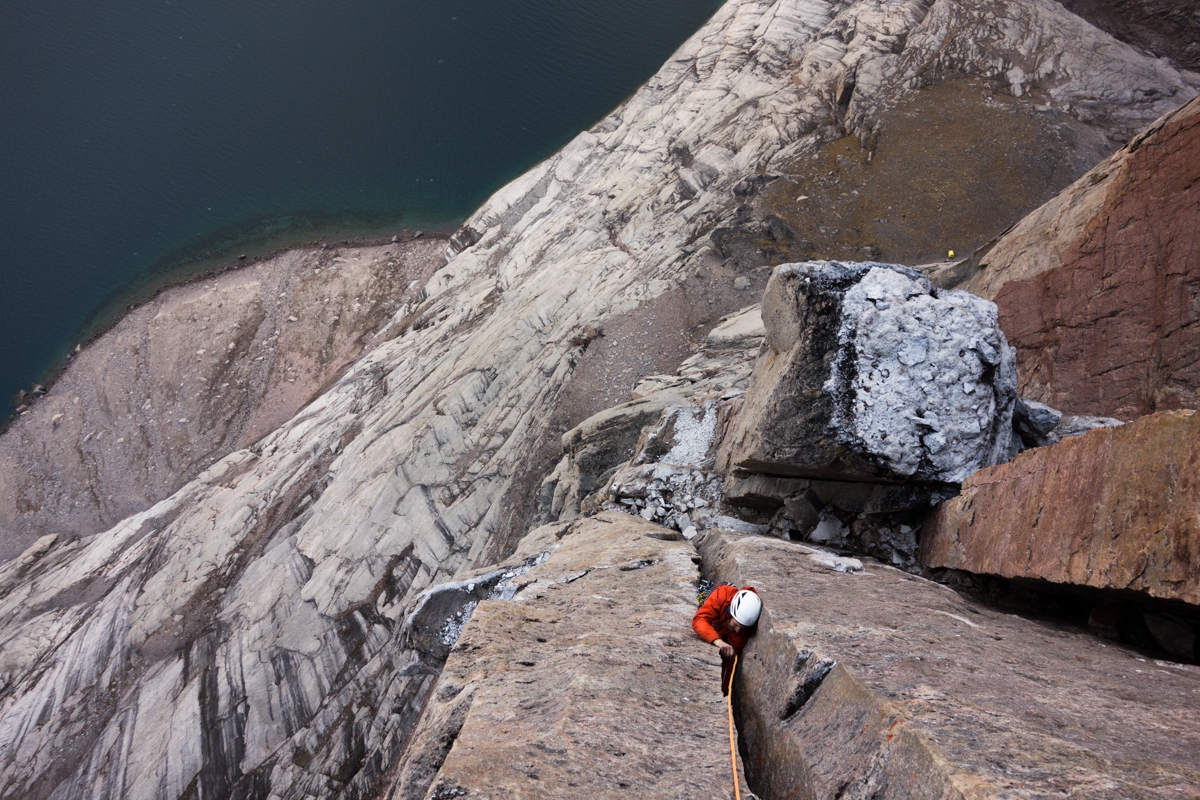 How could we describe the feeling of taking our first shower in over two months? Mmmm…
We have just hit civilization in Greenland. These last three weeks have been very exciting in many ways! Adventurous climbing, a close polar bear encounter (without anything to defend ourselves) and a very scary crossing back to Greenland which included a strong storm with snow and huge waves! On this kind of trip the adventure never seems to end until you are back under that hot shower. It does make the shower so much better!
Editor's note: Catch up with Captain Shepton and The Wild Bunch in Part 1 and Part 2 of this series.
So three weeks ago, we sailed away from Sam Ford Fjord to explore Gibbs Fjord. Finally, the intense weather conditions in Sam Ford Fjord eased off allowing us to see some blue in the sky. It was very enjoyable sun bathing on the deck while sailing around enjoying the magical scenery of mountains, big walls, glaciers and icebergs floating around the Fjords. However, it being early September, the temperature was decreasing day by day, proportionally to the area of our bodies on which we applied sunscreen.
It feels amazing how you can sail for days in these waters and see absolutely no sign of humans. At this stage, we had to be careful not to run out of fuel. So we sailed even when there was not much wind, slicing the water slowly but smoothly as we were scoping around.
Finally, we found the business: Gibbs Fjord is full of impressive walls that are mostly untouched. Quickly our attention was caught by a steep and long, aesthetic, north-facing arête. There were lots of south facing walls but for some reason the most appealing objective for us was a north face which we knew would be cold to free climb at this time of the year.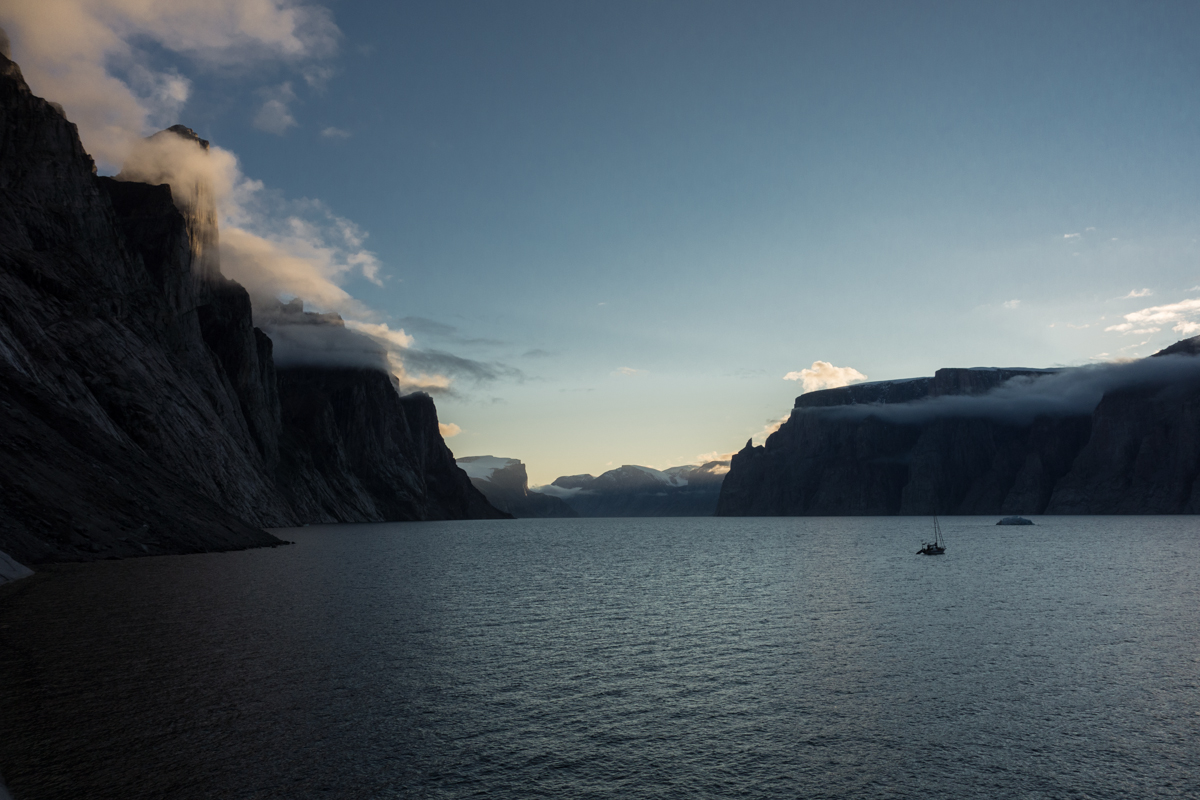 Dodo's Delight sails back to a safe anchorage after dropping off Sean and Nico for another climb, Gibbs Fjord, Baffin Island. 
 The next day, Sean and I set off for it while Ben and Oli decided to trade the committing adventurous climbing for a nice hike to the top of some mountains. The blue sky turned grey again with a big band of mist which quickly spiced up the climbing as snowflakes were flying around. After a couple of hours, the wall was covered with a very thin but rather sticky layer of the white stuff. Fortunately the climbing was steep, so on the bottom section of the wall it hadn't accumulated too much and we enjoyed some of the best rock quality we encountered on this trip.
But as we went higher things got more interesting. The rock was completely plastered! It reminded us of the famous Scottish mixed climbing mecca Ben Nevis except we were free climbing. Fingers were jamming in snowy cracks and our numb feet were constantly slipping away. I never thought it would be possible to free climb in these conditions! Everywhere we could rest we had to stop to warm up our numb fingers and even the easiest moves were a challenge not to slip and fall off. It was tough but the atmosphere was so magical we kept going. Thankfully, the sky cleared up and the last 300 meters were above the mist. It was a relief to finish the climb, finally, in descent conditions. As it was getting dark, we reached the top, again, of a beautiful virgin feature and enjoyed the satisfaction and the unique scenery of Gibbs Fjord. If I could chose, I would never free climb again in these conditions but at the same time it was such a unique experience that I will never forget it.
I never thought it would be possible to free climb in these Ben Nevis–style conditions. Only after the blood comes back to your fingers and feet does it reward you with a nice feeling of satisfaction. Sean on Walking the Plank.
While Sean and I were struggling with cold and snow, Ben and Oli were strolling in the sun enjoying what they thought to be a safe way up a mountain. For the past month we hadn't seen any more polar bears so slowly we started leaving the gun behind when we went on land; Ben and Oli thought a mountain made of rock and glacier is no place for polar bears to hang out. On the summit, they enjoyed the view for a while and then started back down. Thirty minutes from the summit, all of a sudden, a polar bear appeared from behind a boulder only 15 meters away! It was a massive beast and lucky for them they were talking loud. That somehow scared the bear which quickly ran away.
Back on the boat, they wondered: Why was this polar bear up there in the middle of nowhere where there is absolutely no food? Then they realized that the bear must have followed them on the three hour walk to the top of the mountain. It was only there because he had smelled a nice meal. Ben and Oli were very lucky! The bear was surprised when they were walking straight towards it. From then on we were a little more cautious again.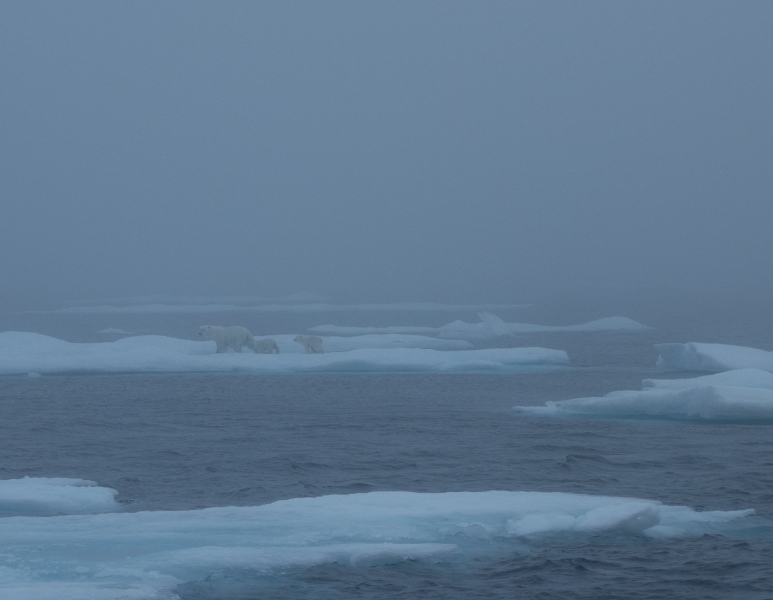 One hundred miles away from the Baffin Island coast, a little polar bear family wander from one piece of ice to another.
During our last days on Baffin Island we could feel winter arriving. The sea was starting to freeze along the coast and the snow line dropped all the way down to sea level. Although there was so much more to do, it was time for us to make our way back to Greenland. With a forecast of rough sailing conditions, we knew the adventure wasn't over. Indeed the crossing was tough because it was cold and snowy, but the worst happened as we came in sight of Greenland. A big storm surprised us on the trickiest part of the crossing only six miles away from our destination! We had to weave through lots of rocks and shallow depths while the waves suddenly became huge. The boat was crashing in the waves and we were all wet and cold but thankfully we found shelter behind a little island and eventually reached the harbor of Sisimiut. That was the end of the adventure.
Again, sailing and climbing proved to be a perfect combination.
Greetings from Belgium,
Nico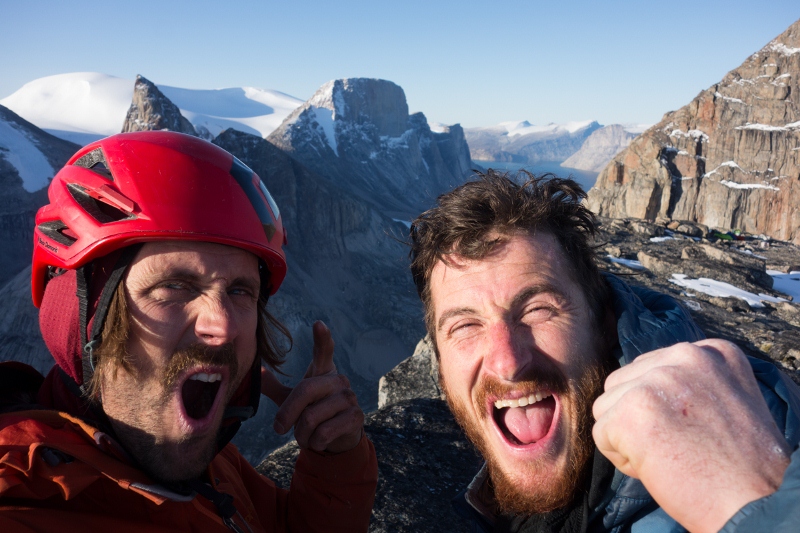 After two failed attempts, victory feels so much better! Nico and Oli on top of Walker Citadel, Sam Ford Fjord.
 Summary of Climbs
In total, we opened 10 new routes from 400m to 1000m climbed in alpine style. We used the boat as a base camp and way of transportation to the base of each climb. We placed no bolts or pitons.
Five routes were put up in Greenland, Uummannaq area; four in Sam Ford Fjord, Baffin Island; and one in Gibbs Fjord, Baffin Island. Coordinates are taken from the sea opposite the start of the routes.
Uummannaq Area
Ikerasak Peak
Married Mens' Way, E3, 5.10, 400 meters.
Takes the left ridge of this peak. FA (free): Oli Favresse, Ben Ditto, 13 July 2014
Crocodiles Have Teeth, E5, 5.11b/c, 400 meters.
The right hand edge of the main face, moving right at the top to finish by an overhanging crack. FA (free): Nico Favresse, Sean Villaneuva, 13 July 2014
Descend: Walking on the back side
Qaqugdlugssuit
First ascent of Goliath Butress (700 41N 510 13W)
Standard Deviation, E4, 5.11, 500 meters.
Followed lines on left of this buttress, some loose rock especially in the basalt band. FA (free): Nico Favresse, Ben Ditto, 17 July 2014
Slingshot, E3, 5.10, 500 meters.
Followed lines on right side of buttress. FA (free): Oli Favresse, Sean Villaneuva, 17 July 2014
Descend: Walking on the back side
Drygalskis Halvo
First ascent of the Funky Tower (700 35N 510 16W)
No Place for People, a.k.a. Sunshine and Roses, E6, 5.12a, 500 meters
A steep, varied technical line towards the left side of this face. Reports of much loose rock, especially on the sloping terrace leading to the summit ridge. FA (free): Sean Villaneuva, Ben Ditto
Descend: Walking on the back side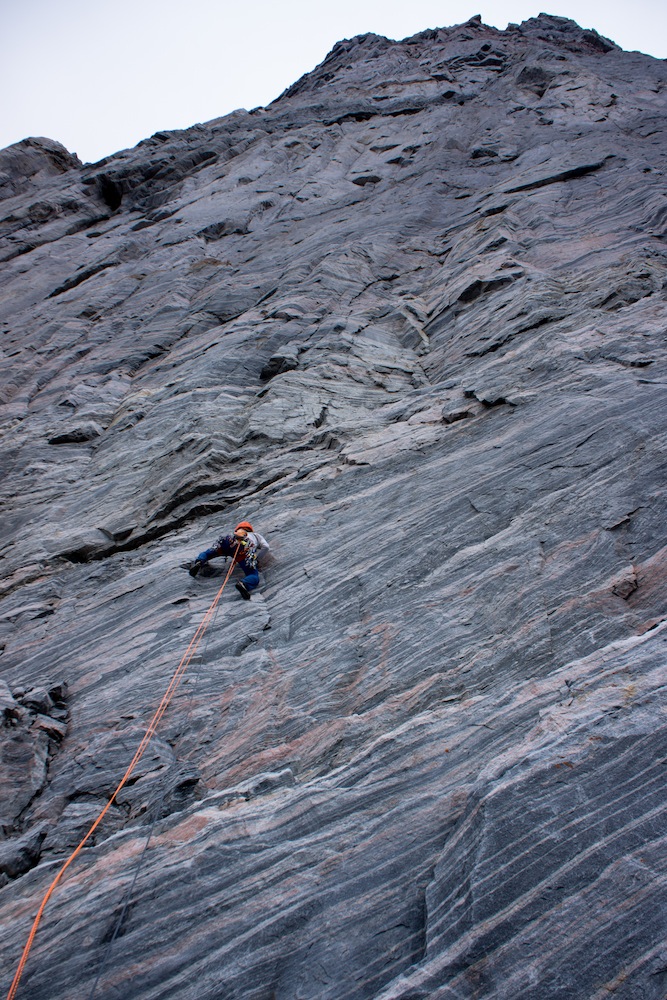 Sean heads up the Funky Tower.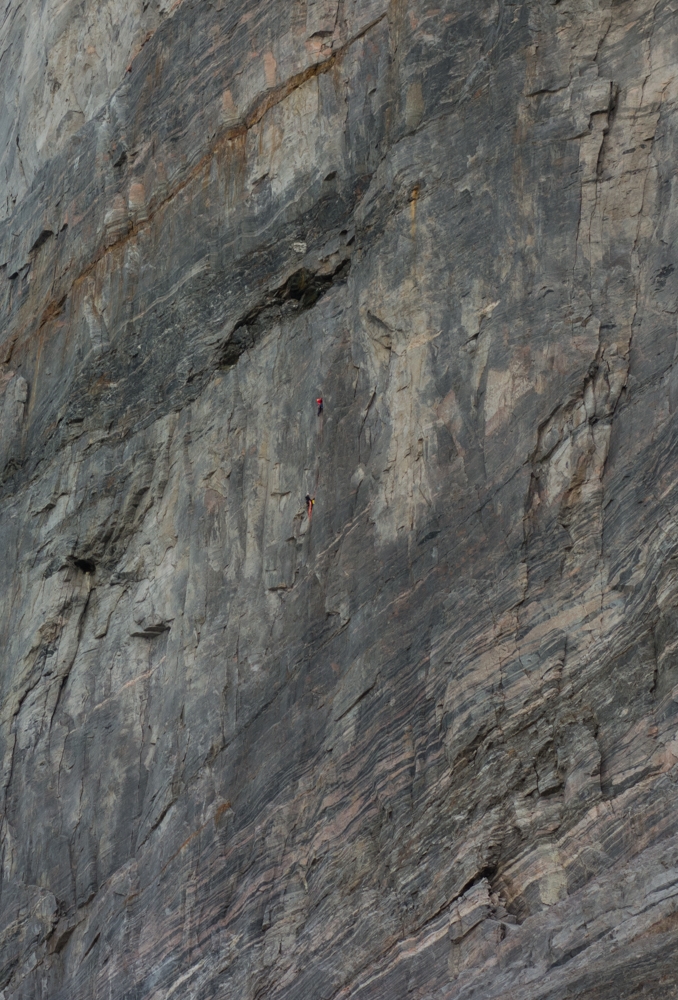 Ben and Sean on the second pitch of No Place for People, a.k.a. Sunshine and Roses.
Sam Ford Fjord
Lurking Tower (Mike Libecki's name – 700 35N 710 17W)
Up the Creek without a Paddle, E5 6a, 5.11+, 500 meters
Starts up the dihedral on the right and follows crack lines, turning a roof, to the top. Libecki's aid route was followed after seven pitches but without using any of the aid or bolts. First Free Ascent: Sean Villaneuva, Ben Ditto, 12 hours, 15/16 August 2014
Descend: Walking on the back side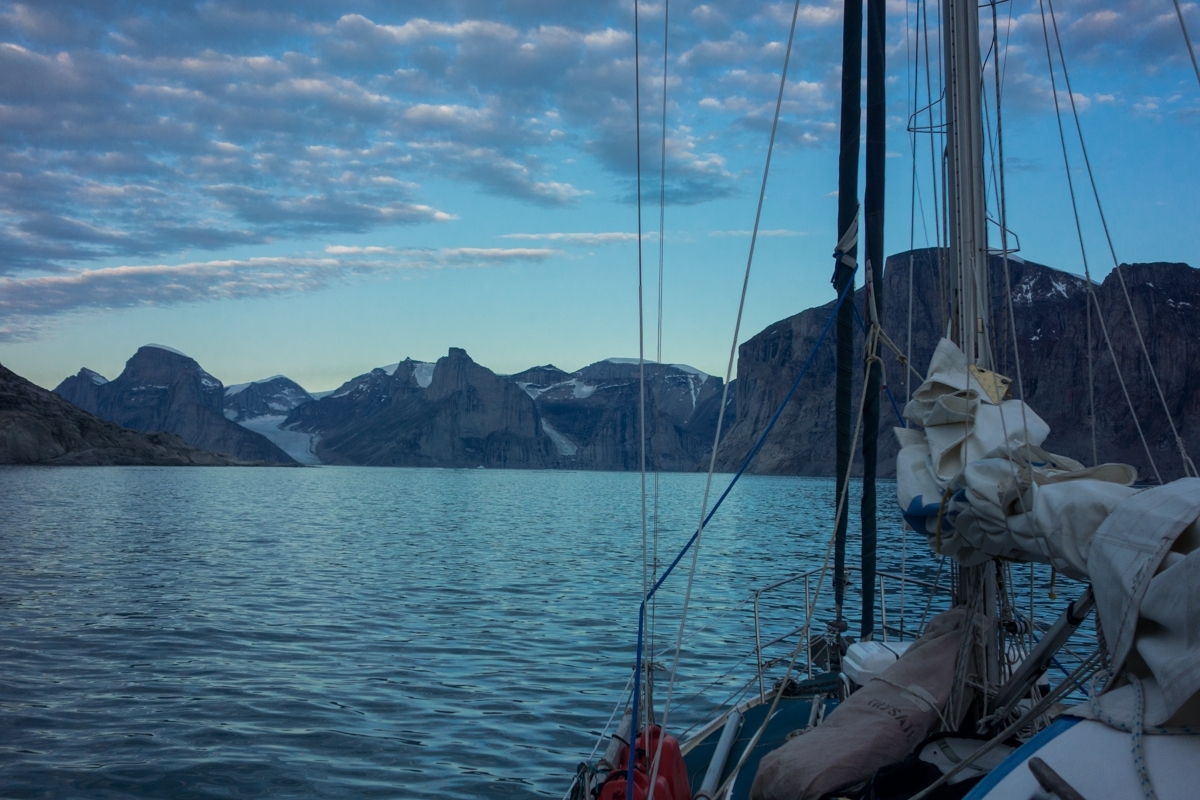 After a month in Greenland waiting for the pack ice to melt finally we arrived in the promised land, Sam Ford Fjord.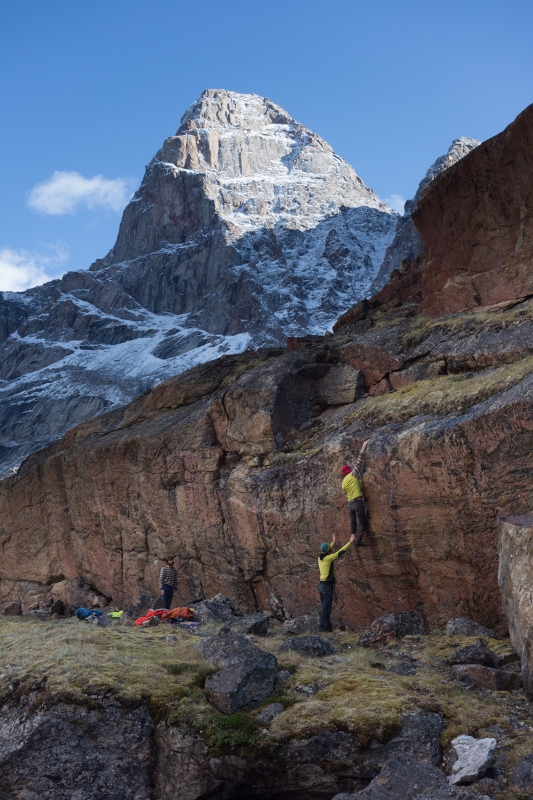 Once we finally arrived in Sam Ford Fjord, a game of patience started with three weeks of bad weather. But at least we managed to squeeze in a few good bouldering sessions.
 SuperUnknown Tower
Imaginary Line, E3 5c, 5.10+, 1000 meters
Takes the obvious red groove and crack on the right of the tower leading almost to the top. The hardest pitches were after the groove at the top, especially as it was wet and snowy. This was the second ascent of the SuperUnknown Tower. FFA: Sean Villaneuva, Ben Ditto, 21/22 August 2014
Descend: A rappel to remember straight down the original sheer aid route.
Walker Citadel
First ascent of the South East Pillar (Drunken Pillar) (700 50N 710 43W)
Shepton's Shove, E6 6b, 5.12a, 1000 meters
The obvious arête starting all the way down and leading to the top of the pillar. The hardest pitches were at the top. FA (free): Nico Favresse, Oli Favresse, 23/24 August 2014
Descend: Walk south to another summit and down into a gulley leading to a lake.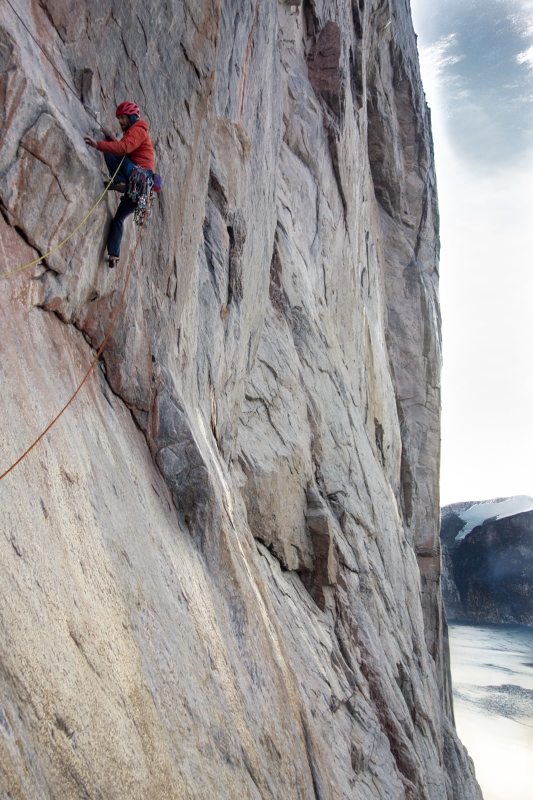 Nico climbs a heady traverse on Shepton's Shove.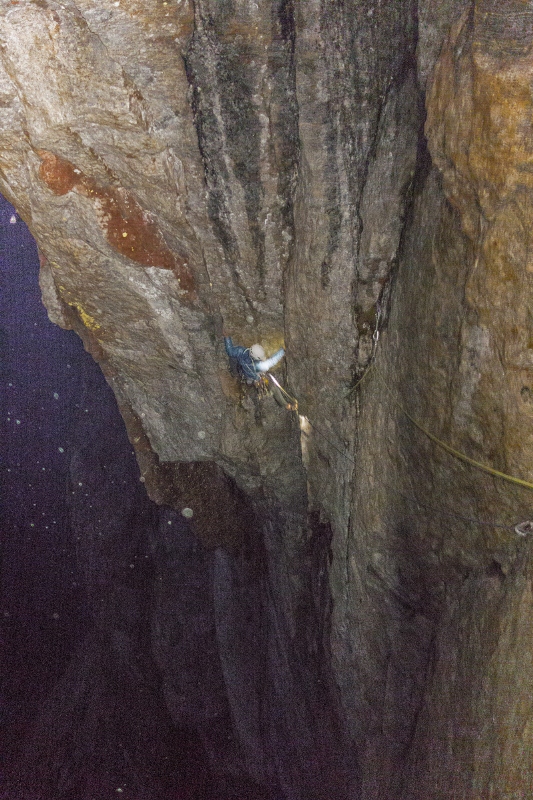 Pitch 23 – It's 1 a.m. and we are hit again by a snow storm on our third attempt to climb the east pillar of Walker Citadel. Oli enjoys some icy/snowy dihedral.

 The Turret
First ascent of the east face of the Turret
Life on the Kedge, E6 6b, sustain in the 5.11/5.12 range, 900 meters
Start on the buttress just to the right of the iconic chimney crack splitting the Turret from top to bottom, and takes the obvious orange pillar. Midway up, the lines goes on the left-hand side where the cracks just kept coming out of nowhere! FA: Nico Favresse, Oli Favresse, 28/29 August 2014
Descend: 10 raps down the Swiss route straight from the top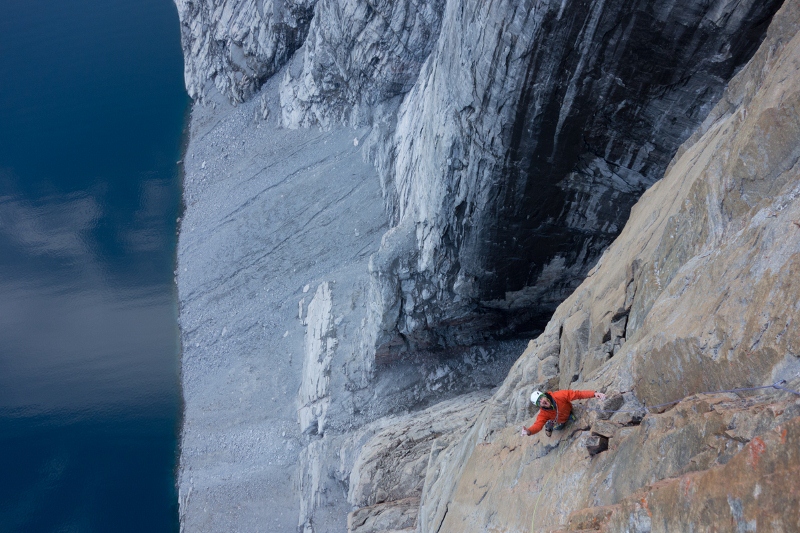 All the routes we put up, we climbed them in alpine style. You bring just a rack of friends and nuts, food and water and go go go non-stop until you reach the top. Here, Oli finally gets to the good holds after an amazing series of perfect cracks on The Turret, Baffin Island.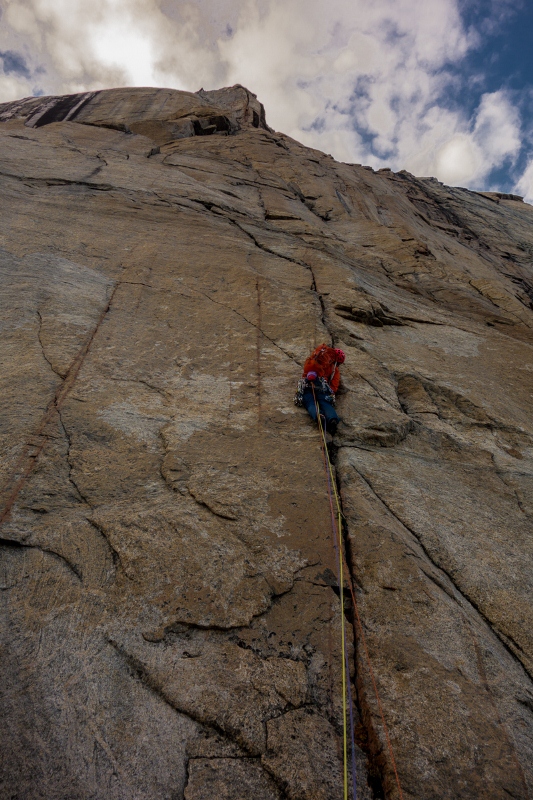 Perfect splitter crack on the Turret. How much better can it get? Here, Nico is a few pitches away from the top. Sam Ford Fjord.
 Gibbs Fjord
First ascent of the Plank Wall (700 50N 710 43W)
Walking the Plank, E4 6a, 5.11+, 900 meters
Keeps mostly slightly left of the arête. Another quality climb with lots of steep cracks and excellent rock! But north facing, little sun. Sections were climbed covered in snow. FA: Nico Favresse, Sean Villaneuva, 4/5 September 2014
Descend: Rapping the route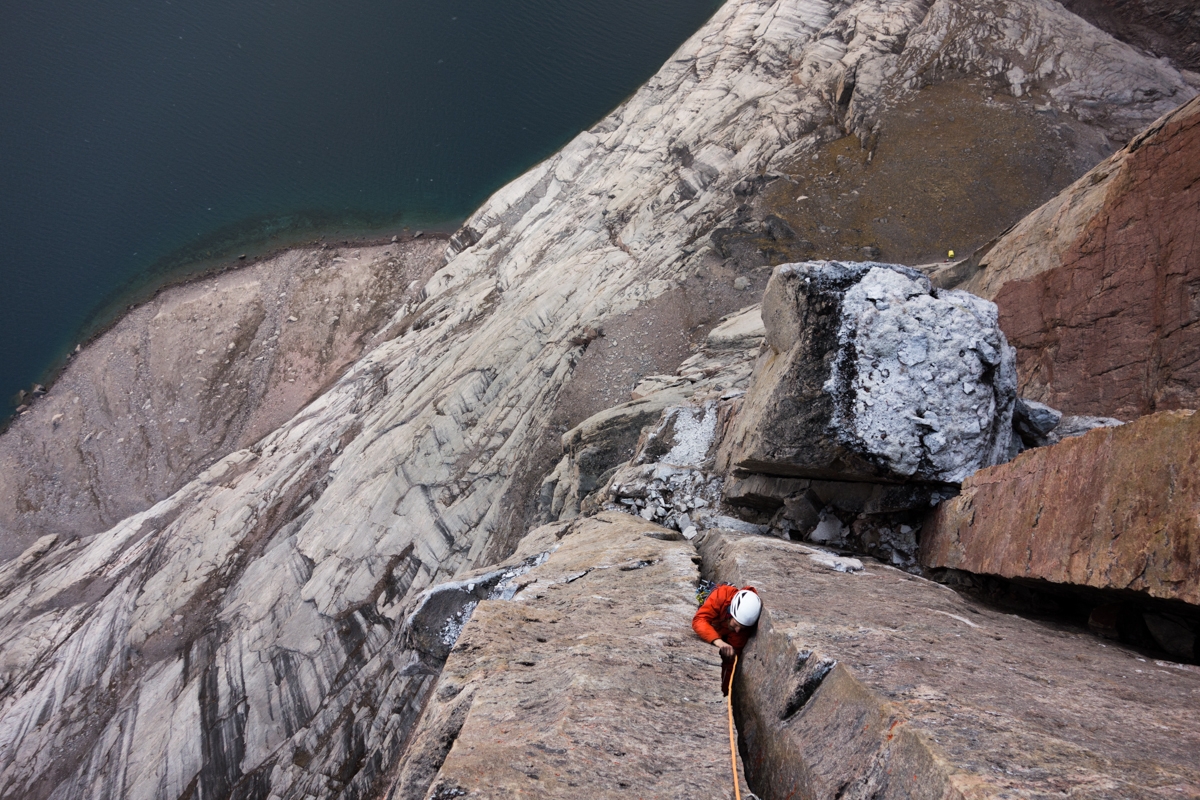 Nico enjoys a snow-free offwidth on Walking the Plank.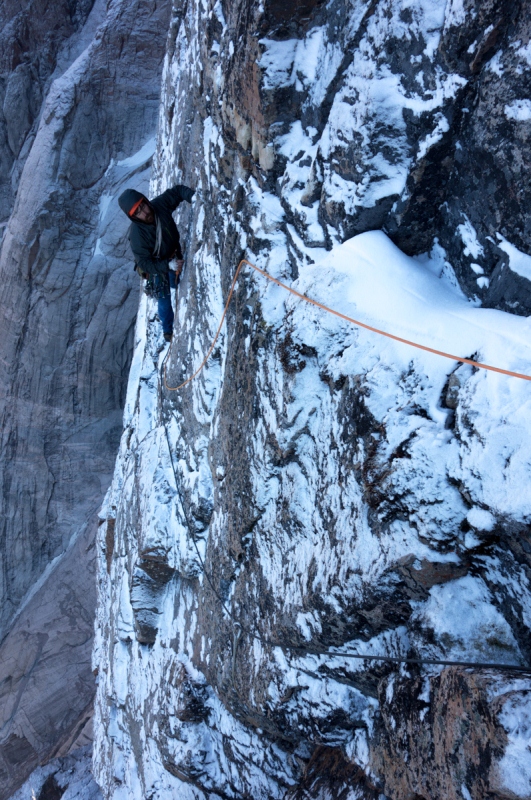 Sean on Walking the Plank.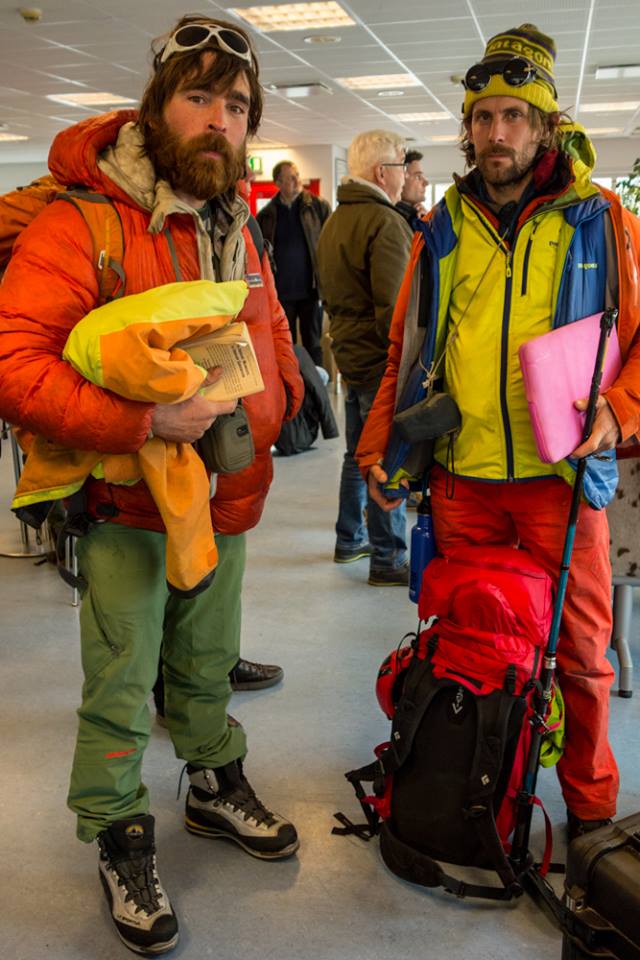 Taking planes and avoiding extra baggage fees takes special skill and heat resistance. Here we had great success with our technique in the airport coming back from Greenland.

April 2015 update: Check out the official music video for the much-expected new hit single, "Dodo's Delight!" A full-length feature film (which might also include some rock climbing) "Adventures of the Dodo/ Vertical Sailing 2" is in the works. Video: Sean Villaneuva