Greenland Vertical Sailing: The Devil's Brew [Updated]
Nico Favresse
/
Jul 29, 2010
/
7 Min Read
/
Climbing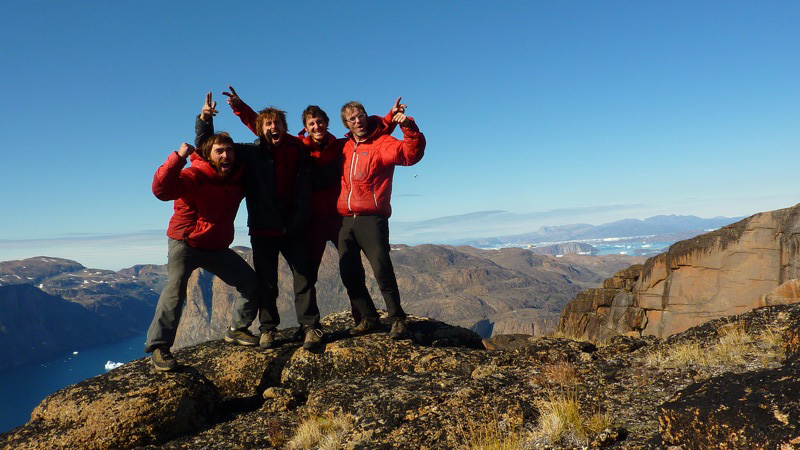 "Impossible mais possible après tout." (Impossible but possible after all.)
"I've been looking at that wall for twelve years, but I've never found any team good enough" –Bob Shepton winner of the 2009 Tilman Medal.
Editor's note: When last we left the crew of Dodo's Delight, they teased the start of a new multi-day climb, on yet another virgin big wall in the fjords of Greenland. Today we're happy to report congratulations are in order as Nico Favresse, Sean Villanueva, Ben Ditto and Olivier Favresse successfully free climbed the Impossible Wall.

On July 12 we committed to "the impossible wall." After eight days we found ourselves on the summit, on July 22. So how is it possible that we passed 11 days in only eight you might be asking yourself? The answer my friend lies in the burning midnight sun and 30-hour days or nights or whatever you want to call it. Our efforts on the wall and on our musical instruments yielded probably the most adventurous route we have ever done.
[(Above) The team on the summit! Bob Shepton was also an undeniable team member and we shared this moment with him through the radio. Photo: Ben Ditto]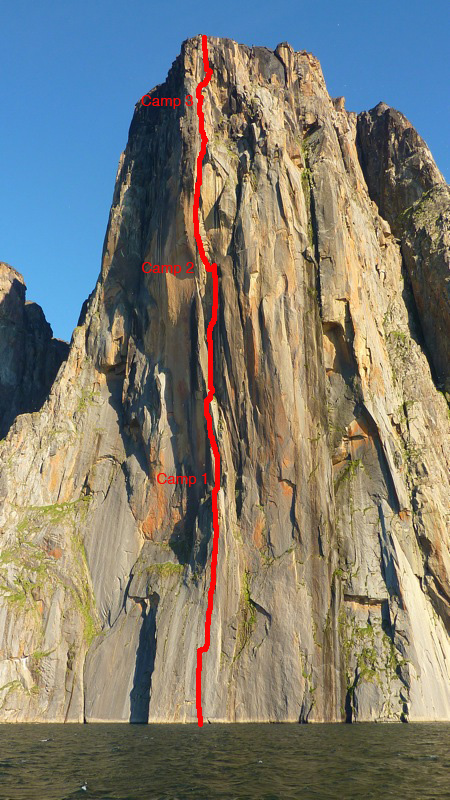 [The Devil's Brew route on the Impossible Wall. Photo: Ben Ditto]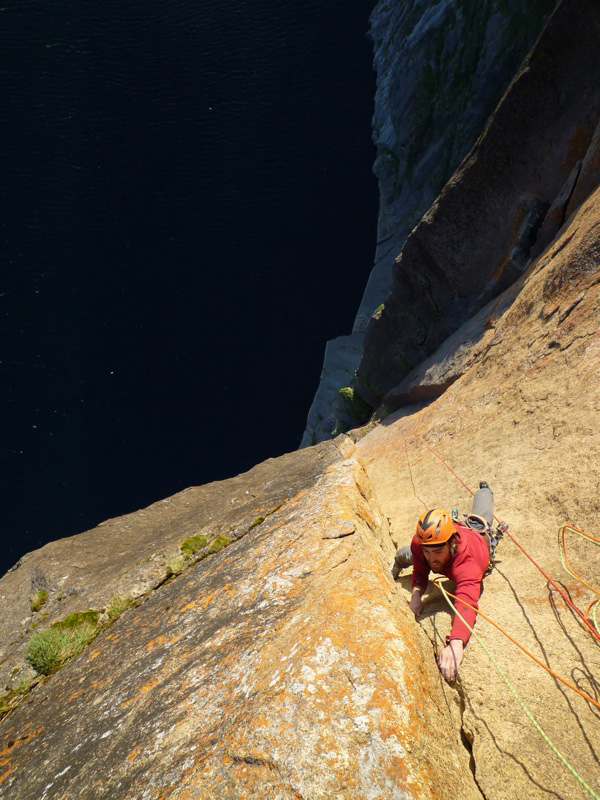 [Sean Villanueva enjoys some amazing splitter cracks on beautiful granite. Photo: Ben Ditto]
It has everything: grassy cracks, spongy mossy cracks, licheny faces, kitty litter offwidths and an inbuilt shower. We got rained on, we got shat on and we got vomited on. We now understand better why the locals call it "Seagull Wall." Every pitch of the 850m wall offered incredible, beautiful sustained climbing, always challenging, on superb quality granite. We are very happy to have free-climbed the whole thing (if grabbing grass is accepted as free). We decided to name this new line The Devil's Brew after a little present we offered Bob when we first met him which he calls the Devil's Brew. Also, it remarkably resembles the water running from a black hole which we collected on the wall, both in colour and taste.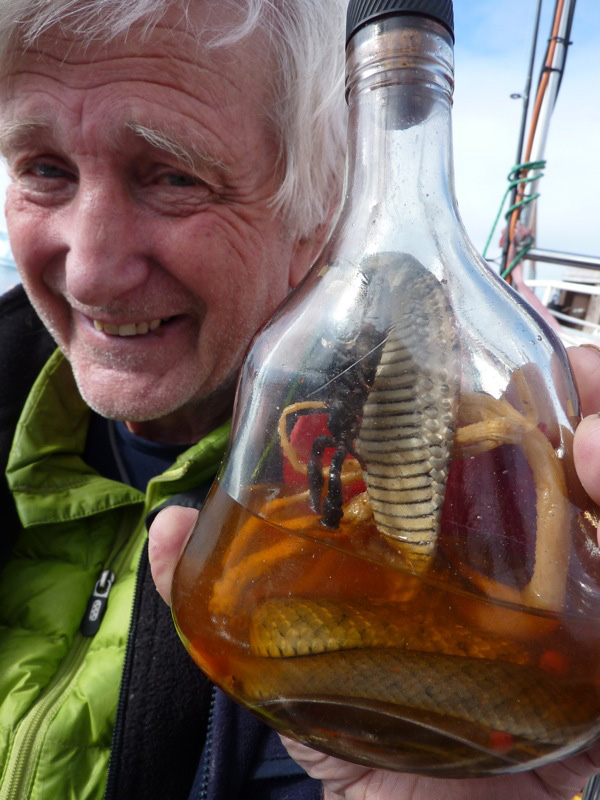 [Bob's highly recommended beverage: "The Devil's Brew." Photo: Xpedition.be]
We are particularly proud that we left nothing behind: no bolts, no pitons, no cordelette. The only things repeaters may find are a few more brown falcons on the wall, but we suspect they have already left.
We topped out on the summit with all our gear and portaledges and hiked down to the coast and celebrated our adventure with champagne and freshly caught fish. Later that night we awoke to a raging storm that lasted for a few days so we were very fortunate not to have experienced that while still on the wall.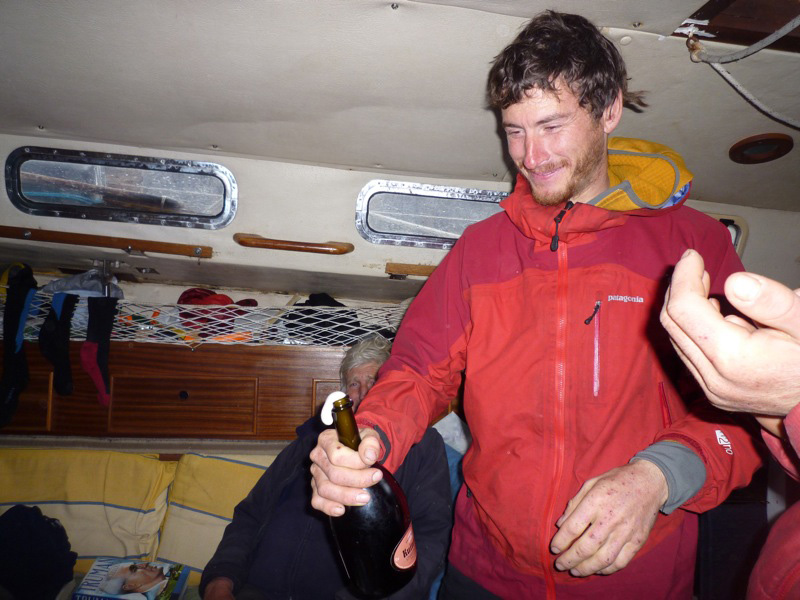 [Olivier Favresse opens the celebration champagne on Dodo's Delight. Photo: Xpedition.be]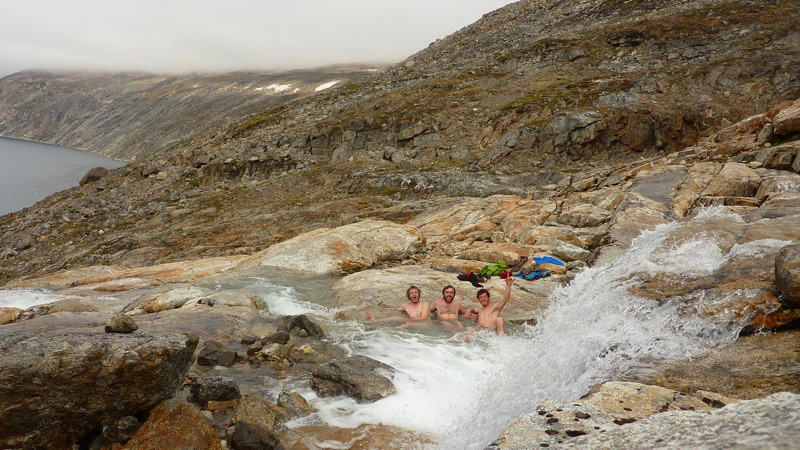 [A jacuzzi in paradise after having climbed the wall. Photo: Nico Favresse]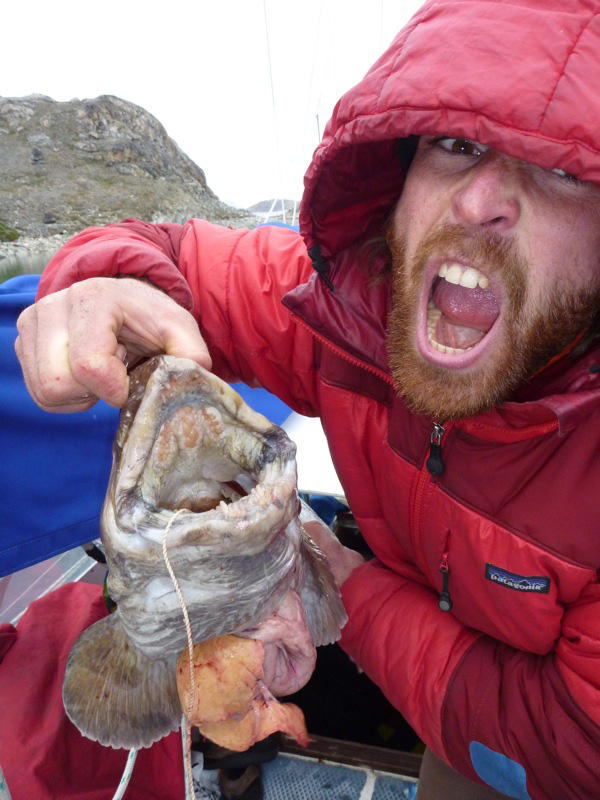 [Who's the uglier one? We are now eating lots of fish to recover from our adventure. Photo: Xpedition.be]
Tune in to the team's blog, Xpedition.be, to see all the posts from this trip. There, you'll also find the DVD from their last expedition to Baffin Island, Asgard Jamming — highly recommended entertainment, and a great gift, for climbers and non-climbers alike. Check out the description:
Asgard Jamming follows Nico, Sean, Oli, Steph and Silvia on a rock climbing expedition in Baffin Island in the Canadian Arctic. Mentored by Freyr, the viking god of weather and fertility, these warriors ventured on a quest to enter the fortress of the gods (Asgard) without the use of magical rainbow bridge and were confronted with rock hard climbing on divine vertical granite. This is serious business!
Stay tuned for more updates from the Greenland Vertical Sailing expedition.
Update 7/30: The boys posted some more photos from the climb this morning. Enjoy.
"Go climb that wall! And don't come back unless you do!" Reverend Bob shouted up at us as we stepped straight off the boat on to the wall. Captain reverend Bob's commitment to our efforts was full on. Putting his boat on the line on more than one occasion. May we remind you that he is the owner of two boats in Greenland… one he keeps anchored secretly below the surface… The first few cracks were fit for a lawn mower, unfortunately we didn't have that on our rack so an ice axe had to do the job. To keep the adventurous spirit of the climb we tried to leave in as much as we could.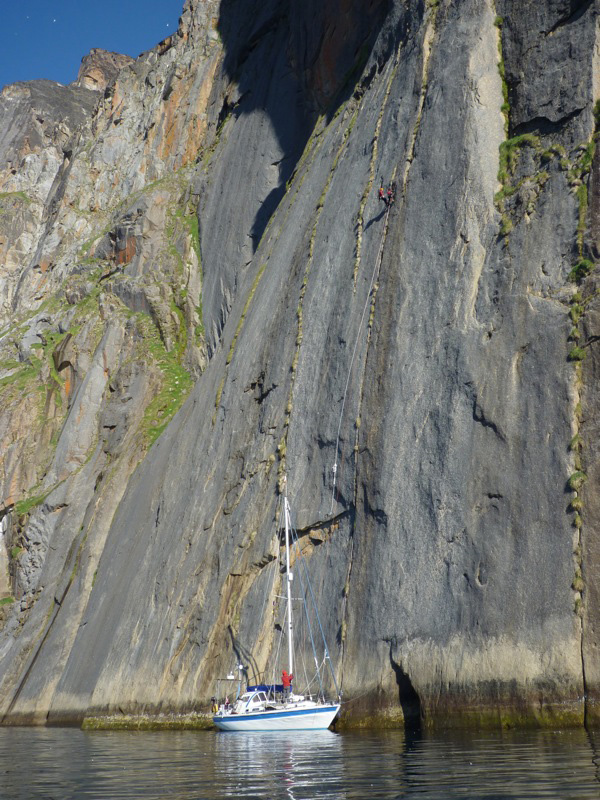 [Bob not hesitating to put his boat on the line for the ascent. Ben and Sean at the first belay. Also an important note is to mention that we started the climb at low tide which add an extra boulder problem! Photo: Xpedition.be]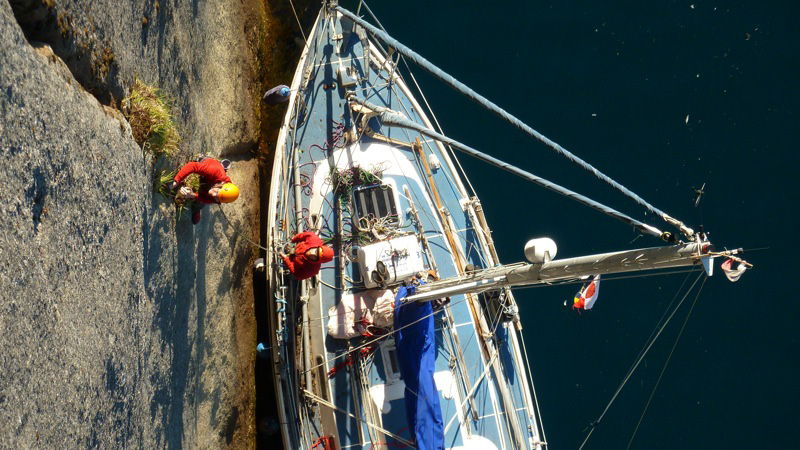 [Ben Ditto on the first pitch from the boat. After this pitch our captain declared that this was the first time a garden was planted on a boat…. some of the grass held, some of it didn't… Photo: Xpedition.be]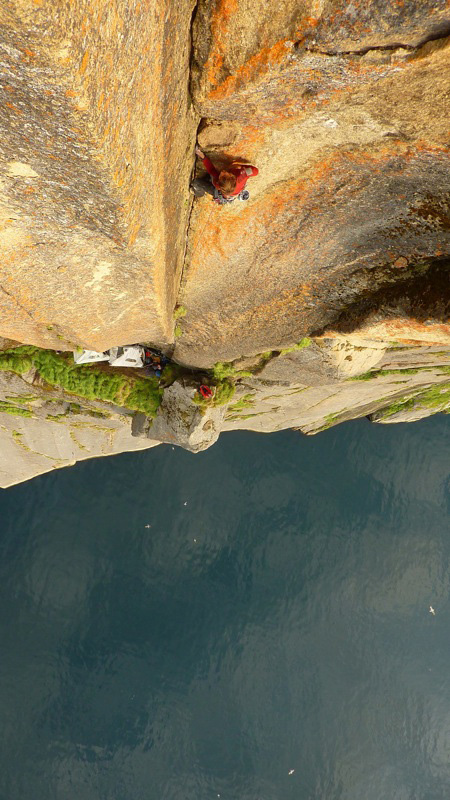 [The grass kept the cracks in supreme condition. Photo: Xpedition.be]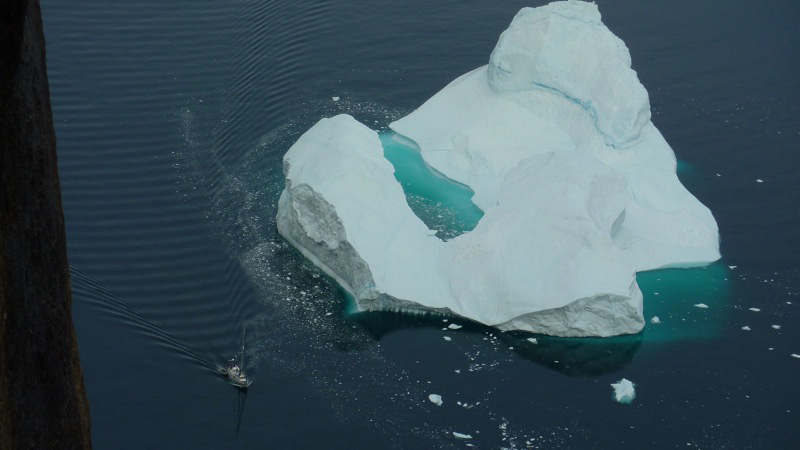 [Bob keeping an eye on us, coming to make sure we're making steady progress. Photo: Xpedition.be]
Update 8/2: The Black Hole
One of the main question marks of the line we wanted to climb was a big mysterious overhanging black hole. The closer we got to it to scarier and more intimidating it seemed. After our second day on the wall it started to rain hard… very hard. First day we were happy because it gave us some time to play music and enjoy being there. The second day everything slowly started getting wet and things seemed a little more interesting… The third day the rain stopped but strangely the water didn't stop falling down on us… it seemed we had placed our portaledges in a waterfall, which apparently originated from the black hole. The advantage being that we had running water at our portaledge flavoured with bird droppings which lead to awkward repercussions on the ultimate pitch. We would rather not describe this to you here in too much details…. However, the black hole became even more obscure…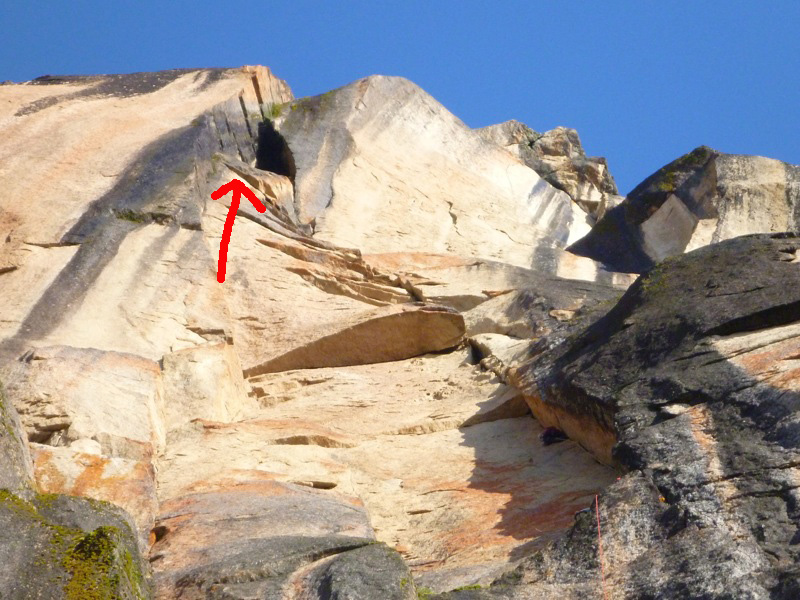 [The only way out is through the infamous black hole!! Photo: Xpedition.be]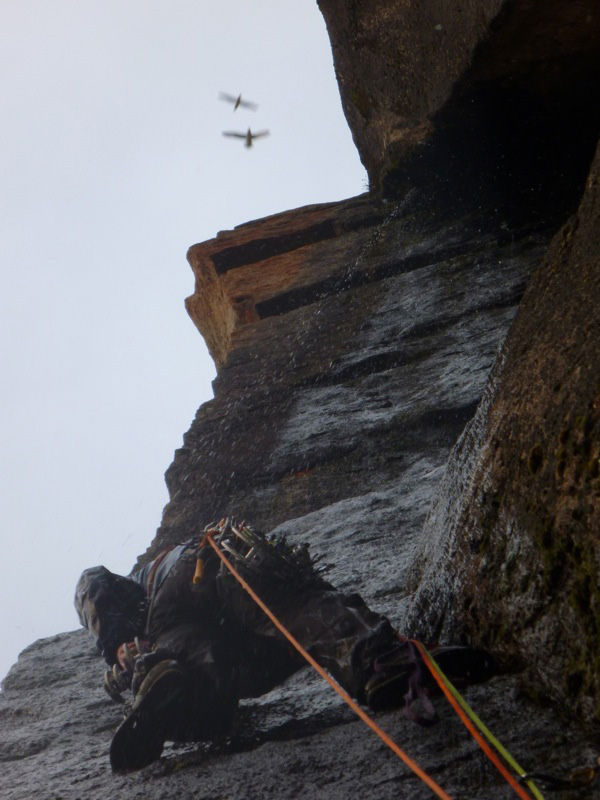 [Ben Ditto leading us up to the start of the back hole…. this was only the beginning of the madness! Photo: Xpedition.be]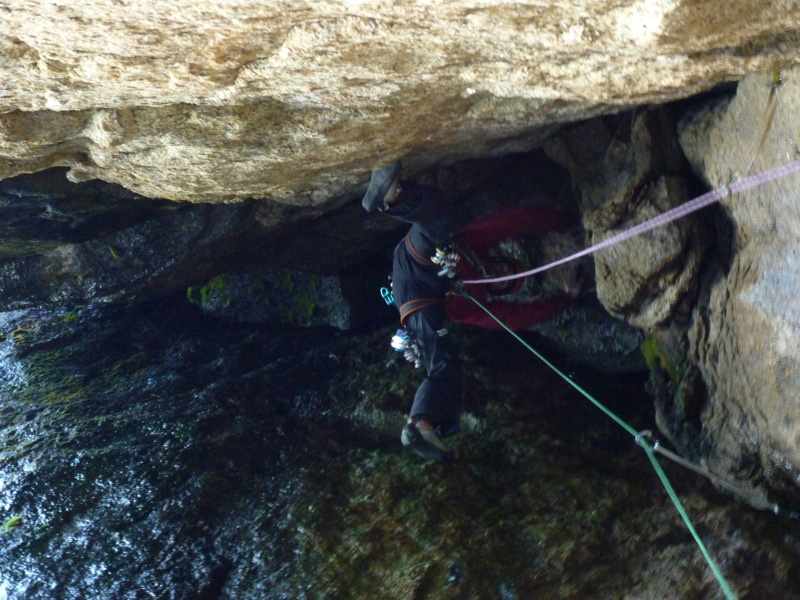 [Sean vanishing into the mean wet black hole. Obviously one of his most memorable leads ever! Photo: Xpedition.be]
Update 8/4: Heaven
Climbing this wall was like climbing in heaven.  The feeling of climbing straight above the sea was incredible with its colour changing all day long from dark to light blue sometime even black when the storm came in. Our daily spectacle included the movements of huge icebergs floating by and braking apart and the clouds that went from above us to in us, to finish below us replacing the water by a sea of clouds
We are now slowly sailing south exploring fjords. Hopefully we will find more big walls to enjoy more adventures before sailing back across the Atlantic.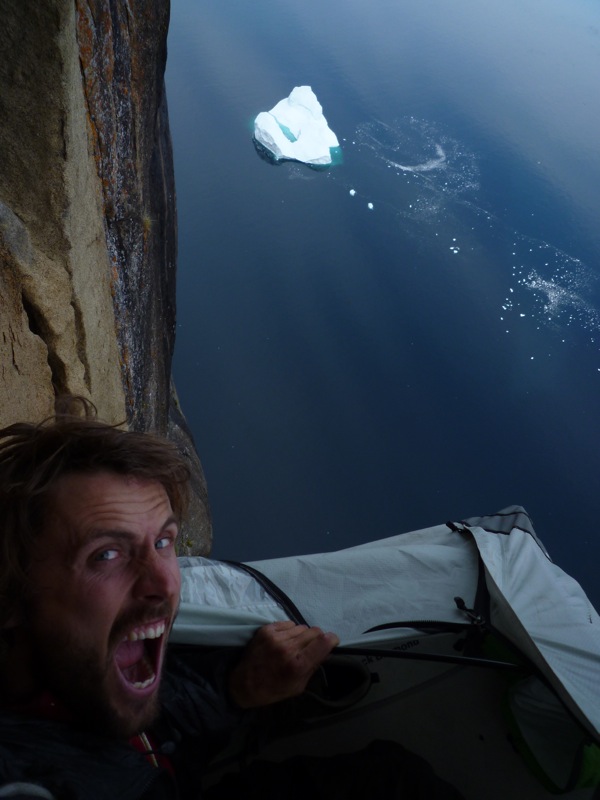 [Nico, loving the view. Photo: Nico Favresse]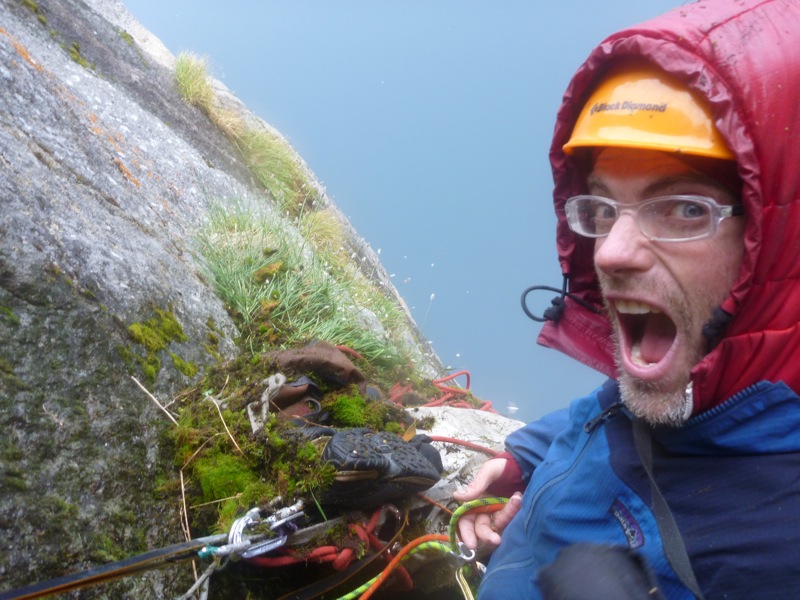 [Ben passes the grass. Photo: Ben Ditto]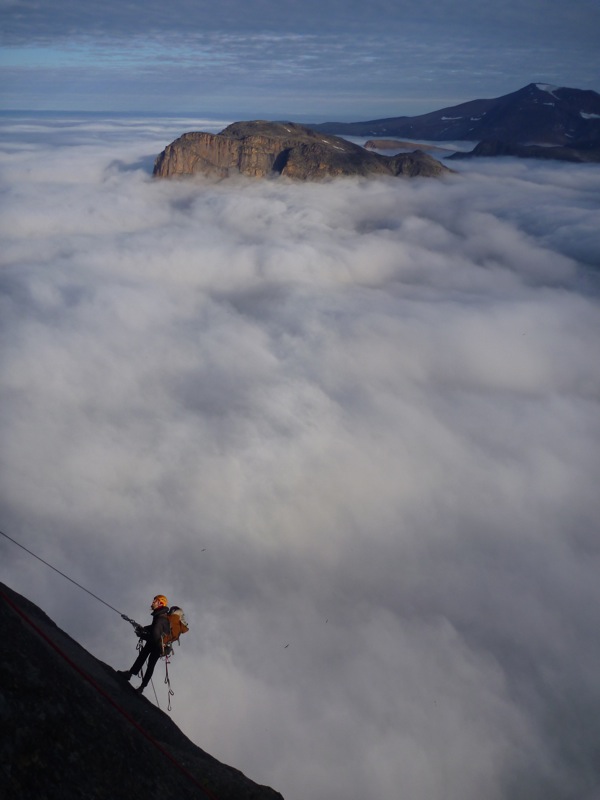 [Stay tuned… Photo: Xpedition.be]