Stories from the Gulf: Living on the Lottery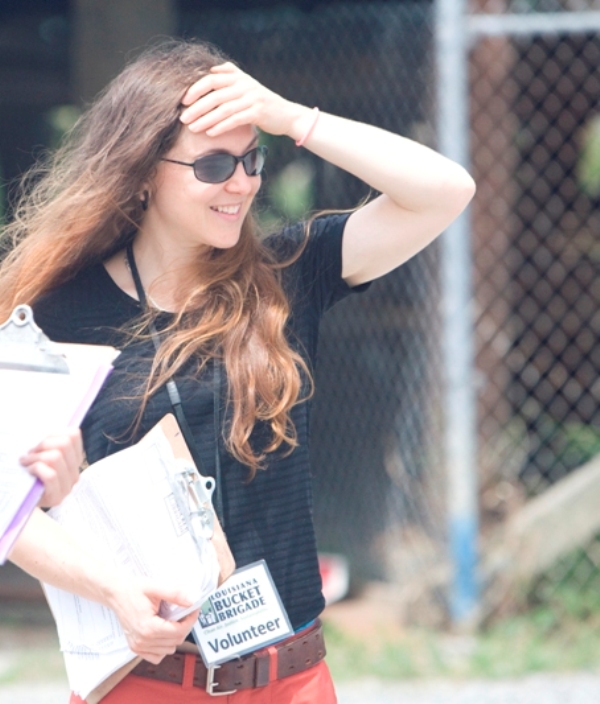 When I got on the plane for New Orleans, the only thing I was sure of was that we would be working as outreach crews, administering surveys around Plaquemines Parish. I'd never done anything like this before and the feeling was indescribable as I walked down a long, exposed driveway to the door of a complete stranger, to ask, "Good morning, how has your family's health & livelihood been impacted by the world's largest oil spill?"
What I discovered is that the future is a big black abyss for these residents. Over and over people expressed the same sentiment. After Katrina, they knew what to do: they had to clean up, rebuild, and keep fishing. After the oil spill, there are no answers.
[Volunteers Tracy Scott in Dulac, LA. Photo: Christina Speed]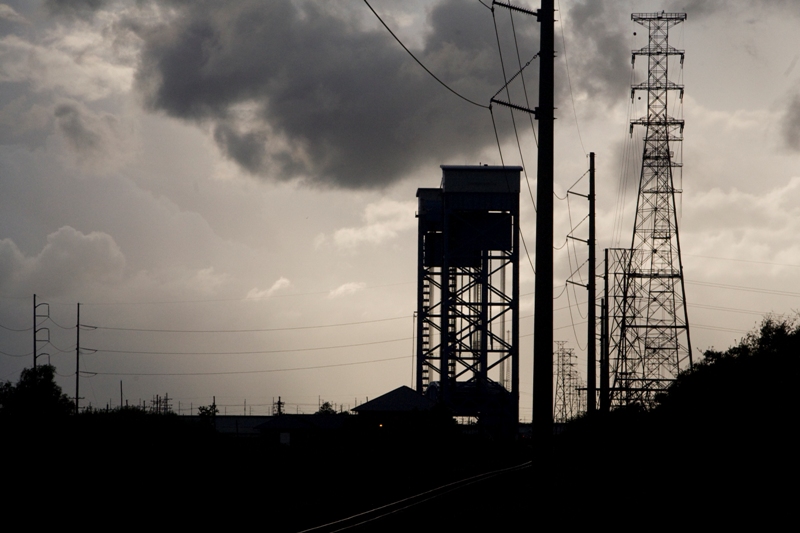 Plaquemines Parish is about 2 hours south of New Orleans. On our way down Highway 23 we passed oil refineries and decimated patches of cypress trees as the land shrunk away and water crept in around us on both sides. Two very obvious factors dominated life down here: fishing and oil. Boats and fishing nets dotted most properties along the highway. We arrived at the Delta Marina in Empire, Louisiana around 3pm, before any of the boats had returned from their day of work in the gulf. Our surveys focused first on the health of residents in the area and second on the how their livelihoods have been impacted by this catastrophe.  The individuals who were kind enough to share their stories with me will remain a part of me forever.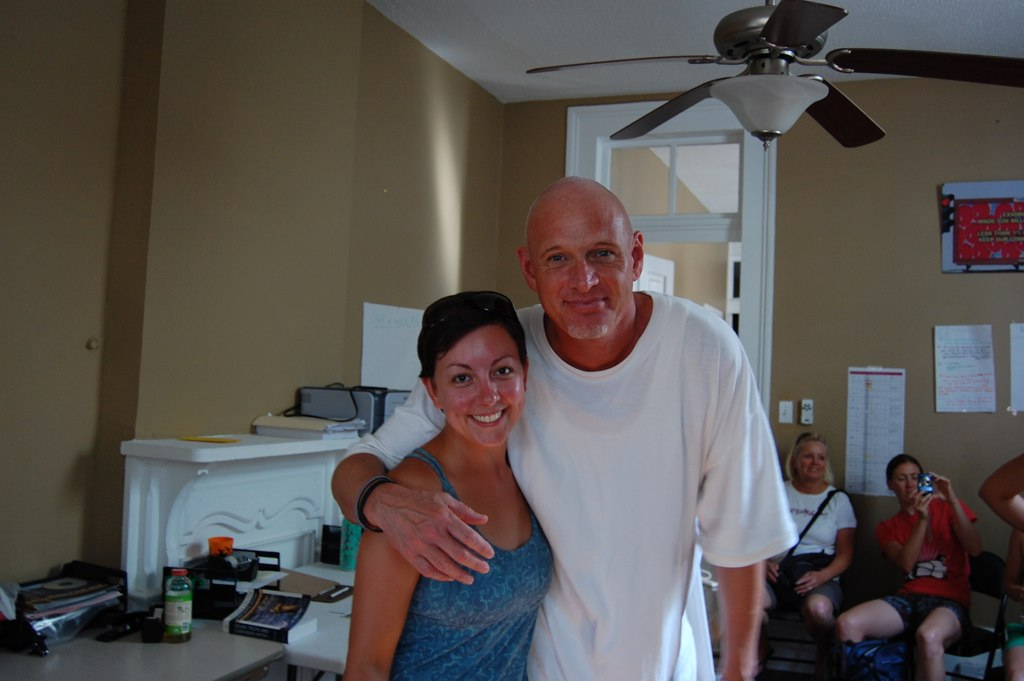 Jeff Poston, who's in charge of payroll and works in Patagonia's Ventura offices, and I were partners for the week. He's over 6 ft tall, shaved head, and a devout Raiders fan from the East Bay. I'm just over 5 ft, short pixie haircut, big dimples, and from Wisconsin. Just imagine for yourself what your first impression would be when you pulled back your curtains the slightest bit to see who's knocking on your door at 10 am. I'm sure we garnered attention as the sweat dripped down our faces and we wildly swatted around our faces to try to keep the deer flies from our noses, eyes, and ears. Even for people that have lived in Louisiana their whole lives, it was hot.
One couple in particular really stood out to me. Paul and Sonia invited us into their home before they even knew why we were standing on their porch. Only after offering us ice water, paper towels to mop our sweaty faces, and a cool seat in their air conditioned living room to sit on, did they wonder what we were doing. Sonia works part-time for half the year doing mosquito control for Plaquemines Parish and Paul is a shrimp boat captain. Since trawling for shrimp has not been an option this summer, Paul turned to the only other option he had. He made the necessary changes to his boat to work for BP to assist in surveying and cleaning up the oil in the gulf. Only he never heard back from BP.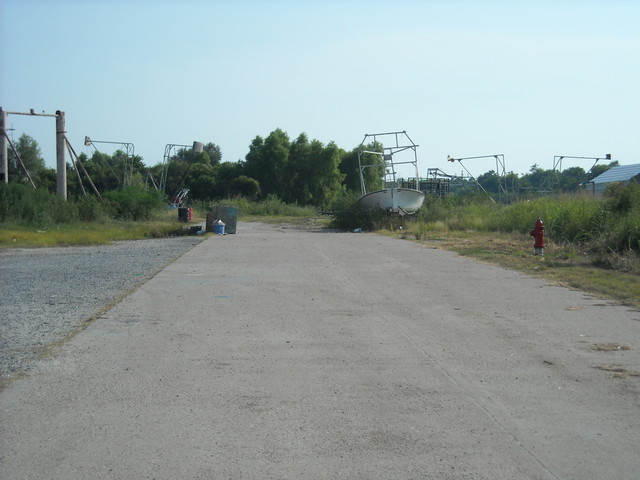 Luckily, their number had been drawn almost every week at the lottery held by the Catholic Relief Services in Port Sulphur. This provided the basic necessities that they needed to get by, but nothing could make up for the loss of an entire season of fishing. To make matters even worse, on that particular day, they had to give up their two-year-old German shepherd because he kept jumping over the fence and he was too expensive to keep.
"But," Paul said, "Who knows . . . maybe BP will call back next week about some work. . . ."
They remained optimistic about what lay ahead, but the long-term impacts on the fishing community were harder to put a positive spin on. Yes, this community loves to fish. Yes, for many it's the only way of life that they know. But nobody wants to fish just for the sake of fishing. These men and women did not want to catch and sell shrimp that will negatively impact anyone's health. This is the food that they feed their own children. They don't want to catch shrimp that no one will buy. How do we know it's safe to eat?
The short- and long-term health effects of this catastrophe are completely unknown. One gentleman, a truck driver for an oil company, asked us to please bring to somebody's attention the occurrence of naturally occurring radioactive materials (NORM – also referred to as TENORM – is often encountered in oil and gas exploration when radioactive P7290070.sized substances are released during the oil/gas extraction process. More information and a list of NORMs can be found here.). Has anyone been asking about the risk of NORM to the fishermen who are going out to the gulf everyday to clean up their waters? How do we test the seafood for the millions of gallons of oil and dispersants that have entered the gulf's waters? These questions were asked of the Secretary of the Navy, Mr. Ray Mabus, as well as representatives from many government agencies, including the EPA, NOAA, and the Coast Guard at a town hall meeting in Buras, Louisiana. They didn't have any answers. The people who had voices, answers, and ideas were the citizens of Plaquemines Parish.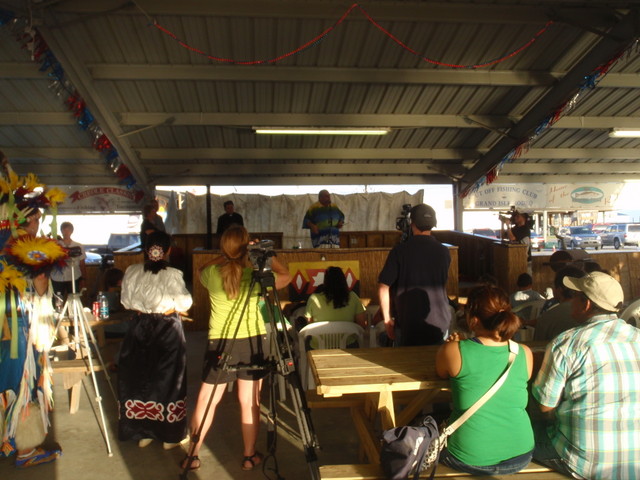 I hope that you feel as passionate and enraged by the reality of the situation in the gulf and the lack of truth in the information that is being shared. Everywhere I look I see headlines that totally contradict the facts I have witnessed with my own eyes.
Naomi Helbling
Patagonia Assistant Manager
Seattle, WA
[Top – Dark clouds provide an all-too timely reminder on the eve of the 5th anniversary of Katrina. Photo: Christina Speed. Above, left (small) – Naomi Helbling and her community-survey teammate, Jeff Poston. Photo: Naomi Helbling. Above, left (large) – Abandoned boats offer an image of an increasingly stark reality for a community robbed of its livelihood. Photo: Keala Anderson. Above, right – Town meetings remain the best way to share information with surrounding communities, but are failing to provide answers those communities need. Photo: Lisa Hall]