Climbing New Routes in the Fitz Roy Range with Kate Rutherford and Mikey Schaefer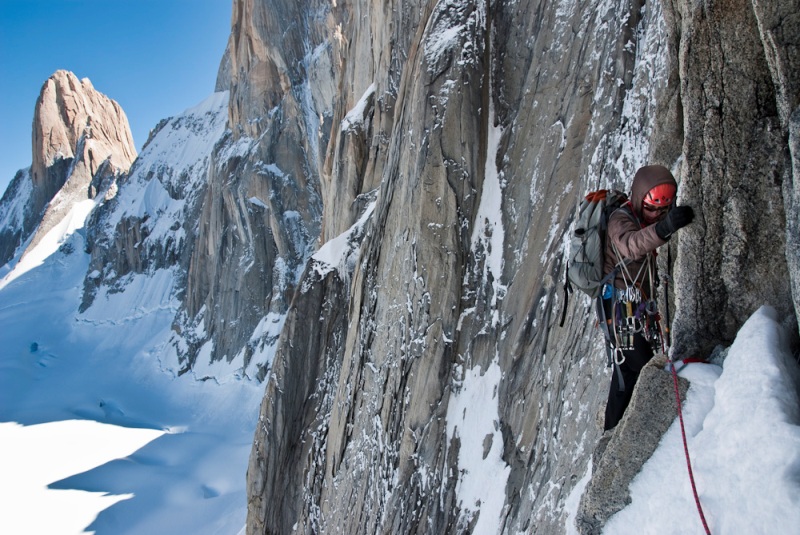 The boxes had started to stack up around my desk, but they weren't addressed to me. "c/o Kate Rutherford" was acquiring quite a stash of stuff, and when she and Mikey Schaefer finally rolled up in their basecamp-on-wheels to Patagonia HQ one sunny Southern California morning, all the pieces started to fall into place. Mikey's Sprinter van, a vehicle now synonymous with the climbing new-school of luxury vagabond living, was pimped to the nines with all the essentials – full bed, full kitchen, swiveling seats, skylights, ample storage and a cabinet custom built for loading a 12-pack of Tecate.
[Kate Rutherford following an exciting mixed traverse on the ninth pitch of what would become Hard Sayin' Not Knowin'. Aguja Guillaumet, Patagonia, Argentina. Photo: © Mikey Schaefer]
The plan was to park it, unload the contents into a grip of duffels and haulbags, and travel from L.A. to Patagonia for six weeks of climbing objectives. It was several days before their flight took off from LAX, so we did our best to fill their stomachs with good food, their company with good friends and their spirits with moral support … and red wine. Mikey and Kate would soft-spokenly discuss their objectives when prodded about it, but ultimately they were looking for a great experience and "to get up something". Knowing their talent, I knew it wouldn't take long for them achieve this. I handed over our latest prototypes for testing, told them to keep an eye out for our other ambassadors in the range – Nico Favresse and Sean Villanueva – and with big hugs sent them on their way. Depending on what your definition of "home" is, Mikey and Kate were either leaving it behind with the Sprinter, finding it in the mountains ahead, or experiencing it with one another.
Well, I was right; it didn't take long. Earlier this week I got a good-news message from a very happy birthday-girl informing me that she and Mikey had already established a new route on Guillaumet. "Seriously!?" I could hardly believe it. Kate gave the nod of approval for us to run her trip report up the Cleanest Line flag pole, and in the images and text here, I think we can agree that this new route lives up to this blog's namesake – or perhaps it's the other way around? And don't forget, their trip in Patagonia has only just begun, and there's got to be good weather on the horizon …
Two mornings ago I dreamt my way across the glacier, trying not to faceplant falling asleep walking. At 4:30 in the morning we sat on our packs, finally back at the base of Guillaumet after finishing a new route. We ate some cheese and salami, drank a bit of slushy water and decided we would name it Hard Sayin' Not Knowin'.
This was my second trip to climb in Patagonia's Fitz Roy range, and it was the first time I had been on top of a peek. The 26 hours of decent weather we had just climbed through had looked suspicious. The wind looked low, but so did the pressure. We were itching to climb, and so we started up thinking we would get hit by bad weather and just come down. However, we never had reason to turn around and so a few hours after midnight we stood on the summit of Guillaumet, looking down the other side at the dark.
Our day had started at 3:30 the previous morning. Well-rested at Laguna de Los Tres, and after following three too many teams toward the Brenner Ridge route we fell out of step with the rest and figured we would just start up the East Face of Guillaumet. There was a short, splitter off-width that Mikey started off on. It led up to fun cracks, a tunnel through a strange jumble of pillars, and up a 5.10 hand-to-tips crack.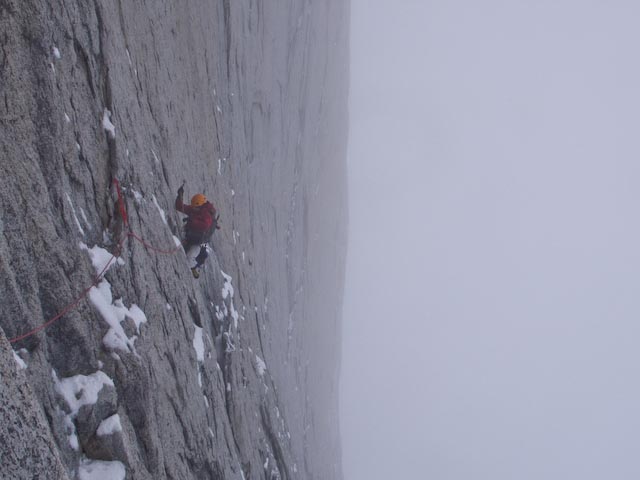 [Mikey Schaefer cleaning in the clouds, pitch 4. Photo: © Kate Rutherford]
I lead the middle third of the route. Without gloves, I traversed left into another corner on disturbingly loose flakes. Each crimp and foot edge had old snow to whack off before trusting cold fingers to keep holding on. I eventually gave up, put my gloves on and scrambled up a snowy ramp, kicking steps in my Mythos. When I realized I couldn't put cams in icy cracks it made me think, "Hmm, I'm so not an ice climber." The rock gods heard my whining and presented a perfect hand crack that veered right. My gloved hands loved every jam. "Ok, maybe I could be an alpinist…"
The top of the hand crack looked like a ledge and I pulled over, ready to mantel onto easier terrain. Ack! It was all snowy! I brought Mikey up, and told him to put on his boots. Four minutes later he tagged up his crampons too. Little did we know, it was all ice from here. Some super spicy (to us) mixed moves lead to the base of a corner with icicles dripping from every little roof. I sat and got pummeled by ice as Mikey chopped aid placements out of the frozen cracks. We figured we were two pitches from the summit. We were wrong.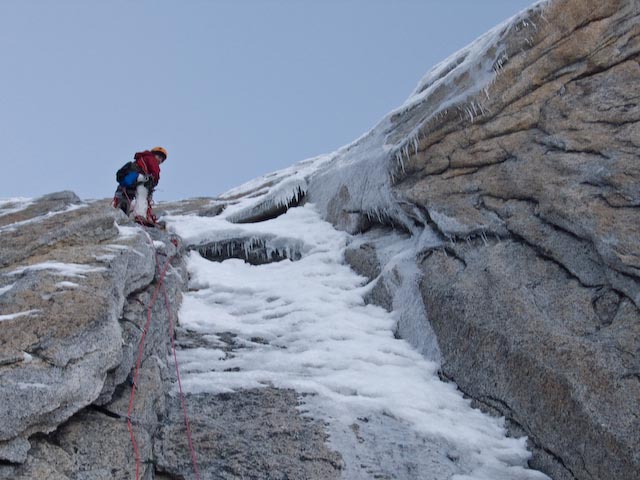 [Mikey aiding the ice-choked 11th pitch. Photo: © Kate Rutherford]
I watched as all of our friends crossed back over the glacier and headed back to Paso Superior after the relative ease of the Brenner Ridge – at least they were leaving us a path to follow home. It was getting dark and they yelled up to us. Echos reverberated off the walls and distorted the question of when we would come down. We didn't know anyway.
The darkness made me cold, and Mikey still kicked steps up the hollow, run-out, 70-degree – I don't even know what you call it – névé? Lucky for me, he said this was not the time to lead my first ice pitch. And so, for an early birthday present, he lead all 800 feet of ice to the summit ridge.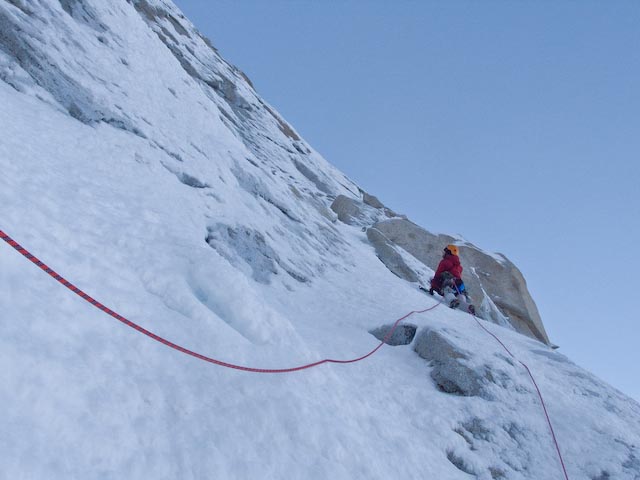 [Mikey takes off on the névé ramp, pitch 12. Photo: © Kate Rutherford]
I then took us down. Snow had fallen straight down periodically throughout the day, but as we rappelled, the wind kicked up, and the cloud we were in grew into a thick fog. Rappelling through the fog, scanning the fresh snow on the walls of the Amy Couloir for anything not grey or white, I worried I'd miss the anchors. But they would appear, as did the glacier, solid and relatively flat in the dark fog and sparkling snow.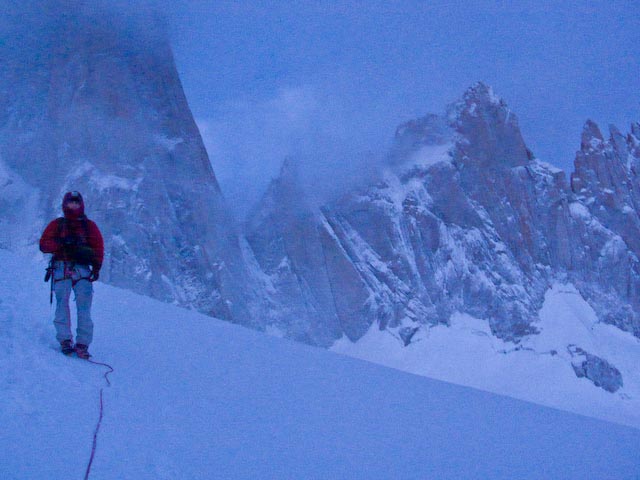 [Looking back at first light. Photo: © Kate Rutherford]
I welcomed the early grey light as we wove back through the crevasses on the path our friends had left the evening before. We had been moving a long time, but we were content. A day with the "hard sayin' not knowin'" attitude had proven successful.
–Kate Rutherford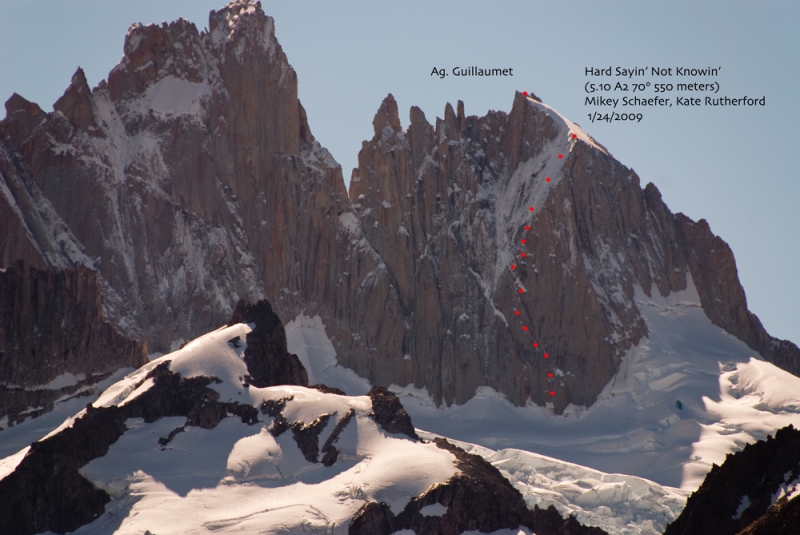 [Hard Sayin' Not Knowin' (5.10 A2 70° 550 meters) Aguja Guillaumet, Mikey Schaefer & Kate Rutherford, January 24, 2009. Photo: Mikey Schaefer]