High Five – Celebrating the Fifth Anniversary of The Cleanest Line [Updated]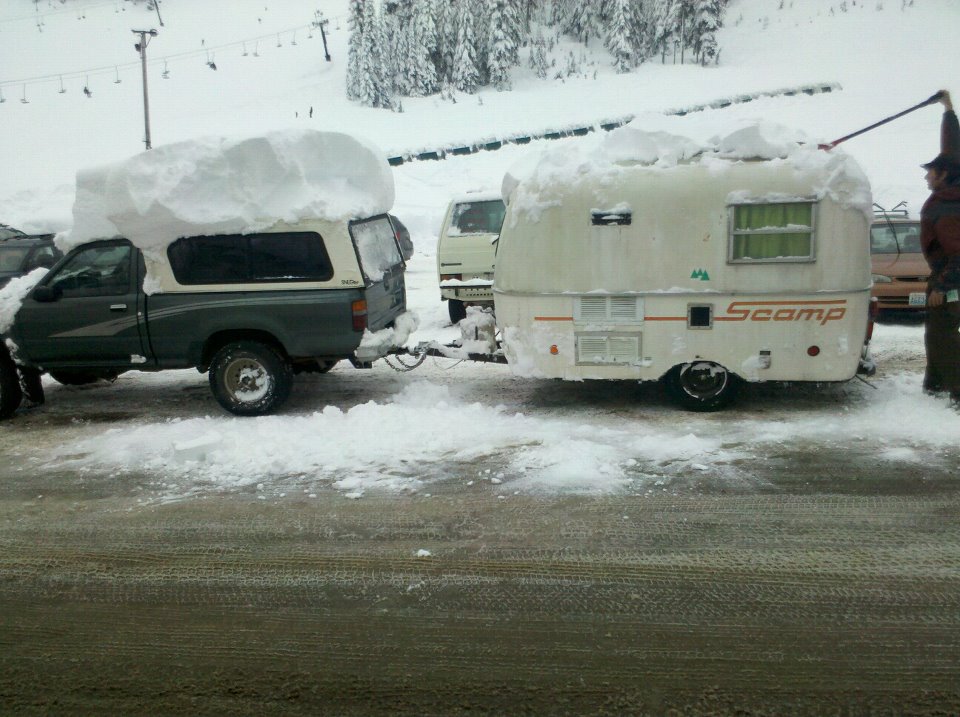 Over five years things change. And yet they don't.
That was the thought that ran through my head. I sat on top of a spare tire in the back of my truck that I used to call home. Becca sat in the front seat calming our six-week-old child. We were still dressed in our touring gear. It was nuking two inches of snow an hour.
Behind us sat our 13-foot, 1976 Scamp travel trailer that we painstakingly refurbished over the last year and a half. The carbon monoxide alarm had triggered minutes earlier. Three feet of snow covered the propane safety valve. Gas leaked into the cramped space. We fled into the night and the relative comfort of the truck. We couldn't move the trailer or the truck if we wanted to. There was simply too much snow. I drank a beer because there didn't seem to be anything I could really do in the situation. We were safe. Rattled, but safe. Five years earlier I couldn't have imagined this moment.
The idea was simple. When it snowed we would simply migrate our small family to the mountains so we could be the people we wanted to be – skiers and climbers. We were carving out our vision of life in the mountains. This is our version of the cleanest line. At the moment, it wasn't pretty. We were cold. We were wet. We were tired. It's the story of my mountain life. The only thing that was different was that we were three instead of two. That's a monumental change and yet it isn't. The only path forward for us is remaining true to our core DNA.


The people around here are decidedly modest and loathe to do any horn tooting. So I'll do it for them. For the last five years, The Cleanest Line has been a beacon of measured thoughtful content for those carving out mountain paths on their own terms [Editor's note: And ocean paths – we're going to make you a surfer yet, Fitz]. Five years is a long time in the Internet realm, enough for trends to grow and recede and yet The Cleanest Line has remained like hard granite in our online tribe. While other blogs and company mouthpieces have come and gone, this site has remained perched at the top of my RSS reader. The content remains engaging and thoughtful and true to the vision of Patagonia's employees and extended family. It isn't marketing. It is an ethos for a community gathered around a shared vision of life. There are no trumpets here, just conversation. We may disagree, but when we do this community does it with thoughtful intent and compassion for differing views. That doesn't happen without the diligence, consistent effort and love.
In the last five years, we've been humored by the keenly developed of wit of Kelly Cordes. Read as Yvon Chouinard weighed in with a few words on the Cerro Torre controversy. Heard Steve House, chest rattling with a deep cough, call in from the Himalaya. We've gathered around petitions and causes and debated the intricacies of wetsuit materials. We've made friends and unfortunately we've lost them.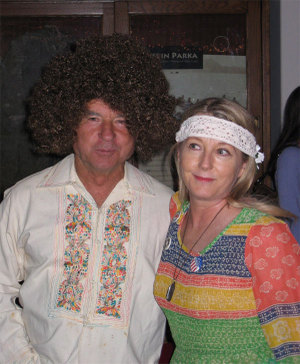 Yvon and Malinda Chouinard pose at the 2005 Patagonia Christmas party. From "Make Blog Not War" the first post ever on The Cleanest Line. Photo: Dave Kanarek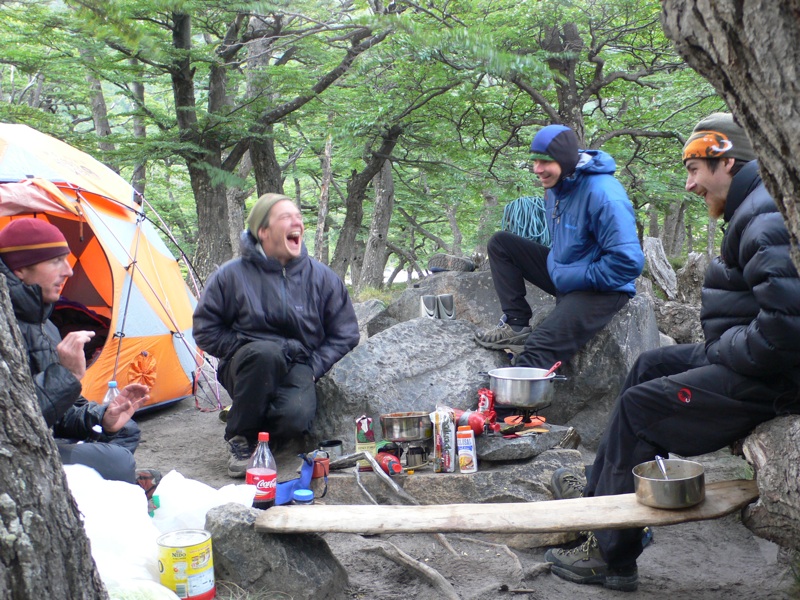 Kelly Cordes and friends telling stories around camp in Patagonia. From "So It Begins (with a margarita recipe)." Photo: Kelly Cordes Collection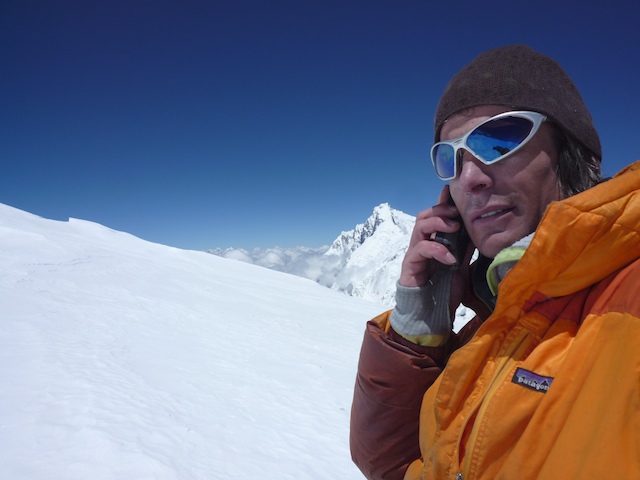 Steve House on the phone with you at 7400 meters (24,270 ft) in 2009. Lhotse is behind him. Listen to "Makalu 2009: Greetings from 24,300 Feet." Photo: Steve House
Things change and yet they don't. We evolve. We succeed in our mountain endeavors. We fail in them. But we keep seeking the path. The Cleanest Line has remained a constant reminder that there are others who search. Who struggle. Who rejoice. Who believe that it isn't about leaving a mark, but quietly drawing a line through life and sticking to that vision.
So here's to five years. Here is to remaining true to a vision even as we evolve. Here is to The Cleanest Line.
—————————————————————–
Editor's note: Here's a selection of nuggets from the last five years. Do you have a favorite post? Please share it in the comments.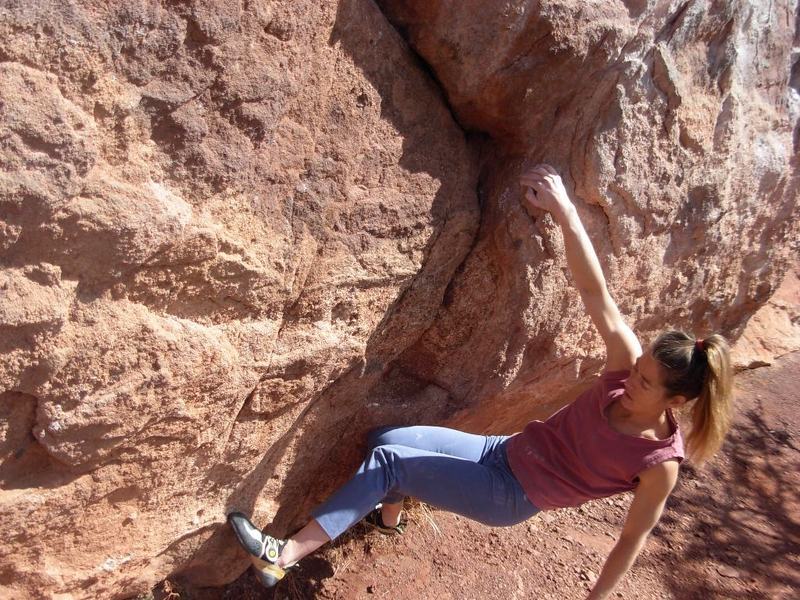 Lynn Hill deomnstrates the knee knocker rest, a simple example of a technique she calls bracing. From "Lynn's Tips: Traversing Techniques." Photo: Lynn Hill Collection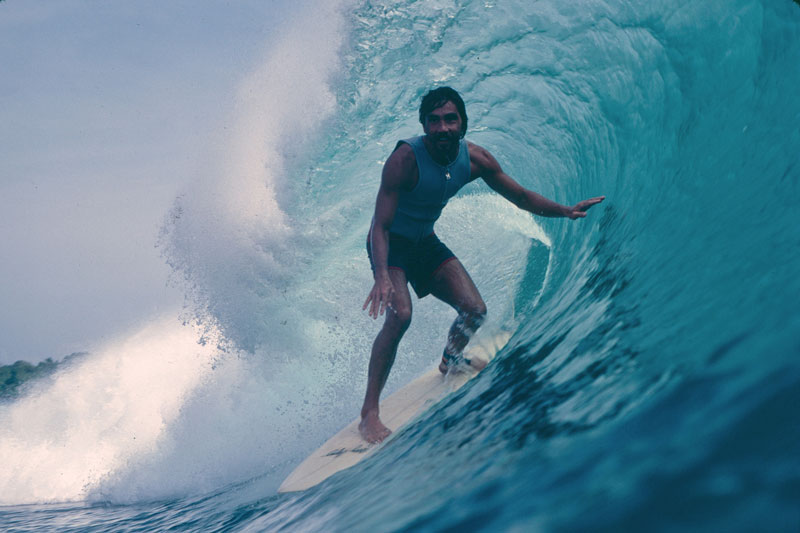 Gerry Lopez at G-Land, sometime in the late '70s or early '80s. From "What a Mess – Remembering a World before Plastic Pollution." Photo: ©Don King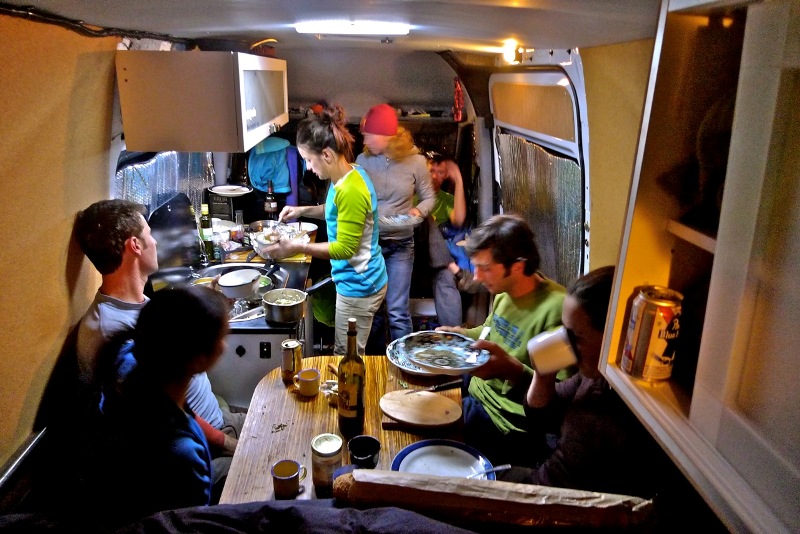 Brittany Griffith cooks Thanksgiving dinner for eight at Red Rocks in Gypsy Van. From "Climbing, Catering, Community & Quinoa" one of the many recipes Brittany has shared. Photo: JT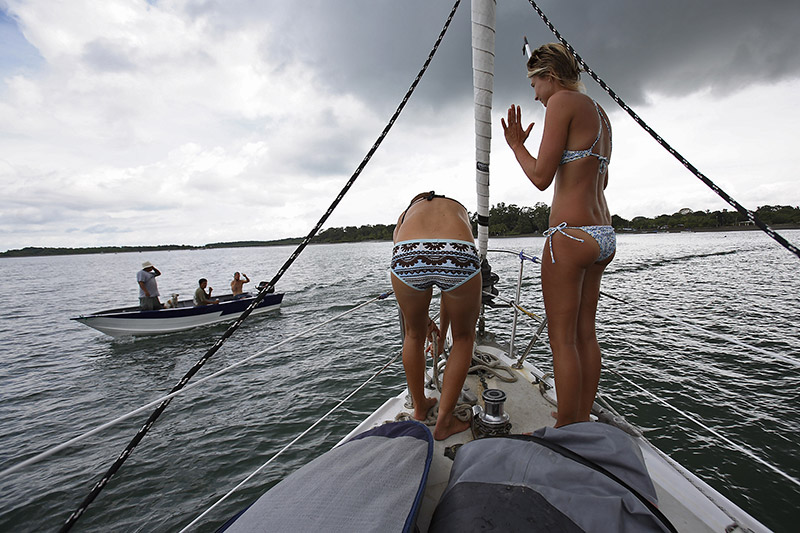 Jeff Johnson's photograph of Liz Clark and Belinda Baggs anchored in the Osa Peninsula, south Costa Rica. From "Beyond and Back" Jeff's ongoing series of stories from the road. Photo: Jeff Johnson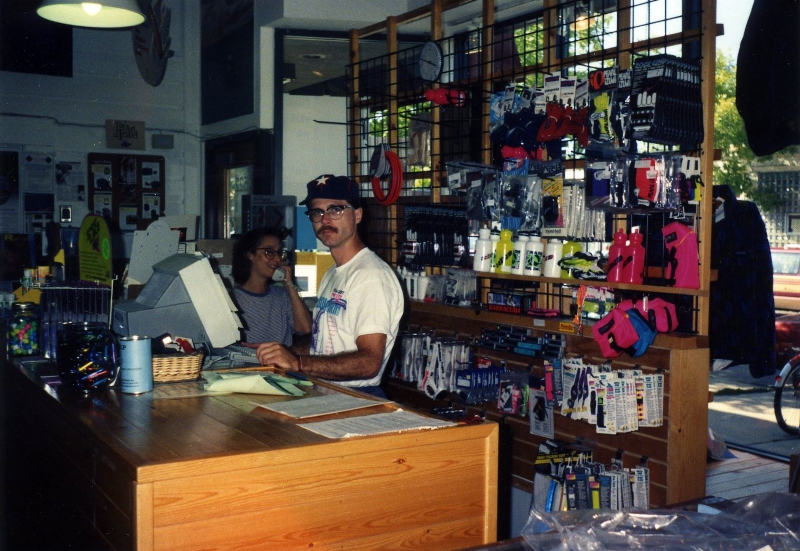 Craig Holloway checks the day's sales, while the great Gina Shelton takes a customer's call. From "The Retail Life." Photo: Craig Holloway Collection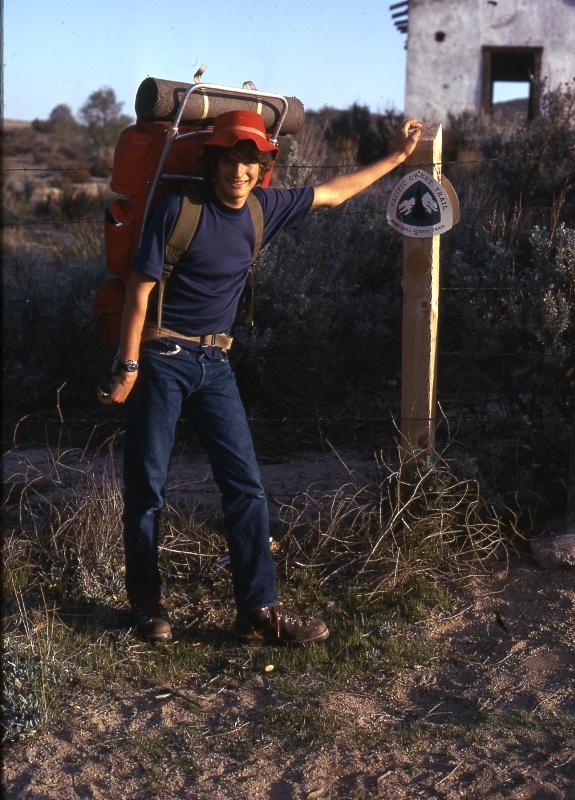 Not-So-Old-School getting ready for the hike of a lifetime in 1974, as pictured in "From the PCT to MVTR," one of many enlightening posts on gear technology, product care and Patagonia product history from our resident customer service expert, Old School. Photo: Old School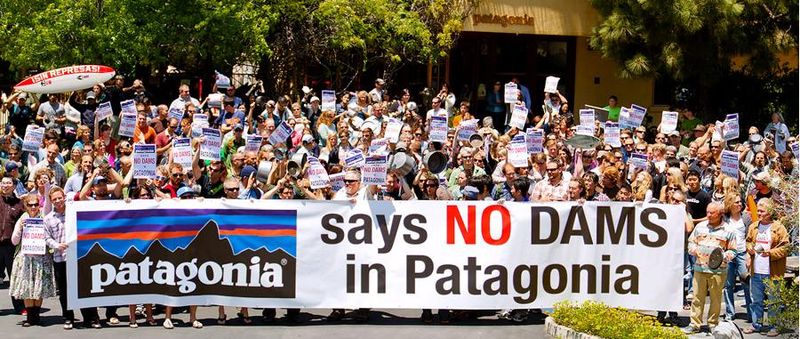 May 19, 2011, Patagonia Headquarters, Ventura, California. In Chile and other Spanish-speaking countries they call it a cacerolazo – a stew-pot protest. From "Stew-Pot Protest at Patagonia Headquarters for a Patagonia Without Dams – Take Action Today." Photo: Tim Davis
Update 3/7/12: Here are a few reader favorites from the comments we received on Facebook.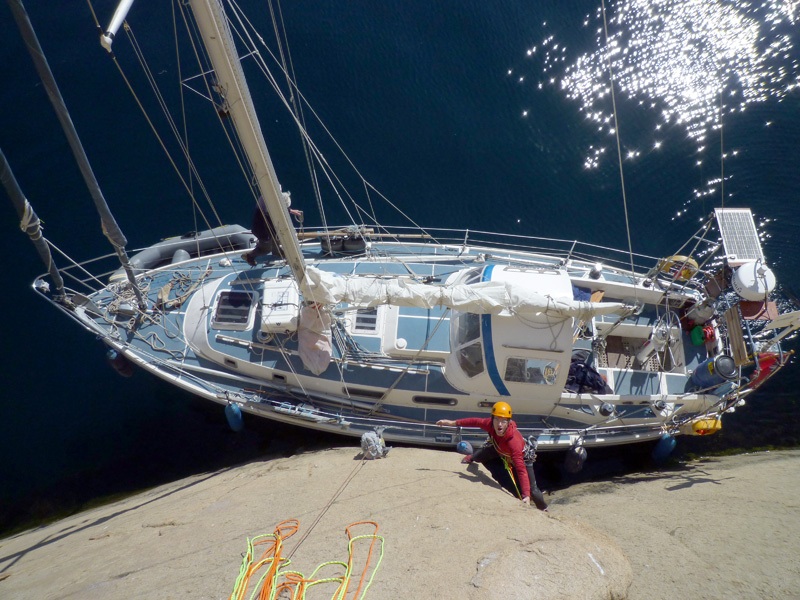 Howard Rourke said his favorite posts were from the Greenland Vertical Sailing series. Great call Howard. Here we see Ben Ditto getting started out of the boat on "Seagulls Garden." Photo: Nico Favresse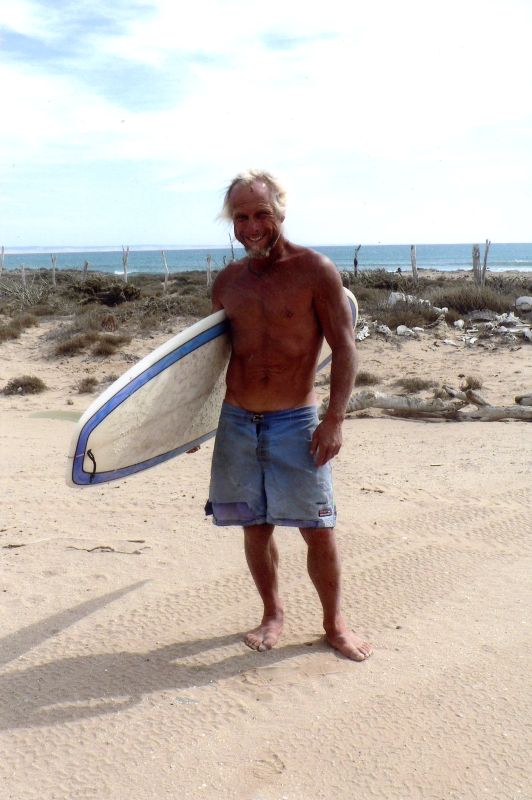 Richard Flinterman said the post about Christo Grayling and his 15-year-old pair of Patagonia board shorts makes him smile. Us too Richard. From "It's the Man That Makes the Clothes." Photo: Christo Grayling collection

Thanks to Samantha Stern for this tweet.   
We'll end this little party with a huge THANK YOU to everyone who's ever read or contiributed to this blog. Thanks to all of the writers, photographers, videographers, musicians, commenters (Dallas, Uri, and the rest), employees, and friends — Fitz especially for today's beautiful tribute. Thanks to Geoff McFetridge for designing both of our radical and intricate mastheads. Thanks to TypePad for their reliable hosting services. Thanks to all of the family members who've waited patiently at home while we work late to finish these posts (tonight included, thanks love). Thanks to Yvon, Malinda and the management team for all their support. And special thanks to the small team of bloggers who keep The Cleanest Line ticking.
It still holds true after five years: make blog, not war. Take care everybody.