How We Got Here: Organic Cotton
The story of our switch to organic cotton starts with a bout of headaches and a trip to the lunar landscape of the San Joaquin Valley's conventional cotton fields.
The San Joaquin Valley is a 250-mile long, sediment-filled depression bound by California's Coast Ranges to the west and the Sierra Nevada to the east. Sixty-five million years ago it was an inland sea; people who farmed it in the 1920s remember it was full of lakes and rivers. This wasn't the landscape Patagonia employees saw in 1995, when the business started running tours to conventional and organic cotton fields around the area as part of a multiyear campaign to educate employees about the two types of cotton and how each are grown.
Cotton farming began to transform the greater Central Valley in the years after the end of World War I, but it wasn't until the 1930s, when a series of state and federal water-management programs started expanding irrigation, that California became a major cotton-producing state. Another boon came in the 1950s, when farmers were introduced to a range of new herbicides and pesticides after World War II. It became known as "The Golden Age of Pesticides," and over the following decades, farmers began relying heavily on chemicals to help increase their yields. By the mid-1990s, the landscape looked much different than a valley ripe with rivers and lakes. Decades of heavy agricultural use had stripped the valley of its once-fertile soil and plentiful groundwater basin, turning it into a barren moonscape with some of our country's most polluted air.
Years before the tours started, no one at Patagonia thought about the need to stop using conventional cotton. At that time, Cotton Incorporated, a not-for-profit company funded by US cotton growers and importers, was heavily marketing cotton material as The Fabric of Our Lives®. Cotton had a reputation as being a natural and healthy alternative to synthetic fabrics. What could be bad about something that started out as a plant?
It took a few years of discovery, research and groundwork before a handful of employees dug up the real dirt on cotton.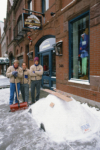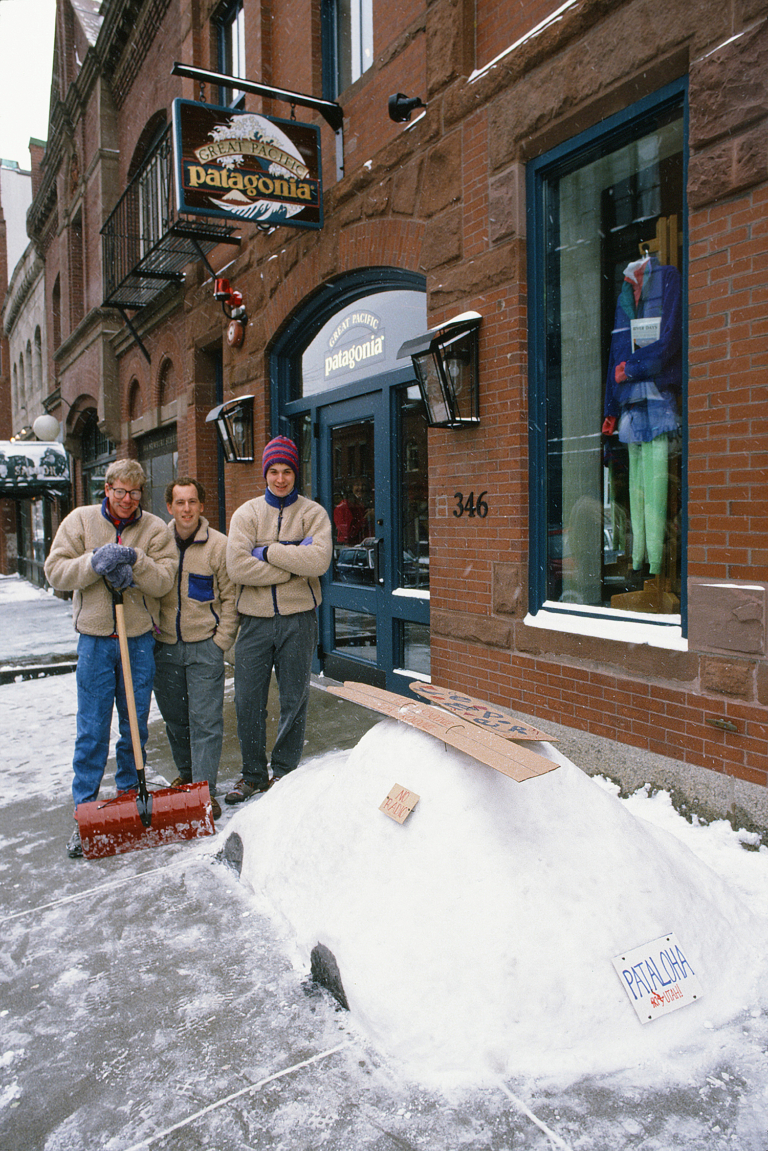 In 1988, we opened our Patagonia Boston store, and shortly after stocking the shelves with products, our employees started experiencing headaches. The cause, we determined, was poor ventilation and a build-up of formaldehyde fumes being released from the clothing. The event awakened our sense of responsibility.
A few years later, we commissioned an independent assessment of the environmental impacts of the fibers most commonly used in clothes, including cotton. We learned that conventional cotton fields—while comprising only 2.5 percent of the world's cultivated land—used 22.5 percent of chemical insecticides and 10 percent of pesticides used in agriculture.
We first started experimenting with organic cotton with a single T-shirt, then with a line of T-shirt blanks called Beneficial T's, which we sold wholesale to other businesses. We soon realized that if we were going to make an impact on how cotton was grown, it was going to take a bigger commitment.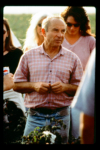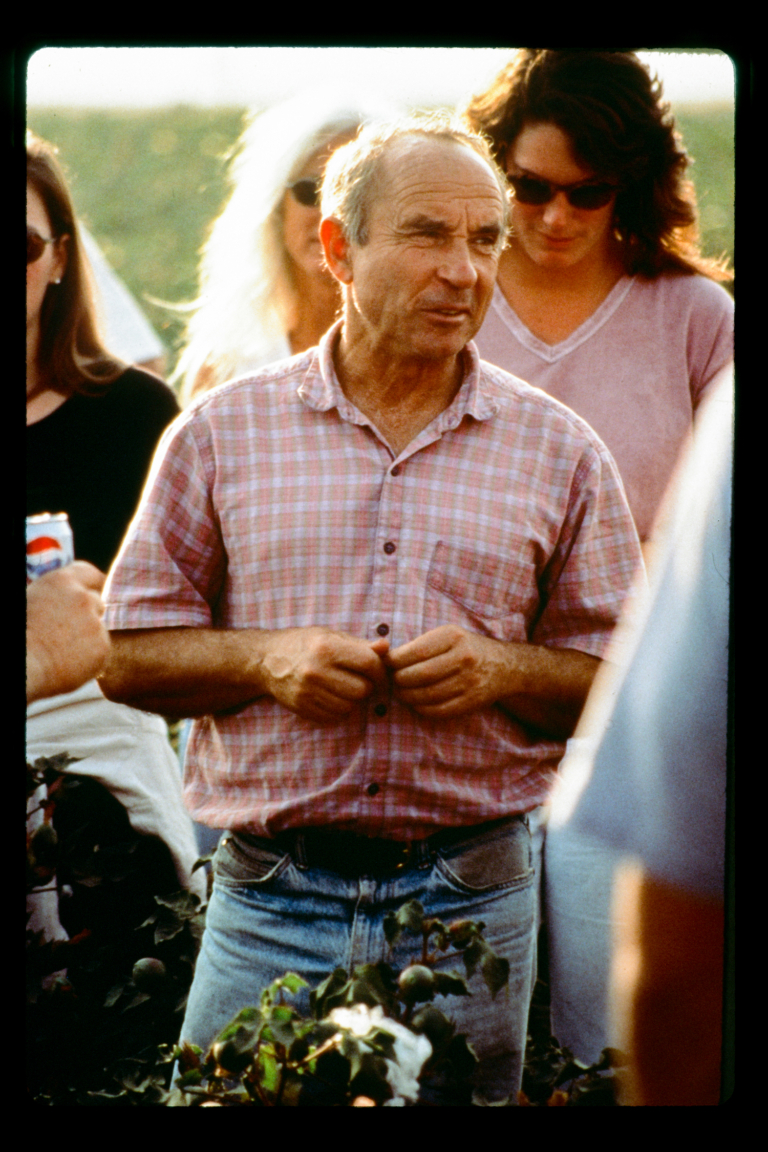 In 1994, Patagonia founder Yvon Chouinard sent a company-wide edict that we convert the entire sportswear line—then, 166 products—to 100 percent organic cotton in 18 months. And if we didn't make it happen, we were going to stop selling sportswear—which made up 30 percent of our business.
The decision to drop conventional cotton caused a quiet revolt throughout the ranks, which was understandable as we had to create our own organic cotton supply chain. Previously, we'd placed orders directly with factories, who bought the cotton from brokers; now we were going directly to farmers, who didn't have working relationships with spinners or mills who could weave or knit the yarn.
There were many unanswered questions: Since there wasn't enough of an organic cotton supply to make the entire line, where were we going to find it? Our customers weren't demanding organic cotton clothing, so why would they pay more for it? How much more would they pay? If the attempt failed and we lost money, how would it affect our bonuses? Who was going to do all the extra work?
We decided that the best way to get everyone on board to switch to organic wasn't going to be through PowerPoint presentations. As Jill Dumain, who at the time worked in fabric research and development, said, "We're going to have to take the show on the road."
What people discovered on the cotton tours was shocking: They smelled chemicals that burned their eyes and nauseated their stomachs. They were breathing in the same chemicals developed during World War ll and used as nerve gases for warfare—and so were the farm workers.
Terri Laine, then a director of POP (Point of Purchase), joined one of the cotton tours in the mid-1990s. She remembers the tour guide asking the bus driver to go off-road so they could see a retention pond on a conventional cotton farm. Once the bus left the asphalt, it broke through the soil crust right down to its axles. No one on the bus could get off to help dig it out because the ground was too toxic. They waited for hours, wondering when they were going to get home, until local farm workers with heavy-duty equipment pulled them out.
Once they made it to the pond filled with runoff containing the chemical selenium, she saw a man sitting in a lawn chair, armed with a rifle, sitting next to a red truck. The rifle was used to scare off any birds that might try to land in the toxic soup.
Dumain recalled seeing a crop duster fly low over a cotton field and spray an herbicide defoliant. About half of the defoliant reached the cotton field; the rest drifted away to other farms and open waterways, including an open truck filled to the brim with watermelons.
"I grew up in suburbia thinking that I could trust regulations meant to keep us safe," she wrote in a report. "But there doesn't seem to be much enforcement of these regulations. Does anyone know what these chemicals are doing?"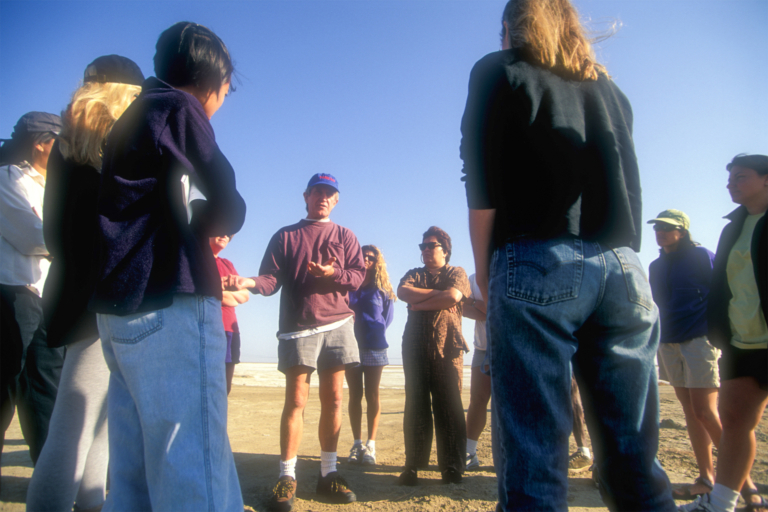 Susan Welbourn, who worked at Patagonia's Great Pacific Child Development Center (GPCDC) at the time, went on one of the early bus tours with around 40 other people. While visiting a cotton gin, which separates seeds from cotton fibers, she happened to notice a huge pile of cottonseed outside the building housing the machine.
"What happens to that?" she asked, pointing to the pile. The tour guide, who was hired from the California Institute for Rural Studies, explained the cottonseed was sold to a nearby dairy farm as feed for cattle. It was also processed into cottonseed oil, which is used in human foods like peanut butter and mayonnaise. He assessed the silent, wide-eyed look on Susan's face and said, "The lights just went on, didn't they?"
Susan thought of her two towhead boys, Tyler and Gabe, ages 4 and 8 at the time, who regularly went through nearly a gallon of milk a day. She thought of the cheese, butter and other dairy products that come from cows, as well as other foods in her pantry that might contain conventionally sourced cottonseed oil. (Cottonseed oil in human food is not regulated by the FDA.)
"It was an epiphany," she recalled. "I realized in that moment how everything is connected."
As the cotton tours were going on, a shift occurred within the business. A company-wide DIY effort began in order to help educate other employees, dealers and customers about the benefits of organic cotton. Jil Zilligen, at the time the environmental program director, developed an organic cotton board game to educate employees in the retail stores, and we made a children's coloring book for the kids' section of our retail stores. Dave Girtsman, a former R&D systems analyst, made a video of a tour for employees in our international stores, like Dublin and Japan, and for Patagonia Europe's office in France (he recorded the voice-over in a closet). The enthusiasm for the move was growing, as was the sense that—since there was no "plan B"—it had to work.
In the end, all these efforts paid off, and for our Spring 1996 line, we successfully made the switch to 100 percent organic cotton. We took some hits: We cut our margins after an outside market research company found that, yes, customers were willing to pay more, but only 2-10 percent more. And, due to an initial shortage of organic cotton from our fledgling supply chain, we cut our sportswear line from 166 products down to 66. It took two years for the change to be considered a success, when sportswear sales finally returned to previous levels.
The tours ran for nearly 10 years, with four to five being held each fall season; it ended when San Joaquin farmers started growing GMO cotton—a fiber we were adamant against using. But the success of the tours and their resulting impact had a ripple effect within the company.
The shift to organic cotton was our first sustained and widespread effort to change our supply chain. It was also the first time we ran a company-wide environmental initiative and created an internal and external environmental educational campaign. Looking back, it's clear that the emotional and visceral impacts employees experienced on the tours buoyed the upheaval, effort and success caused by the switch.
The tours, and their influence on our adoption of organic cotton, changed the entire business culture as well. We had gone through an experience together, saw that something needed to change and took a risk to create that change. The outcome proved that wading into the unknown—even if it's a pain in the ass—can reap rewards.
To this day, all the virgin cotton we use is 100 percent organically grown, and we'll never go back.