Inaugural Copp-Dash Inspire Award Grant Recipients Announced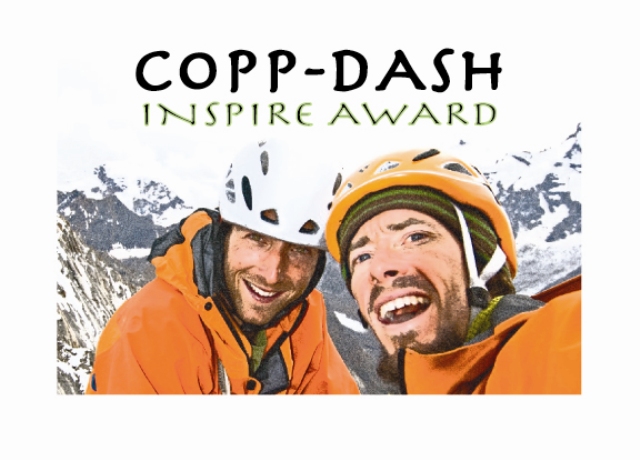 The Copp-Dash Inspire Award, sponsored by Black Diamond Equipment, La Sportiva, Mountain Hardwear and Patagonia, announced the first winners of the new climbing grant established in memory of American climbers Jonny Copp and Micah Dash, who were killed in an avalanche in China in May 2009 along with filmmaker Wade Johnson. In addition to providing financial support to perspective expedition teams, the goal of the Copp-Dash Inspire Award is to provide mentoring before and after the expedition to help the climbers bring back inspiring multimedia stories of their adventures.
"The Inspire Award is not just a climbing expedition grant," says La Sportiva's Marketing Manager, Laura Fryer. "One thing we all learned from Jonny and Micah is that it's as much about the stories and experiences that we take away from our climbs, as the climb itself. This award has been designed to support small teams with big goals in the high mountains and empower them to bring their adventures back and share their stories of inspiration."
The 2010 Copp-Dash Inspire Award winners and their objectives are:
Kevin Mahoney with Ben Gilmore and Freddie Wilkinson. South Face of Nuptse, Nepal. Alpine-style ascent via a new route on the perimeter of the Cobweb Wall.
Madaleine Sorkin with Lorna Illingworth and Emily Stifler. Southeast Face of Mt. Proboscis, Canada. First complete free ascent of the 2,000-foot Original Route.
Matt McCormick with Jim Shimberg and Tim Deroehn. Southeast Pillar of K7 West, Pakistan. Alpine-style first complete ascent of a major sub-summit of K7 West.
Sam Johnson with Ryan Hokanson. South Face of Mt. Shand and traverse of Mt. Hayes massif, Alaska. Alpine-style first ascent of 1,500-meter face on Mt. Shand and 12-mile traverse of Hayes massif, entailing thousands of vertical meters of climbing.
Sarah Garlick with Danika Gilbert, Jim Surette and Dave Nettle. Northwest face of the Baroness, Greenland. New free route on 2,000-foot northwest face of the Baroness.
Will Meinen with Fred McGuinness and Scott Thumlert. North Face of Mt. Geikie, Canada. First ascent on 4,000-foot face.
Zack Smith with Renan Ozturk and Freddie Wilkinson. Traverse of the Moose's Tooth massif. A full traverse of the massif, entailing an estimated 12,000 feet of ice, rock, and snow climbing.
For more information on how to apply for the Copp-Dash Inspire Award for 2011, go to http://www.americanalpineclub.org/grant/coppdashinspireaward.