Fletcher Chouinard on Surfing El Buey
Fletcher Chouinard
/
Feb 16, 2011
/
15 Min Read
/
Surfing
Editor's note: Fletcher Chouinard originally shared this story about the trip he made from California to Chile to ride some of the biggest surf ever at El Buey in 2011.
Saturday
Kohl: "Bru, it's going to be puuummmmpiing! Meet me in Chile!"
Sunday
Kohl: "Looking SICK! I'm in Houston. I'll be there tomorrow. Coooome down!"
Monday
After lunch I decide to go. I pack a little, halfheartedly.
Tuesday
Pack 'til lunch in a panic. Buy tickets online. Finish painting Hanalei Reponty's plaster bust like Wonder Woman for the Keep a Breast Foundation.  Pack more. Unpack tow board, shortboard and kites. Repack. Decide to not check a bag. Repack, extra tee shirt and jeans. Gonna stink, might be cold. Drive to airport early. Park in short-term, check in with boards, and move car to long-term lot, back to terminal, beer to calm the nerves. Am I doing something dumb and wasteful? Can my credit card handle it? Will it even be big? My smallest board is 6'8″, damnit, need Fark. Will it be too big? Haven't surfed more than once a month since March. Can I paddle? How are my lungs? Am I going to get too far behind at work? Will the glass shop run out of boards? 25 hours of travel to get there… WTF am I thinking? Will it be worth it?
Airplane
Tamazipam knockout. Seven hours gone. Breakfast/movie.
Lima
Don't remember changing planes but it must have happened.
Airplane
Re-breakfast (it's worse).
BuenasAires
"Transit passengers to Santiago please stay on board the aircraft." Okay, I'll sit tight. SHIT there go my boards! Why did they unload my boards? I bet they will put them back on when they repack the plane. 
"Señor Choweenard? You are on another flight out of gate 7 that is boarding now!" Oh for *#%& sake!
Airplane
Movie. Butter and ham sandwich (is this 1963?). Shutdown.
Santiago
Claim boards, customs, haul boards upstairs to departures. "Señor, for some reason your ticket to Arica has been canceled. Did you miss your connection?" REALLY? Funny how I'm standing here…"It's a good thing you are five hours early or you might be in trouble!"
Stress. Burger, beer, beer, beer. It occurs to me how strange it is that I'm texting my bro in Melbourne about the SF Giants game that I'm watching live in a bar in Chile. If the world is so very small why does it take so long to get anywhere?
Twiggy, Ramon, Healy, and Greg Long walk into the terminal. They've got Kohl's boards but no Kohl. Twiggy nonchalantly says, "Yeah it really came up today, got pretty good. We got a few." Healey thinks I'm coming back from a mission and wants to know if I scored the first day of swell. It feels kind of good that he would assume that. I tell him no, I'm going to Arica with Kohl. "Oh it's going to be PUMPING! You're gonna score. We're off to Peru!" I'm getting nervous; the best guys in the world are impressed by this swell…
Kohl shows up, "Eeeets pumping bru!" He explains that he had to go into town to grab another board because he had snapped his 10'6″ that afternoon (3.25″ thick and 3 x 4oz. deck and 4 x 3oz. bottom). Healey snapped a new board as well and Ramon had his worst ever hold-down. "Tomorrow is going to be HUUUUGE!" Great…be careful what you wish for. Rodrigo the photographer shows me some shots of the day on his digi cam. Its ledging, bumpy, 50-60 foot faces and half the shots are wipouts. Uggggh. This is no summer south swell that I'm familiar with.
Airplane
I pass out. I really can't read without falling asleep anymore. Bam! The landing wakes me. It's 1:30 a.m. in Arica. We get a shuttle and drive 20 minutes through what, as near as I can tell, is a post-apocalyptic Mars 'scape. Not a blade of grass or shrub. We arrive at the hotel and the second I step out of the van it feels like there's seawater in the air. It's loud, really loud. Distinct booms of individual waves breaking.
2:30 a.m.
I'm in bed but the window frame is rattling and every 15 minutes a breaking wave will set off a car alarm. Gotta sleep!
Beep, beep, beep! My alarm goes off at six. It's still dark. We dress and shuffle down to the café. Before I realize what I'm doing I drink two cups of gut-rot black coffee, buns, ham, cheese, fruit, and yogurt. I feel queasy. Kohl says it's fine 'cuz we're gonna be out for five or six hours and we need to fuel up.
It gets grey outside and we stumble out onto the patio. It's overcast, oily glass and perfect. There's an offshore, a-frame reef that's barreling in both directions. Looks like … 10 feet? I feel a weird deflated disappointment.
"Hey Kohl, how big is that? I don't know how far away that is." There's no texture on the water so there's no way to judge it.
"It's REALLY big, bigger than I've seen it. It's perfect! Let's get out there!"
Nervous again.
My stomach starts to churn as I'm suiting up. Creeping fear. Too much coffee. I climb through the window with my 9'6″ Mavericks board and step out onto the point. Is this really happening on a south swell? The paddle out apparently is a small keyhole slot in the rocks that is totally exposed to a 10-foot Teahupoo-style suckout, even in between sets. There's nowhere else along the point to go since, just past the keyhole, the current starts ripping down the lava rock point and into the ridiculous new jetty that just got built – there's no way you're not going to hit it if you don't time your lull correctly.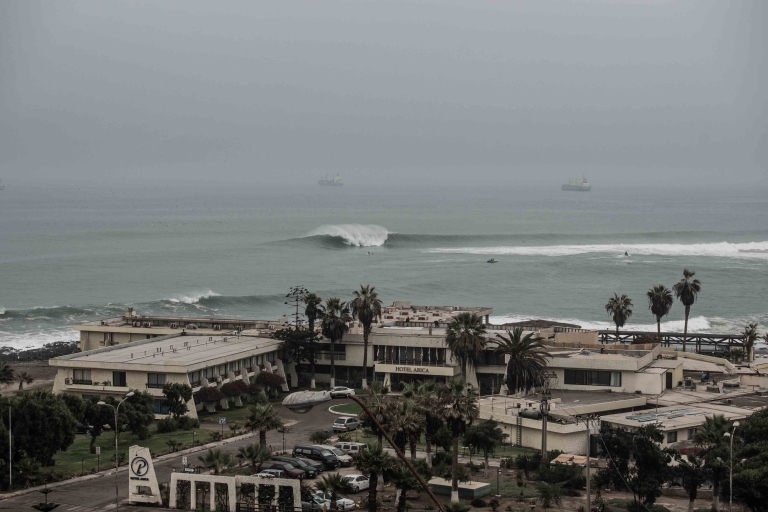 The wave itself is off the point, straight out to sea, surrounded by calm water. If you really gun it you can make it out with dry hair to the safe water in between. We study it for maybe two minutes before Kohl abruptly says, "Okay, looks good," (it doesn't) and sprints into the whitewater-filled channel. I hesitate for a sec, looking at the dark line of a set on the way, but quickly follow him for fear of having to do it alone. There are bigger waves than I've seen in five months sucking out and exploding into the outside of the keyhole, but it's a matter of perspective, and this isn't a set yet, so we go.
Incoming. I turtle my board once, twice, three times under whitewater and scratch over a strangely perfect looking double-overhead left just before it hits the shelf and explodes into the air. That would have screwed us up for sure!
Safe. There's no one around. Not on the wave, not on the beach, paddling out, not anywhere! The wave looks about 15 feet now and it's spitting its guts out. Flawless, but heavy!
We paddle out conservatively far and Kohl shows me his past lineups which don't seem to really apply at this size. It's bigger than 15 but I have a sneaking suspicion that I haven't seen a set yet. I don't have any idea if we're too far out or not enough. We bob there, letting enormous swells pass beneath us that break loudly 50 yards inside. Kohl gets bored and goes in. He picks one off and gets annihilated. He makes the next couple to the channel. I'm starting to feel like a sissy when a REAL set comes. I barely make it over and Kohl gets cleaned up by the biggest thing I've seen since February (2010) at Mavericks. It's big, really big. I weigh my options and realize that if I get caught by a big one I'll get blown all the way through the reform on the inside and my day will be over. I'm not making it back out. If I break my leash, I'll never see my board again. My only play is to sit outside and wait for a big clean one and hope I make it.
It's tough to adjust to the speed of these waves but after some surely doomed, aborted attempts I line up with a big outside right, stroke hard and throw myself over the ledge. There's a moment of weightlessness looking straight down and then I'm going 1,000 mph. I hit a bump midface that slows me down but I don't pearl like I think I'm going to. I correct and try to make my bottom turn before I get too low. I look up to see a four-story building collapsing on me and I get no squirt out of my turn. I've delayed too long and starting to loose speed. Shit, I'm not outrunning it. BOO-F***ING-OOM! Raggedy Andy underwater. Flips, spins, up, down… which way is up? Am I deep? Dark. Swimming. I pop up in rapids and foam. Gasp! I get sucked back down for a moment. Back up. There's a wave coming. Not gonna make it. I only cover a few feet toward the channel before I have to take a deep breath and jump off. Dive deep, don't loose ground! I'm relieved that my leash doesn't break.
Paddling back out to the lineup, Kohl's laughing at me, "That was a big wave! I thought you were going down on that one!"
As opposed to?
Kohl's killing it. He repeatedly backdoors the peak, under the lip, from behind the boil. He's performing and trying to get barreled while I'm just trying to get by. I'm sitting far out to sea, haired out, letting waves go by, not feeling too good. Then I see a huge southern set coming. It looks like it's got a shoulder! I turn and paddle for the first wave of the set fighting my instincts that are screaming, "Back off!" Over the ledge, looking down. For a split second there's a mental mutiny telling me I don't want it and that I'm not going to make it. Then I'm on my feet. Weightless, no grip. Don't try to adjust you'll slip! Feels like going straight on a 50-degree mogul run, without the ability to check my speed. Near the bottom I make a slow arcing turn, compress and release. My impossibly small quad fins squirt me down the line and out of the grasp of the giant catcher's mitt that's reaching out for me. I skim into the channel 30 yards before the reform closeout. Stoked.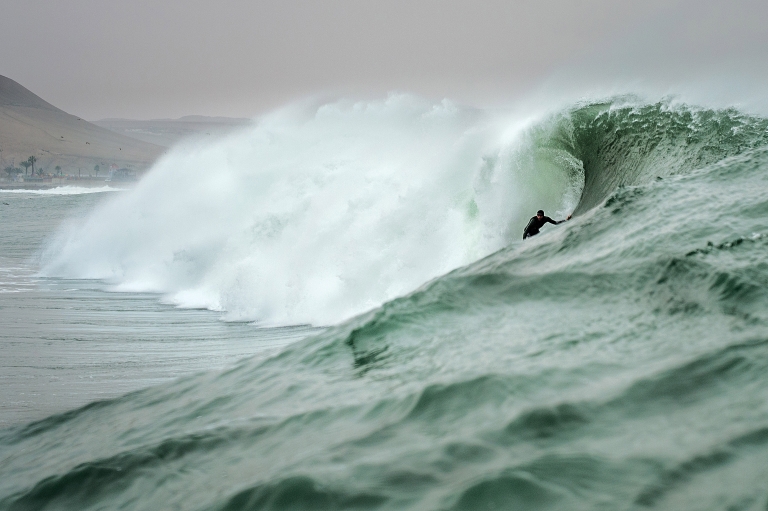 Hours go by. I average one wave an hour. Finally, a young guy paddles out. He looks as freaked as me. He rattles off something in Spanish to me.
"Lo siento, um, no intiendo mucho Español. Soy de California."
"AH, um, eets BEEEG!"
"Si tengo miedo."
"Yo tambien."
We laugh nervously. Then Kohl gets caught by a set and is gone. An hour before, he had made it back out through the reform after a really long paddle but it doesn't look like he's coming back this time.
"Eees your amigo dead?"
"No, it's okay, he's from Hawai'i"
"Ah."
It's funny how that's all you need to say.
It's just the freaked-out guys now. I can't relax and get into a rhythm because of the monster clean-up sets that storm through at irregular intervals. Every once in a while there will be a dark line on the southern horizon, just past the massive sea cliffs that plunge into the sea from the featureless dessert. I would have seconds to claw towards Antarctica and over the top for fear of death … well, that's not true. I know I can dive deep and (probably) out of harm's way but there's no way my leash will hold and it's a bad swim.
Then, inexplicably, it happens. As if I were hypnotized, I turn around in the face of one of the biggest waves all morning and stroke for it. It lets me in relatively easily and I'm flying down the biggest wave I've ever ridden. Crazy. I'm at a loss to describe the acceleration and seemingly unstoppable momentum without getting lost in terrible metaphors and clichés (though it would become a very different sort of ride if I fall). I think about straightening out at the end and going in for a beer but the consequences seem too much. I kick out over a big steep shoulder just as the inside rears up again, huge and unmakeable. Good call. Breakthrough #1. Back to the lineup.
Three tow-in teams show up and are gearing up in the channel. They look ridiculous. Neon wetties with neon jams over the top, neon life jackets and whitewater helmets over the top of that. One has a white, zinc warrior stripe under one eye. Several of them can barely surf. The skis are doing 360s around the lineup hooting and whistling. All they're doing is outracing shoulders. They aren't even trying to fade into the pit, let alone get tubed. One of them loses his board, never to be seen again, and demands another from one of the teams like some big shot. They cave and he leaves the loser sitting in the channel, a quarter-mile from shore with no way in. I'm disgusted and want out but can't get a wave with out getting run over now.
Me and Herman, who buckled his gun on the first wave he paddled for and got caught inside, have made it clear to each other, despite the language barrier, that we are both over it and neither of us wants to be the last guy out alone. I ask him the best way to get in but he just points vaguely towards the inside cove that's sandwiched between a rock cliff and the new jetty and shrugs. Apparently, he's from Iquique, 300 miles to the south and has only surfed here a couple of times, never this big – a sentiment that will repeat itself multiple times from other surfers later as well.
We sit inside and both get smaller waves. I drop to my belly as mine dies out and scratch straight in over the reform section during a lull. In the calm inside, I sit up on my board to rest, still far from shore. It looks like it gets worse inside, and there's whitewater all around me, but I seem to be in a safe deep spot. Then I realize I'm drifting out into the pit of the reform. At the same time, there's a huge outside set coming and there's no way I'm making it in, or out, in time.
The first wave of the set rolls though, dies and rebuilds on the second reef. I'm paddling away from it as fast as I can so I don't take it on the head – triple overhead and draining water off the reef for 100 yards on either side of me. Boom! It breaks 15 feet away. I want to get out of there so I make a decision to take my lumps and cover ground rather than dive deep for safety.
I duck my head underwater and ball up. Startling energy and violence. Pound for pound worse than outside on the main peak. Flips, spins, darkness. Clear ears. Deep. Where's the surface? Hit bottom. I know where I am now but not how far away I am. I push off hard, stroking for the surface. Where is it? Lungs burning. Light! My lips break the surface and I get steamrolled again. I got a mouthful of air but wasn't done exhaling. I force air back and forth repeatedly hoping to absorb a little unused oxygen. Shallower here. Flips, dragging, bouncing along the rock bottom. Can't get up. Hand over hand on my leash to the surface. Arms tingly and not working great. I sit up on my board in a bizarre swift river of foam just in time to pour over a two-foot drop and get knocked down again.
I'm drifting quickly past the jetty and toward the cliffs and huge manmade jacks that protect the road. I paddle for 15 minutes as hard as I can against the current that, had I lost my board, would have recycled it to the open ocean in a matter of minutes.
Terra firma. Shit yeah. Best feeling ever. Walking down the beach, a man in a hard hat runs up and informs me that the Chilean navy has closed the ocean for the next four days and they are patrolling to keep people and boats out.
When I get back to the point some surfers are in the parking lot in front of the keyhole: Herman of Iquique, the guy that runs the local surf hostel, the Argentine national champion and a couple guys Kohl knows. They are shaking their heads laughing at us.
"Biggest day ever!"
"Biggest waves we've ever seen here!"
"First day in 15 years that it was too big for me to paddle out!"
Someone shows me a frame grab of my biggest wave and they all laugh at my expression. Beer.
Wednesday 
It's supposed to be smaller but it still sounds big. We get up, cold and tired. Less breakfast than yesterday but I still fall for the gut-rot coffee and grapefruit. Dummy!
In the grey, I'm shocked that it's still almost as big as yesterday. It's different though, more top-to-bottom, more slabby and hollow. Oily glass again! The keyhole wave is bigger but we time it right and get out dry. The water is much colder than yesterday and I wish I had worn my booties.
Right off I'm having trouble. It's shifty and there are two take-off spots now. The current is pulling me deeper and there are huge lefts grinding through the take-off spot for yesterday's main peak. Kohl is beside himself, hooting and hollering. He's backdooring the rights and pumping and driving through long hollow lefts on his frontside – 15-foot Indo tubes for 200 yards.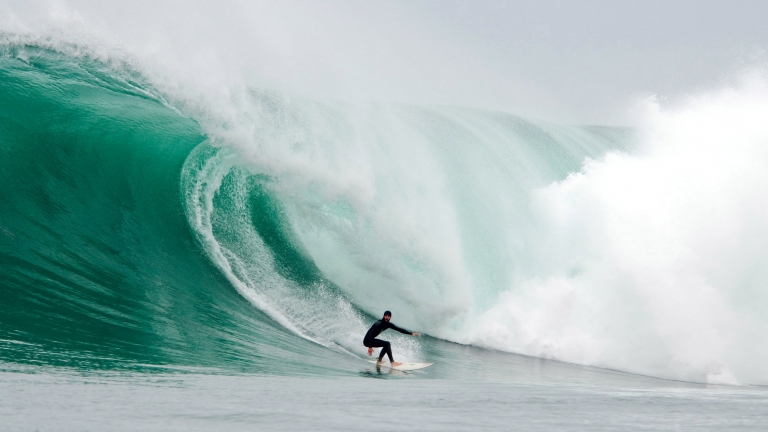 I make one medium right and eat it on my next three in a row. I keep hitting a bump at the top that stops my forward momentum at the last second then I'm vertical and free-falling to the center of the earth. I make a few here and there because of the gecko-like hold of the quad fins, but they are late. I'm getting gun-shy and tired, backing out of good waves. Kohl's telling me that I'm trying to drop into the tube section and that I need to take off deeper, "Take off behind the boil!"
I go deeper and paddle for a big one. Looking good, gliding, go to get up and start losing speed. Now I'm really late. Out of some stupid childhood you-can-do-anything-if-you-try-hard-enough brainwashing, I give another couple of hard strokes and practically tip over the ledge. Whoosh! It's all air. The wave is concave by the time I get to my feet and I'm falling. I hit midface, on my balls, and don't penetrate. Stupid un-hydrodynamic nuts. The lip lands on me and I go down, and then over the falls. When I come up I just float. I don't even make an effort to get to the channel, and get clipped by two waves. Not feeling well.
By this time the Argentine champ and a local are sitting in the channel. He tells me that he yelled at me not to go, but I couldn't hear him because of my hood. Me and Kohl switch boards to compare but I can tell his is too wide and thick for me. The next two waves I bodysurf down the face when I fail to make my turn – one of which I actually make it out of the way of the lip and onto the shoulder. Having a rough morning.
The skis from yesterday have shown up now and I ask the local guy what the easiest way in is. He tells me to just go back in though the keyhole. Oh. I make one last wave on Kohl's board, paddle in to the keyhole and step off on the sand without even getting my hair wet. Breakthrough #2.
That night, over piscos, we drew up notes for the perfect big-wave quiver and went over all the footage. We realized that I was standing up way too early and that I need to be making at least 4-8 more stokes downhill before jumping up. I had assumed, subconsciously, that I would need to be on my feet to get over the steep ledge. The next two days were smaller and we had time to relax and eat and write.
Monday
It came back up again. As it turns out, if you power through the take-off and aren't afraid of standing up mid-face, the drop is actually easier – you'll get downhill of the ledge before it rears its head. I made almost every wave and pulled into the biggest barrel I've ever been in. It squashed me at the end but what a view, just a massive cave! Breakthrough #3.
That day I flew home. I was gone a total of six days but it seemed like a month from the amount of surf we rode. I got a jump-start on gun R&D for this winter and came back with a ton of new ideas and tweaks to work on. I thought about the jitters I had when I was deciding whether or not to go on the trip and realized: it's ALWAYS worth it.
–Fletcher Chouinard