It's Bike to Work Week – Listen to the Dirtbag Diaries after your Ride Home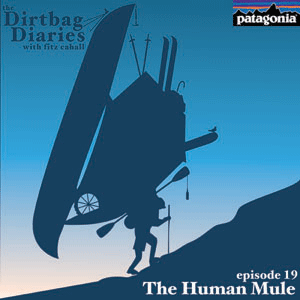 Once again it's time to leave the car in the garage and clean up your commute. It's Bike to Work Week and we'll start it off with a new episode of the Dirtbag Diaries. Fitz Cahall, host of the podcast, has this to say about episode 19:
Life was good. The approaches were short. The routes straightforward.The work wonderfully mindless. After a long dry-spell of writing, a jobas a climbing guide at Smith Rock was like a vacation from life. I was22 again, not a failing writer struggling to pay the rent. It was toogood to last.

Through the years, I've tried to escape words andjournalism, but the writing life always has a funny way of creepingback into my world. This time it came in the form of a 230-poundcameraman with a fear of heights, a fast talking New York producer anda 30-year-old broadcaster trying to return to her childhood. It turnsout you have to earn your 15 seconds of fame.
Listen to The Dirtbag Diaries:
Episode 19 – The Human Mule (mp3)
Like what you heard? The RSS feed, subscription link to iTunes, andcontact information for future story ideas are all available at www.dirtbagdiaries.com.
[Big thanks to Adrienne for this week's custom masthead.]
Update: Changed title and edited post to discourage listening to iPod while riding. Thank you Todd.