American Alpine Journal Gems from 2010

My vote for Gem of the year in the AAJ 2010 (which just came out and was recently mailed to AAC members and contributors) goes to someone many of us already know from the film 180 South: Jeff Johnson.
[Top right: The 2010 AAJ. Photo: Kelly Cordes. Right: Jeff Johnson, courtesy Woodshed Films]
He works for Patagonia, but that has nothing to do with my informal nomination (no corruption, I'm not running for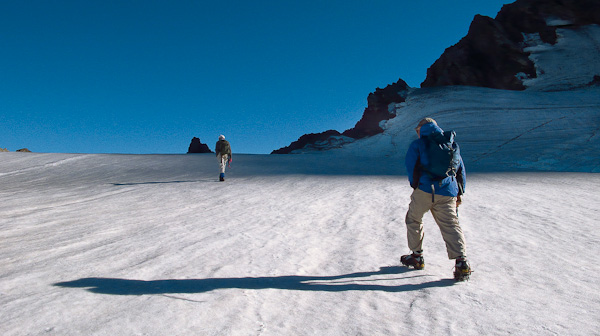 The next morning we arrived at the upper reaches of the glacier just as the sun glanced around the northern flanks. The last section had near-vertical ice, above the glacier, and brought us to the base of some technical rock. I had brought a rope and a small rack, and asked Yvon if we should rope up.
"Every man for himself!" he said with a hearty laugh and took off up the rock.
Doug was already up there, free-soloing an exposed slab that led to the upper ridgeline. I followed.
Early afternoon we reached the shoulder that led to the summit. Just below the summit blocks Doug stopped and stepped aside. In his typical gentlemanly fashion, he gestured for me to pass.
"Here you go," he said, knowing that I'd never made a first ascent. "It's all yours."
I stopped, Yvon standing behind me.
"Go ahead," said Yvon. "Go for it."
I looked up at the virgin peak, the clear blue sky, and the vast wilderness of mountains and glaciers and rivers that surrounded it. We were three insignificant souls on the precipice of wonder.
Doug and Yvon have been friends for over 40 years. They had eyed this mountain for ten years, and they had already failed once. There was no way I was going to do this. With due respect I said, "It's yours Doug. You go."
The three of us stood on the summit in the afternoon of March 7, 2008. It was dead quiet while we took in the panorama. Wondering if they were serious about "Cerro Geezer," I turned to Doug and asked what he wanted to name it.
Doug looked out over the world and trailed off a bit in thought. Then he said quietly, "Cerro Kristine. Cerro Kristine. I think she would like that."
A few days later the three of us sat near Rio Chacabuco, sipping maté beneath the shade of poplar trees.
"How do you two do it?" I asked Doug and Yvon. "Most people when they get older tend to get more conservative in their political ideals, as if all that radical stuff was just a phase they went through as young adults. And most people your age aren't climbing mountains."
There was a long pause, as with all questions I had asked them. Then Doug said, "Don't hang out with old people."
The two of them began to laugh. Then Yvon, slapping his knee chimed in, "Always make sure you are the oldest person in the room."
Far in the distance, below a mass of cotton-ball clouds stood Cerro Kristine, resplendent in the setting sun.
– Jeff Johnson
[Top: Cerro Kristine, near Chilean Patagonia's wild Chacabuco Valley. Photo: Jeff Johnson. Above, right: Doug Tompkins and Yvon Chouinard starting up the route. Photo: Jeff Johnson]