A Conservation Internship with The Nature Conservancy China
by Dave Campbell
From standing guard over endangered sea-turtle eggs, to mapping oceanic pollution and starting one of the West's most successful wilderness protection organizations, our Environmental Internship Program provides Patagonia employees with opportunities to participate in the fight to protect the Earth's resources. It's been a while since we've shared an employee's story from the front lines, but Dave Campbell, author of today's post, proves that it was worth the wait. Dave, a pro sales rep for Patagonia, spent 2 months this summer in the Far East collaborating with The Nature Conservancy China on an environmental project. Here's Dave: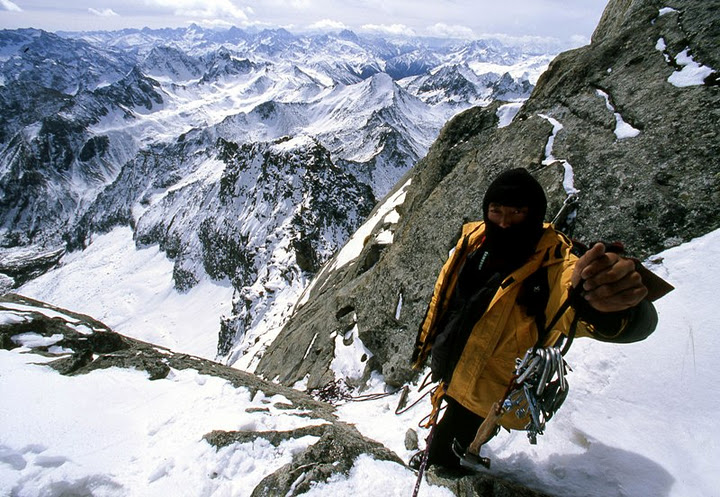 It was February 2005; my Tibetan climbing partner Luo Rijia and I had just pulled ourselves onto the summit of Aotaimei Mountain in China's Sichuan Province, becoming the third team ever to reach its 17,523-foot summit. Half of our climbing rack consisted of Luo Rijia's hand forged pitons and most of the satellite peaks around us had virgin summits. We were standing above one of the last regions of the world to shelter reclusive animals like the giant panda and golden monkey. For a moment I felt like I was in a land forgotten by the outside world and time, though with 1.3 billion people and the inertia of the world's fastest growing economy just over the horizon, it was hard to not wonder what would soon become of Aotaimei and the last wild regions of the Middle Kingdom.
In spring of 2011, I spoke with our environmental department about my personal interest in working with The Nature Conservancy in China; as a result they offered to cover my regular wages for two months while I volunteered overseas as part of Patagonia's Environmental Internship Program. Within a month I was on a plane crossing the Pacific.
Founded in 1951, The Nature Conservancy (TNC) works in 30 countries and has created solutions to protect more than 119 million acres of land, 5,000 miles of rivers and over 100 marine conservation projects. It began doing conservation work in China in June 1998 when it was formally invited by the Yunnan Provincial Government to help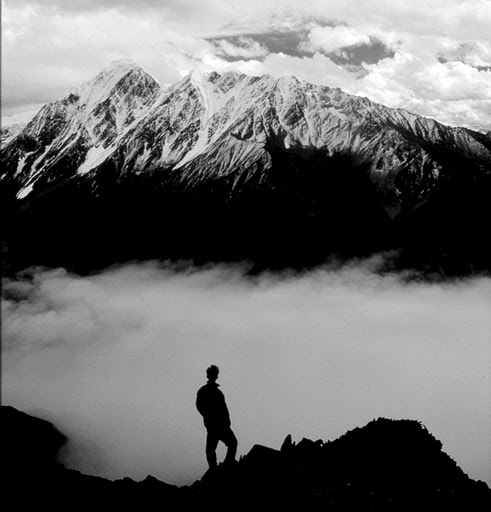 Any time you obtain a large area of land in China and make it off limits to agriculture and logging, it is critical to also introduce positive new occupations to the local people. A massive change to the region will have a large impact on their livelihoods – solid planning and communication will consequently determine the level of support gained for the project. Zhang Shuang mentioned that he wanted input on ecotourism in the area. While discussing river guiding, we made a surprising connection – our mutual friend Travis Winn. Travis and I went through University of Oregon's China Program together and then went on to share an apartment in Sichuan's capital city Chengdu between 2005-06. Last year Zhang Shuang and Travis rafted the Great Bend of the Yangtze River, floating through a series of dam sites that in the next two years will inundate the Grand Canyon-like section. In light of this correlation, Zhang Shuang decided that it would be beneficial if Travis and I could visit the reserve together and jointly give advice on ecotourism and infrastructure development opportunities.
For the last decade, China-based American, Travis Winn has done everything in his power to save China's last wild rivers. His rafting company Last Descents has guided over 200 Chinese citizens, including members of the National People's Congress, influential entrepreneurs and news reporters, down environmentally threatened rivers in China. Their expeditions are often the last descent of a river before it is dammed, hence the company's name. Travis is also the director of the NGO China Rivers Project. At 27 years of age, he has done over 2,500 KM of first descents in China and has kayaked sections of every major drainage that runs off the Tibetan Plateau, including parts of the Yarlung Tsangpo.
*    *    *
It's easy to pick Travis out of a crowd because he sports a thick beard and is typically surrounded by stacks of boats. Although it had been years since I'd seen him, I instantly spotted him across the Chengdu airport parking lot, orchestrating the sheer chaos of loading all of the expedition gear into our vehicles. His partner Wei Yi and TNC's Sichuan project manager Zhao Peng were there helping with the giant game of Tetris; I couldn't help but feel the wild inertia as I approached.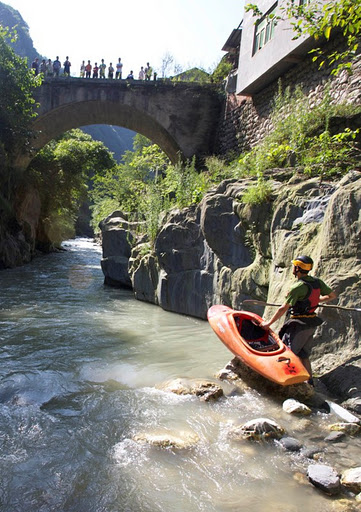 The following day Zhao Peng and Wei Yi joined us for the Qingyi's middle reaches – which had sections up to Class II. After the boating, we spent the remainder of our time in Pingwu exploring the future land trust reserve by bike and foot. Once it was time to part ways, Travis and Wei Yi headed back to Yushu in Qinghai Province, where they are living hand-to-mouth out of a disaster tent. Zhao Peng held fast in Pingwu while I flew back to share my experiences and begin the next project with TNC's Beijing staff.
*    *     *
A majority of TNC's China project sites are in the last wild parts of the country, and as you'd expect, they are located a good distance from major cities. Yet it is often corporations from the major cities who provide funding for the projects. These corporations would like to give their employees the opportunity to be involved in hands-on restoration work – and TNC would love to educate more Chinese citizens on critical environmental issues – though it's clearly not feasible for large groups to fly to remote areas such as the Pingwu site in Sichuan province. TNC asked me to help build a Beijing-based corporate volunteer program and when I got back to the city I teamed up with their philanthropy manager, Lulu Zhou.
Lulu studied conservation social sciences at the University of Idaho and plays a key role in managing relationships with TNC's Chinese donors. From fall '05 through spring '07 I worked fulltime for Outward Bound Hong Kong and one of my responsibilities was building corporate training courses on the Mainland. Lulu and I drew from our experiences and built a dynamic framework for the volunteer program, which incorporated facilitation styles applicable to the Chinese business class, interactive safety briefings, relevant environmental education, as well as all necessary documents, such as a concise risk assessment management system.
Our largest task was finding an appropriate location to bring groups of volunteers. It's easy to find sections of land in China that have been damaged, though it's not so easy to find places that you can help fix and then protect from future damage. We made many phone calls and visited many potential project sites, though weren't in a position to lease land or build a land trust. Therefore, a great deal of our quest revolved around securing cooperation with someone already managing land. At one point Lulu and I found ourselves riding up 5 stories of escalators inside a steel cylindrical dragon to get to a "protected" canyon above a giant damn. We walked away from that specific scenario scratching our heads pondering our potential effectiveness at conservation work in Beijing, and we shared many other discouraging moments during the scouting phase.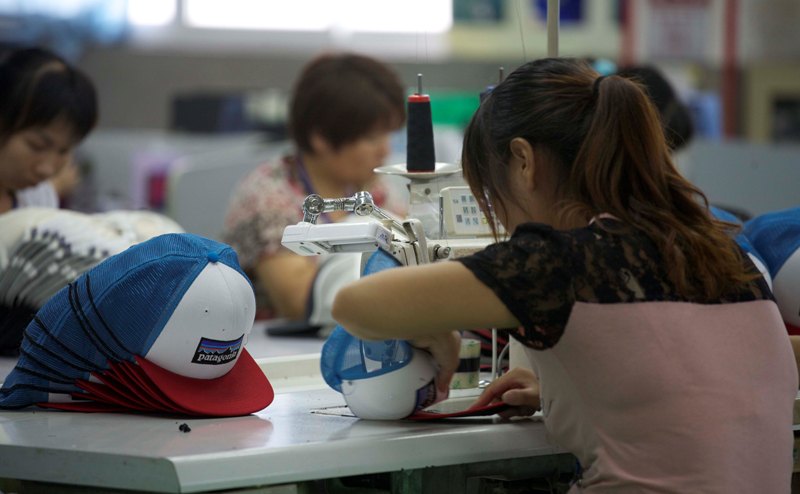 My two months were coming to an end, so I took time to build what is possibly the first pro sales program in China with Roger Zeng, the president of the China Outdoor Retailer Association (CORA). We also took his staff on a few climbing trips. Next I headed to the coast to visit a few of Patagonia's factories, where I made friends with more amazing people and did some quality auditing. In early September I flew home.
Back home in the states, I'll occasionally unroll a favorite Chinese scroll painting and let my mind travel through it. The intricately painted mountains and softly brushed fog bring peace to my mind, as it brings back scenes of Sichuan and the majestic Qionglai mountain range. My eyes always pause, however, at the thatched cottage and farmer in the lower foreground of the painting. It could represent a simple farmer, on the banks of the Guanting, doing whatever he can to see his crops through another season in our rapidly changing climate. Though maybe it's a different kind of Chinese citizen, like Zhao Peng or Lulu Zhou, caught in another form of struggle, to save and restore an environment so severely threatened and damaged. Or there's a chance that it's just Tibetan climber Lu Rijia, singing a Tibetan song to the wind, after rappelling the icy flanks of Aotaimei.