Steve House on K6 and 7: Travel, Weather and Acclimatizing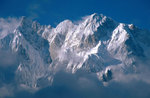 I received this voicemail late Thursday night from Steve House. The call came via sat phone from basecamp in Pakistan where Steve, Vince Anderson and Marko Prezelj are in the first stages of attempting to climb K6. In this first update, you can listen to Steve talk about traveling in Pakistan, the weather situation so far and their plans to start acclimatizing at altitude:
Listen to Steve House K6 Update 1 (mp3)
Steve gave us a glimpse into his training for this climb back in June and now he's there for the real deal. These guys are some of the best mountaineers in the world but this is still no joke. Let's send some positive vibes across the globe to Steve, Vince and Marko for a safe and successful summit.