Makin' Copies – Blazing a Paperless Trail Through the Land of Grants Management
Today's post comes to us courtesy of Patagonia penman and seasoned wildlife crusader, Jim Little. Take it away, Jim . . .
Lisa Myers used to stand at the photocopy machine forhours, making copies–lots and lots of copies. A colleague would watch hershuffling papers, methodically pushing the button over and over, and ask herhow many trees she'd killed that day. In the course of a year, Lisa figuresshe'd print some 4,250 pages double sided. That's about this much.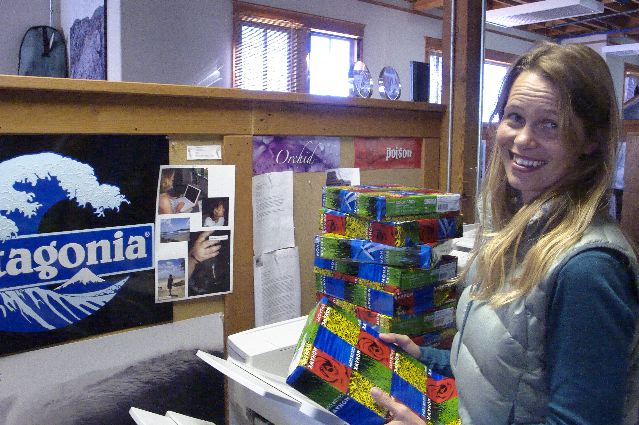 [Lisa at copy machine with 9 reams of paper. Photo: Jim Little]
"It's a lot of paper," she said. "It was counterintuitiveto the work we were doing."
Lisa is Patagonia's environmental programs associate, oneof six people who work in our "enviro department." Part of her job is to assessand process the slew of environmental grant applications we receive each yearfor funding through our environmental grants program.
Nonprofit environmental groups needing money for allsorts of worthwhile projects write and submit the applications. Their proposalsused to arrive by mail truck, some by FedEx, landing on Lisa's desk in mail buckets.She'd open them, look them over, and if they appeared to meet the company'scriteria for funding, enter the information into her database and make copiesof the applications.
The copies went into four binders, which were read byPatagonia's grants council. It consists of seven employees, who volunteer toassess proposals and decide which ones merit a grant. In an effort to reducethe amount of paper used, council members shared the binders. It helped, but itwas still a lot of paper.
That was then: The dark days before Cybergrants.
Nowadays, organizations wishing to apply for grants areinvited to visit our Web site. There they find our grant guidelines, which clearly describe the kinds ofenvironmental work we like to support. Applicants can then take a quiz thathelps to determine whether or not they might qualify for Patagonia grant money.
Likely candidates fill out a proposal and upload abudget, proof of nonprofit status, etc. The process is all electronic. No treesare killed, no water used, far fewer dinosaurs burned.
Lisa says she used to get upwards of a thousandapplications a year, but now receives closer to 400, thanks to the thoroughnessof the Cybergrants screening process. When a group submits a proposal online,she receives an email notification, reads the proposal on onscreen, and if itlooks like a fit, combines it with other possible candidates in a PDF"ebinder," which she forwards to members of the grants council.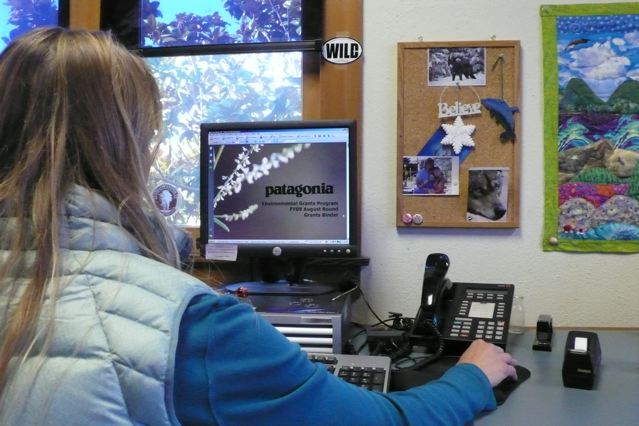 [Lisa with e-binder computer screen. Photo: Jim Little]
Five of the council's seven members now read theproposals on their computers. But the shift from paper to a computer screen isnot for everyone.
"Some people find it really difficult reading severalhundred pages on-screen," says Lisa. "We are encouraging them to make theswitch, but we have to be flexible. Those who have, enjoy the ability to easilyresearch the groups online as they evaluate their proposals."
So, with the exception of two printed copies, the onlypaper now used is for the grant-payment checks and the "we're sorry to inform you"letters for groups who don't qualify for money. The twice-yearly updates we askfor from grants recipients also come to Lisa electronically.
In addition to all that paper, Cybergrants has saved Lisaand her department considerable energy. She figures more than a thousand hourslast year in labor, valued at more than $30,000.
For more on Patagonia's paper use and procurement policy,go here, or download this PDF.
In the spirit of this post, it's perhaps best readonscreen.
* Patagonia uses 100% postconsumer fiber copy paperwww.mohawkpaper.com, so no trees are actually felled. But recycled paper is notwithout its energy and water costs.