Being Victimized by Marmots in Yosemite
Old School
/
Aug 13, 2010
/
5 Min Read
/
Community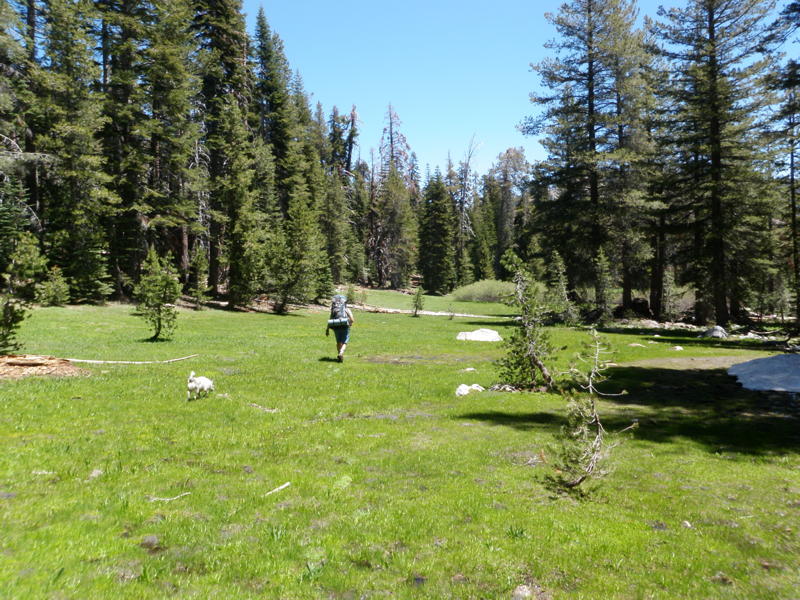 Every year, some friends and I converge on an really cool spot near Yosemite where we hike six miles carrying absurdly heavy packs and eat crazy amounts of really good food. Over the years, the only down side to this idyllic spot has been the parking. And by parking I don't mean finding a space, this isn't San Francisco; it's the local fauna that's been the problem. We've parked our cars all over the Sierra but for some reason this is the only place where we've had a consistent problem with marmots. Oh sure the California black bear gets quite a bit of publicity for its vandalism, but we've had more than our share of problems with Marmota flaviventer sierrae, the Southern Sierra Marmot. I, myself have been victimized twice.
The first time, I was driving out on the lonely dirt road and I noticed that not only was my engine running unusually hot, there was steam pouring out from under the hood. It turns out a marmot had chewed a hole in a radiator hose. Luckily, this marmot was kind enough to chew through it near the end. Also lucky for me, MacGuyver used to be my favorite show, so using my Leatherman (I know, it should have been a Swiss Army Knife) I unscrewed the hose clamp, cut off the chewed-up end and reattached the hose. I then filled the radiator with creek water and off I went. Five years later and the hose is still intact. Another time, I started having electrical problems right after returning from the trip. I finally took it into my mechanic for his diagnosis. After a long look he asked me, in the gentlest way possible, just where exactly I lived. I guess he thought I must live in some rat-infested hovel. Unfortunately, this time the marmots had chosen to dine on my wiring harness. This is not an inexpensive repair.
[Above: Walking away from the marmots. photo: Ken La Russa]
My experience, along with other more minimal damage to other vehicles, prompted us to fight back with chicken wire. We found that a few tight wraps of chicken wire around the vehicle could keep the marmots at bay. This actually worked really well because we haven't had any marmot-related damage in a few years.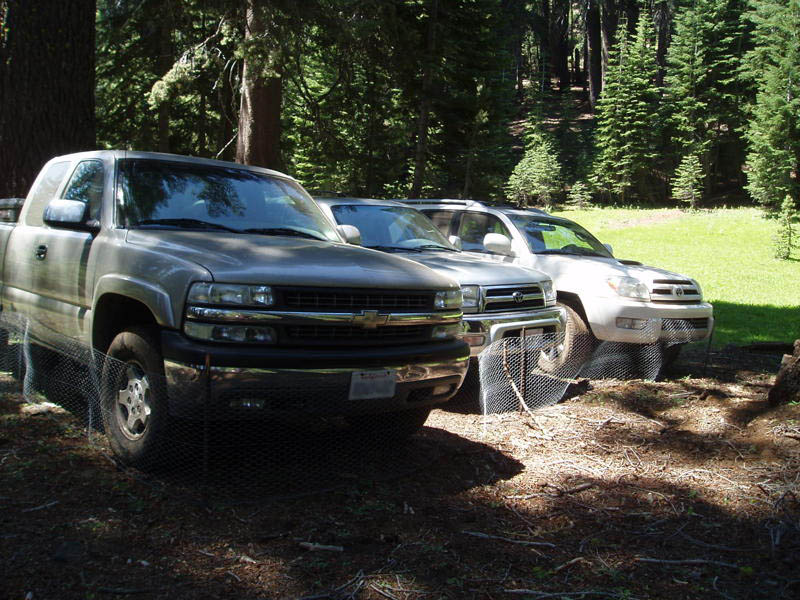 So perhaps we got a bit complacent with Tommy's truck. While we did wrap up the truck, we didn't take the time to do a really good job. That, combined with his truck being raised a bit, left ample space for a marmot to work his way in. So three days later – when we arrived back at his truck and my dog Skeena immediately began barking at it – we were a bit concerned. We immediately tried to pop the hood but it wouldn't move. Weird.
Skeena kept barking but the hood was stuck. We finally managed to open it and sure enough, we were greeted by two brown marmots. One quickly disappeared into the undercarriage, while the other didn't move.  Or, more accurately, couldn't. It had managed to get itself wedged between some wires and . . . the cable that pops the hood.
It's hard to say how long it was there but it was pretty much stuck. The poor marmot was struggling to go up when the only direction he could move was down. Finally, after at least a half-hour of cable-wiggling and marmot-pushing (for the record, marmots have sharp teeth and really bad breath) we were able to free him, and he promptly joined the other marmot somewhere in the undercarriage.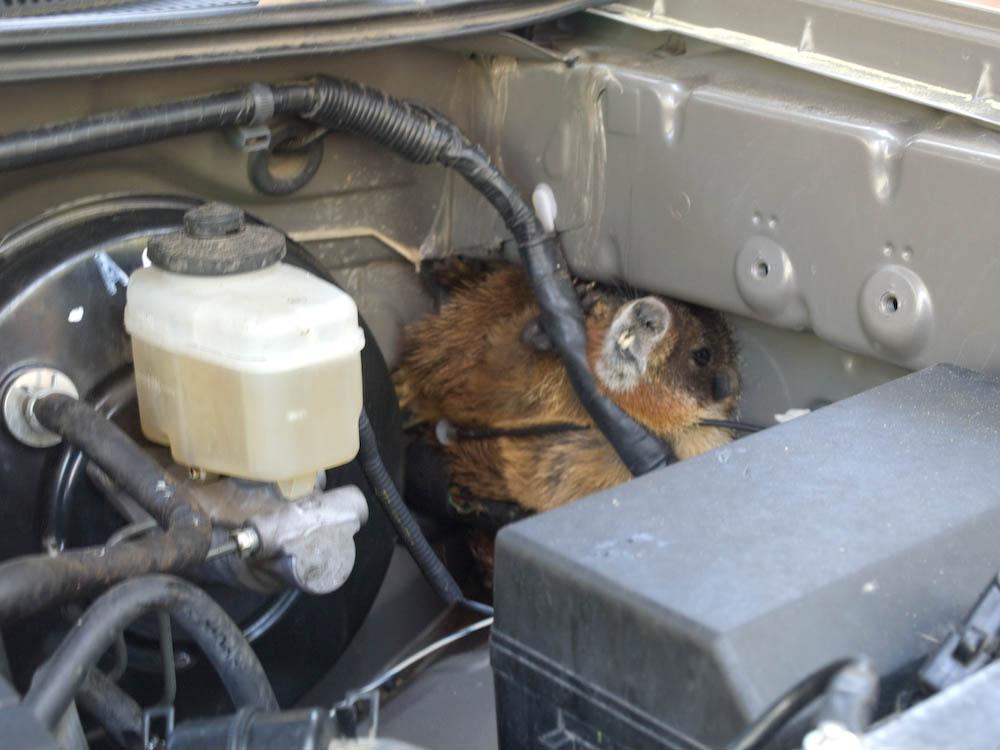 Unfortunately these marmots seemed really content to stay in the undercarriage and nothing we did could entice them to leave. Finally, we decided to drive the mile or so back to where the other cars were parked, hoping that the bumpy drive would not be to their liking.
This is when we discovered what else the marmots had been up to while we were hiking. There were chew marks in the radiator and coolant was spraying out like a frat boy after a kegger. At least when we got to the cars, there was no sign of the marmots and even Skeena had lost interest. After a quick lunch we began the 25-mile trip into town, stopping periodically to refill the radiator (with creek water of course). Once in town we bought some stop-leak and radiator fluid and Tommy found a carwash to hose off all the marmot poop in the engine.
Amazingly, the stop-leak worked and Tommy made it all the way back to Oxnard. The next morning Tommy opened the hood and took another look at the radiator and instead his eyes were drawn to . . . fresh marmot poop.
The two marmots had hitchhiked all the way to Oxnard, about a 6 hour drive, without getting cooked or mangled. Tommy cleaned up that mess and called animal control and they were able to catch the marmots. They promised to release them in some alpine environment (not the easiest thing to find in Southern California). Luckily, Tommy's insurance would cover the damaged radiator (why didn't I think of that?).
The next day, before leaving to take it to the mechanic, he took one last look at the radiator, and guess what? More marmot poop. There had to have been a third hitchhiker, only this one they couldn't catch. Animal control finally gave him a trap and suggested he lure him in with peanuts (I suggested wires soaked in anti-freeze) but the marmot apparently decided to explore his new surroundings because he's long gone. So if you're driving through Oxnard (right next to the Patagonia headquarters in Ventura) and happen to see a dark brown, furry little animal about the size of a chubby cat, it might not be a cat, but a thoroughly confused marmot. Trust me on this, don't park anywhere near it.
[Above right: Chicken-wired vehicles from last year. Photo: Ken La Russa]
[Above left: When the chickenwire doesn't work. Photo: Chris Rose]