How to Make and Use a Wooden Dowel Yoga Prop for Travel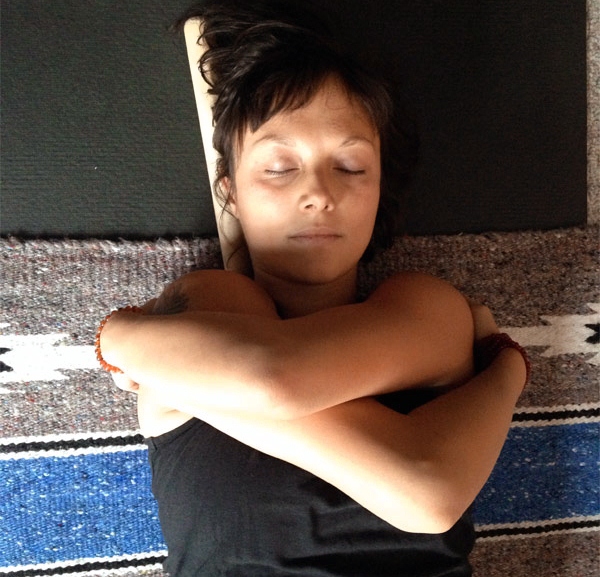 I've found my favorite yoga and bodywork prop. Not only is it made of wood, but it's perfectly portable, fits into the side of any backpack or duffel bag, and takes up next to no space in a van.
It works kind of like other massage canes would (but it's not plastic, is way cheaper, and you can make it yourself), and a bit like a foam roller (but it's not foam and I lie on it instead of roll on it). I use it to apply deep pressure to sticky, stuck and tight places in my body. It's also great for supporting the spine or joints in different yoga positions, like a mini yoga block. Once the hips are quite open, it also gives just enough height to become a support for sitting meditation—placed just behind the sitting bones.
It costs less than $10 to make. I just get wooden doweling, cut it to about three feet long, router the edges, sand it, and apply a good stain or clear coat if i want it to be smoother.
Lots of yoga props these days are expensive, cumbersome and contain polyvinyl chloride (PVC). Although people are catching on to how gross PVC is, it's still around. PVC contains all sorts of nastiness like lead and phthalates. Phthalates (sometimes added to make the plastic more flexible) are linked to liver and kidney disease. PVC is also carcinogenic to make, and hard to recycle. It pollutes air and water when disposed of, and it's double as nasty when it's incinerated and released into the air—not to mention if it sets on fire it becomes hydrochloric acid.
I'm not the first one to be pleased with the versatility and simplicity of a wooden stick for self massage. Similar tools have been used for hundreds of years in China (traditional chinese medicine uses bamboo) and Mongolia to open up the body. In ancient Mongolia, there were warriors known as the "purified bodies," who would work into their muscles (and those of their horses) with a specially shaped tool made of bone, ivory or wood called a Ka. It was like a deep-tissue massage, which is pretty much how I use the wooden dowel.
So, I love this prop. It's simple and portable and friendly. I often organize a whole home practice around it. I use it in my restorative classes. And I always pack it in my bag when we hit the road. Here's how you can integrate it into your practice as a pressurizing tool to open and rehydrate tight muscles and connective tissue.
Dowel Workshop wtih Lydia
Do: Find your trigger points and stay for 90 seconds or more. Work up to three minutes.
Don't: Use too much pressure. It immobilizes the tissue and puts the body into protective mode.
Do: Wait till you feel softening, releasing and increased liquidity (gel to liquid).
Don't: Go to the place where your jaw, diaphragm or bum muscles tighten. Approximate pressure should be like sinking hands into clay. Put a blanket over the dowel if you need to.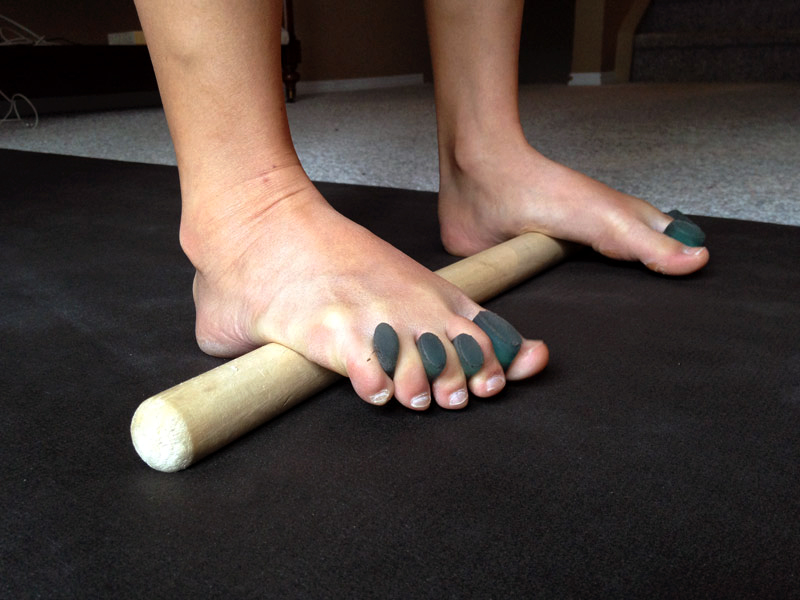 Opening the feet (plantar fascia). Use the dowel up the arches of the feet.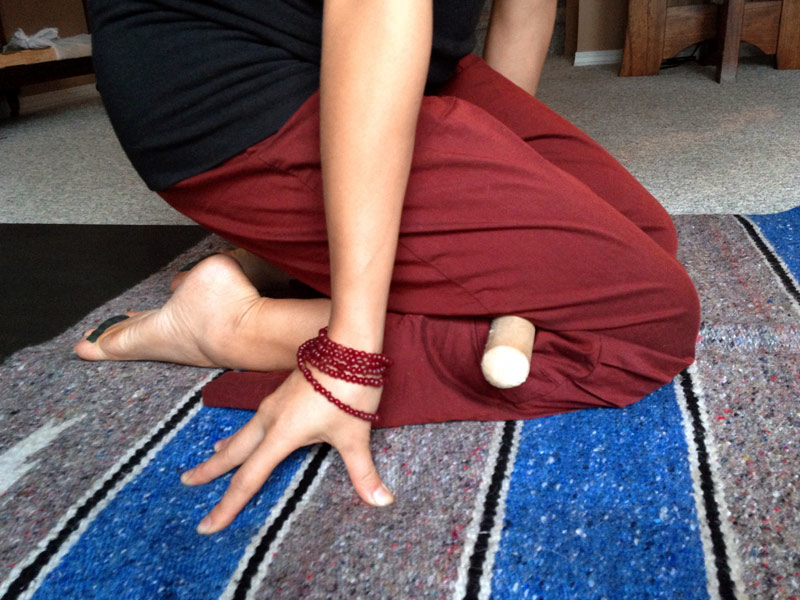 Calf and achilles release. Use the dowel from the back of the knee joint to the top of the achilles.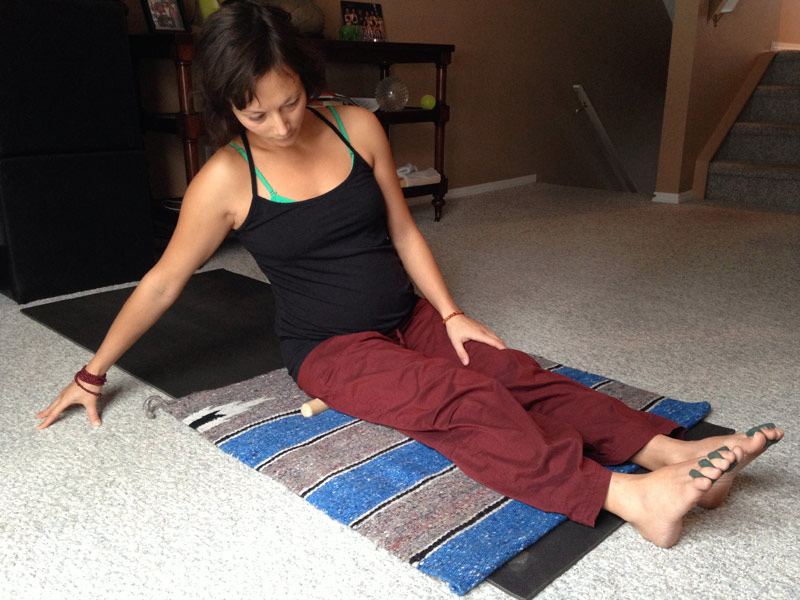 Hamstring opener (lean side to side). Use the dowel just in front of the sitting bones, to the base of the hamstrings. (Seven months pregnant in these images!)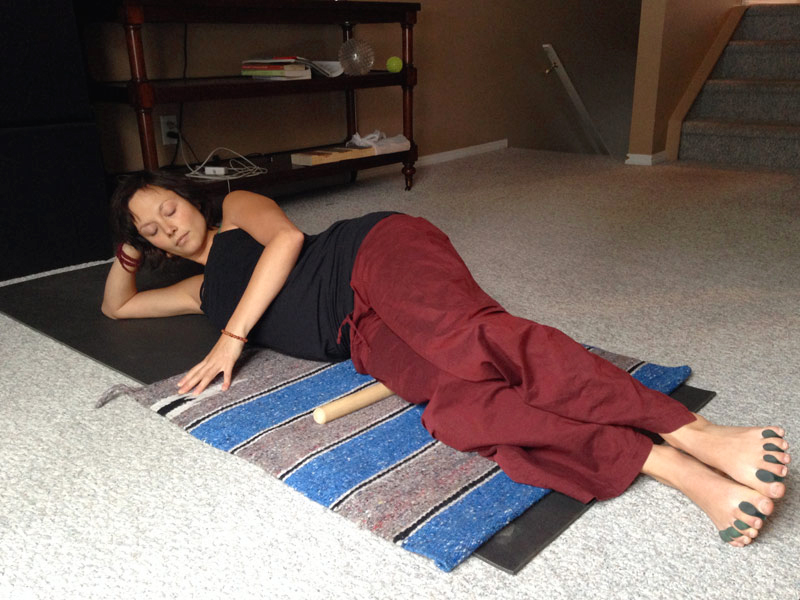 Lateral leg (iliotibial) release. Use the dowel from the top of the lateral thigh to just above the knee joint.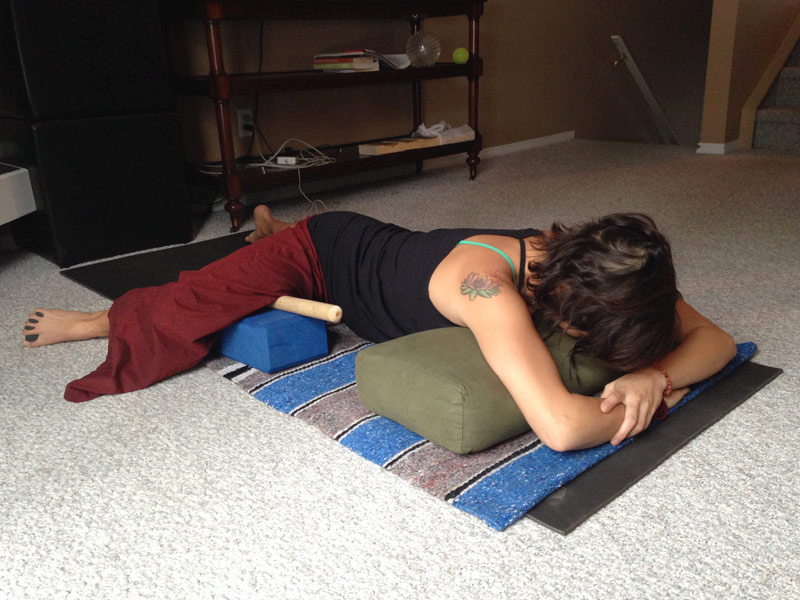 Inner thigh (adductor) release with block and bolster. Use the dowel from the upper inner thigh to just above the knee joint. Can be done without block or bolster too.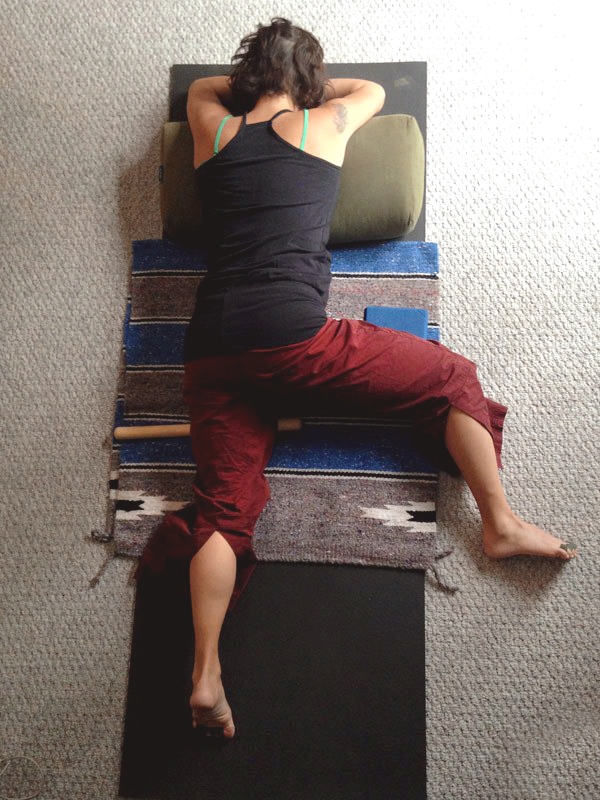 Front of thigh (quadriceps) release with block and bolster. Use the dowel from the top of the thigh to just above the knee joint. Can be done without block or bolster too.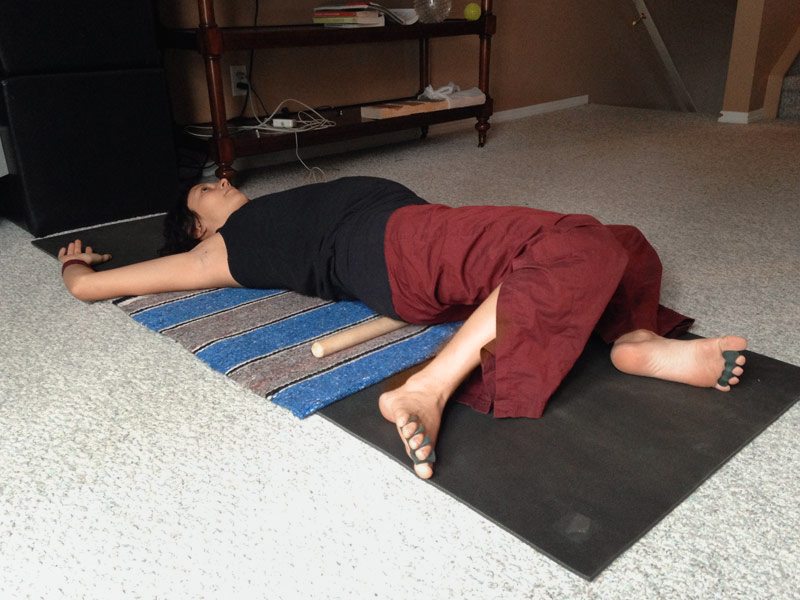 Bum and outer hip (gluteus) release. Use the dowel about mid sacrum and roll your legs into windshield wipers.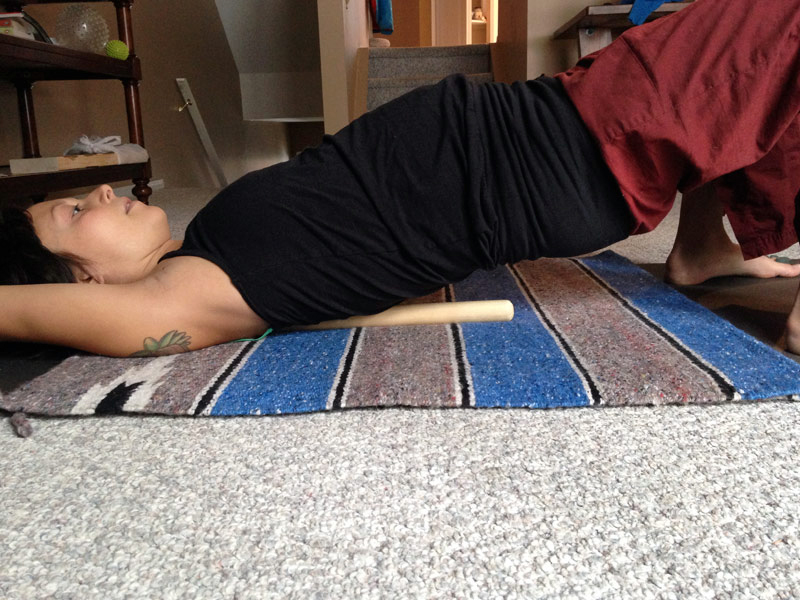 Erector spinae release. Place dowel on the side of the spine and roll up and down on it in sequential order.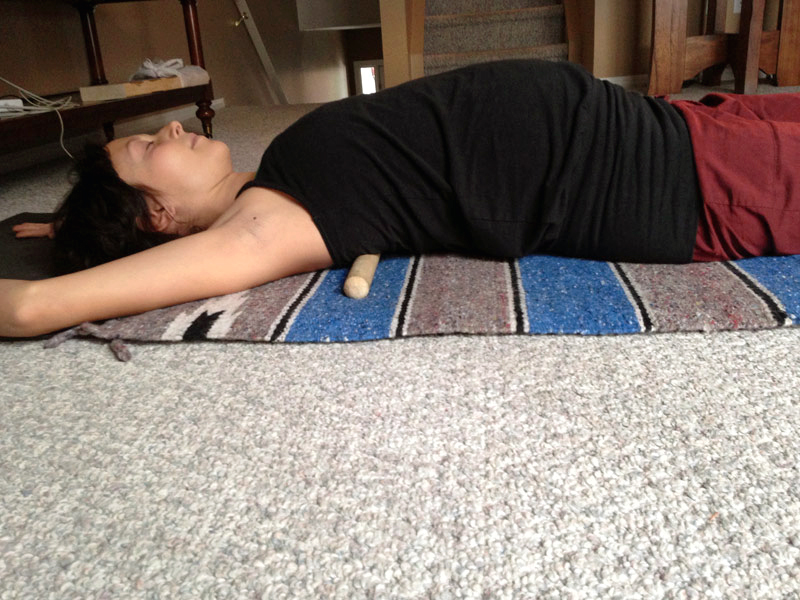 Mid thoracic release. Place dowel at mid rib cage and open arms overhead with bent elbows.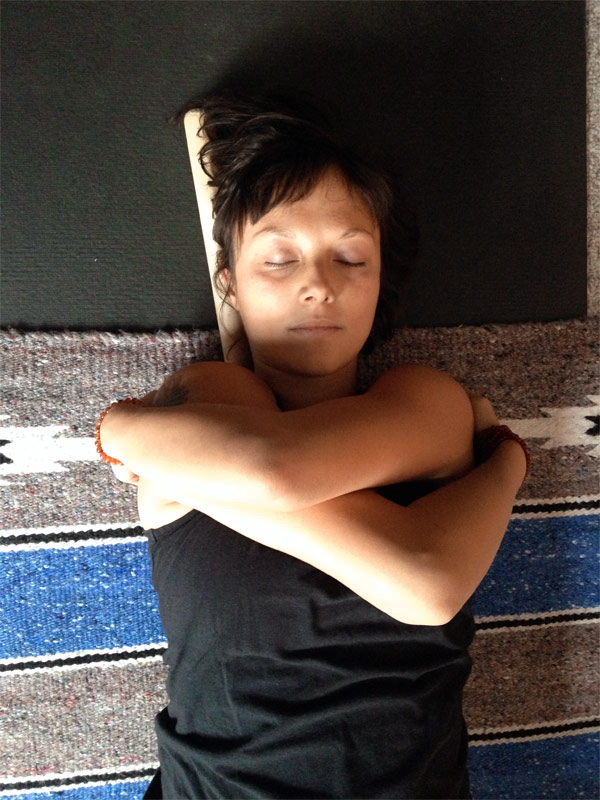 Mid-back (rhomboid) release. Place dowel in between shoulder blade and spine. Hug your outer shoulders.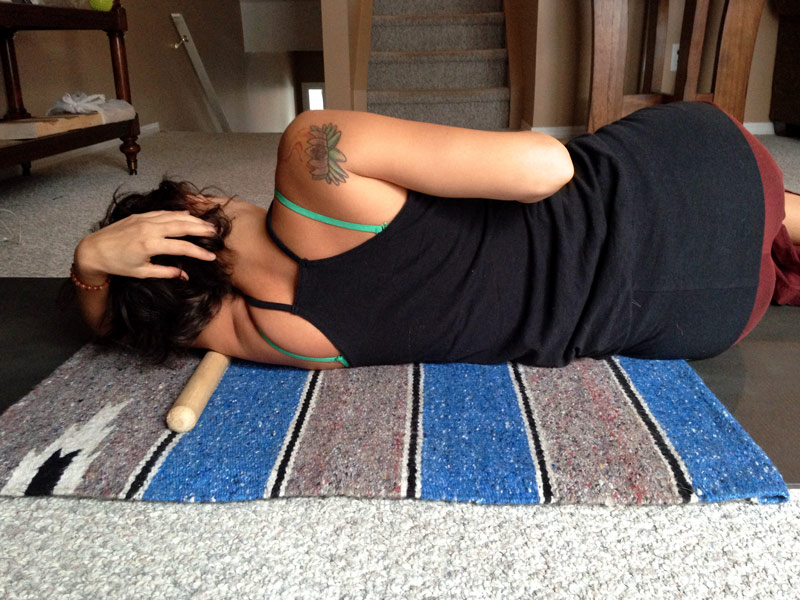 Outer upper arm (deltoid) release. Place dowel on upper arm below shoulder head. Lean the weight of your skull onto your arm.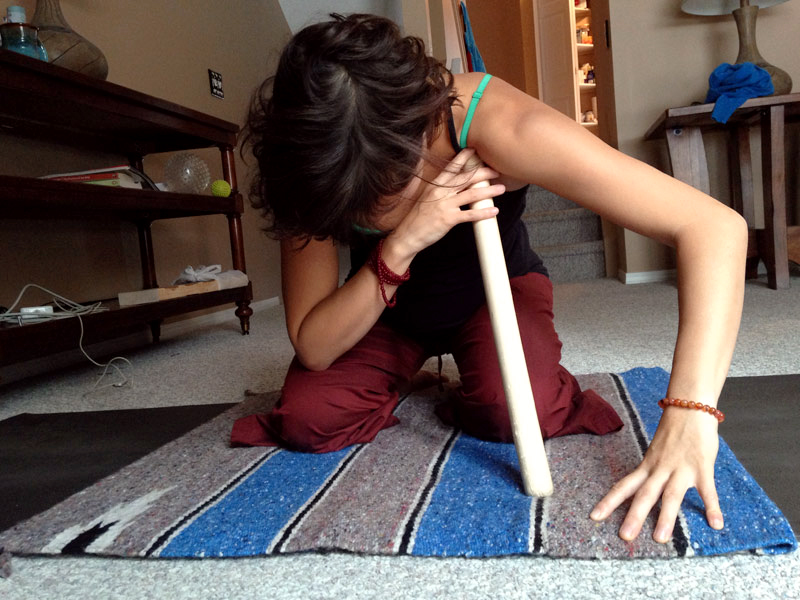 Armpit freedom (pectoral release). Place dowel about one inch below your outer collarbone. You'll find a tender spot that will form a depression when you lean your weight onto the dowel. Pull your elbow out to the side.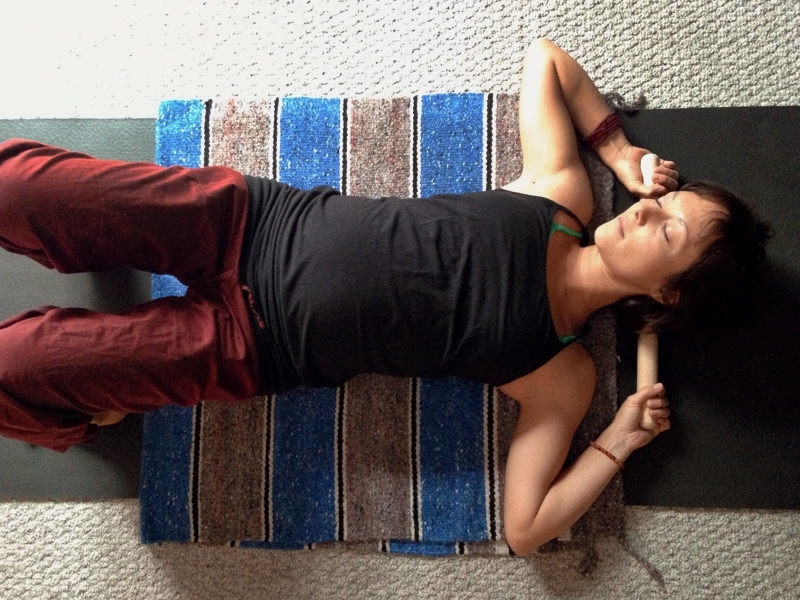 Upper neck and skull release (occipital muscles). Hold dowel with both hands and place it under the base of your skull and upper neck. Roll your head side to side gently.