Nature and the Opportunity to Build Diverse Coalitions
Scott Briscoe
/
6 Min Read
/
Culture
In 2013, as a member of the Expedition Denali team, I had the privilege of flying over and around a tiny splinter of the six million acres that make up Denali National Park and Preserve. The park contains what seems to be limitless rough terrain, some of the largest wild animals in the world and raging glacial rivers. There are literally hundreds of glaciers in the Alaska Range. These majestic, powerful and life-providing glaciers cover approximately one million acres in the park.
We landed on the Kahiltna Glacier, elevation 2,194 meters. There I had the opportunity to meet Erich Osterberg. Erich was leading a team of scientists from Dartmouth College, the University of Maine and the University of New Hampshire. Funded by the National Science Foundation, Erich and his team were conducting carbon testing on ice core samples taken from Mount Hunter, a neighboring peak of Denali. They were adding vital information to a data set that had been gathered over the course of several years.
The core samples, not unlike tree rings, provide a glimpse into the glaciers' annual behaviors. The data indicated that the glaciers were receding at a rate much faster than ever before and were not likely to stop. Even as someone well informed—I have read documents on climate change in the International Journal of Climatology and seen reports and statistics documented on U.S. Geological Survey—it had been easy for me to disassociate myself from the reality of human impact on these beautiful rivers of ice. Yet there I was, standing directly on a natural creation that is increasingly shrinking.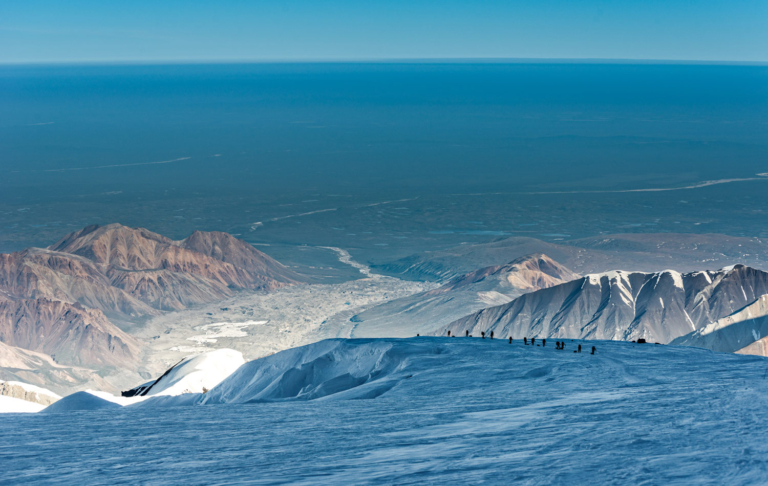 In addition to having the chance to talk to the scientists, I met with park rangers who were stationed at camps along the West Buttress Route of Denali. Some of the rangers had been on the mountain for more than ten climbing seasons (late May through July) and they themselves had noted that each season the Kahiltna Glacier was receding. The more veteran rangers had witnessed formerly ice-covered cliffs that were now bare, the ice completely melted away, with exposed loose rock formations that create more hazardous climbing conditions.
It is a humbling experience to be in such a grand and wild space, and encounter, firsthand, the impacts of climate change. Flying out of the Alaskan Range, I was overwhelmed thinking about the work that needs to be done to change the rate of glacial retreat that is occurring in the Alaska Range, let alone around the globe. While the responsibility we all share is daunting, I have chosen a clear path in my effort to create change.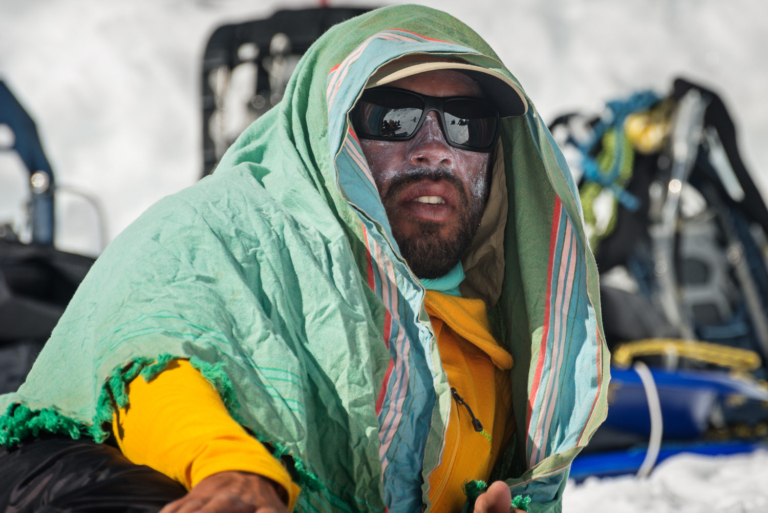 Since my visit in 2013, I have shared my experience climbing Denali with over 6,000 youth around the country. Most of them have been youth of color: young African Americans and Latinos. Youth who otherwise might never know what a glacier is, or a national park, or how we as humans interact with and impact those wild places. Through the sharing of images and stories, particularly from the point of view of another person of color, I hope to create a spark of interest in their young minds—to allow permission for them to understand the opportunity and place they have in the outdoors, and thereby remind them of their great and important role as the forthcoming stewards of our wild spaces.
Today, we have an obligation to positively affect nature, climate change and society as a whole. The recent U.S. election has drawn back the curtain on the deep divisions in our nation. As a man of color, I have always known of these divisions; they have always been evident to me. The covert and oftentimes overt experiences of racism and prejudice that I have encountered have never been isolated cases. Thousands of men, women and children of color deal with these experiences in the United States on a daily basis. Now, as a result of our political and social climate, those divisions are more evident to a wider audience—an audience that has had the privilege of not feeling directly impacted.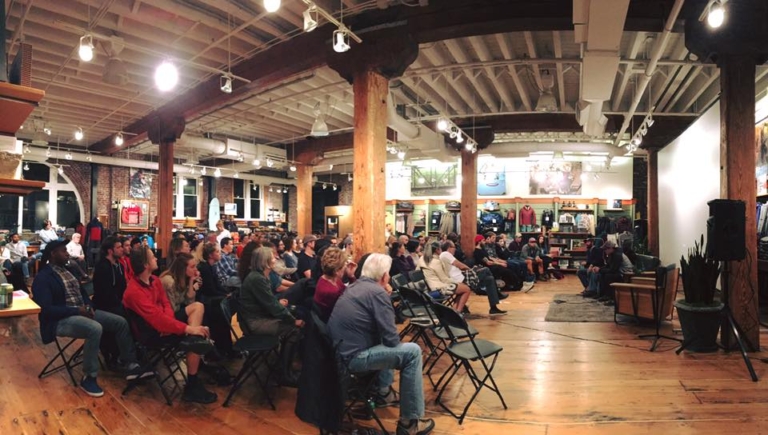 As a species, we have an undeniable and primordial connection to the natural world. It is inherently etched into all of us. Whether it's a walk in a municipal park, surfing at a local break, planting a tomato plant in a pot or climbing an 8,000-meter peak in India, there are infinite moments of connection where each of us can experience "wild." For some, we have the blessing of consciously seeing and experiencing these joys, and the vital need to protect wild spaces is apparent and clear. For others, the connection is more distant or abstract and it takes a reminder that no matter where you are, nature is all around us.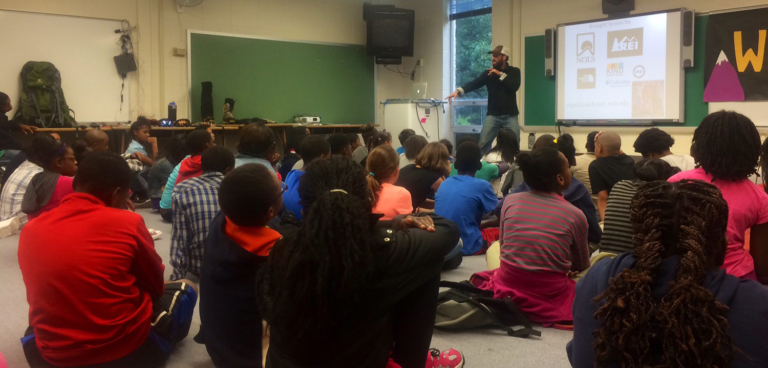 While the fight to protect natural and wild spaces has always been a necessity, the current state of our nation makes this fight more important than ever. We have the opportunity to remind people that their connection to the natural world is real, it exists, and they too have a say in whether or not a pipeline should be placed close to local water supplies, or a wildlife refuge should be compromised for fossil fuel development. It is an opportunity to collectively come together across the divisions that persist. For me, it has been all the young girls and boys I've met who were looking for some inspiration to get outdoors: the seventh graders at the Boys and Girls Club in Boston; the fifth graders in Ferguson, Missouri; and the young men and women in Chicago high schools. Like everyone, they should have the access, knowledge and inspiration to participate in outdoor recreation and experience the pure joy of wild spaces, those that have so shaped my life and worldview. This duty to share belongs to all of us and we all benefit when equity and inclusion are used to build strong, diverse and broad coalitions.
This essay was excerpted from Patagonia San Francisco store staffer Nick Tonn's collection The Long Haul, "thoughts on heading in the right direction, including diverse voices in the conversation, and how personal activism plays a vital role in the grassroots environmental movement." Nick is a third-year design student at San Francisco State University.
Join Scott on the Spring 2017 Worn Wear® College Tour
Patagonia's biodiesel repair truck is traveling to colleges around the country to repair clothing (any brand) for free and teach students how to fix their own clothes. In an effort to repair more than just clothes, for this tour we have teamed up with the Post-Landfill Action Network to create conversation and action towards a world with less waste. There will be some fun talks along the way from Patagonia's own Rick Ridgeway, Vincent Stanley and Scott Briscoe, the author of today's post (*Scott will be appearing at the starred events); Adam Werbach, the co-founder of Yerdle; and many others.
The Patagonia Worn Wear repair team can fix about 40 garments per day (sorry, no repairs on luggage or shoes). All repairs are made on a first come, first served basis. One repair per guest. We fix all brands!
Feb. 16: College of Charleston, Charleston, SC, 10am-5pm*
Feb. 21: University of Georgia, Athens, GA, 10am-5pm*
Feb. 23: Clemson University, Clemson, SC, 10am-6pm
Feb. 27: Warren Wilson College, Swannanoa, NC, 10am-5pm
Mar. 1: American University, Washington DC, 9am-3pm
Mar. 3: Fashion Institute of Technology (FIT), New York, NY, 10am-5pm*
Mar. 6: Yale University, New Haven, CT, 10:30am-4:30pm*
Mar. 8: UMass Amherst, Amherst, MA, 10am-5pm*
Mar. 10: Massachusetts Institute of Technology (MIT), Cambridge, MA, 10am-5pm*
Mar. 21: University of New Hampshire, Durham, NH, 9am-5pm
Mar. 23: University of Vermont, Burlington, VT, 11am-6pm
Mar. 27: Rochester Institute of Technology (RIT), Rochester, NY, 10am-5pm
Mar. 29: Ohio University, Athens, OH, 12am-7pm
Mar. 31: Michigan State University, East Lansing, MI, 9am-4pm
Apr. 5: University of Minnesota, Minneapolis, MN, 9am-3pm
Apr. 10: University of Colorado: Colorado Springs, Colorado Springs, CO, 10am-5pm*
Apr. 12: Utah State University, Logan, UT, 10am-5pm*
Apr. 18: University of Oregon, Eugene, OR, 10am-5pm*
Apr. 21: UC Berkeley, Berkeley, CA, 10am-5pm
Apr. 25: Cal Poly SLO, San Luis Obispo, CA, 10am-5pm
Apr. 26: UC Santa Barbara, Santa Barbara, CA, 11am-5pm*
For more information on Worn Wear, including online repair and care guides, visit patagonia.com/wornwear.