Nature, Culture and Pleasure in Corsica
Corsica is a mountainous French island in the Mediterranean, and according the The Lonely Planet Guide, "it's hard to find a better combination of nature, culture and pleasure". With a description like that, it's pretty hard not to want to make a trip there! But as I was planning my annual spring Euro climbing vacation, I found it hard to get a sense of the quality and quantity of the climbing in Corsica, and after visiting many of the ultra-classic French climbing zones like Ceuse, the Gorges du Verdon, Presles and the Gorges du Tarn, all of which I could easily revisit, I wondered if Corsica was going to stand up to my high standards of French stone.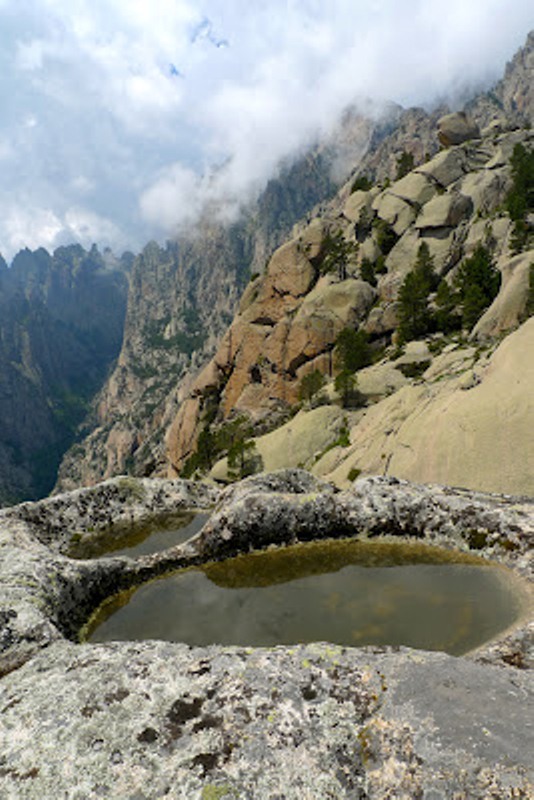 I shouldn't have worried… Photo: Jasmin Catin
I travel a lot and when I arrive in a new place that really inspires me I feel energized by the new smells and tastes and seeing new landscapes and combinations of colours. I run around taking a million photos of weeds and trees and bugs. Through my "fresh" eyes all of these commonplace things are national-geographic worthy spectacles, although a few weeks later when I am home and wading through all of my mediocre-at-best shots, I wonder what the hell I was thinking. A few years ago near the Verdon Gorge in France I went for a long solo hike on a rest day and witnessed the a parade of nose to ass caterpillars that was so long I couldn't even see the end of it. I took 50 photos and several movies, which is pretty funny considering that I took almost no photos while climbing up the steep and exposed walls of the beautiful Gorges du Verdon. "Ho hum, just another multi pitch rock climb, yawn. But these bugs are so cool!"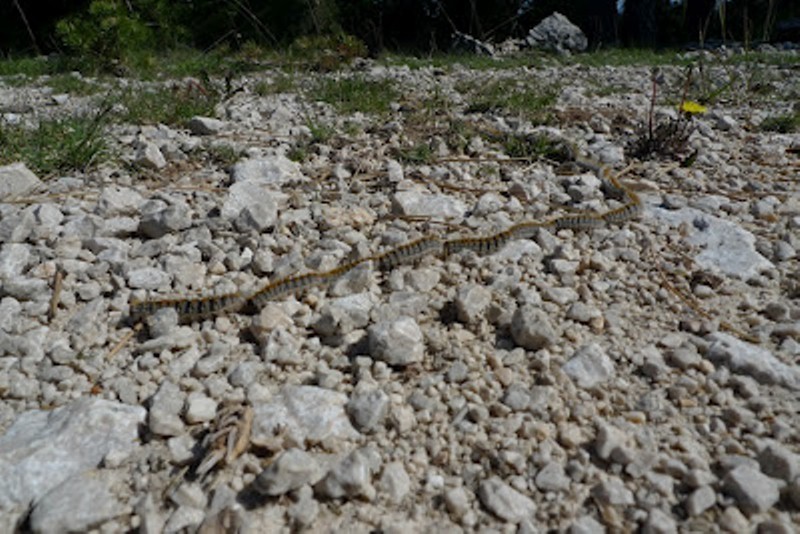 Caterpillar train near the Gorges du Verdon, France. Photo: Jasmin Catin
Showing up in Corsica brought on a flurry of that feeling of excitement, wonder and super-energy. The landscape was beautiful, rugged and very different from what we had just experienced the previous week on the neighbouring island of Sardinia. It sounds silly to say that a certain rock type has special meaning to me, but there's something about granite that I completely love. Perhaps it is the fact many of my formative dirt-bag adventures were played out on the granite walls of Squamish and Yosemite.
After driving off the ferry in the town of Bonifacio on the southern tip of Corsica, we bought a map and made our way towards one of the main climbing areas – the Col de Bavedda.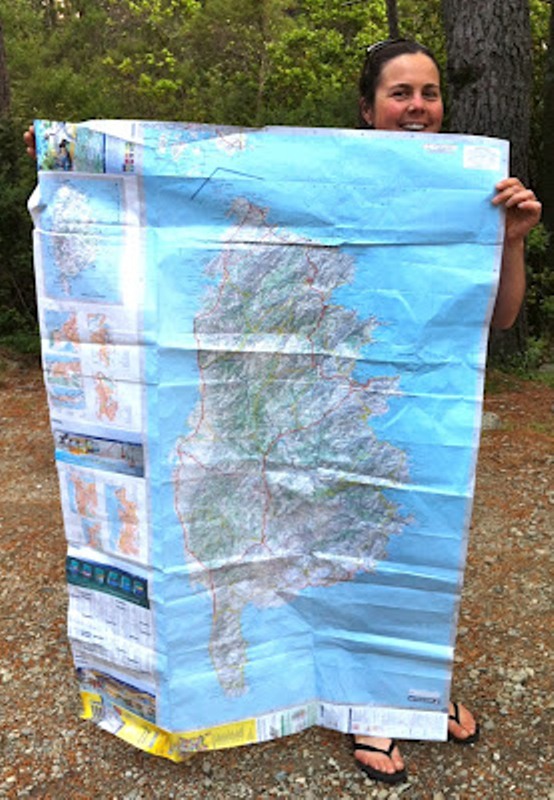 We bought this map of Corsica in a gas station, not knowing that it was an actual-size representation of the island. Trying to navigate with it from the passenger seat of our teeny Fiat 500 usually resulted in me blocking the entire windshield, and Evan's view of the narrow and winding road. Folding this map was pretty much the crux of our week in Corsica. Photo: Jasmin Catin
We bought the only guide book we could find – a beautiful french guide book called "Bavedda – Auguilles entre ciel et torrents by Jean-Louis Fenouil and Jen-Paul Quilici". The route topos were all done on exquisitely detailed watercolour paintings, and although I loved the uniquely artistic appearance of the guide book, it turns out a photo or a detailed route topo is actually pretty helpful when you are figuring out an area for the first time. We spent two days attempting to find, then climb our chosen warm-up route, Esperanza, on Punta Rosso. It's a 6 pitch, 7a+ route with a steep 1.5 hour approach, which we got thunder stormed off part way up on both days. Although we weren't able to complete the route, from these pitches and some single pitch sport routes we did closer to the road we got a sense of the high-quality and mind-bending geometry of the Corsican granite.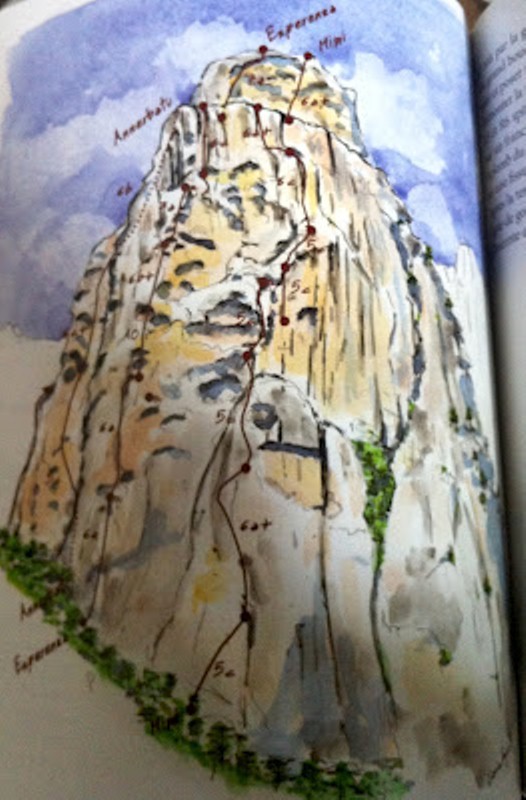 Watercolour image of the Punta Rosso from the Bavedda guidebook Photo: Jasmin Catin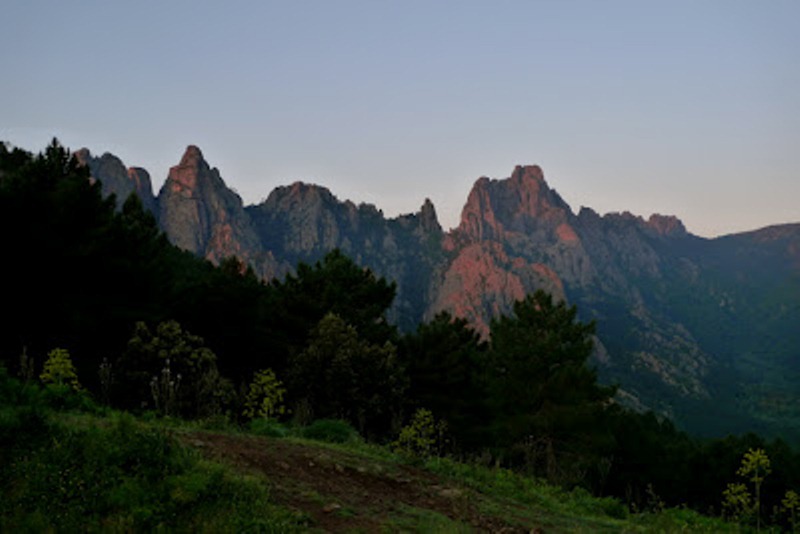 Sunrise on some of the spires at the Col de Bavedda.Photo: Jasmin Catin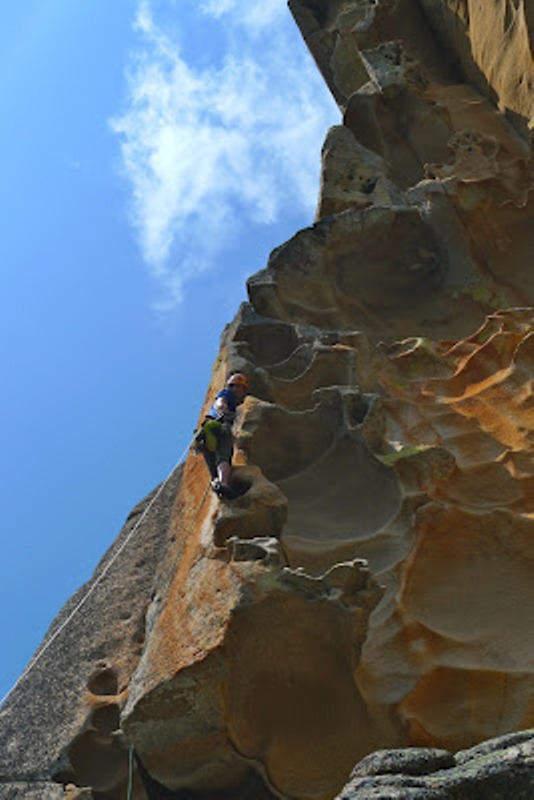 Climbing up steep and wild features on Esparanza.Photo: Jasmin Catin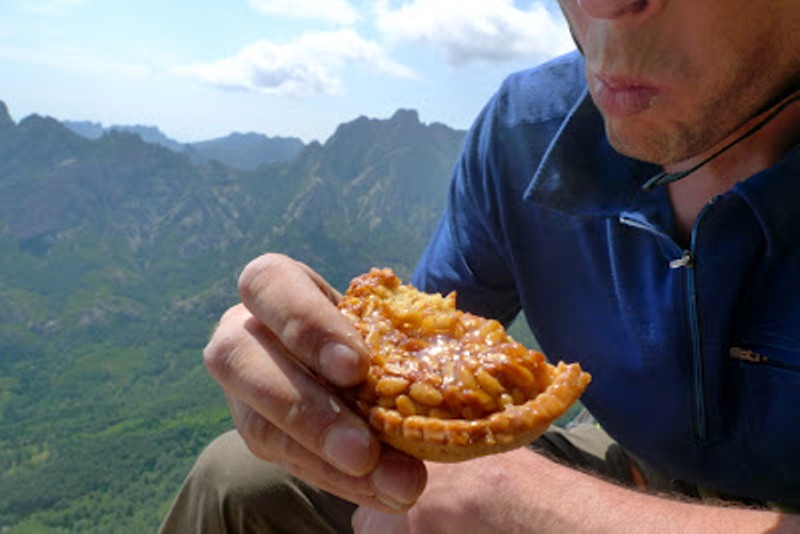 No energy bars in sight, this was a fresh, pine-nut studded almond tart from the Boulangerie in Zonza. Photo: Jasmin Catin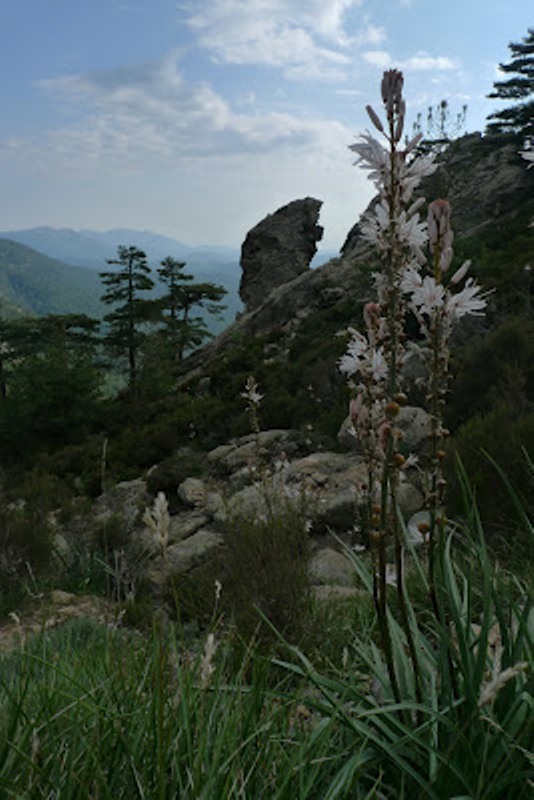 Post-thunderstorm sunshine on the beautiful scenery at the Col de Bavedda. Photo: Jasmin Catin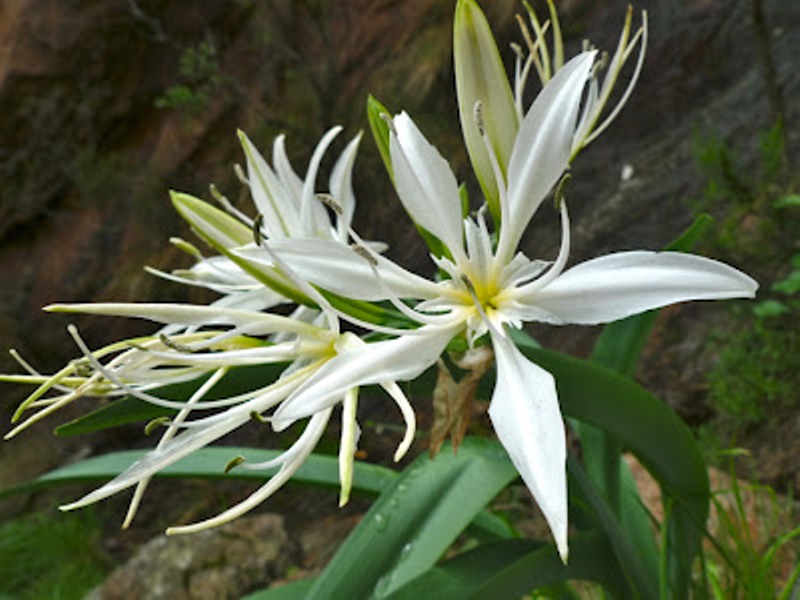 Huge flowers on the hike up to Esperanza. Photo: Jasmin Catin
A crappy weather forecast drove us out of the Col de Bavedda and towards the town of Ajaccio on Corsica's west coast. Descriptions of 7-9 pitch lines on the Rocher des Gozzi in the Falaise de Corse guidebook had caught our interest, but we had nothing in the way of first hand information on the climbing and hadn't run into any other climbers in Corsica so far. Thanks to the awesome details in the guidebook, which was in english as well as french, we easily found our way to the climbing, and spent our day climbing up a well bolted 9 pitch route called Gozzilla, 7b (6b+ obligatory). The climbing was technical through the lower and upper sections, with edges and huecos. The middle section climbed out a wildly overhanging cave which would have been amazing to send, but the cave was entirely moist either due to seepage or condensation on the rock. Thanks to the close bolting, we could pull through a few of the greasy moves and enjoy the rest of the climbing.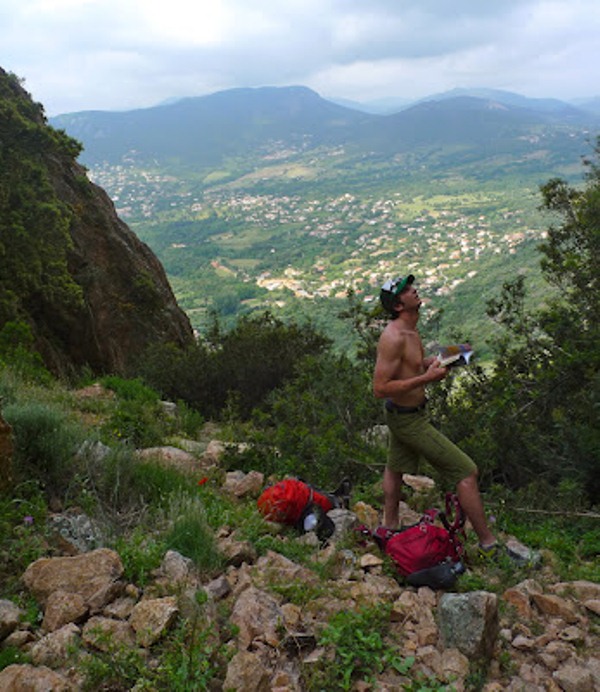 Evan and the base of Gozzi, figuring out what's what. Photo: Jasmin Catin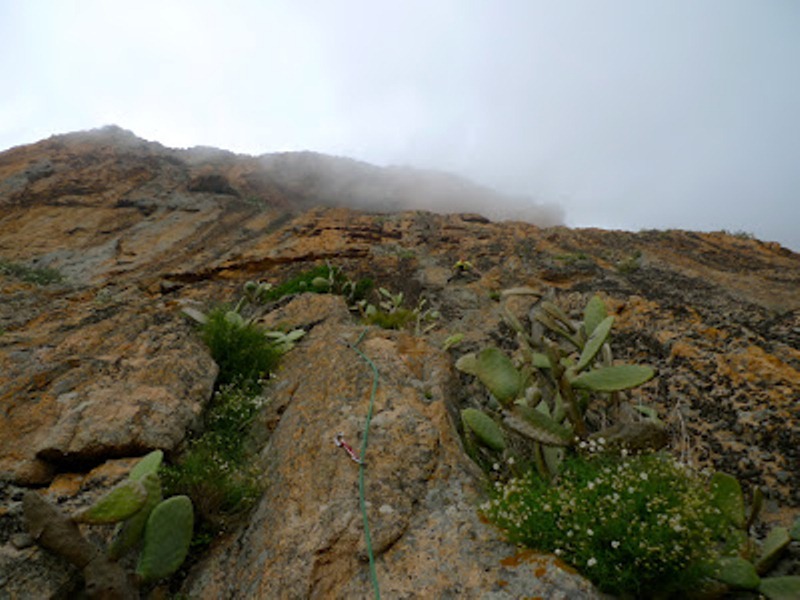 The lower pitches on Gozzila were surrounded by these giant cacti, which were thankfully thorn-free. Photo: Jasmin Catin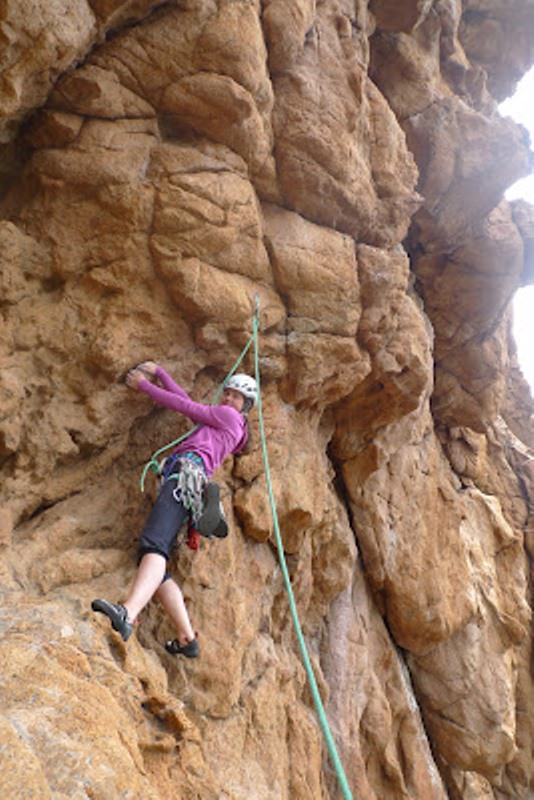 Starting up the steep and damp cave section of the route. By the appearance of the rock, I expected it to be crumbly kitty litter, but it was completely solid! Photo: Jasmin Catin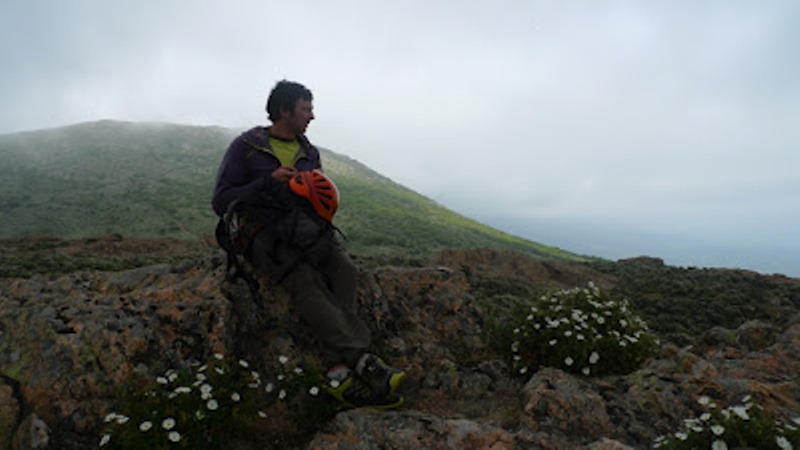 Evan in the fog on the summit of Gozzi. Photo: Jasmin Catin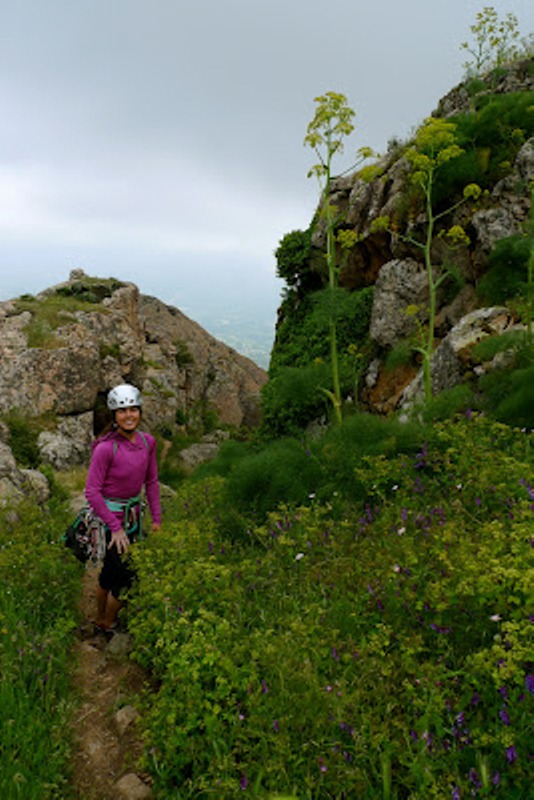 Beautiful plants and flowers on the descent. Photo: Jasmin Catin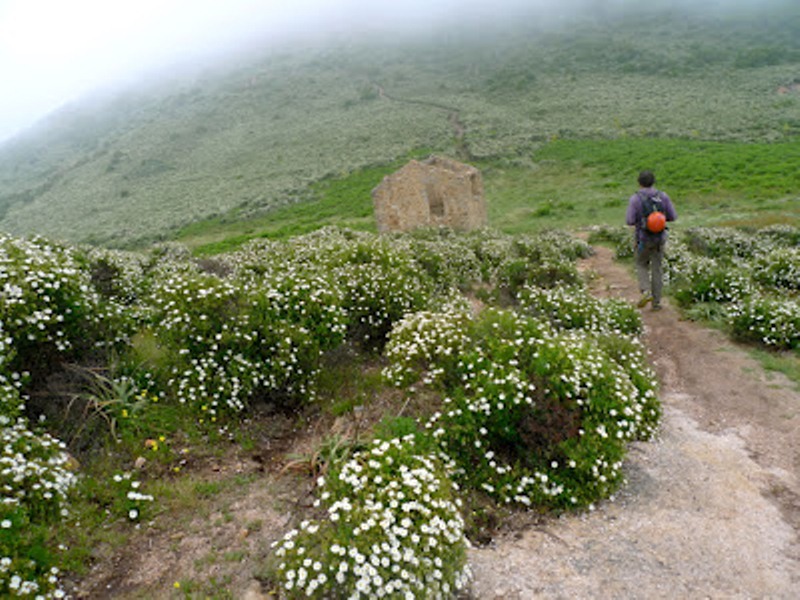 Evan hiking past a ruin on the decent. Photo: Jasmin Catin
After all this climbing, it was time for some replenishment, and this is one area where Corsica will not disappoint. A rich local cuisine filled with amazingly fresh cheeses like Brocciu, a signature Corsican product made from sheep and or goat's milk, dishes made from wild boar and the addition of chestnuts to everything from stew to ice cream, to beer to tiramisu. With all those steep approaches, we had a significant appetite for refuelling. A sport climbing trip this was not, and we feasted like alpine climbers who had just starved for days in the mountains.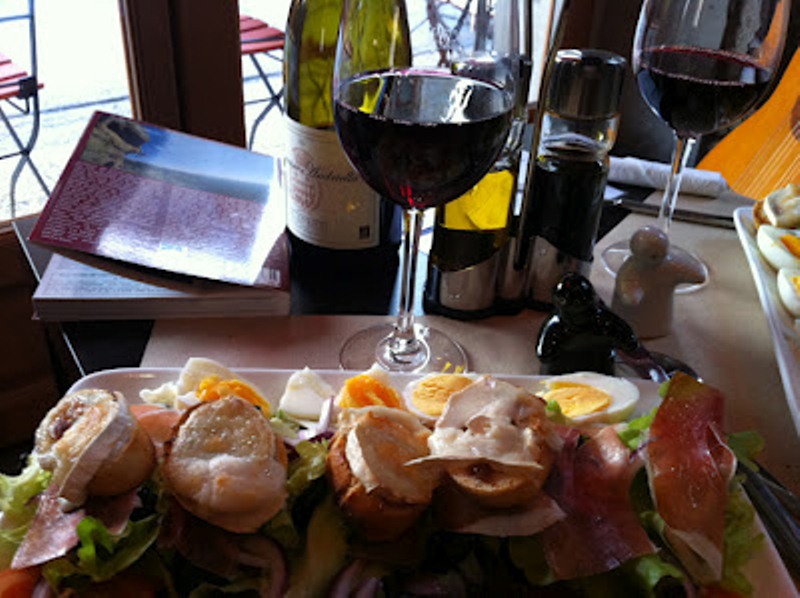 Salade de chevre chaud with some organic Corsican wine. I'd say the dirt-bagging days are officially over. Photo: Jasmin Catin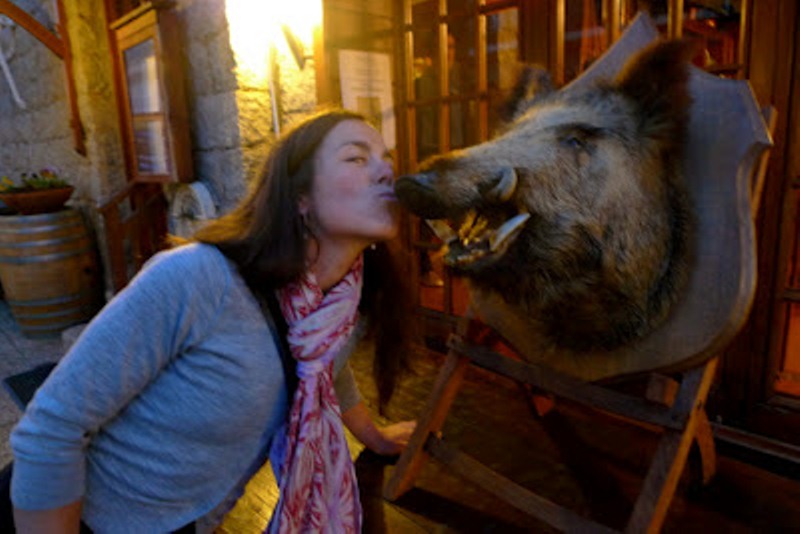 Me getting cosy with the wild boar… the stewed wild boar with chestnuts at this auberge in the town of Zonza was amazing. Photo: Jasmin Catin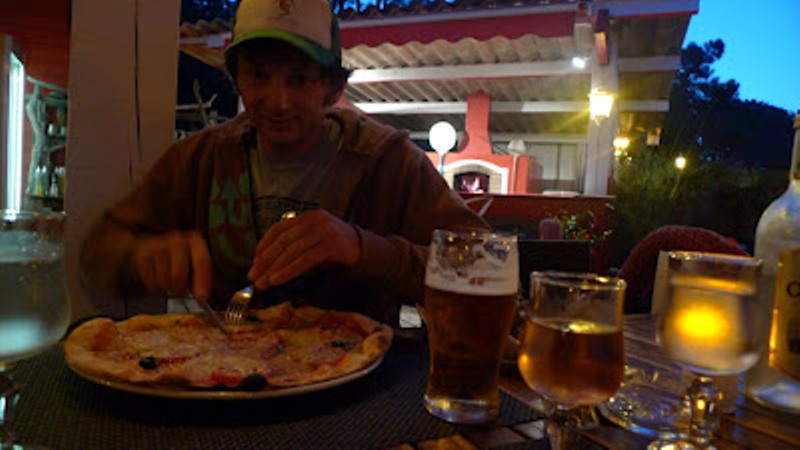 It's hard to beat wood fired pizza on the beach, with some frosty Pietra (a Corsican Beer) or refreshing rose. Photo: Jasmin Catin
Next we made a quick visit to the cultural and geographical centre of Corsica, Corte. Our main draw was the Vallee de Restonica, a beautiful valley next to Corte surrounded by Corsica's highest peaks with numerous long and short route possibilities. When I return to Corsica I will definitely schedule in a good week or two to climb in the Restonica, but on this trip we didn't have the time or the weather to do much more than drive up the valley and get a few roadside sport climbs in between thunder showers. But if the amount of rock and the quality of what we sampled is any indication, there is a lot of potential for great climbing on existing routes, as well as lots of new route potential with relatively easy access.

We did a few pitches of 5.11+ to 5.12 at this crag called Frassetta in the Restonica. The climbing was up cracks, edges, and crazy round-features that almost felt like Maple cobbles. Photo: Jasmin Catin
With only one climbing day left in Corsica, we really wanted to climb Jeef (7b, 14 pitches) at the Col de Bavedda. The weather was calling for afternoon thunder storms, and bailing from this climb isn't really feasible before the top of the 8th pitch, where it joins the easier and popular route "Dos d'elephant". We got an alpine start and managed to climb the route, which completely exceeded our expectations, which is saying something for a couple of rock snobs who didn't get enough sleep, had not taken a rest day in a week and got in a giant fight about whether to keep going to the top despite the menacing clouds (me) or bail from the top of the 9th pitch (Evan). Even better, our rappel route took us down the route Delicatessen (8b), which along with Jeef was established by French hardman and Arnaud Petit. Delicatessen looked hard but so good… those of you capable of that grade who like granite climbing should check it out! By the time we hit the ground, the sun was again shining and my day was taken to the next level of awesomeness when I took an icy dip in the beautifully sculpted smooth pool in the creek at the valley bottom.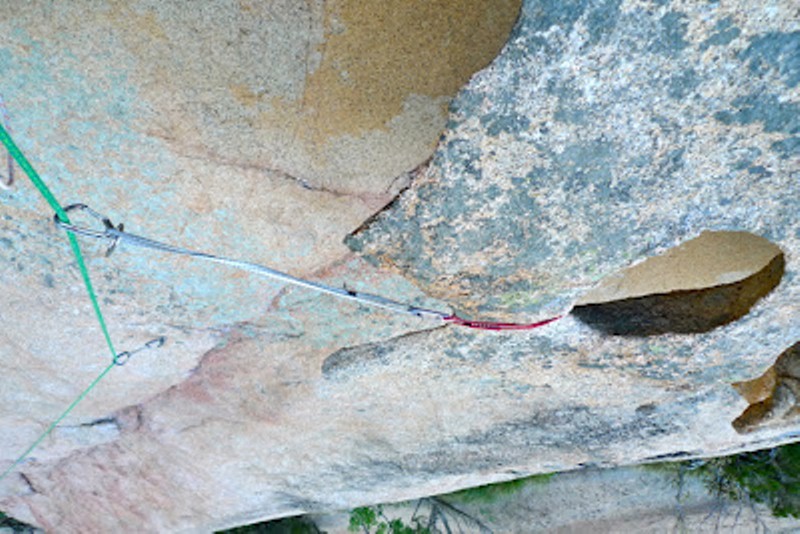 I was worried I shouldn't use this for pro… Photo: Jasmin Catin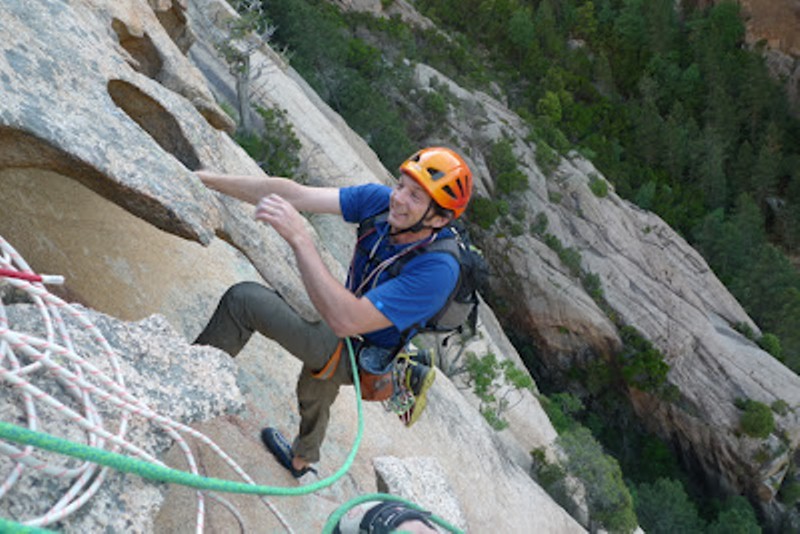 But then Evan gave it the MOG test. Photo: Jasmin Catin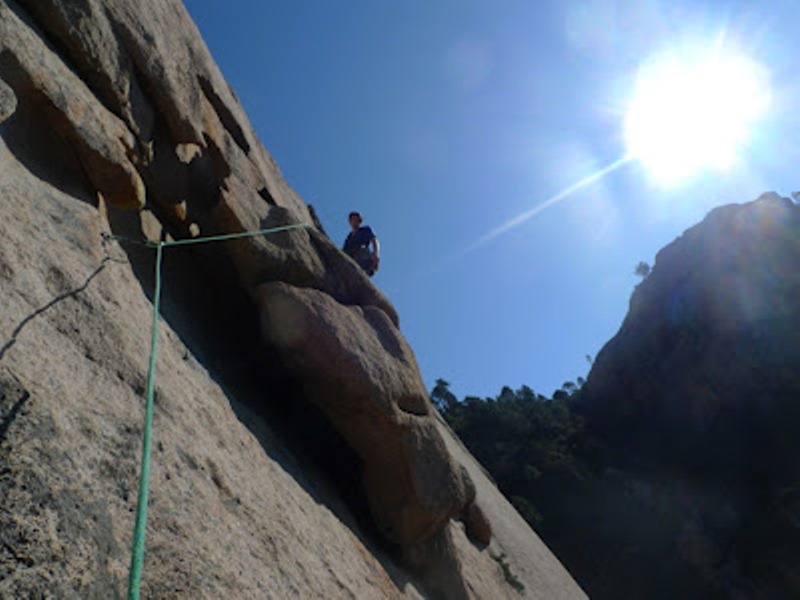 Evan on the 3rd pitch of Jeef. Photo: Jasmin Catin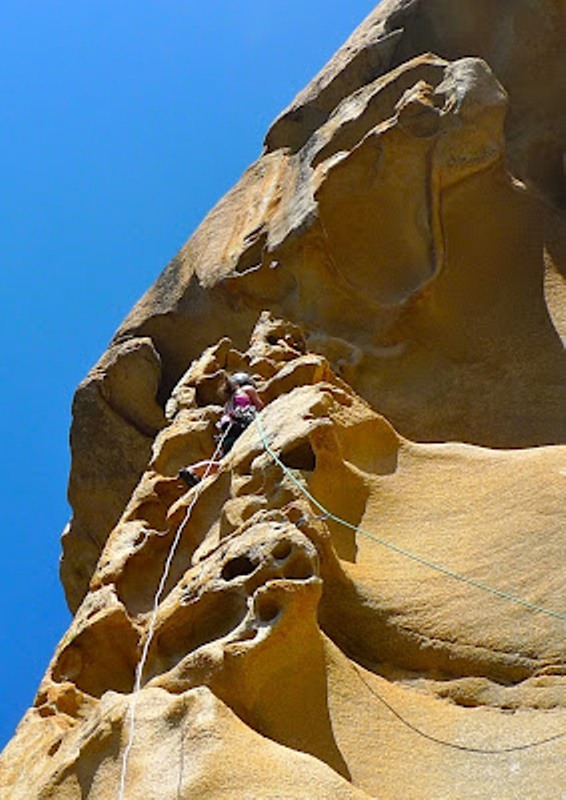 Climbing up through crazy huecos on the wild 7th pitch of Jeef. Photo: Jasmin Catin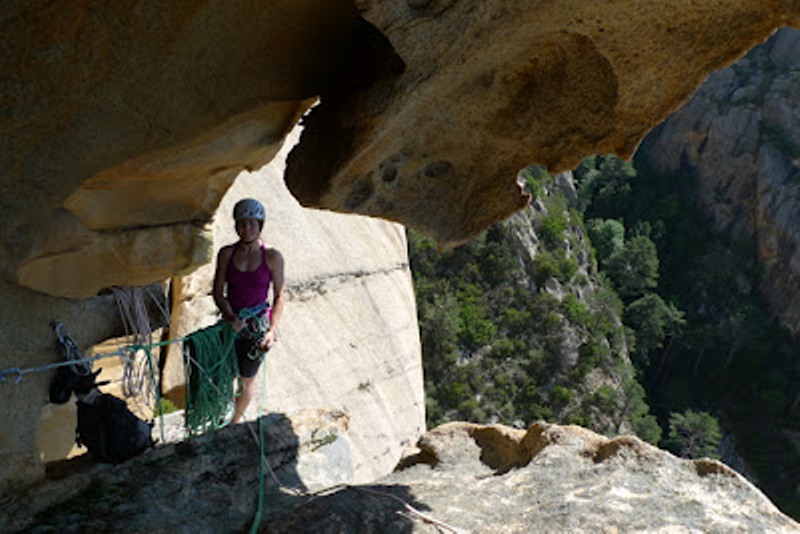 The cave pitch. Photo: Jasmin Catin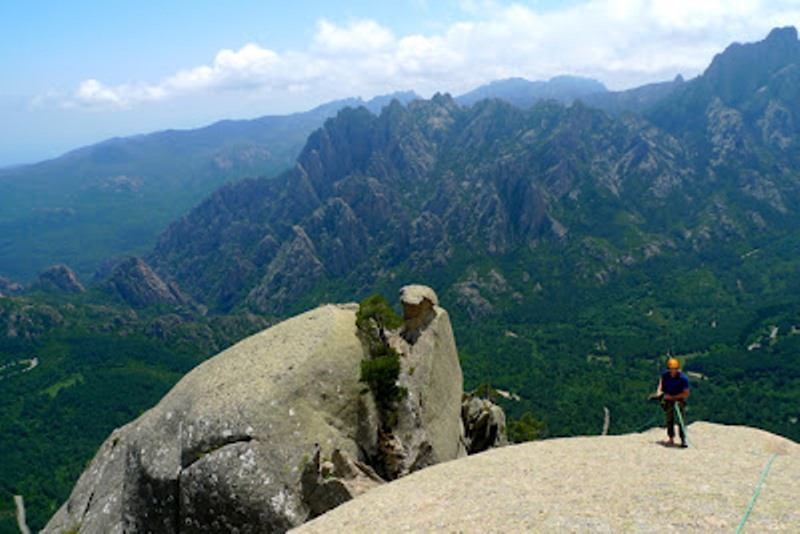 Thunder-storm-aphobe Evan preparing to rap down as I basked on the summit, refusing to be rushed off our last summit in Corsica. Photo: Jasmin Catin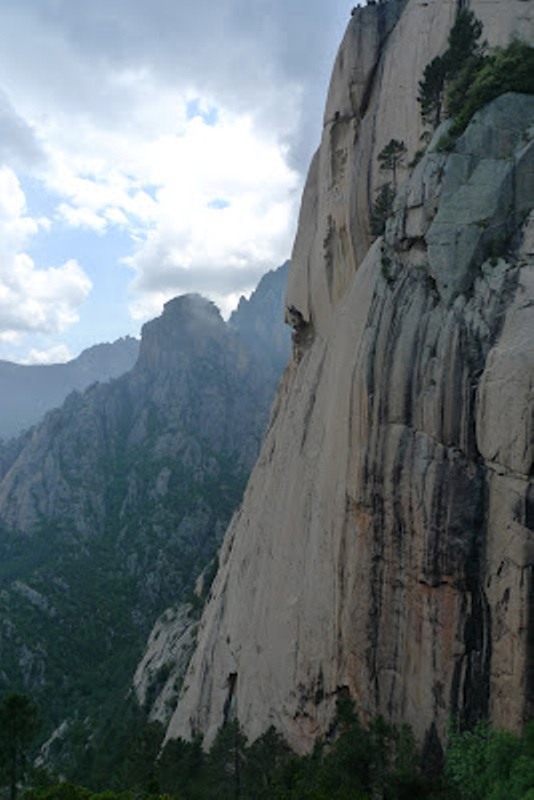 A profile view of the climb, taken from the descent raps down Delicatessen. Photo: Jasmin Catin
With guiding work commitments drawing us home to rainy Squamish, our trip to Corsica had come to an end. Despite the fact that we experienced fairly unsettled weather, we managed to climb at least a few pitches every day we spent on the island. As with all of my favourite climbing trips, this one finished with me hungry for more and scheming for an opportunity to return.