New Read for Your Little Mountaineers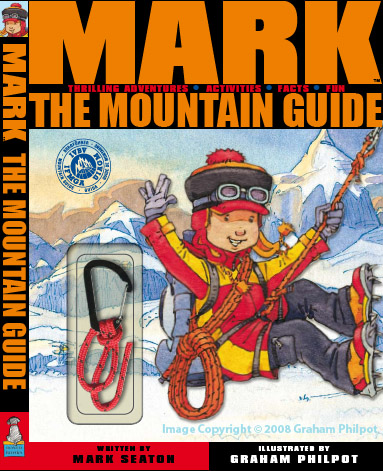 As the warm, lasting light of summer slips into the folds of fond memory, the evening's activities shift from late-day rides, runs, and climbs to cozier choices. If you've got little ones, this is the time of year you start thinking about snowy days, warm fires, and lots of hot chocolate. And what better way to spend that time with your wee ones than cozied up with a good story.
News of this charming and delightful one came our way courtesy of our local friends Jeff Brown and Faerthen Felix of UC Berkeley's Sagehen Creek Field Station. As caretakers of this remote mountain research outpost–accessible only by ski or snowmobile for about 5 months out of the year–they know a thing or two about how to keep things cozy through the long winter.
Faerthen generously offers her review to The Cleanest Line readers here (Ed note: this review first appeared in The Avalanche Review, 27/1, a publication of the American Avalance Association.):
I recently read a pair of studies demonstrating a dramatic and continuing downturn in American interest in spending time in the great outdoors. This is profoundly disturbing to those who would protect and sustain natural areas since, as the authors point out:

"…it has been found that environmentally responsible behavior results from direct contact with the environment and that people must be exposed to natural areas as children if they are to care about them as adults. Extended periods spent in natural areas, as well as creating a role model, seem to create the most environmentally responsible behavior and increased involvement in biodiversity conservation."
So, how to get children to care about wild places so they don't sell them off as adults? Expose kids to nature as often and in as many exciting ways as possible to displace time spend with electronic media. Here's a little book that can help spark a child's interest in getting out into the mountains: Mark the Mountain Guide: Avalanche! from Boxer Books.

The author, Mark Seaton, is a British Mountain Guide who lives with his wife, three adventurous girls and their Bernese mountain dog in the iconic Chamonix Valley. He guides climbers and skiers in the French, Swiss and Italian Alps. Mark Seaton and David Bennett, a publisher of children's books, conceived the book while they climbed Mont Blanc together. David Bennett was responsible for commissioning the Where's Waldo? books which have sold over 40 million copies worldwide.

Graham Philpot, a gifted and prolific children's artist best known as the creator of "Antony Ant," illustrates the books. The quintessential British Mountaineer Sir Christopher Bonington provides the book's introduction and the International Federation of Mountain Guides Association [IFMGA] offers their seal of approval to the technical section at the end of the book.

This, the first book of the series, begins with an avalanche that blocks the path to the Marmot Mountaineering School, requiring Mark & his band of friends to climb out over the Applestrudelhorn to return to the village.

Most of the characters are engaging animals, including Leo the Mountain Dog and three little Marmot Mountaineers. The book's illustrations are delightfully evocative watercolors of mountain scenes and climbers, full of the detail that kids love to explore. They include a map and an introductory overview of all the places visited in the story. My personal favorite is a two-page spread of stars and a glowing igloo perched above a moonlit fairytale landscape of steep ice, rock and snow.

At the end of the story, an instructional section explains more about some of the phenomena encountered along the way, including child-friendly explanations of what causes an avalanche, how mountains are formed and why stars are so bright at altitude. A glossary defines mountain-related words from the story, including terms like avalanche, crampon, gorge, glacier and mountaineer.

This section also includes practical information to get kids started on their mountaineering careers, like how to build an igloo, what a mountaineer wears and carries in his/her pack, and how to tie a couple of useful knots. To facilitate this particular skill, the book includes a toy carabiner and a length of accessory cord. Due to this potential choking hazard, the book is not recommended for children under the age of 3-years.

Finally, children's books that promote mountain culture! I'm sending copies of this wonderful book to all the little kids I know…if only out of self-interest.
For more information about this, or other titles in the series, visit your favorite online retailer. You may also preview images of Mark the Mountain Guide, and learn more about the work of Graham Philpot, illustrator of the Mark the Mountain Guide series. Images from Mark the Mountain Guide reproduced by arrangement with Boxer Books Limited.