One Track Mind Comes to Ventura Oct. 16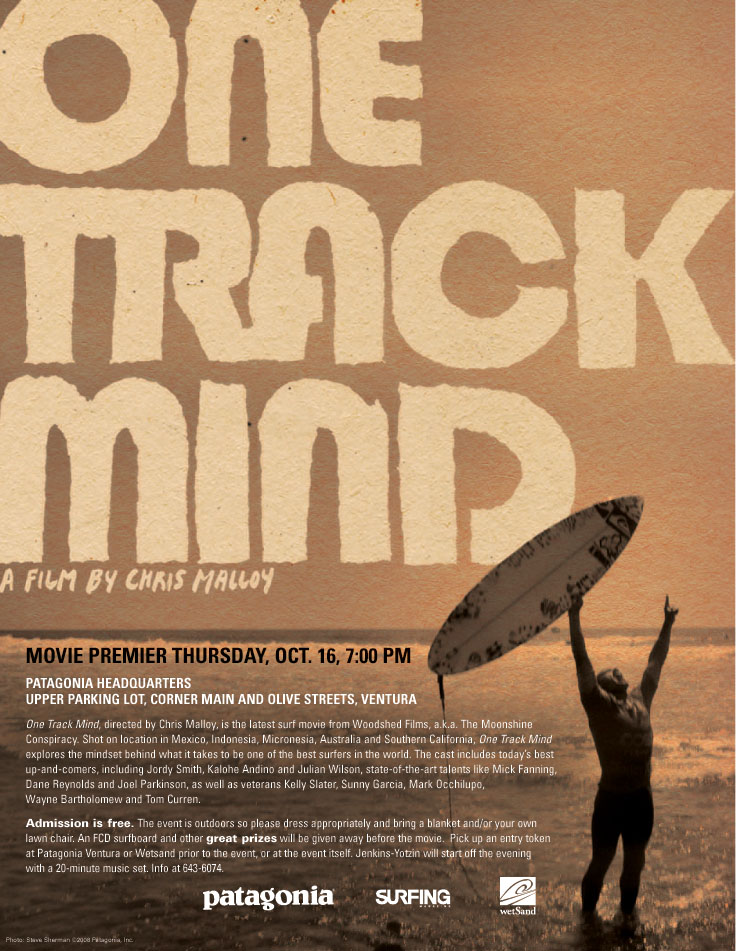 If watching a brand new surf film, under the stars, with the director and two world champs, groovin' to live music, and vying to win a new surfboard sounds like your idea of a good time, then do whatever it takes to get to Ventura this Thursday night for the screening of Chris Malloy's new film, One Track Mind, at Patagonia HQ.
Ventura Premiere of One Track Mind
surf film, free raffle prizes, live music
Thursday, Oct. 16, 7:00 PM
Patagonia Headquarters
259 W. Santa Clara, Ventura, CA
Upper parking lot, corner of Main and Olive Streets
Admission is FREE
The event is outdoors so please dress appropriately and bring a blanket and/or your own lawn chair. An FCD surfboard and other great prizes will be raffled away before the movie. Pick up a raffle token at Great Pacific Iron Works or Wetsand Surf Shop prior to the event, or at the event itself. Jenkins – Yotzin will kick things off with a 20-minute music set; Matt Costa will close the evening with a short acoustic performance. Tom Curren, Kelly Slater and all three Malloy Brothers are scheduled to attend. For more information, phone 805-643-6074.
Hit the jump to watch the trailer; download a hi-res version of the poster here (PDF).
One Track Mind, directed by Chris Malloy, is the latest 16mm surf movie fromWoodshed Films, a.k.a. The Moonshine Conspiracy. Malloy's previousprojects include A Broke Down Melody, Shelter, Thicker than Water andSeptember Sessions.
One Track Mind explores the common thread that drives the most influential surfers from three generations to push wave riding to new dimensions. Experience the unique opportunity to sit up close and personal with the most prolific surfers of our time as they share the secrets that gave them inspirational and technical elements to be the best the world has ever seen.
Shot on location in Mexico, Indonesia, Micronesia, Australia andSouthern California, the cast includestoday's best up-and-comers, including Jordy Smith, Kalohe Andino andJulian Wilson, state-of-the-art talents like Mick Fanning, DaneReynolds and Joel Parkinson, as well as veterans Kelly Slater, SunnyGarcia, Mark Occhilupo, Wayne Bartholomew and Tom Curren.