Climbing in Algeria: Part 5
Jonathan Thesenga
/
6 Min Read
/
Climbing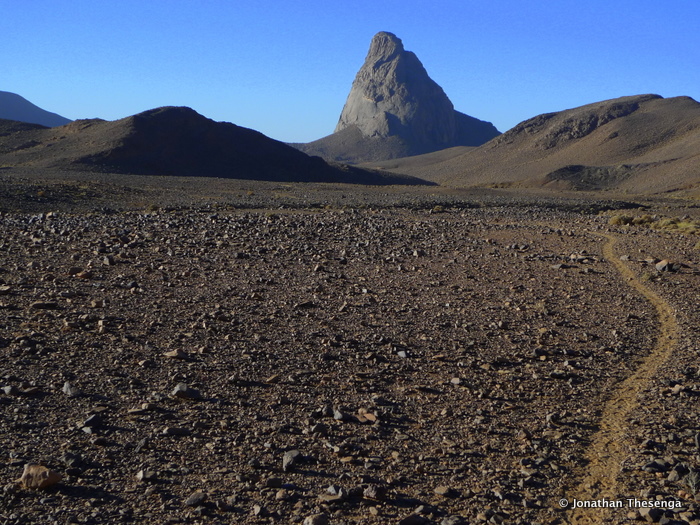 Day 14 and our last here in southern Algeria. As is our tradition on international climbing trips we got a hotel room for our last night in-country as a way to smooth the transition back to the "real world" and finally take a shower. It was Brittany's birthday yesterday and Zaoui, Aziz and Mustapha surprised her with a birthday cake, complete with candles that spelled out her name as "Britay". Last year we spent her birthday in Venezuela, and this year it's Algeria. Not too bad! When we got back into Tamanrasset yesterday we got word of the chaos happening in North Africa and the Middle East. Mustapha translated as best he could what we were watching on the Arabic news channels. Crazy! Definitely a time of massive change and drama in the Arab world. The whole town—and we assume the rest of the world—is buzzing with discussion of the developing events.
[The southeast face of Aoukenet. All photos: Jonathan Thesenga and Brittany Griffith]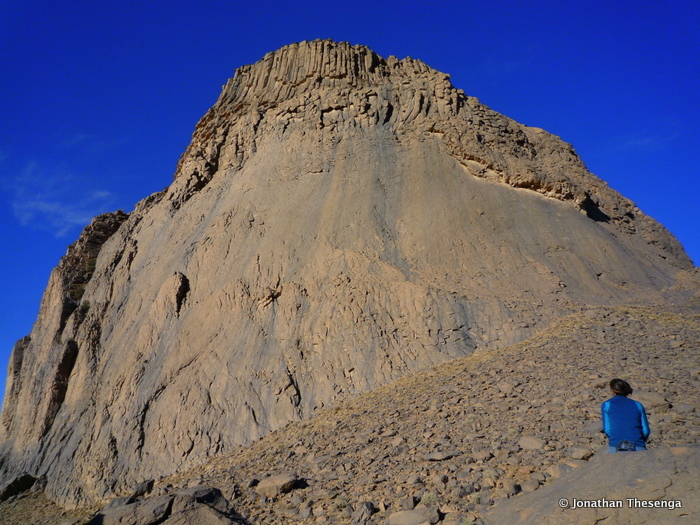 [Brittany scoping out potential new lines on the 700-foot southeast face of Aoukenet.]
Before returning to Tamanrasset we scored one final first ascent: a 700-foot 5.11 on Auokenet's southeast face. After five pitches of solid and engaging climbing that slowly and surprisingly kept linking together small features we ran into some worrisome roofs with dirt and funk—we couldn't see a clear away through and were concerned we might get into a dead-end choss situation similar to Adouada—so we traversed for 100-feet over to the 1971 Spanish route.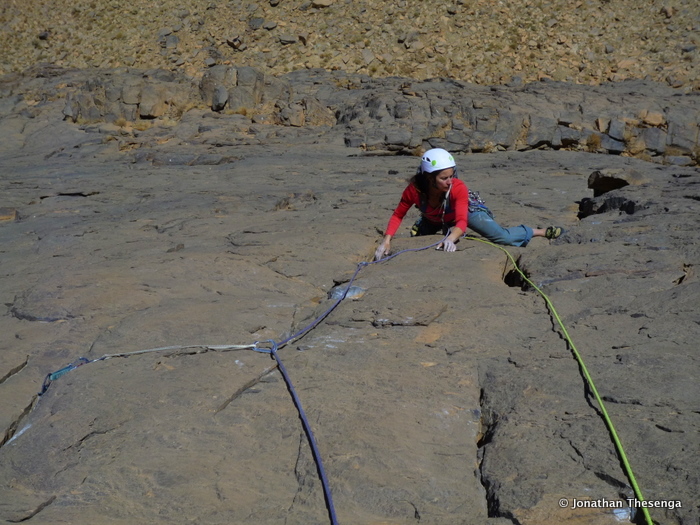 [Brittany following the crux pitch of Dead Goat Soup on Aoukenet.]
Of course the topo we had for that route was totally jacked and we ended up questing for a solid two hours, looking for the final exit crack. Brittany finally solved the code (after finding an old bolt) and got us to the top. And what a summit! We both agreed it was the finest summit of our trip with truly inspiring views of the entire Atakor region. I knew right then and there that our 10-day trip to the Atakor was complete, that we had achieved all the adventure and ascents we could've hoped for.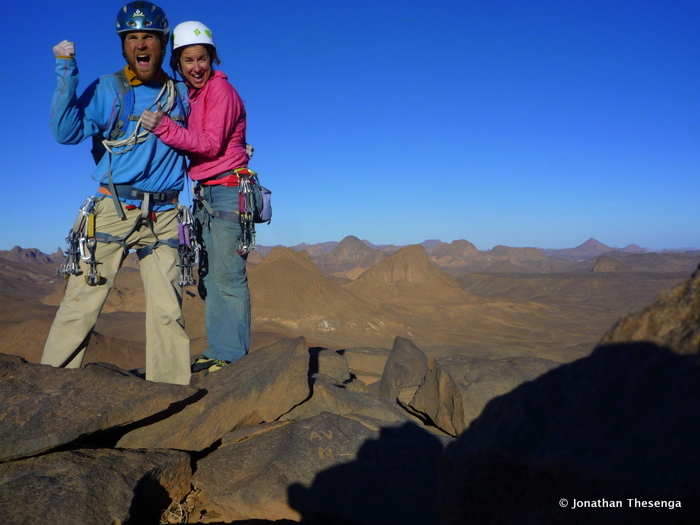 [JT and Brittany on the summit of Aoukent after the first ascent of Dead Goat Soup.]
Back at camp that night Zaoui served us soup with some curious chunks of meat in it. He told us it was goat. Where did he get the goat? He said they bought it from a shepherd who was herding his goats past camp and slaughtered it at camp. Fortunately Zaoui had already eaten the brain and heart, saving us from having to find that in our soup! With that story in mind, we decided to name our new route Dead Goat Soup.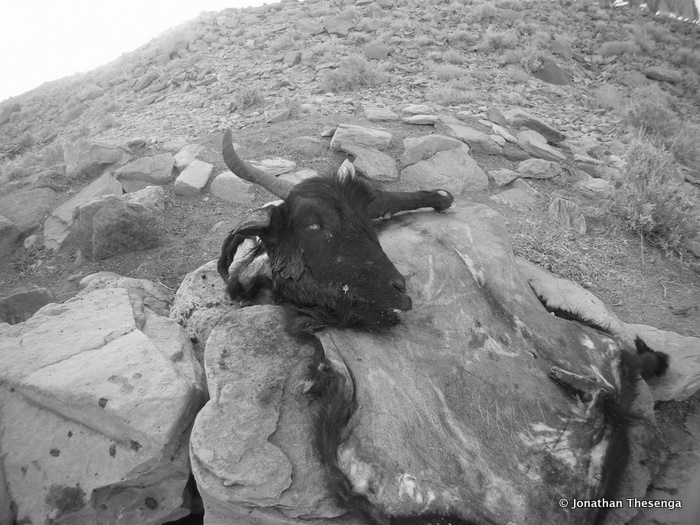 [The skin and head of the dead goat.]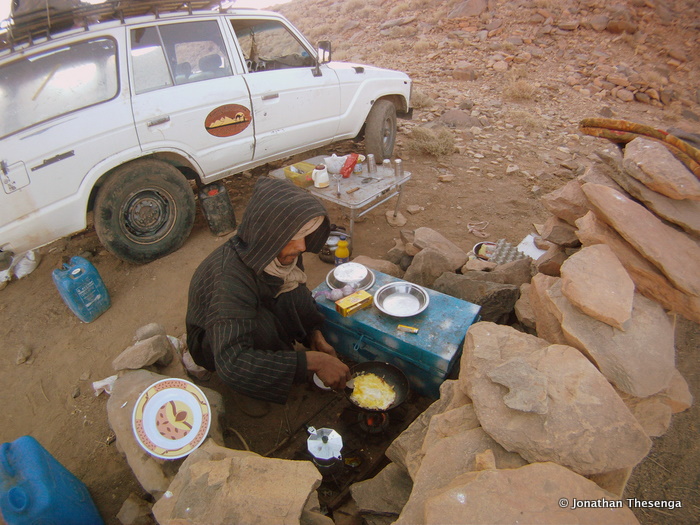 [Zaoui cooking up breakfast in his kitchen.]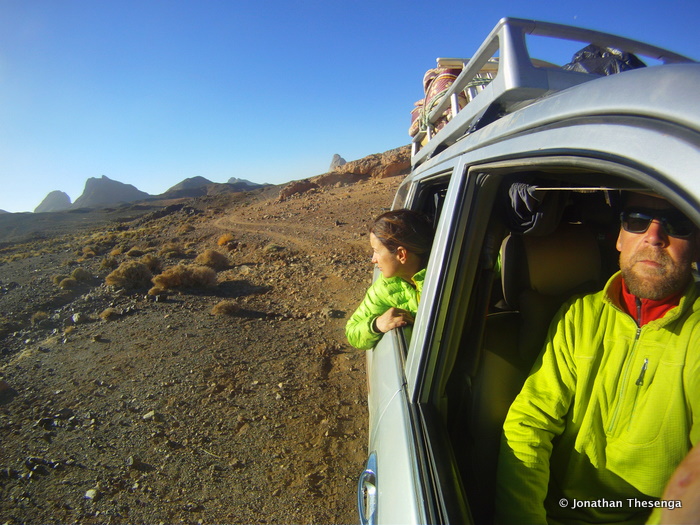 [On the road to Tesnou.]
The next day we rallied the crew to drive us the nine hours out of the Atakor and north up to the Tesnou region, home to a stunning array of granite domes situated on sand flats and sand dunes that stretched to the horizon. It was a super long and uncomfortable day, but once we got to the Tesnou and saw the domes and sand dunes we knew it was worth it! What a wild setting and a dramatic contrast to the barren rockiness of the Atakor! Sure, it was hot as hell in the Tesnou, but we were there as much for the scenery and the setting as the climbing.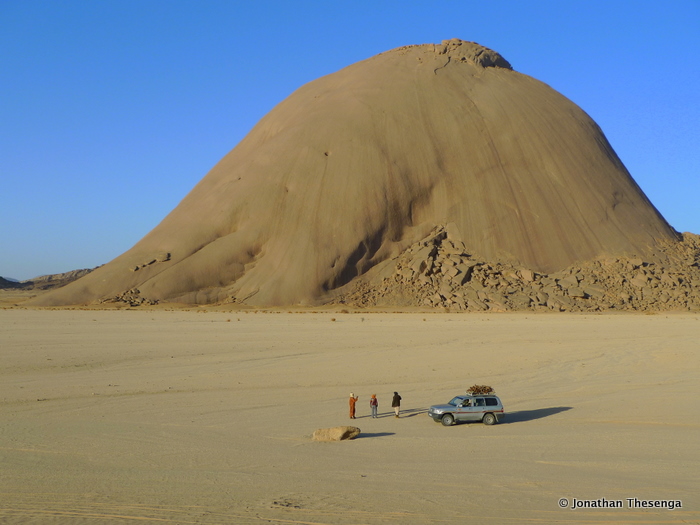 [The beautiful 1,000-foot south face of L' Elephant.]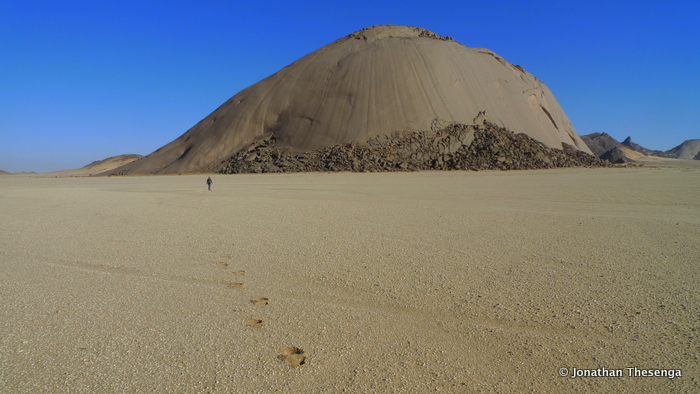 [Brittany hiking over to L' Elephant for a quick morning ascent before the heavy afternoon heat arrives.]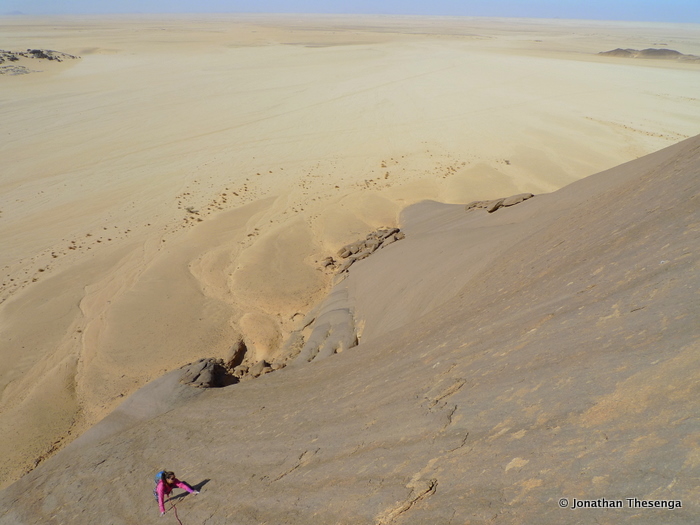 [Brittany following the second pitch of Never Up, Never In on L' Elephant.]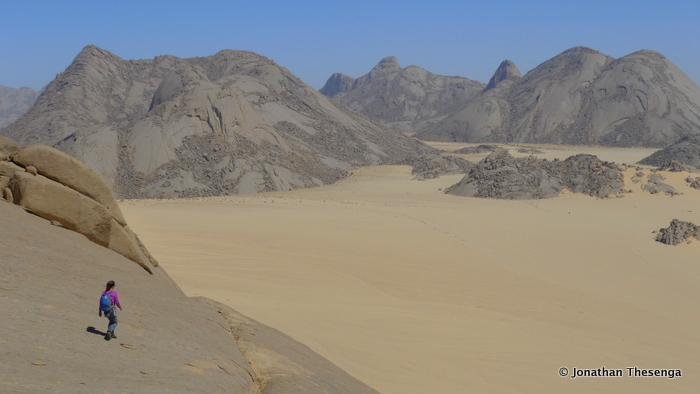 [Brittany on the broad summit of L' Elephant with more of Tesnou's untapped domes and walls in the background.]
We spent the next two days climbing in the morning on some mellow (apart from the rack beta of "four quickdraws", hence 60-foot runouts between bolts) 5.10 slab routes on the impressive L' Elephant, a 1,000-foot high dome of impeccable granite, lounging in the afternoon shade at camp and staring at the amazing and iconic sunsets over the Saharan sand dunes (which is one of the most memorable sights either of us have ever seen).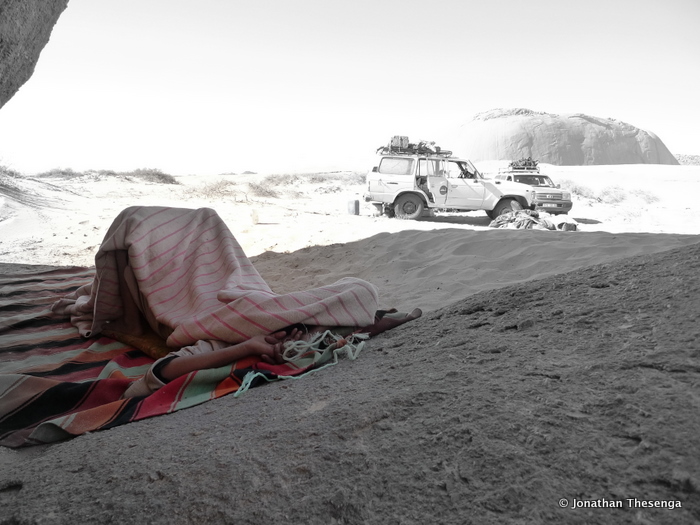 [Aziz catching some zzzz's during the afternoon heat at Tesnou, L' Elephant in the background.]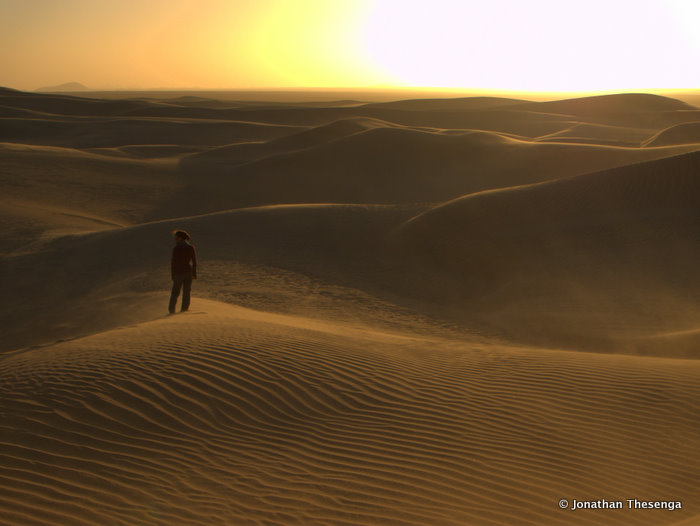 [Put it on your must-see list: a Saharan sunset over the sand dunes.]
It was sad last night to say goodbye to Aziz, Zaoui and Mustapha. We gave each of them Black Diamond headlamps and sections of our rope, and they gave Brittany a Tuareg necklace of the Southern Cross. Zaoui told us that we had become their family and said when we return next year we would stay at his family's house ("When you first come to Algeria you come as tourists," Zaoui said, "but when you return, you come as family."). We hope they continue to safely live their simple yet rewarding lives in southern Algeria, guiding people through the incredible sights that this small slice of the world uniquely offers.
Although there are many, many more places we wish to travel and climb, we have had such a fantastic time here that we are fairly certain that we will return here next year to further explore some of the areas that were closed by the military this year—and of course see our good friends Zaoui, Mustapha and Aziz again.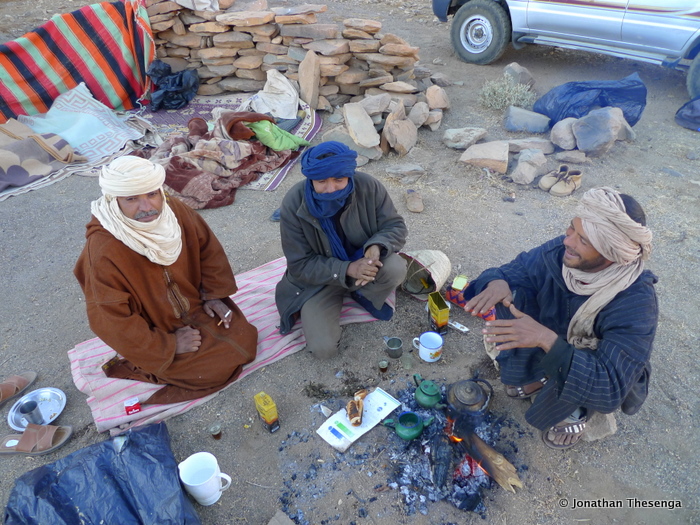 [Our friends and family, Mustapha, Aziz and Zaoui brewing up another cup of tea at camp.]
——————————————————————-
Editor's note: Our thanks go out to Brittany and JT for allowing us to tag along on their trip to Algeria. What a time they chose to make the journey! It's been amazing having our very own set of eyes and ears on the ground (and on summits) sending us updates via sat-modem. You can read the entire series, and see all the photos, right here: Operation Algeria.