Pataclimb.com a New Online Resource for Climbing in Patagonia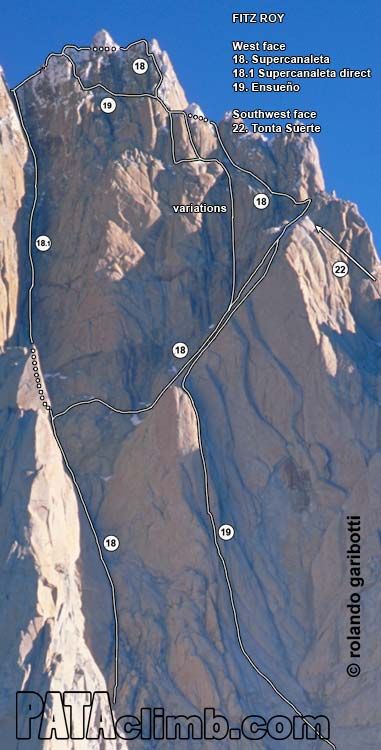 Our friend Rolo Garibotti just sent word about his latest labor of love for the region he loves so much. Previously, we updated you on his work with the Patagonia Sustainable Trails Project. Today, we're happy to share news on the launch of Pataclimb.com, an online climbing resource assembled by Rolo and his friend Doerte Pietron. 
It is raining heavily in El Chalten, the small town at the base of Fitz Roy and Cerro Torre in southern Argentina. Last week we had great weather, a window so good that we managed to climb both "big boys", Torre and Fitz, in a mere seven days roundtrip from town. Such luck comes with a price and by the looks of the disastrous looking forecast seems like we will be paying for it in the next few weeks.
I first visited this area in 1987, when at age 15 I managed to somehow miraculously survive an ascent of Guillaumet. It wasn't until the mid 1990s that I fell in love with this place and since then I have been coming regularly. Between 1998 and 2000 I worked hard at putting together a guidebook to this area but for a number of reasons never finished it, although the desire to do it stayed. Later, with the increased digitalization of information I realized that the best form of guidebook might be online, allowing for constant updating and correcting. I talked about this online guide idea for a couple of years until German climber Doerte Pietron convinced me to stop talking and to actually do it. With her help designing it and after more than a year of work, it has finally come to life.
Pataclimb.com does not attempt to be an "über-topo" guide – quite the opposite. In it you will find what I believe is a fairly accurate record of what has been done, with enough info to get yourself in trouble, but without too many details so you can still go have a proper adventure. In many cases we have focused on providing fun historical details, things that should not be forgotten, adventures worth remembering, rather than providing "how to" information.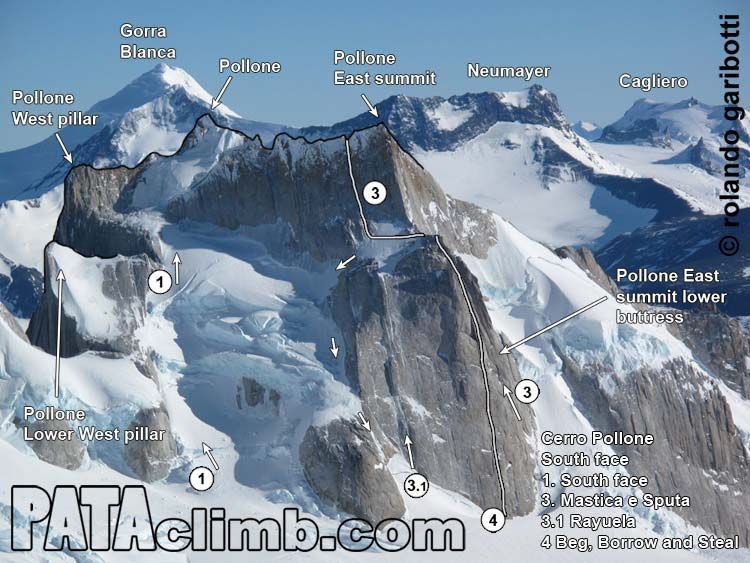 This web guidebook is far from finished. In our free time, particularly on rainy days like today, we worked hard to complete it for the Patagonian summer season that is just starting, but we will continue updating it and improving it over the next months and years. We hope it will be a useful resource for all of those that might decide to set their sights in this phenomenal adventure climbing area of South America.
–Rolando Garibotti, November 22, 2010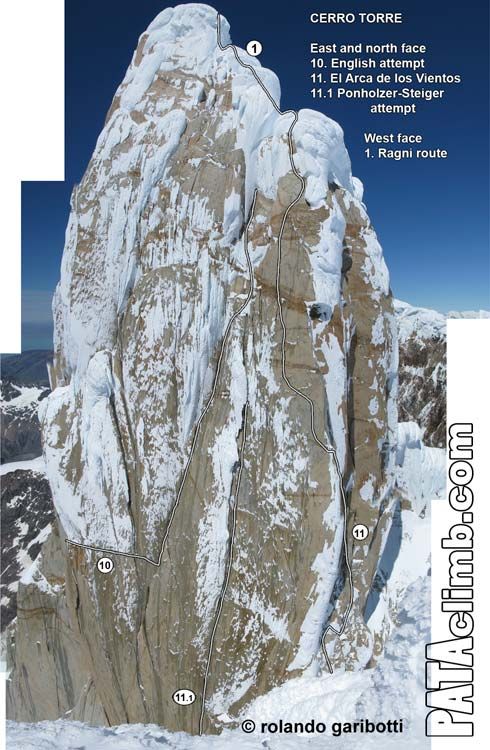 Our hats are off to Rolo and Doerte for all their hard work. See what they've done at Pataclimb.com. For some firsthand reports on the climbing down in Patagonia this season, check out the blogs of Patagonia ambassdors Colin Haley, Tommy Caldwell and Mikey Schaefer.