Patagonia Dillon Gives Local Pronghorn a Little More Freedom to Roam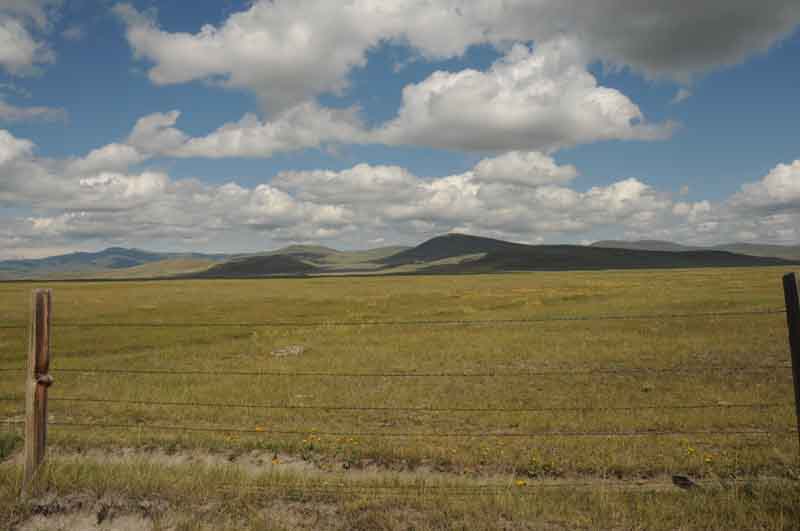 Today's post is from the staff of our Outlet Store in Dillon, Montana, who were among the first to take part in a developing program called Witness for Wildlife, a new initiative from Patagonia and the Freedom to Roam Coalition designed to bring together the experiences of everyday Americans who are documenting wildlife activity and threats in their own backyards and speaking out on behalf of the migration corridors those animals depend on for survival. Read on for a first-hand account from our Dillon friends, as authored by Patagonia employee and Dillon-area environmental activist, Kenda Herman.
________________________
Living in Dillon, Montana we take for granted seeing American Pronghorn speckle the landscape and have the luxury of witnessing these animals zoom across open ranges. We are charmed with the high desert backdrops of our home that allow a view of not just big sky, but large-scale mountain ranges and valleys. With an understanding of the local wildlifes' perspective on usable countryside in mind, we brake on I-15 for whatever animal from the foothills that might cross the highway to visit the river.

Dillon's Patagonia Outlet staff gained some "Freedom to Roam" thissummer when we were funded for an environmental internship. We kickedoff crisp work clothes in exchange for . . .
[A view of lower Centennial Valley. Pam Neumeyer]
. . . leather boots and gloves andheaded to the high country where, literally, the deer and the antelopeplay. We chose to link up with American Wildlands (AWL), a Bozeman-based non-profit that works locally to identify and prioritize wildlife corridors, so that our staff could be a part of Freedom toRoam's Witness for Wildlife program and be part of the physical process of linkingcrucial wildlife habitats. We believed that an internship with AWL wasthe best way to inform ourselves about the wildlife connectivitychallenges in our region.

At the top of AWL's priority list, and rated by the At one point someone spotted the remains of a failed fence crossing, a limb from a young antelope. Despite our location, and this feeling of place and connection to wildness, the evidence of impassable obstacles drove a message home. Clocked at speeds in excess of fifty miles an hour the American pronghorn is an impressive species without predators – other than fences. In a sense, we removed that last vector that might rob a pronghorn of its freedom to be.
Stay tuned for more on how you too can participate in Witness for Wildlife. If your curiosity is piqued, visit their site and sign-up for an informational newsletter. To contact the staff of Patagonia Dillon for more information about their work in the Centennial Valley, visit their store page. Out thanks go out to American Wildlands for their assistance and continued efforts.
[Middle, left – Antelope in Centennial valley. Middle, right – Store Merchandiser Bucky Ballou rolling removed barbed wire. Bottom – Store manager Beth Sullivan and sales associate Kenda Herman admiring the fruits of a hard day's labor. Photos: Pam Neumeyer]