Patagonia Environmental Initiatives Booklet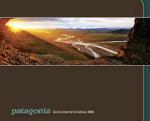 Hope everybody out there had a good Labor Day weekend. As we ease back into the work week I'd like to talk about one of the things that makes laboring for Patagonia so rewarding.
Every year we publish a booklet highlighting the environmental work we've done as a company, including a list of all the groups Patagonia supported through our commitment to 1% For the Planet. The current version of the booklet looks back on the work we did from May 1, 2007 to April 30, 2008.
[Cover photo: Firth River, Ivvavik National Park, Yukon Territory, Canada. Florian Schulz]
I think it's safe to say that for most, if not all, of us in the company, the philanthropic efforts outlined in this booklet make getting up in the morning and coming to work a whole lot easier. The groups and projects Patagonia supports inspire us to work harder and strive to always do better. And they give us a stake in the performance of the company — the better Patagonia does, the more money we donate.
We talk about these things not to toot our own horn, but with the hope that other companies will see the value in using business to help protect wild nature and improve human society. If you think your employer could benefit from similar programs, please encourage them to join 1% For the Planet.
For the full scoop, download the Environmental Initiatives Booklet (17mb PDF; right-click to download) or hit the jump to browse a Flash-based version before downloading.
Click on the arrows to turn the pages, or on the booklet to see a larger version. For optimum readability, download the PDF.