Patagonia Surf Stores – The Wave Riding Collective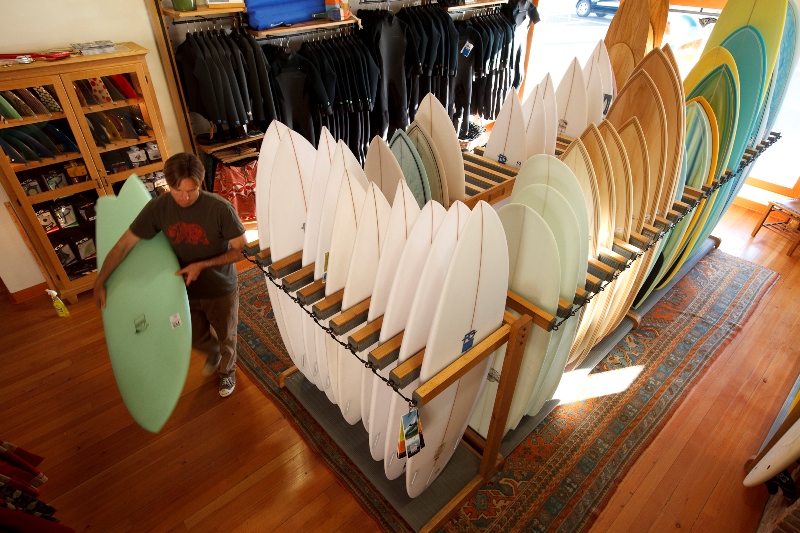 The first time I entered the hallowed doors of my local surf shop – Mitch's on La Jolla's Pearl Street – it felt like a rite of passage.
As a 10-year-old grommet, I was in awe of all the cool surf and skate gear crammed on the store's narrow, cluttered walls. I stood there, paralyzed, imagining what it would be like to ride one of the shiny new Puringtons, Bessells, Craigs or Staples surfboards lined up along the back room. I eventually gazed toward the glass counter, and drooled over all the Gullwing trucks, riser pads, O.J. wheels, Powell decks, stickers and grip tape that I would later nag my folks to buy me for upcoming birthdays.
Throughout my early teens, I spent countless hours asking the sun-bleached crew at "my shop" absurd questions about things I'd never be able to buy – and they were always cool about it. I didn't need to be a card-carrying member to hang there, and it didn't matter whether I was a persistent kid, a "kook" beginner or a standout local. I was always made to feel welcome. Mitch and his team of passionate surfers grew to know me and what I liked in my surfing. Their knowledge and guidance was invaluable to my development as a surfer.
Years later, when Fletcher Chouinard, the Malloy brothers and others from Patagonia were looking to create the first Patagonia surf shops, the days we spent at places like Mitch's – open since 1967 – guided the way. Those early surf shops, like the ones opened in the '50s by shapers like Dale Velzy, Jack O'Neill and Hobie Alter, had all the basic equipment needs covered – crucial items like wetsuit cement, fiberglass and resin, and screw tabs for your fin box. But they also had selection, quality goods, integrity and a way of engaging us as members of their unique community and culture.
As a result, those stores evolved into iconic establishments that helped shape part of our collective wave riding experience. Surf journalist Craig Stecyk aptly wrote that the stores functioned "as the sport's information centers, supply depots, halfway houses, classrooms, libraries, churches, banks and museums."
We eventually rolled out the location for the first U.S. Patagonia surf store at the old Mercantile Building – just a few blocks from my local break – in Cardiff by the Sea, California. It cleanly featured an eclectic array of hand-built wave-riding toys, wool-lined wetsuits, organic tees by local artists, interesting books, contemporary surf film classics and our bomber gear. More importantly, we assembled a crew of surfers who were excited about riding waves and sharing that passion with others.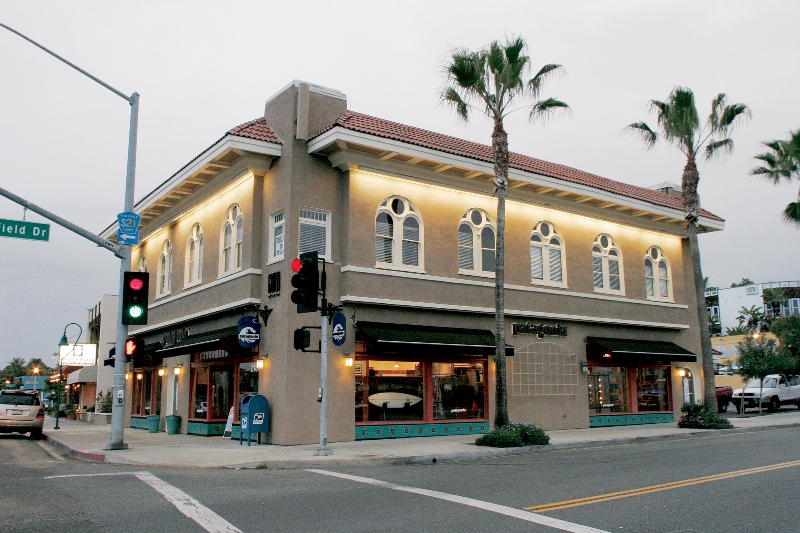 Patagonia Cardiff looks out over the Pacific Ocean. Photo: Patagonia Archives
Patagonia Cardiff's 100-year-old building soon morphed into more than just a place housing cool stuff. It fast became a cultural hub for some of surfing's greatest athletes and storytellers. They would frequently stop by just to share photos, wave travel tales, film clips and their battles to protect the environment. Wanting to share these experiences with our local community, we hosted events with top surfers, artists and filmmakers like Jock Sutherland, Jeff Johnson, Rob Machado, Mickey Muñoz, Steve Pezman, Nat Young, Thomas Campbell, Gerry Lopez, the Malloy brothers, Chris Del Moro, Tom Wegener and others. Crowds ranged from a few hundred to over a thousand at a time.
Patagonia has since opened other stores inspired by that space, some of which you will see below. Though they were built with the local surfers and community in mind, they all share some of Cardiff's DNA – and the DNA of the great shops that came before.
A second-generation surfer from San Diego, California, Devon Howard built a career based on riding waves. He's a former surf magazine editor and has starred in surf films such as The Seedling, Sprout, The Present, Single Fin: Yellow and One California Day. He was Cardiff's founding store manager, opening the store in May 2006 and overseeing it until late 2011.
Patagonia Cardiff continues the tradition of hosting great community events on Saturday, May 5, 2012 with a Used Board Swap at the store from 9am to 1pm. Keep up with all the shop happenings by liking Patagonia Cardiff on Facebook or following @PatagoniaCardif on Twitter.
Don't live near Cardiff? Get to know some of the other Patagonia Surf Shops.
San Sebastián, Spain – Community Walls
by Lolo Fondo, Founding Store Manager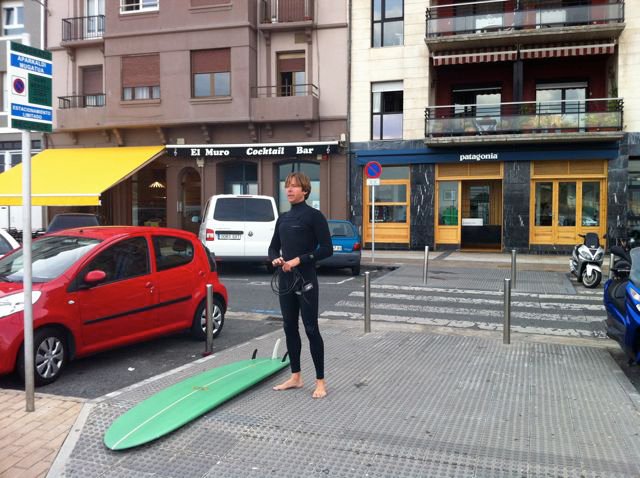 Devon Howard checks the surf in front of Patagonia Donostia during a visit to San Sebastián, Spain.

San Sebastián has a vibrant year-round surf community, regardless of the weather. People from different generations and all walks of life surf – thanks to a few surfers in the 1960s who first made their way out into the frigid and trying conditions with nothing but old secondhand surfboards and the dream of surfing. Most surfers living in the city hit La Zurriola when it's a northwest swell, south wind and under two meters. If it's bigger than that or there's an easterly wind, they make their way to Mundaka or Hossegor, two of the best breaks in the world.
The San Sebastián store sits directly in front of the main parking lot for La Zurriola. The area is full of cafés and bars, and attracts lots of young people who come to hang with their friends on the famous muro, or wall, and watch the surf. The area is an important and popular place for people in the city to meet, especially in the surfing community. This makes it easy to hold events and host talks at the store, some of which focus on the sports we all practice. Our staff is young, adventurous and full of life: We love spending time in the outdoors surfing, snowboarding, skateboarding and mountaineering. And each of us does our best to leave the places we visit in just the way we found them. Our passion for the outdoors gives us a lot to talk about and to offer our customers.
We also want to give the community and travelers the opportunity to share their experiences in music, art and the preservation of the environment. San Sebastián has a rich history and culture, and the Basque people take tremendous pride in their sports, gastronomy, nightlife and traditions. The Spanish surfing community is also growing more environmentally conscious, which is helping people identify with our brand.
Website/blog: Patagonia Surf Europe
Facebook: Patagonia Surf Europe
Twitter: @PatagoniaSurfEU
Hale'iwa, Hawai'i – Ambassadors of Aloha
by Paul Carson, Store Manager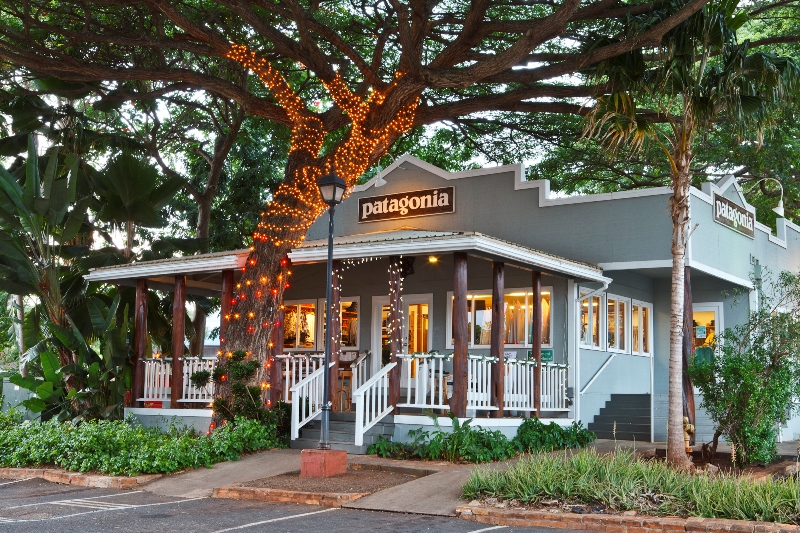 Photo: Jeff Johnson
The giant canopy of a monkeypod tree shades Patagonia's Hale'iwa store, nestled on the North Shore of O'ahu. The late Rell Sunn – Makaha lifeguard, ocean enthusiast and ambassador of aloha – inspired its location and splashed the store with her style and her beautiful surf and ocean memorabilia. The Hale'iwa staff is mostly local North Shore residents, immersed in the water in some sport or form. Bobby is a legend at Sunset, Hiromi, a previously sponsored North Shore contest surfer, and Kyle, a member of the elite North Shore Lifeguards. Patagonia Surf Ambassadors Kohl Christensen, Mercedes Maidana and Crystal Thornburg-Homcy also live in Hale'iwa. We're 100 feet from the ocean, five minutes from the Triple Crown Reef Hawaiian Pro at Ali'i Beach, and we drive past the Laniakea break on the way to work. This keeps us all pretty attached to surfing and the ocean.
The staff is one reason why Patagonia has been so welcome in Hawai'i since the Hale'iwa store opened in 1994. We host visitors from around the world, locals cruising the island and those looking to get into some of the world's best seven miles of surf. Our board shorts, Capilene® baselayers, lightweight technical shells and T-shirts are also especially relevant to the local environment, and we were one of the first to produce all-epoxy, hand-shaped quivers in Hawai'i. Those who embrace our products are even more inspired when they learn about Patagonia's environmental philosophy.
The Hale'iwa staff has volunteered with a variety of local environmental groups like Hi'ipaka at Waimea Valley and Kokua Hawai'i Foundation, and we host environmental events, group tabling and information sharing at the store. We also hold slideshows on surfing, climbing or adventure travel. The gatherings with the community are always fun and educational.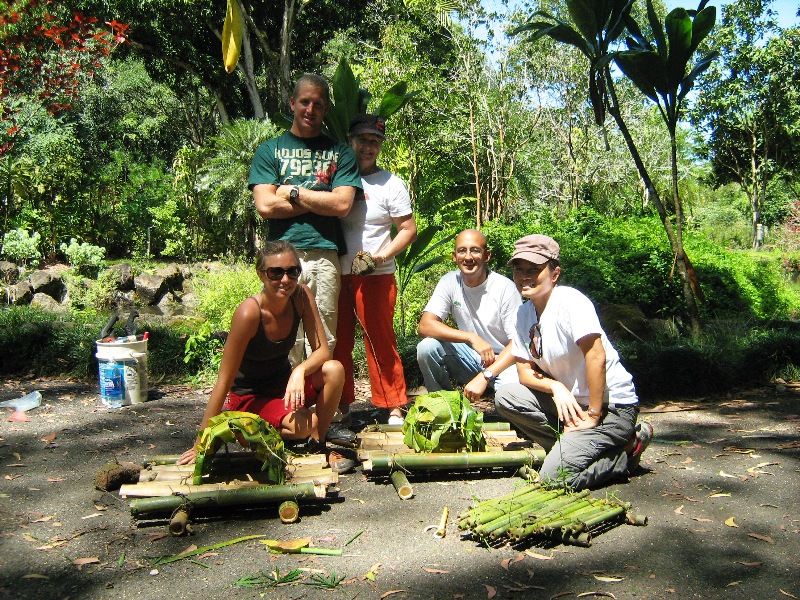 Caring for the Waimea Valley with volunteers from Patagonia Hale'iwa. L to R: Crystal Thornburg, Kyle Foyle, Tracy Foyle, Laurent Pool, and Hiromi Hasagawa-Suitt. Photo: Kelly Perry
Website: Patagonia Hale'iwa
Facebook: Patagonia Hale'iwa
Twitter: @PatagoniaHawaii
Chiba, Japan – Ocean Roots
by Katsumi "Fuji" Fujikura, International Marketing Director, Japan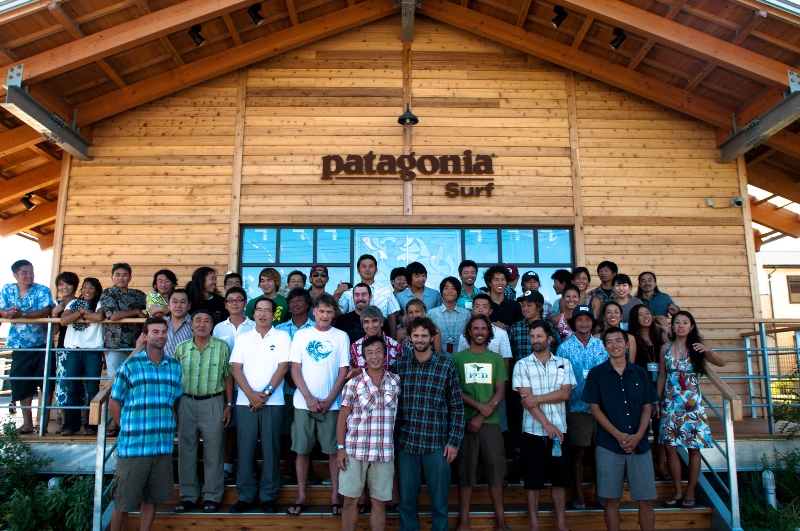 Staff and surf ambassadors celebrate the grand opening of Patagonia Chiba. Photo: Chris Burkard
The Kujukuri coastline in Chiba is exposed to swell from the south, east and north, so there are 25 days or more of surf per month all year round. In the summer, there's surf everyday, and if a typhoon moves through the Pacific, conditions are instantly epic.
Almost all of our staff surf before work at Sunrise Beach, a beachbreak two minutes by foot from the Patagonia store and the local surf shop CHP – the first on Chiba's coast. CHP has been around for dozens of years and has produced some of Japan's top pro surfers. The waves are good, the water's unpolluted and we are all friends who share the beach.
Other than the surf and surf community, the local culture has made Chiba the perfect place for a Patagonia surf store. It has changed a lot over the years, but you can still see the old countryside, with its large rice paddies, fisherman's harbor and slow, low-key way of life. It's often hard for people to believe the area is only a one-hour drive from Tokyo.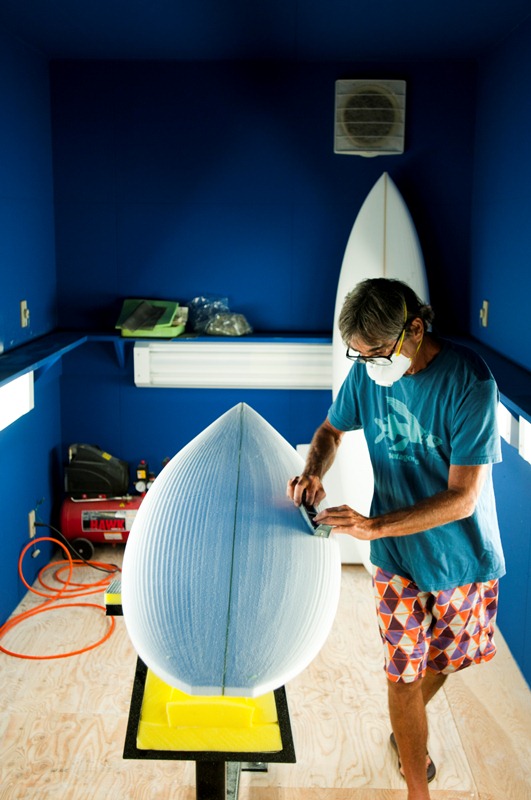 Patagonia ambassador Gerry Lopez gives a public demonstration in the Chiba shaping room.  Photo: Chris Burkard
Our surf store in Chiba was the first store in the world to be built from scratch since Patagonia usually converts existing buildings into its stores. During the store's design, we spoke with architects and carpenters who really knew the area so we could blend the local style with the Patagonia philosophy. We finally built a store inspired by a traditional fisherman's house, with raised floors, a large "kiritsuma" roof with long eaves, well-suited to the local climate. We constructed it with recycled materials and sustainably harvested wood, solar panels and solar water heating. What energy we don't use is given to the community grid.
As a result, Patagonia Surf Chiba is a sightseeing spot for surfers who come from the Tokyo metropolitan area. They take photos in front of the store and check out our shaping room, built from a recycled 40-foot shipping container. But our goal was not just to attract surfers and customers who were already environmentally conscious. It was also to inspire new customers who are unfamiliar with our values.
Website: Patagonia Chiba
Twitter: @PatagoniaSurfC
Torquay, Australia – Handmade
by Sasha Leitmanis, Pro Manager and Surf Ambassador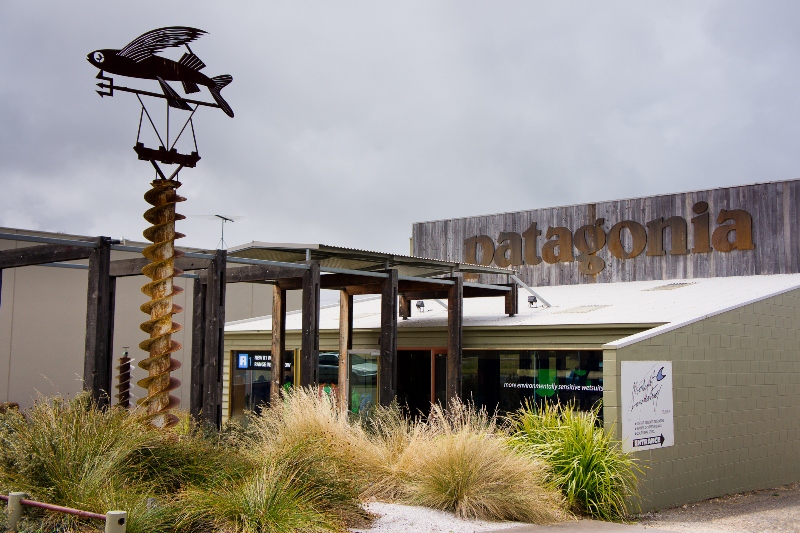 Photo: Chris Burkard

The Great Ocean Road in Torquay leads to incredible views, empty beaches – and waves that attract surfers from all over. World-class right-hand reef breaks like Winki Pop and Bells for the experienced, Point Impossible for the longboards, secret spot big waves down south for the bold and lots of punchy little beach breaks for everyone in between. The best swells hit the coast from autumn to spring. But the frosty mornings in winter guarantee offshore winds and uncrowded surf – perfect conditions for testing Patagonia gear.
Wayne Lynch has been the perfect person to test it. Before joining Patagonia as an ambassador, Lynchy spent a lifetime experimenting with equipment and different designs while exploring secret spots and remote reefs in the area. He's now testing new technologies for more environmentally-friendly boards, and continues to hand-shape exclusively for our store.
With the variety of boards we stock, people are always dropping by to see what's new, or chat with our hardware manager and Oz team rider Zeb Walsh about board design, fins and anything else surf-related.
Friends and customers also love to come in and sit on our comfy couches, read a book, or watch a DVD. The store's recycled timber furniture (made locally), high ceilings and natural light create the perfect setting for hanging out – or listening to inspirational talks. Our manager is heavily involved in our local community and has welcomed Surfers Appreciating Natural Environment, Surf Coast Energy Group, Plastic Bag Free Torquay and other groups that hold their regular meetings in our store.
It's been really inspiring to watch the shop grow since its opening into an interactive meeting place where friends, family, customers and like-minded people can come together, share ideas, swap stories and plan their next adventure.
Website: Patagonia Australia
Facebook: Patagonia Torquay
Fletcher Chouinard Designs (FCD), Ventura, California – Building a Better Surfboard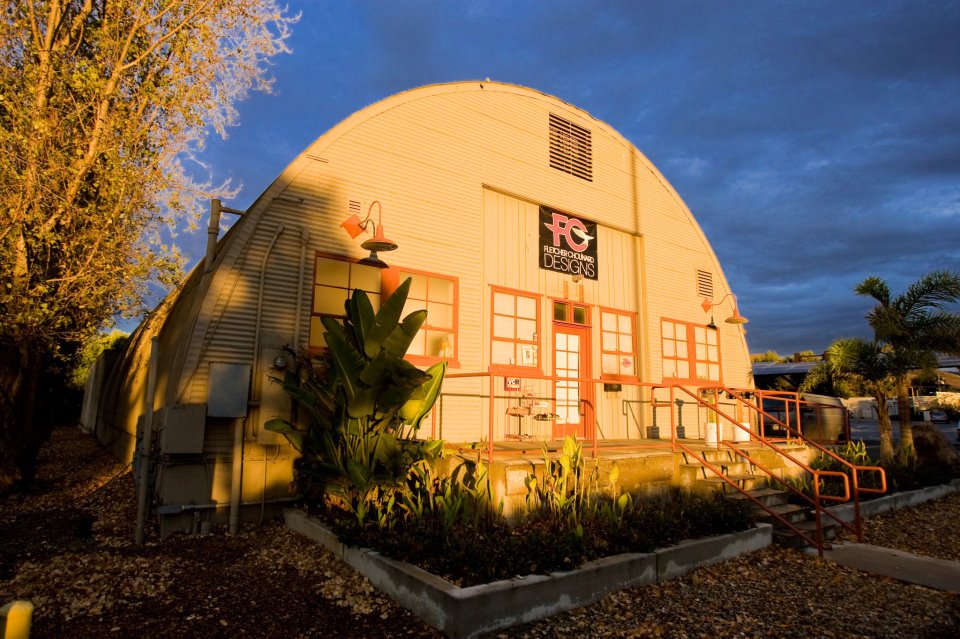 FCD surfboards are hand-shaped and glassed on site in Ventura, Califonia. Besides stocking all of Fletcher's shapes, the shop also sells Patagonia wetsuits, clothing and surf accessories.
Behind the Great Pacific Iron Works store near Ventura Point is the small tin shed where Yvon Chouinard set up his blacksmith shop in 1966. The shed once housed Bob Cooper's Australian Surf Shop and Morey-Pope's shaping room. The location was ideal for everyone's passion: surf and build the finest mountaineering gear in the winter, climb and sell the gear in the summer. Chouinard Equipment Company went on to redesign and improve virtually every tool used in mountaineering, from carabiners to crampons. In 1973, the company branched out to make outdoor clothing under the Patagonia label.
Almost 25 years later and after four years of shaping traditional polyurethane blanks, Fletcher, Yvon's son, started Point Blanks to build better surfboards in a shack next door to the original Iron Works. Like father like son: Fletcher and Point Blanks proceeded to lay-up and destroy hundreds of fiberglass/foam panels until they found a better, stronger and lighter way to build boards. And, with a group of freethinking surfers and shapers, designed higher-performance boards using the new technology. From there, our surfboard business has grown, exploring new fiberglass composite technologies and expanding our circle of shapers and test riders. But we always come back to our desire to build a better surfboard.
Website/blog: FCD Surfboards
Facebook: FCD Surfboards
Twitter: @fcdsurfboards
Flickr: FCD Surfboards