Paving the Brooks Range
Nadine Lehner
/
Sep 19, 2017
/
7 Min Read
/
Activism
"We were so hungry, we licked the margarine wrappers." In the summer of 1975, my father and his two brothers loaded into an old truck and headed for Alaska, a fabled land for a teenage troupe of New England climbers. A mentor had shown them a faded photograph of the remote Arrigetch Peaks, in the Brooks Range. That alluring photo was enough to set an expedition in motion.
I was just seven or eight years old when I first heard tales of the trip, which culminated in several new routes and a lifelong injured knee for my father. Since then, the Arrigetch Peaks have called to me with that insistent tug of long-imagined places—and last month, I made my own journey to the Brooks Range. But as soon as I arrived, I learned that a proposed industrial road through Gates of the Arctic National Park and Preserve may permanently alter one of the wildest places left in the U.S.
When my father traveled north, prospects for first ascents abounded. The journey there took days. First, they drove north to Fairbanks. Next stop: Bettles, population 12, accessible only by air. Then: a four-seater float plane over miles of boreal forest, bog and tundra. Finally: several days' bushwhack into a land of fierce granite spires that jut out of the surrounding ridgelines. In the Inupiat language, Arrigetch means "fingers of the outstretched hand"—appropriate for their improbable prominence.
Once they had established their base camp, the plane returned to drop their food. As my father tells it: "The plane came by for the second pass, slow and low. But he pushed out the boxes much too late and all of them smashed on the rocks beyond our chosen landing area. We winced as we saw our food bursting into the air: oatmeal, freeze-dried food, cocoa, M&Ms." It was this scene, of cocoa-clouds in remote mountains, that lodged itself in my seven-year-old mind.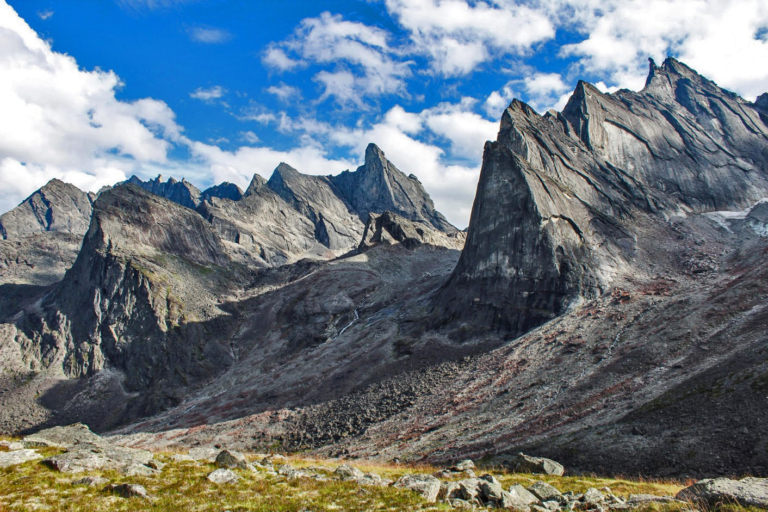 Today, the Arrigetch still contains unclimbed peaks and routes; it still takes days to reach. The national park no longer allows food drops, but the place we found proved as full of challenge and beauty as my father's stories had promised.
As we packrafted the Alatna River south toward the Arrigetch, I plotted a weeklong circumnavigation of the peaks. The route traversed the headwaters of five drainages. Between each, a steep pass. With no access to past trip reports, I obsessed over the white space between 100-foot contour lines. Would the route go? Options to bail looked mediocre—several days' bushwhack at least, with dwindling rations. Ben reminded me that no amount of map-fretting could answer this question. We'd just have to try.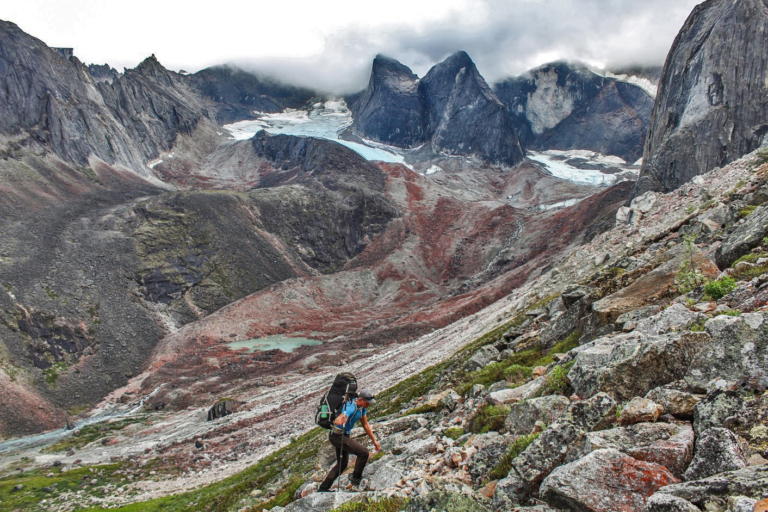 Five days into the route, we arrived at the crux. The glacier below us had obviously shrunk since our map's making. What might have been a short scramble down off the pass to a gently sloping glacier now ended in a steep slab of polished rock dusted with glacial sand debris, high above a pile of rocks and ice below.
We had sailed up the final pass, eager to cross into Aiyagomahala Valley, site of the infamous food drop. Then, scouting for a way down, we encountered sheer cliffs in every place but the one gully I'm in. Now I can see that continuing down is a no-go. Ready to give up, my mind started turning toward the long journey ahead, miles down a valley that drains into the wrong ocean—the Arctic one—until we can find another pass.
"Look around that corner," Ben shouts down to where I've stopped my scouting. It's our only option—a delicate step over a cliff edge, onto an exposed, sand-covered slab. Too discouraged to hope and full of guilt for proposing this route, I take one step right onto the sand. It's more solid than I expect. Scrambling gingerly until I'm on a long ledge, I trace a plausible path that runs right and eventually down onto the talus field. We head back to the top of the pass to grab our packs. Our descent knocks loose the last clumps of sand and rock that gave grip to the rock. Afterwards, we admit that we'd never want to cross that pass again—not without a rope, at least.
A pound of pasta at midnight, nine hours of sleep in Arctic summer light, and we awake to mountains of a different mood. I remember an entry in my father's trip journal: "Gorgeous cascades empty into deep hidden pools. From far away, the creek is a tangled chain of silver, but from nearby, one senses that it lives … The sun itself is seen on spider webs as droplets between rocks. From this small detail to the huge walls around, this valley is paradise." Via an improbable route, we'd arrived at the spot he described. Forty-two years later, that creek lives on.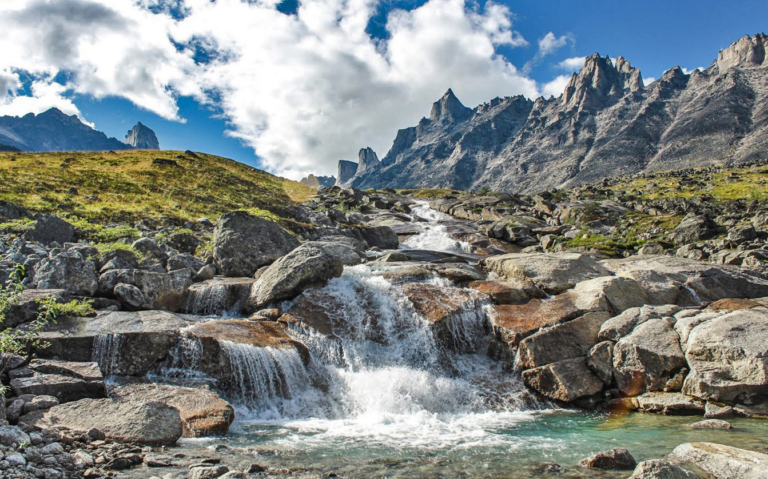 Clouds of cocoa make a good story; the sweetness of an alpine stream, less so. Yet I suspect these quiet, blissful moments left more of an imprint on my father than the epics of mishap and mountain-conquering. Two years later, in 1977, my father and his brothers gave congressional testimony for the Alaska National Interest Land Conservation Act (ANILCA), landmark legislation that protected 104 million acres, almost half of that designated wilderness. Like most who knew the Brooks Range, they argued for the power of its wildness. "Our summer there," my father wrote, "had a profound effect on us because we were in untouched wilderness."
One outcome of ANILCA: the creation of Gates of the Arctic National Park and Preserve, an 8 million acre roadless, trail-less wilderness area that includes the Arrigetch Peaks. ANILCA specified that the management of this area must "maintain the wild and undeveloped character of the area, including opportunities for visitors to experience solitude, and the natural environmental integrity and scenic beauty of the mountains, forelands, rivers, lakes …"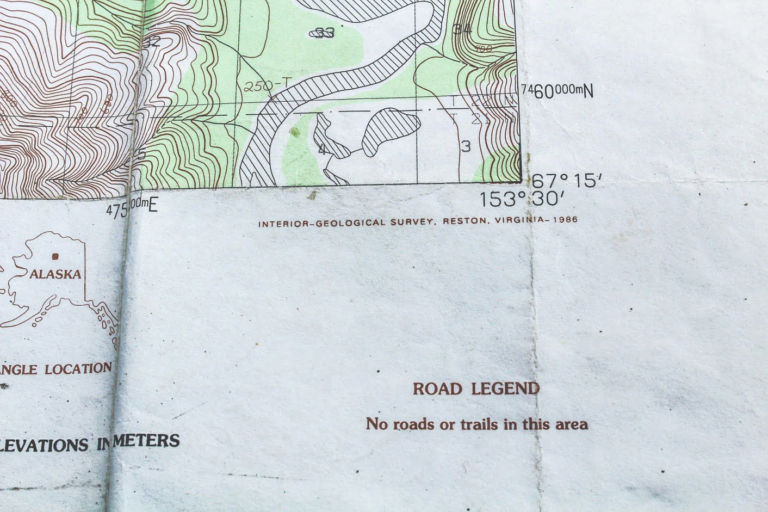 Decades later, that wild and undeveloped character enchanted us, too. Its movements from fierce to blissful, intimidating to quiet have lodged themselves in my memory as fuel for future stories.
But changes loom.
Violating the spirit of Gates of the Arctic, the State of Alaska proposes a 220-mile industrial access road to enable large-scale copper mining development in the Ambler region. Despite opposition from the communities in the region, Alaska Governor Bill Walker and the Alaska Industrial Development and Export Authority continue to push for this expensive and destructive project, currently in the EIS phase.
Like cocoa clouds and steep passes, the story of what the road might bring is easy to tell: development, jobs, "progress." Capturing the flipside losses is harder. As the mayor of Bettles put it, "Progress for us is to stop exploiting the land." The road would cross over 100 rivers and streams, all as alive and vital as that creek in the Arrigetch.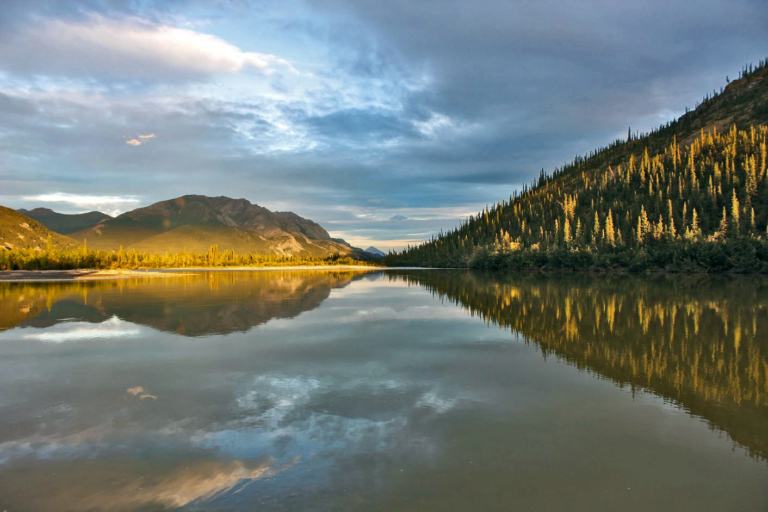 In 1977, my father wrote: "As technology brings more luxuries upon us, it concomitantly brings all the world into its grasp. Every person needs a place undisturbed, away from civilization where he can wander and reflect, where he can come to peace with himself." Four decades later, that grasp of technology is only stronger, the value of places for peace and reflection only greater. Even for those who may never travel far north, the stories of these places still offer a powerful promise. How can we afford to be the generation that loses such a place?
As a visitor, I can't claim the knowledge or stake of a resident. But, whether I like it or not, I'm a participant in the global economy that drives demand for mining and pushes for development in wild places. So I feel an obligation, as a counterbalance, to become a participant in the conversation around the future of our public lands. I hope you do, too.
Take Action: Help us reach 100,000 signatures petitioning against the Ambler Industrial Access Road
Help stop the bulldozing of a 220-mile industrial access road across Alaska's Brooks Range and Gates of the Arctic National Park and Preserve. If built, this road would allow the development of open pit copper mining north of the Arctic Circle, cross over 100 rivers and streams and bring one of the most toxic forms of industrialization to the people, caribou and salmon that inhabit the wild country of Alaska's far north.
Sign the Petition