Margo Pellegrino Paddles the West Coast: Photos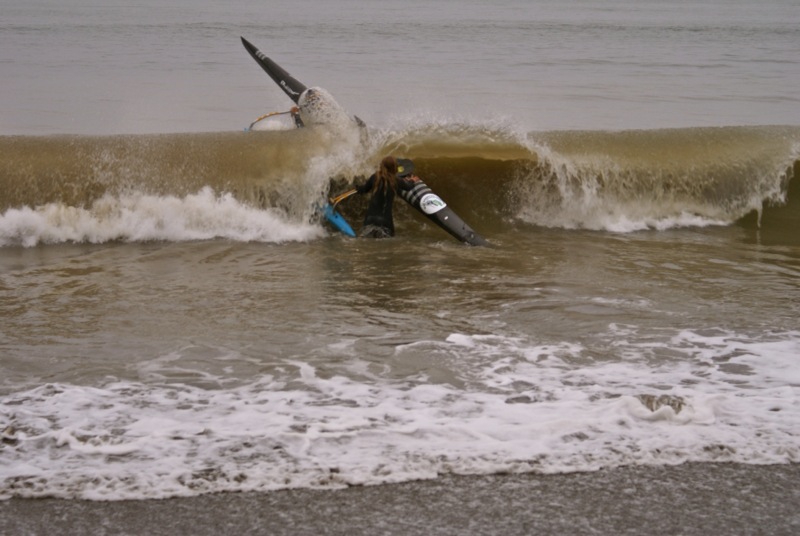 In the summer of 2010 Margo Pellegrino paddled the West Coast of the United States to bring attention to pollution and other issues facing the ocean. Along the way she met some wonderful people and experienced both the sublime and the terrifying. Here she shares a story of one of the lighter moments on her journey:
The summer of 2010 I paddled from Seattle to San Diego, as a project of the Blue Frontier Campaign, in an effort to draw media attention to the many problems facing our ocean and coastal areas. My partner in this, June Barnard, and I met for the first time on June 25th, a little more than a week before embarking on the two and a half month long adventure. During that time, we became fast friends and a solid team.
While the Oregon and Washington coasts offered different types of gnarly, the California coast offered almost a respite. The timing of the trip was everything, so after catching the tail end of ugly in the Pacific Northwest, we hit the California coast when life was sweet as conditions became perfect and enjoyable. We laughed more, we were actually warm on a few occasions, the fog seemed to lesson, sort of, and I could paddle with my wetsuit top down, and life was grand.
We did learn, though, in the quaint coastal town of Bolinas, that it never pays to stop paying attention, even when conditions are perfect. Bolinas is the home of a perfect little wave, with perfect intervals between sets. It should have been a picture perfect entry, on a perfect day, a nice, short down-winder to San Francisco Bay.
Our friend Stephane, who was out already waiting for me, had already had his perfectly pleasant launch, and I was eager to get out there and join him. Maybe I was a little too eager, or maybe I was lured into complacency with the perfection of it all. Whatever the reason, June and I marched the boat out into the water, and into the perfect wave of the day.
[Photo: Llewellyn Ludlow]