Pleasant Revolution's Pedal-Powered Performance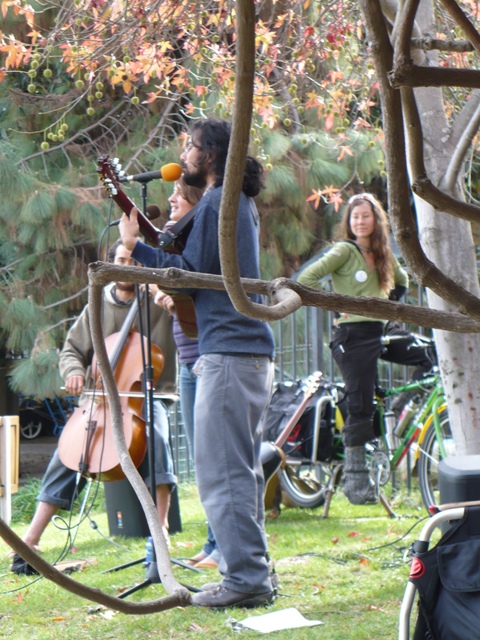 The Pleasant Revolution pedaled through Patagonia Ventura's campus on Tuesday and shared their music and good cheer with the employees during lunch. Comprised of Xtracycle co-founder Kipchoge Spencer, his band the Ginger Ninjas, fellow bike musicians SHAKE YOUR PEACE! and an eight-person support crew, the Pleasant Revolution are riding their Xtracycles over 5,000 miles from the Sierra Foothills in Northern California to the ancient pyramids of Chiapas in Southern Mexico.
The beauty of the Pleasant Revolution is that it's completely human powered. Even their 800-watt PA system runs on leg power. Audience members are encouraged to take a turn pedaling one of two bikes that power the speaker system. It's enough to make you wonder why all health clubs don't generate their own electricity from the exercise equipment.
Hit the jump to see a short video of SHAKE YOUR PEACE! and the pedal-powered sound system.
[Shake Your Peace! performs while the person on the bike pedals to power the speakers. Photo: Free]
After performing, the group enjoyed a pasta lunch in the Patagoniacafeteria and then hit the road without leaving a trace of emissions.
Check pleasantrevolution.net for the rest of their tour dates andxtracycle.com for more information on the unique bikes they're riding.
[Video by Free; with thanks to Chipper Bro]