Postcard from Chamonix: Access
I'm in Chamonix, France, for a couple of weeks. Weather started bad on the Mont Blanc massif, so we drove through the tunnel and climbed sunny rock in Italy. An 800-foot roadside dome with 40 routes, all bolted. The bolts weren't too close, nor were they beside cracks. The routes had little placards fixed to the rock, indicating which route went where. People of all ages climbed, seemingly as normal for a Sunday afternoon as watching the game back home.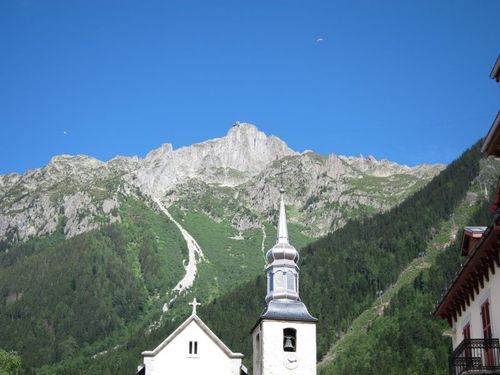 Parapenters (the wee white dots in the sky) soaring above Chamonix, and the south face of the Brévent.
Photo: Kelly Cordes
The next two days, as clouds enshrouded the high peaks, I climbed on the south face of Le Brévent – an otherwise two-hour approach takes a few minutes thanks to the super-fast-whisking-action of these tram-gondola thingies called téléphériques (téléphériques also access the serious mountains across the valley – Mt. Blanc, Grand Capucin, Grandes Jorasses, the Dru, and on and on and on.) We'd finish our cappuccinos and leave at the civilized hour of 10 a.m. or so, climb a four-to-six-pitch route, and be back down sipping wine and eating cheese at an outdoor café by 3 p.m. Quite civilized, indeed.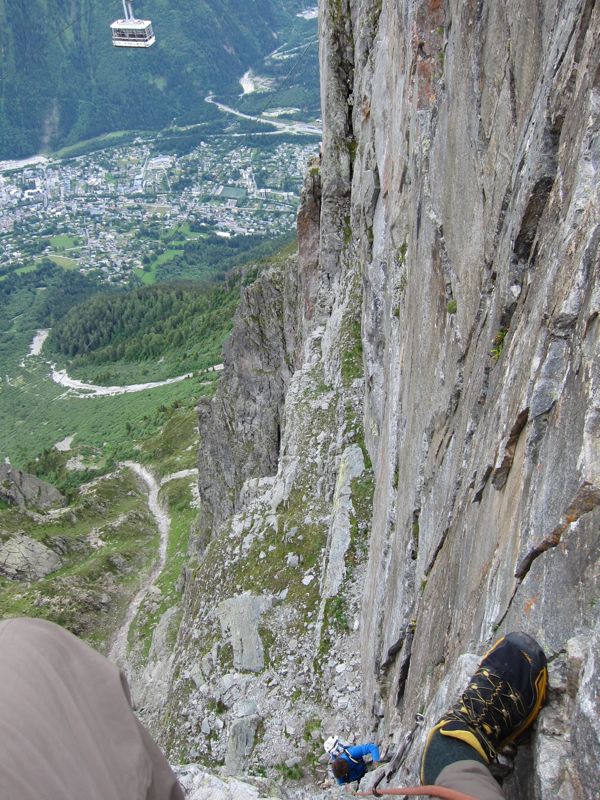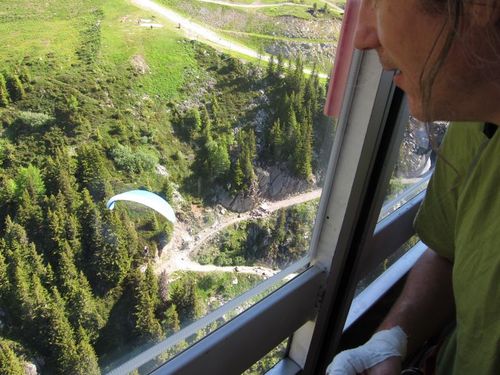 Chip Chace, checking out a parapenter on the approach to the south face of the Brévent.
Photo: Kelly Cordes
In the U.S., I think most climbers would flip if we had such lifts. Fair enough – I, like most of us, like our wilderness to remain wild (unless, of course, some big business interest can profit from it…). Or maybe we'd flip in a good way. I don't know. It's interesting to me that although we have more open land in the U.S., very few people seem to get out and experience it. Is it because we have harder access? I doubt it. We have trailheads everywhere, and still most people see our national parks, for example, from behind their windshields.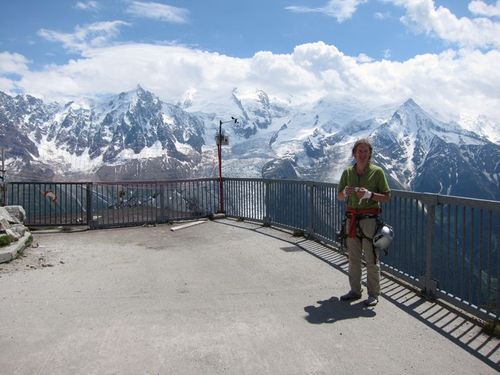 Chip Chace at the top station after climbing Premier de Corvee, on the south face of the Brévent.
Photo: Kelly Cordes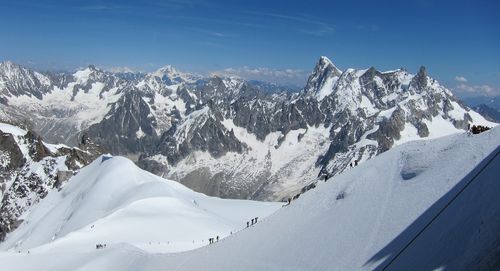 People working their way back to the top of the Aguille du Midi telepherique station.
Photo: Kelly Cordes
Over here, it seems that people walk and move and recreate outdoors as a very normal thing. Like it's somehow embedded in daily life. Sure, I'm in a mountain town here. But back home, I live in a mountain town. And things are very different. Maybe that's just it – so much of this region has a true mountain heritage. It's crazy to walk down the street and see people strolling along with a rope draped over their shoulder and a harness or pack on, just coming or going from climbing, and to look overhead at any given moment and see parapenters riding the thermals, floating, soaring, and having it all be so normal. I love it. People don't look at you like you're a maniac for going climbing – it's viewed like golfing or watching TV back home. You live. And risks come with living. A sedentary lifestyle also has its risks. Yet, on the flip side, when you climb here you're less likely to have a true wilderness experience, with so many people enjoying the same wonderful things (not to mention helicopters buzzing around and full-service huts in the mountains – good and bad sides to that, too). Maybe, somehow, the mountain life is less exclusive here and more commonplace.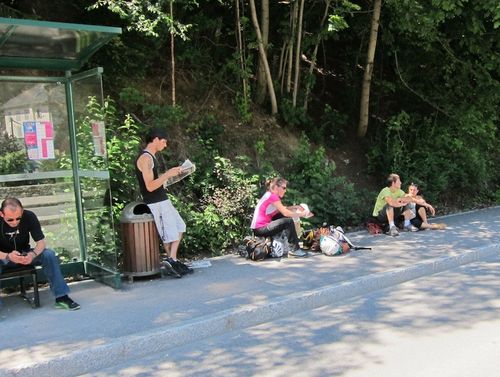 A normal assortment at the Chamonix bus stop.
Photo: Kelly Cordes
Naturally, I wonder if such access might shift the sedentary lifestyle back home? Probably not. I'm no expert, but we're probably too far gone, and the issues too complex, to think that lifts in the mountains would suddenly turn a populace active who are so lazy that, to avoid walking 200 yards, they'll lap the parking lot for 10 minutes looking for the closest parking space.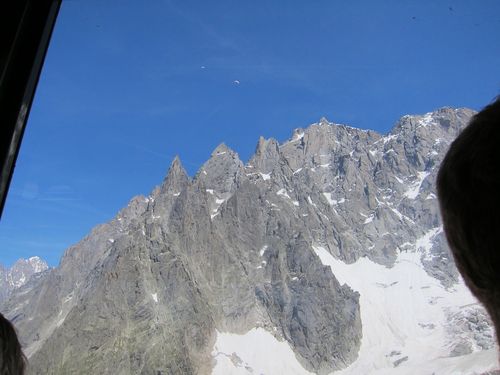 Parapenters riding above the peaks, as seen from a telepherique after a day of climbing.
Photo: Kelly Cordes
Hell, I don't know. But I do know this: while I love the solitude of climbing back home, I love the access here in Chamonix where, tomorrow morning, just like yesterday, a quick lift will take me nearly 10,000 feet up and onto a glacier into the heart of the Alps. Fine by me – after all, when in Rome…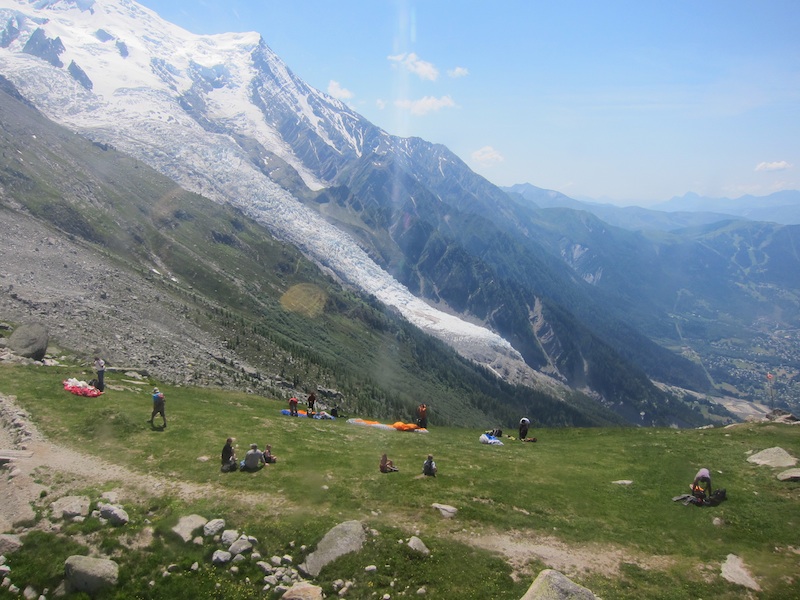 Parapenters preparing for take-off from a hillside near the Aguille du Midi mid-station.
Photo: Kelly Cordes