Push the 'Bus! – The Omnibus Public Lands Mgmt. Act Needs Your Help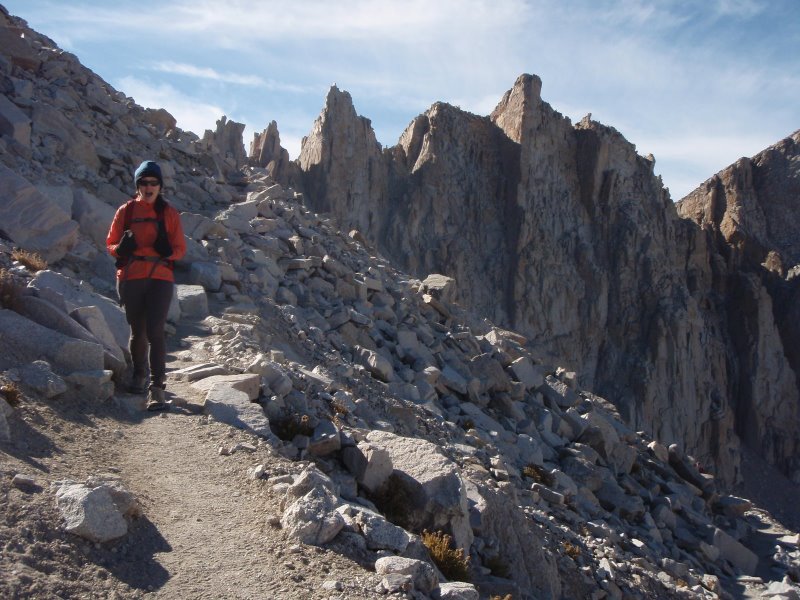 Friends, the time is now to make your voice heard in support of Wilderness. Our previous post focused on the new administration's efforts to pass a landmark piece of legislation. While the Act easily cleared the Senate, a final hurdle remains in the form of tomorrow's House of Representatives vote. Ron Hunter, chief enviro word-spreader for the Patagonia tribe, shares this update:
Love wilderness? Want to see more of it protected? Well, it's time to take action. 
The Omnibus Public Lands Management Act represents years (in some cases, decades) of work on various wilderness areas and a number of wild & scenic rivers – and it all comes to a vote this Wednesday, Feb. 11th. This is a big deal.
Please read below for more info and for recommendations on how to make a critical (not to mention quick and easy) call to your representative in support of the Act.
[Dr. Liz showing some enthusiasm for a piece of the wild Sierra Nevada. Passage of the OPLMA includes the Sequoia and Kings Canyon National Parks Wilderness Act, which will permanently protect ~ 85,000 acres in the Sequoia-Kings Canyon National Park, including the park's largest stand of Giant Sequoia and California's largest cave. Photo: localcrew]
ACTION ALERT
Ask Your Representative to Support the Omnibus Public Land Management Act. This long-awaited and historic Wilderness legislation is on the verge of an important vote in Congress. But the vote may be close.
BACKGROUND
On Jan. 15, the Senate passed S.22, the Omnibus Public Land Management Act that will designate over two million acres of wilderness in nine states, create a new 26-million-acre National Landscape Conservation System, protect over a thousand miles of free-flowing rivers, and establish four new National Conservation Areas.
The measure now heads to the House of Representatives where a vote is expected this Wednesday. The vote could be very close.
And, if the House makes any changes to the legislation, the bill would be sent back to the Senate where it could be stalled for many months. Your Representative in Congress will be a key vote on this very important natural resources protection bill.
Call your member of Congress. Most people know who their Congressman or Congresswoman is but if you do not know your Representative, go to http://www.house.gov/ and enter your zip code. You can also access Members' office telephone numbers via this webpage. Or, just call the Capitol Switchboard at (202) 224-3121 to be directed to your Representative's office.
Here are a few things you can say when you call:  
Ask your Representative to vote for the Omnibus Public Land Act when it comes to the House floor

without amendment

.
S.22  would create new wilderness areas, protect key rivers, and establish the National Landscape Conservation System. The vast majority of measures contained in this compilation of bills have little to no opposition, strong local support, and broad, bi-partisan support in Congress.
Please call your Representative in Congress right now and urge him/her to support S.22, the Omnibus Public Land Management Act without amendment. The House of Representatives will vote on the bill next Wednesday, Feb.11.at 9:00am PST
As a package, these bills include provisions that would:
Designate more than 2 million acres of wilderness in California, Oregon, Idaho, Colorado, New Mexico, Utah, Michigan, Virginia, and West Virginia (complete list available here);
Codify the National Landscape Conservation System, which currently protects 26 million acres of natural treasures managed by the Bureau of Land Management, including such American icons as Canyons of the Ancients, Carrizo Plain, and Sonoran Desert national monuments;
Protect 1.2 million acres of the scenic Wyoming Range in western Wyoming from oil and gas development;
Protect free-flowing rivers in California, Oregon, Idaho, Wyoming, Arizona, Utah, and Massachusetts as Wild and Scenic Rivers; and
Designate numerous new National Scenic Trails, Natural Historic Sites, and National Heritage Areas across the United States.