Quality AND Quanitity at 24 Hours of Horseshoe Hell [Updated with video]
When she's not busy making us jealous about climbing in places like Greenland and France, Patagonia Climbing Ambassador Jasmin Caton guides folks to some of British Columbia's choicest rock climbs and snow-covered lines with Valhalla Mountain Touring, a business she owns and runs together with her husband. Jasmin teamed up with fellow ambassador Brittany Griffith for this year's 24 Hours of Horseshoe Hell. We're pleased to share the report from Jasmin's personal blog.  And hit that 2-4 Hell link (rrrright over there, previous sentence) for a cool video recap of the past 6 years of madness. – Ed
Imagine how you feel at the end of a full day of climbing; the pleasant forearm and back ache, the tenderness of the skin on your fingers and toes, the craving for a cold beer and some tasty food. That's pretty much how I felt 8 hours after the starting gun went off at the 24 Hours of Horseshoe Hell in Arkansas. But instead of giving in to fatigue I chugged some canned coffee beverage, scarfed down one of the turkey-hummus-veggie wraps I had pre-prepped to avoid energy-bar burnout and dragged the rope over to our next pitch.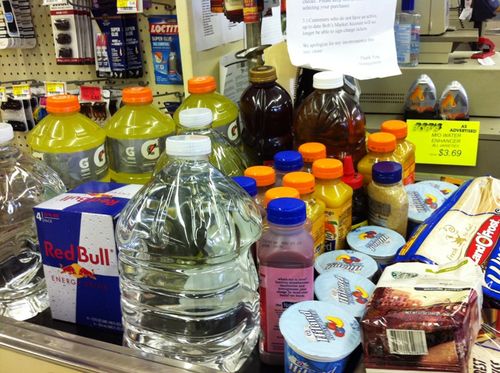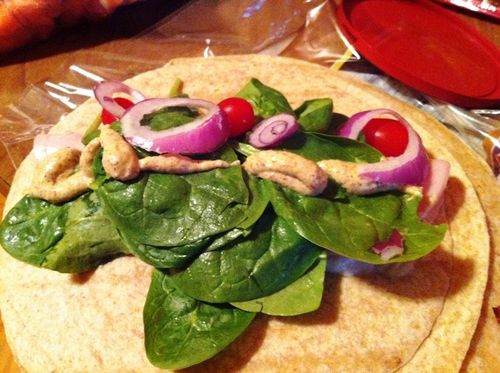 High Octane prophylaxis for energy-bar burnout. Jasmin says that brown stuff is turkey and hummus. Hmm….  All photos: Jasmin Caton.
My climbing partner extraordinaire, Brittany Griffith, had done the event three times before (and, ahem, once with fairy's wings) so she had laid out a strategy that allowed us to climb 80 pitches each in the first 12 hours. I enjoyed the feeling of getting fired up and climbing moderates as fast as I could, and our technique was reminiscent of short-fixing on an aid route, meaning that we had to stay focused and not make any foolish mistakes.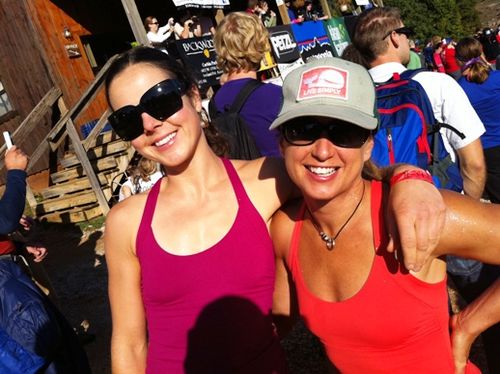 Brittany and I at the starting line, feelin' fresh.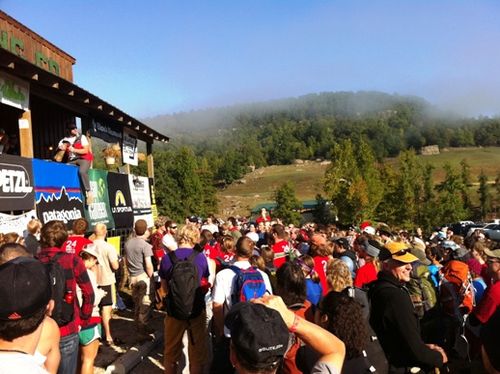 Getting the rules of the game from event organizer Andy Chasteen.
After nightfall, I expected the climbing to feel much more difficult, but with the featured sandstone illuminated by the beam of my BD Icon headlamp, I could easily see all the features I needed. In fact, climbing in the dark forced me to focus on the terrain at hand rather than worrying about what was ahead, necessitating confident and decisive movement.
Despite the energy troughs and sore skin that accompanied the night shift, this was by far the most memorable part of the event. A team of women called "The Cannibals" climbed beside us for awhile, complete with crazy teased feather adorned hairdos, large and elaborate tatoos on their bare arms and legs, and glow sticks taped to their quickdraws. They were scary. But not as scary as the huge copperhead that was curled up on the trail, which was in turn not as scary as the dude I saw deliberately raise a watermelon sized rock over his head and drop it on the copperhead, killing it instantly. I screamed like a girl when I almost put my hand on a hobo spider on a climb, and Brittany got bitey ants inside her shirt and got chomped on the back. We climbed a route called Hairy Butthole Pussy Potter, which stuck in our fatigue-addled brains so much that we sang the route name and giggled maniacally for the next several hours.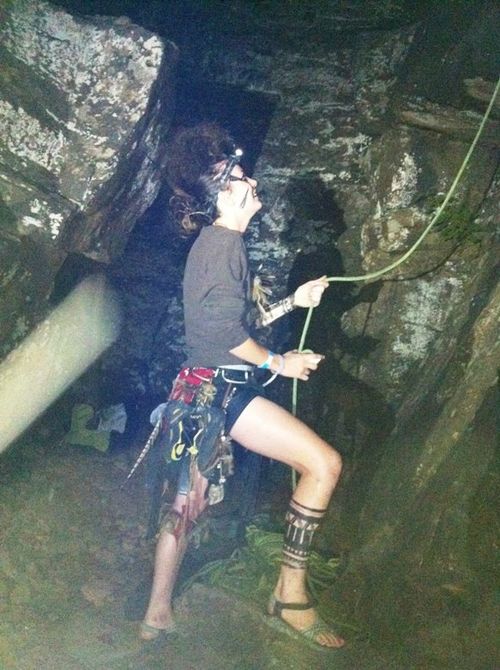 Strange things lurk in the woods of Arkansas at night.
Just as Brittany warned me it would, 3AM brought on a physical and mental low. I felt weak, unmotivated and unpsyched. I came close to pitching off a steep, short 5.10 and a nasty case of gut rot was causing me to fart audibly every time I pulled hard. We also had to move on to an area where there no one else was climbing (because we were out of routes, not because of the farting) meaning I could no longer sponge enthusiasm from other climbers. Clearly it was time to resort to chemicals. I washed down a triple dose of Ibuprofen with alternating glugs of Red Bull and PBR and moments later felt as perky as the "Body" page of a Patagonia catalogue. The final 5 hours flew by, with low pitch counts but constant motion. The sunrise manifested as several seconds of a surreal orange dappled glow on the wall, and before long it was time to pack up and head down to the ranch to turn in our scorecards. Surprisingly I was way too fired up to sleep for hours after we finished climbing. Endorphins were coursing through my veins and I felt great. I am pretty sure the rest of the Patagonia team wanted to kill me when I suggested we head out climbing. After a dose of hot pizza and cold beer I finally took a nap. While I was sleeping an evil gremlin put sand in my eyes, rubbed the skin off my fingers and injected lactic acid into my arms and legs.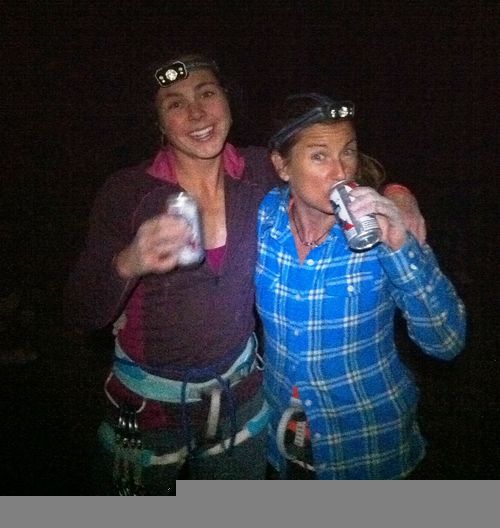 Desperate times call for delicious measures.
The rest of the evening was a blur of awards ceremonies, slide shows, arm wrestling comps and dancing. At the 24 Hours of Horseshoe Hell I learned that climbing for 24 hours straight when you don't really have to is actually pretty fun, as long as you have a great partner, some comfy rock shoes, a ton of quality stone, piles of water and food and 200 other participants and a bunch of volunteers keeping the stoke up.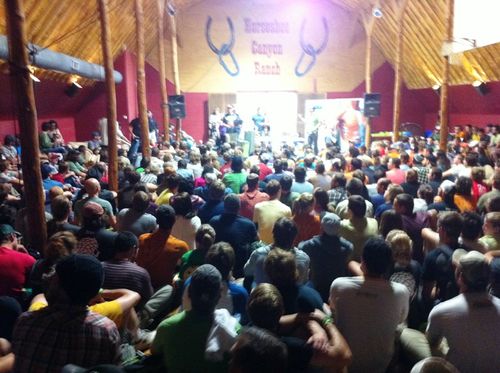 Awards ceremony in the barn loft.