Tom Swedko's Quiet Commitment to Outdoor Recreation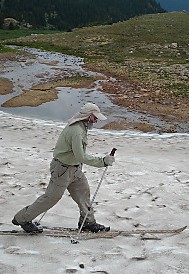 We talk about being committed to the core. Steve House and Lynn Hill are two Patagonia athletes whose stories (both posted recently here on The Cleanest Line) offer a professional insight into this philosophy. Theirs are tales of the unreal made real through the power of intense professional focus.
But "committed to the core" does not necessarily mean "committed to the extreme." It's something else entirely. Witness Tom Swedko of Colorado. Tom's commitment takes on an entirely different dimension, one that's at once personal and inspiring.
A friend sent us a link to Tom's story, featured recently on www.rockymountainnews.com. The details offer up acouple of quiet reminders about being committed to the core:
300+ = Average number of days skied per year
335 = number of consecutive months in which he's managed to ski
28 = number of straight years in which he's managed to ski every month
20 = number of years he's been rockin' the same Patagonia hat (oh yeah, we noticed)
For more details and inspiration, check out the full story here.