Remembering the Buffalo Soldiers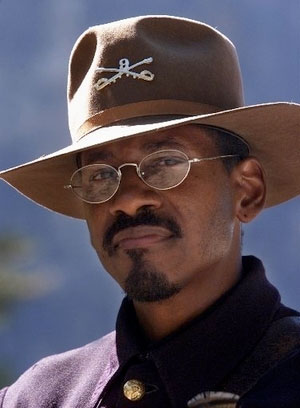 This morning, on the way to work, I heard a story on NPR about the power of activism and an important anniversary. Fifty years ago today, four African American college students challenged society by walking into a Greensboro Woolworth's, sitting down at the segregated lunch counter and refusing to leave until they were served – they did this every day for six months. That simple yet brave act spawned a movement that spread across the country and helped African Americans achieve the equality they always deserved.
In honor of the Greensboro Four, we're pleased to share a story by James Mills, creator and host of The Joy Trip Project, about another group of African Americans who played a crucial role in American history. Known as the Buffalo Soldiers, they were the horsemen of the 9th and 10th divisions of the U.S. Calvary who actively patrolled the newly created Yellowstone, Yosemite and Sequoia National Parks and helped set the standard for today's National Park Service. As James puts it, "The Buffalo Soldiers were in effect among the world's first park rangers."
Listen to "The Buffalo Soldiers"
(mp3 – right-click to download)
The Joy Trip Project produces a regularly occurring podcast on topics related to outdoor recreation, environmental conservation, acts of charitable giving and practices of sustainable living. The podcast is distributed via Real Simple Syndication (RSS) and through audio programming websites such as iTunes and Podcast.com. We're grateful to James Mills, To The Best of Our Knowledge and REI for bringing us today's story. You can also find James on Facebook and Twitter.
[Yosemite Interpretive Ranger, Shelton Johnson. Photo via Joy Trip Project]